From its very first days when the first-ever video was uploaded on April 23, 2005 (featuring co-founder Jawed Karim at a zoo in a video titled appropriately enough, 'Me at the Zoo') to the heady days of its acquisition by Google (now Alphabet), and its subsequent dominance of the online video space (kid friendly) to its present ubiquity, YouTube and online video have become synonymous.

Besides being the second most used search engine in the world, YouTube hosts over two billion monthly active users, who collectively watch one billion hours of YouTube content every single day. And interspersed among all the pop culture media, niche interests, educational content, ASMR, and so much more are even more ads than you can dodge with a YouTube Premium subscription.

This is where companies such as Channel Factory (CF) come in, having just entered the Indian market in collaboration with Y&A Transformation. IMPACT spoke to Robin Zieme, Chief Growth Officer – Global, Channel Factory, and Yesudas S Pillai, Founder, Y&A Transformation and Country Lead, Channel Factory, about the Google-certified global technology and data platform's plans for India, what it can offer to the market, and why Baby Yoda audiences won't be shown Death Star-level advertising.

"Channel Factory was founded 12 years ago, and today it is present in 32 countries globally. Our partnership with YouTube under the YTMP (YouTube Measurement Program) allows us an API (Application Programming Interface) with YT that lets us ping the YT ecosystem many more times than normal," says Zieme, adding, "There are public APIs wherein one ping maybe 10,000 times, but, in our capacity we do it half a billion times a day to assess all the videos and channels on YouTube. All the insights are brought into our proprietary platform ViewIQ."

This is especially relevant in a market such as India, which also happens to constitute the largest part of the global audience with more than 467 million engaged consumers, according to Statista.

"India, of course, already has over 400 million consumers on YouTube, which is predicted to grow to around 800 million in two or three years. Digital video advertising is estimated to be around $1.3 billion, and the lion's share of that belongs to YT. Getting a lower end of single digits in terms of market share in itself makes the whole play very large," elaborates Pillai.

Zieme says that globally, CF partners with thousands of brands, holding companies, agencies, and more. "Our ad investment on YouTube last year was upwards of US$ 500 million. As a pure independent third party, we are open to audits by anyone on what we do. Hence, we do not get into any areas of measurements. We're not in the business of grading our own homework. Anyone can measure us because we are very confident about our product and our capability to add an additional layer to advertisers on YouTube."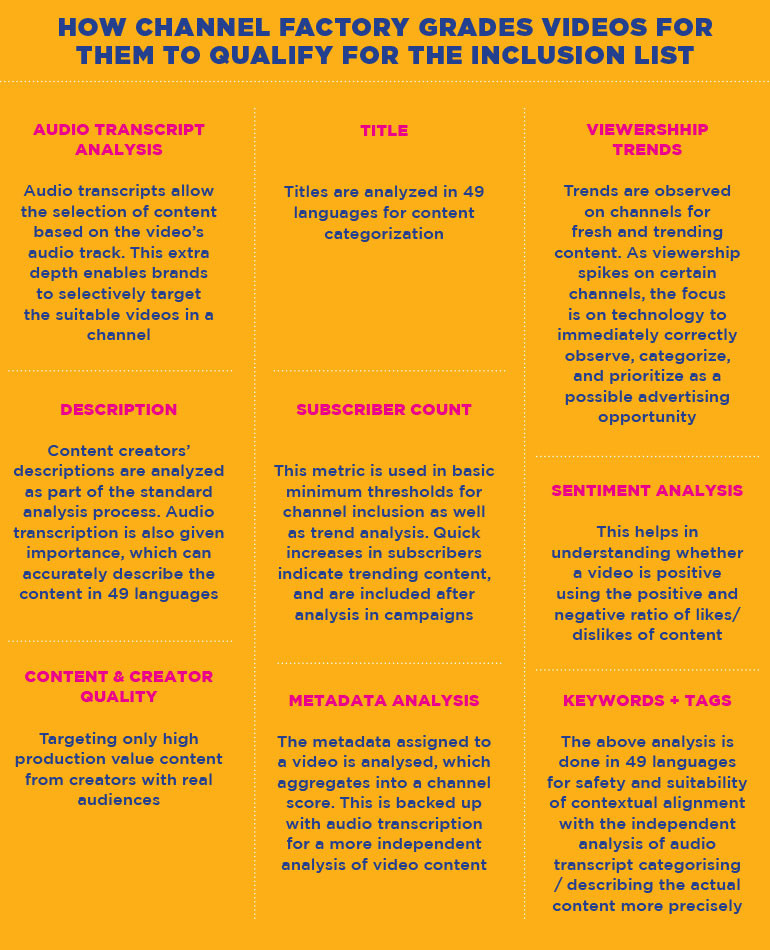 Zieme says that Channel Factory provides three things – safety and suitability, contextual alignment, and performance for advertisers on YouTube. "With the right knowledge about videos tagged correctly/incorrectly; its audio transcript; how contextual is the video for a particular advertiser considering the brand values; and also, the right time to buy into a particular video, etc., we are able to provide the right solution to advertisers who are seeking the right optimization of their ad investments."
While safety and suitability naturally means that there is no content with conflict, or any disturbing socio-political or religious themes, suitability has a more nuanced meaning in 2023. Suitability means that if you're an automotive advertiser, you don't want to be around videos themed around illegal street racing, or monster truck rallies and crashes. It's about finding the content that is specific to an advertiser by making sure that they're not exposed to undesirable or conflicting products or services as an advertiser.

The task is greatly alleviated by the fact that Channel Factory works in tandem with teams at Google, allowing the company to not only advice clients on how the sausage is best made, but also on whose table it is going to go to.

Then there is the contextual alignment. Zieme refers to Lego, one of CF's clients, which has a range of Star Wars themed children's toys. Given the broad spectrum of themes, audience demographics, and fandoms of that galaxy far away, neither the brand (Lego), the publisher (YouTube), nor the ad-visor (Channel Factory) want ads for Death Star models aimed at someone who is looking to add to their collection of Baby Yoda plush toys.

Given that Channel Factory has historical data of every video published, as well as of the 500 million dollars' worth of advertising that they're running, they are aware of view through rates, click through rates, CPMs, and many other metrics, both dynamically and with all the history backup. This helps in advising clients on what works for which audience and when, globally, and how long they're going to stick around.

"We do this on a massive scale, we are excited to launch operations in India, with Yesu (Yesudas) and Y&A to tackle this huge market with hundreds of millions of consumers," says Zieme, asserting that, "Y&A is Channel Factory in India. Every large advertiser and agency group you can think of is using our platform globally and getting results from the same. We are in discussion with all of them to see the possibility of using our technology for their Indian marketing investments too."



And the word has spread already. "Within just a couple of months in the market since our soft launch, we are seeing very good traction. We have a dozen clients already using our platform including Amazon, Sugar Cosmetic, TooYum, Naukri, TVS Tyres, Candere by Kalyan, Zee, etc. They're very happy with the deliverables," says Pillai.
"For a comparison with what people are used to, let's look at YouTube as a TV channel network that encompasses 35 million channels within that network. In every media ecosystem, similar to what we see on television, 20% of the channels will give you 80% eyeballs. Even the other channels have the merits to be a part of some media plan or the other, but largely the eyeball-catching channels probably constitute about 20-30% of the total output," says Pillai.

"It is our job to figure out which of these channels, down even to the video level, are delivering the right eyeballs in the right context with the right efficiency, and make it available to advertisers. You can describe it as our operating walled garden within the YT walled garden. Our guarantee to advertisers is they will get a delta on their YT ads," he adds.

This has become especially relevant in the age of Connected TV, which, even though, remains as a slim slice of the total TV advertising output in terms of dollars generated, is seeing a steady and constant uptick. According to reports, viewers watch in excess of 700 million hours of YouTube content on TV daily.



"Robin spoke about our three fundamental pillars. I would like to emphasise on the other three pillars we bring on board for the advertisers," says Pillai, elaborating, "The first is technology – no one can replicate what we have been able to build, and it is being put to use for our advertising partners without any platform usage cost. Also, our real time dashboard where advertisers can see all that they are getting, has been a hit. Second, Operational efficiency – currently the only optimization that's known to be taking place once the channels are whitelisted are reach/frequency and bid values. But, our technology figuring out every single optimization, as dynamically and as near real time as possible, is the only thing we do day in and day out. This is not possible for any advertiser or agency. This takes away a lot of operational load off the shoulders of clients/agencies. And finally there's financial performance."

"Channel Factory is making a strong investment in the market. We are very proud of this partnership, and as Robin said, for all practical purposes, we are Channel Factory in India. While I'm the founder of Y&A, I also operate as the Country Lead for CF. We are confident of delivering success in this market. We've already been meeting clients and all the agency groups, and I must say that the responses have been very encouraging. We are adding the right talent to our growing team, and are looking for accomplished digital sales talent in Mumbai, Delhi and Bangalore."