David Prager, Chief Brand Officer - De Beers Group, and Toranj Mehta, Director Marketing, De Beers India, speak about how the pandemic has shaped the group's digital ambitions. They share their growth plans for India as one of the key markets.
Q] Please tell us about the idea behind the campaign 'I do'?
The 'I do' campaign is about redefining the iconic expression — 'I do' — in a way that adds more power and authenticity to it. 'I do' has always stood for a commitment between two persons and the future that the two individuals will share. As we were working on the concept, it occurred to us that 'I do' is so much more than a romantic commitment, it is a powerful one between two persons. 'I do' campaign speaks about the commitment the new generation, millennial and gen Z consumers believe in. For us, from the brand perspective, 'I do' is particularly relevant as an idea of loyalty because our diamonds have stood as a billion-year-old symbol of a long-term commitment. With the campaign, the commitment is re-imagined and expanded to mean so much more.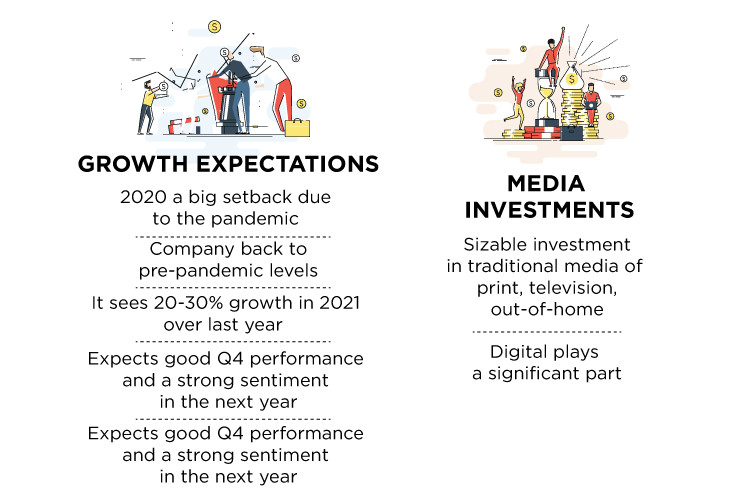 Q] How has the diamond industry recovered from the impact of the pandemic?
Last year was extraordinarily difficult for many reasons. For the first time the entire value chain came to a halt. In the second half of 2020, as countries allowed phased unlock, the demand started to rise. The holiday season in the US saw a strong appetite, which has continued into this year. Following a very thriving demand from our core markets throughout this year, we expect to see a very good holiday season, too. We expect good Q4 performance and a strong sentiment in the next year.
Q] Which are the core markets for De Beers?
The U.S., China and India are our core markets, and we saw strong sales of luxury items, in general, and diamond jewellery, in particular, in the U.S. Toranj can talk specifically about the India story.
Toranj: Since the company's debut in the Indian market in 2011, we have seen a strong growth trajectory. In the last decade, our brand expanded to 60 cities in the country with 270 stores. Currently, we have 11 exclusive stores and are aiming to increase it to 30 by the next year. The growth rate has been healthy for us in the past few years and, hopefully, this will continue. While 2020 was a big setback due to the pandemic, we see 20-30% growth in 2021 over the last year.



Q] Do you see growth so far this year compared to that in 2019?
Well, we're back to the pre-pandemic levels. It is not merely the pent-up demand as people weren't making any purchases during the pandemic. Their buying pattern has changed. They are adding more value to gifts and purchases that have an enduring value. Travel for people becomes an emotional purchase when they plan pleasure trips with their friends and family. So, the limited scope for travel around the world has been of benefit to the luxury goods industry and, more specifically, to the diamond jewellery sector.
Q] Please tell us how De Beers creates an immersive experience for customers?
We've got enhancements like a 'virtual try-on' feature, where a customer can visit the website and try a piece of jewellery through augmented reality to get an idea of how it looks on him or her. We have visual search and virtual store experiences for the De Beers Forevermark Avaanti Collection.
Q] Do you think lab-grown diamonds are the future of the diamond jewellery industry?
There are two categories of diamonds — natural and lab-grown — and there's no reason why both can't coexist. Lab-grown diamonds are a product of technology, and don't have any symbolic meaning attached to them. We have noticed that some lab-grown diamond producers charge very high rates, fixing the price of their products same as that of natural diamonds, which is wrong.
Q] How would you differentiate Indian consumers from those in your other markets?
Toranj: From birth to the end, an Indian consumer has always found one piece of jewellery related to each of his/her life stages. So, Indian consumers look at jewellery in a very different way as opposed to consumers elsewhere in the world. As part of our diamond acquisition study in 2019, we could identify a competition among luxury goods, travel and jewellery, and diamond jewellery ranked higher compared to the other two categories among Indian consumers, as opposed to their global counterparts.
Q] What's De Beer's code of origin programme?
This is a programme that we're piloting primarily in India, which seeks to provide a trust mark-of-origin on the diamonds that De Beers discovers and sells. It provides consumers with information about where their diamonds come from, and that they have had positive impact on the people and places where they were found.
Q] Please elaborate on your expansion plans in India?
We do have 170 points of sale in India across 60 cities through partner jewellers. We have 11 exclusive De Beers Forevermark boutiques that retail De Beers Forevermark products. And, we plan to have about 30 exclusive De Beers Forevermark boutiques across India by 2022.
Q] It's a cliché that diamonds are a woman's best friend. I've seen men getting as enthusiastic over a piece of diamond jewellery as women. So, how come you've never shown that as a focus of your brand promotion?
Also, if you watch the 'I do' commercial, we have a vignette of a man — a father with a baby—wearing jewellery. There hasn't been something up until this point that we've heavily promoted. But i would say, 'watch this space' next year.
Q] Probably, you could also share your media mix, particularly in India.
Toranj: We have invested in all key media avenues. So, there has been a sizeable amount of investment in traditional media of print, television, out-of-home. Of course, digital is also playing a significant part.
David: Globally, we've got a significant chunk of investment going into next year, and it will be on a par with this year. One of our innovations this year is the creation of one De Beers campaign for both of our jewellery houses — De Beers Jewelers and De Beers Forevermark. Till this year, there were two houses, completely separate and invested independently in separate campaigns for Forevermark and De Beers Jewelers. Through 'I do' we've created one campaign for De Beers.