With the second COVID-19 wave raging through the country, cinemas have once again had to shut their doors to patrons. The Telugu OTT platform, Aha that was launched last year aims to bring some cheer to moviegoers with new movie releases every week this summer through its campaign, 'Aha Housefull'. Ajit Thakur, CEO, Aha, tells us more about this campaign and his plans for the platform this year
Q] Tell us more about the 'Aha Housefull' initiative. What kind of response have you received from viewers?
Aha Housefull came from a strategic marketing thought because theatres, although they opened briefly, had shut down again. People have been spending more time at home. OTT consumption has moved from mobile to smart TVs. We thought it was an interesting way to say that the entertainment continues on Aha. The titles we feature under Housefull are premieres, we don't push the old titles. We planned a new title every week from the first week of March and that will continue until the end of June. It is doing quite well. With IPL, nearly four hours of consumption had been diverted but in terms of both users and new subscribers, we have brought as many in April as we got in March. People have expanded their time to consume content.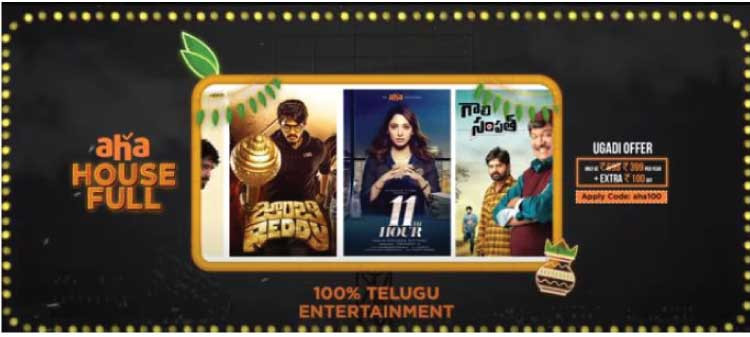 Q] Most major OTT players are ramping up their regional offerings. How do you plan to tackle the competition?
We are a growing category. For a growing category, competition is good because if we try to drive it solo then we have only limited resources. The SVOD market is about 30 million out of which Andhra Pradesh and Telangana constitute around three million. However, there are about 60-65 million internet users in the two states combined. Of the 60 million, some are unavailable to us because either they don't have good internet bandwidth or they are not willing to pay for VOD content yet. The task of recruiting them into SVOD is a collective task in the next three years. We are not looking at what competition is doing. The fact is we are based locally, and our entire content and marketing team is based in Hyderabad. We understand the language, the culture and the stories of the land better than people who are sitting elsewhere in the country and trying to operate. Our association with Allu Arjun and Vijay Deverakonda helps us with marketing in small towns on the basis of learnings from the film industry because there's no OTT industry in those markets.
Q] How do you want to position the brand?
We are targeting the mass Telugu entertainment consumer, not just the niche viewers and the urban elite. We want to target them with originals and films rather than catch-up TV. We've positioned ourselves with 100% Telugu content; it is our DNA. It also sets us up as we go to launch our Tamil platform later this year. The plan is more complex than any other app trying to roll out in multiple languages. We will be 100% local. We will probably never do Hindi because of this but there's a big opportunity for us to do this locally in multiple markets.
Q] Aha entered into an association with TVF to remake Permanent Roommates as CommitMental for Telugu viewers. What was the response like? What kind of partnerships are you looking to leverage in the future?
We wanted to find people writing good digital content at a reasonable budget because regional budgets are not as high as Hindi budgets. In fact, we're working with TVF right now on a second show called 'Flames'. We are also working with Pocket Aces, and on a couple of their big shows like Remix in Telugu. We are working with The Story Ink to take a look at book adaptations. We're working with Bani J and Endemol to look at remakes of both non-fiction and fiction. We're looking at a bunch of these partnerships, which will help us get ready scripts and content faster than the one coming through the organic development pipeline.
Q] What are your thoughts on the shrinking window between theatre and OTT as you delayed the release of Krack on your platform so it could have an extended theatrical run?
I believe that cinema and OTT will coexist for a long time. As far as Telugu cinema is concerned, it will always be a spectacle that we all want to enjoy on the big screen. For these big films, we should allow for whatever window is needed for the footfalls to continue so that cinema in India thrives. I don't have a view on how many weeks that should be. When it comes to small to medium-budget cinema, we should give flexibility to the producers to see what is best for them. The producer should be given the independence to seek deals which are straight to digital or with a smaller window because they will not get a window beyond a week as several big releases will be lined up for release once theatres open again after the pandemic.
Q] You have gone on record on how OTT is like TV, just more democratised, and is meant to be watched by all members of the family, in the context of platforms betting on safe content. Do you think OTT will meet the same fate if content goes down the same path as broadcasters?
Broadcasters cater to a certain segment but even within broadcasters, Sony and Star were always targeting different segments. For millennials, the way of consumption of TV itself is limiting. It's limited by appointment. They don't want to do it. It's the mode of delivery that has been the biggest transformation since OTT has come. They have the freedom to choose when and what they want to watch. In terms of content, it's not that the broadcasters are not trying but OTT is taking bigger risks in delivering a more diverse set of genres to this young audience. I believe that the audience base for OTT is much wider than just 18 to 30. People are consuming OTT content in families across the spectrum from 7 to 70. I've maintained that the responsibility of self-regulation is on us and as an industry, I'm confident we will achieve it.