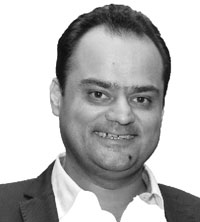 Walmart is paying $16 billion for a controlling stake in Flipkart, breaking into India and securing a tactical advantage in its global battle of attrition with arch rival Amazon. This is the highest price any foreign company has paid for a stake in an Indian company .The day of the announcement, Walmart stocks plunged some 4% and wiped off $10 billion of its market capitalization. The concern is perhaps on account of elusive sanity in chaotic P&L scenarios.
It is the largest acquisition yet by Walmart, where it has essentially taken over the company. With a certainty of continuing losses, it can only be seen in longer term rational constructs, as a peek into Walmart's future. It isn't an isolated move. There are synchronous moves elsewhere, such as selling its British unit, Asda and its traditional supermarkets.
So much has been written about the deal and every facet that it strikes me as odd that everywhere a presumption has been made on the reasons why the deal was important. It is as if that's a given. To my mind, it requires a spelling out.
Flipkart had net sales of $4.6 billion vs Walmart's $485.8 billion of revenue. But India has 1.3 billion people, and is on its way to becoming one of the world's top five e-commerce markets within the next five years. Walmart is betting on the fact that India's e-commerce market will zoom from $38bn in 2017 to $200bn by 2027.
e-commerce is not even 5% of the retail market in India. This is imminently set to grow, exponentially, as crores of smartphones light up with cheap Internet access.
Flipkart is, in some ways, India's Amazon – started in 2007 by two collegemates and former Amazon employees – and like Amazon, it began life as an online bookseller.
Flipkart got its business-builder market innovations right, be it cash on delivery or its early focus on mobile phones, whereby in 2016, it became the first app in India to reach 50 million users. It had expanded with great energy, acquiring the fashion e-commerce company Myntra, and mobile payment firm PhonePe. With 100 million registered users, 1,00,000 plus registered sellers reaching 800+ cities and making half a million daily deliveries, it is a scaled operation. The company sold products worth $7.5bn in the fiscal ending March 2018 – a growth of 50%+. Its net sales were worth $4.6bn. From this deduction, note the bite discounting takes away on gross revenue, a real bonfire of vanities fuelled by real cash.
Mutual benefits outlined in press releases claimed that Flipkart will leverage Walmart's diverse retail expertise, merchandise supply-chain knowledge and financial strength, while Flipkart's talent, technology, customer insights and agile and innovative culture will benefit Walmart.
In many ways, the deal is rightly criticized as the capitulation of Indian interests to foreign capital. Here, India and China are at a wide departure in approaches. China, where more than 700 million people are online, home-grown online giants like Alibaba and local retail chains like Sun Art rule the roost even though Walmart physically entered China in 1996 and operates some 400 stores now. The Indian e-commerce market, beyond retail, is also in the thick of internecine warfare between foreign players and local brands. Most of the market leaders have foreign funding - from Softbank, Alibaba, Naspers, etc. - as in the case of the taxi aggregation market, Ola vs Uber with a common shareholder in Softbank. Paytm, which dominates the busy mobile payments market, now faces competition from Google, Facebook and Paypal. The online travel market has the PSU Indian Railway Catering and Tourism Corporation (IRCTC), up against MakeMyTrip funded by Naspers, Ctrip amongst others.
The precedent of this deal now allows capital to also throw a hungry look at omnichannel retail opening up to majority foreign ownership. Multi-brand retail chains can own up to 51% of their investment in India, and for single brand retail it is now up to 100%, provided single brand companies get 30% of their goods sourced from India.
So online ownership is thought to be a sane precursor to the whole sector being opened up, but it's a circuitous and 'later than sane' approach.
If Walmart had $16 billion to invest in India, the money would've served Indian consumers better had it gone into stores on ground. There is a real need for private capital to strengthen the agriculture supply chain and create new skilled jobs . Alas, only in e-commerce is this sector inflow made feasible because of its permission to be defined as a marketplace or a platform to buy and sell goods.
Markets change when habits change. Capital arrives fastest when opportunity is in fact a branded habit. India will see many more such deals. The question is - will Indian enterprise flourish as a result?
The author is a Marketer based out of Mumbai