Q] GCPL has launched this body wash product. How different is it from the already available products in the market?
For all the current body washes that are there in the market, about 200 ML on average may cost you anything between 100 rupees to 250 to 300 rupees. So, the first point of differentiation over here is that our refill sachet is available at only 45 rupees. More importantly, we are now able to decrease the price by reducing plastic by tremendous amount. More than 80% reduction in plastic, fuel consumption is about 40% and the energy consumption is almost 20%, which helps us reduce the cost. Hence, we are able to give it at one-third of the market price.
Apart from that, what makes it different is the uniqueness of the product. It is a tiny sachet which you mix with water and it becomes a full bottle of body wash, it is a magical experience, but this magic is helping us make the earth a better place to live in.
Q] GCPL is mainly focusing on an environmentally conscious lifestyle. How important do you think it is for the consumer and why has GCPL made this the USP for the product?
Our consumers today are very environment conscious and they really want to do good things for the benefit of the earth. Unfortunately, whatever is available today in the market, maybe it's not within their price range or maybe there's not enough available. Hence, at Godrej we can really make a difference and this is a small step towards that, which is where you can see that we are coming up with such products.
In 2018, the first product that we launched under 'Magic' was the hand wash. Hand wash, where we made one tiny sachet of powder transform into a full bottle of hand wash. Now, we have transferred the same benefit to body wash. So, hence, we are reducing so much of plastic, fuel and energy that any corporate should do. We are enabling consumers by giving it at a cheap cost, which is one-third of the price of any normal body wash.
The other part is that people are trying to upgrade their lifestyles. They want to use better products and we are offering that which is very affordable and is available at 45 rupees.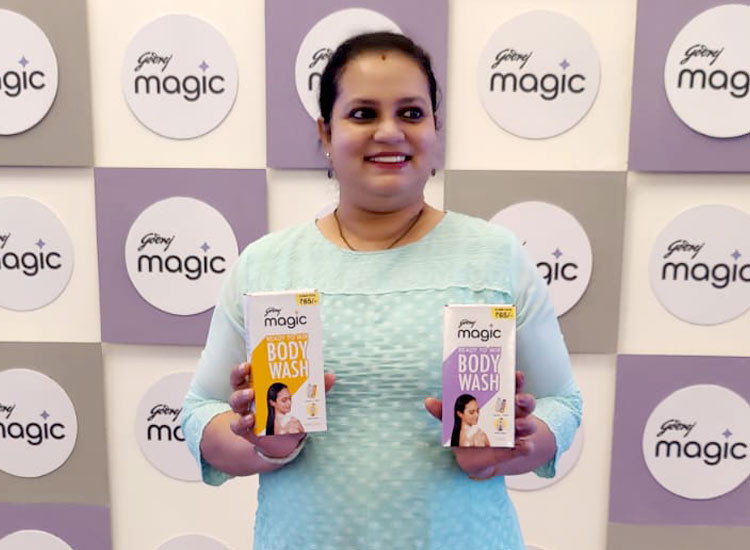 Q] There are several healthcare and personal hygiene brands in the market, whom does GCPL consider as competition, and how do you intend to create a market space for your new product?
We respect all our competition, and everybody has a very unique proposition. Every player is our competition, especially in the space where we are operating. We are operating in a space where we are changing the habit of the way people take baths. So, when you take bath, you are not just calling out the body wash users but also communicating with the soap users. So, we are targeting 100% of the population because soap is 100% penetrated. With this product launch and our campaign we are talking to everybody. We believe that this behaviour change is definitely possible, especially if it's doing good to mother Earth.
Q] How has GCPL managed to overcome the COVID-19 pandemic, the Ukraine war, the China disruption and 'The Great Resignation' in the US, has it affected the business growth in India as well as abroad?
Consumers are affected by inflation today, price of everything has gone up because manufacturers are also forced to pull up the price and that is where this kind of innovation really becomes pocket friendly for the consumers. This is why, when you cut down the price and still give great quality that is what we have done with Magic.
We have been doing it on hand wash. We are now doing it on body wash and who knows it could just be the start of the innovation journey that we have, where we bring upgraded lifestyles to consumers at a better price, and that's how we will handle all the crises that you're talking about.
Q] Today innovation is a key to success. How innovatively does GCPL reach out to its customers, and what marketing strategies keeps you ahead of the rest?
Thank you so much for the question, because we are the market leaders in most of the categories that we are operating in and we are the second player in the other categories that we are not. We have a strong play and our marketing strategy starts with a deep understanding of the consumers. What is it that they really want and getting into these categories like hand wash, which is an upgrade over the soap they use for washing hands. It's a better lifestyle, usage of body wash, again which need to use a hygienic product because soap is used by everybody in the family and it's not very hygienic. So, when you are using a body wash, it is more hygienic. We use a lot of 360-degree media. In fact, our advertisements are not restricted to television, we spend a good amount on digital where we reach out to the youth today and even a lot of housewives who are really onto digital and then we also spend in the outdoors, the music media, etc. We look at where our audience is and reach out to them in all 360-degree media, so, that's been the strategy. In a nutshell, understand consumer needs and reach out to them where they're available.
Q] Any numbers for how much spends has been dedicated to this campaign?
Talking about ad spends would not be the right time now but one thing is that we have committed 100 crores in the next three years to drive the message of goodness and also drive awareness among consumers. This also includes our research and work along with the other social groups, NGOs, etc. We ensure that this message of reduce, reuse and recycle is all percolating down to the consumers and wherever possible we are participating in it.
Q] Any other GCPL campaign, which might be in the pipeline?
So, basically on Good Knight, we have just repositioned it from earlier, talking about, efficacy to now actually talking about a Good Knight sleep and how good night sleep is very important from a child's development, and the creative hook we have used for this is the amazing bond that a father and child share. That is something, a repositioning over there that we have done in Good Knight. We have started advertising the automatic freshener, where sprays were doing extremely well, but this new category, which nobody else is advertising, we have started advertising where we are building this whole automatic room freshener, which is super premium and we said that, if you're going into lifestyle, let's advertise a super-premium category and let's see how it works. So far by God's grace, it's working very well.