A year ends and the saga of the lists begin, heck we've done quite a few of our own. Entertaining as they all are, for this particular piece we're going for insightful.
Content on ScoopWhoop's social platforms & website is consumed by millions of young Indians everyday. We create and curate the stuff that people love or should love (high-five to our editorial team of 20-somethings who seem to know exactly what will trend before it even begins). And of course, we've built the tools to track how well this content performs across all our platforms so we keep doing better.
For this issue of ScoopWhoop explains Youth Culture, we've taken all of this delicious data of what's worked in 2018 – which includes content created by us and the content we have curated (trending ideas & stories that we feel our audience would love) – and used it to discover what young India is like, what they love and what moves them.
Here are 5 things that we know about Indian youth, basis their content consumption trends in 2018.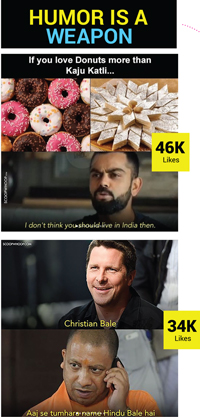 Humor is a Weapon
Millennials have been deeply engaged with public issues, politics and social causes and are known for using collective internet 'Outrage' as a form of protest. But in 2018, we saw Gen Z weaponizing humor and doing it so effectively that now becoming a national joke is probably more scary than (gasp!) being unknown. Everyday millions of davids take on (and often takedown) the mis-stepping, mis-speaking Goliaths of the public sphere, armed with nothing but killer jokes and a Jio connection. How do we know? - On ScoopWhoop's Instagram channel which is mainly frequented by the 18-20 somethings this category of content has seen the most love.
Information is Love
An ongoing trend that continued in 2018 is the love we've seen on our ScoopWhoop Hindi Facebook page around informative content such as - household hacks, science behind engineering marvels etc. Now we know the internet has grown a lot in the last few years in India and almost all of the new users are mobile-first users. Which means their introduction to the internet almost always begins with social media and NOT search. An interesting by-product of this is that using the internet to find information is not native behavior for a lot of these users. So information, especially stuff that's relatable/ relevant, new, useful, is incredibly sexy. Except now the fun is not in googling something, but in stumbling upon eye-opening facts on social media (WhatsApp mainly) and easily sharing them with the world causing awe and wonder everywhere.
Misogyny isn't cool (one more step forward in 2018)
Sure, many young people create seriously problematic content on tik-tok, and Simbaa with its pseudo-feminism still makes 200 crores, but every year since the me-too movement the awareness around misogyny increases and people move a step forward. There is a curiosity to learn more and an openness to understand what equality means in different ways.
Gritty Reality > Escapist Fantasy
When the Khans take a beating at the box office you know something's up, something is shifting. Sacred games and Mirzapur were the biggest shows this year, Movies like Andhadun and actors who took risks (Ayushmann Khurana, Vicky Kaushal, Radhika Apte) were the real hits. Escapist candy colored fantasy has given way to gritty real-life/ true events inspired storytelling. Even the stars, the ones who get the most fan love are not the protagonists but the villains. The era of the all conquering macho hero (unless of course it's the cartoonish unreal persona of the Rohit Shetty films) is waning. In fact, some of the stories and memes that became the most viral in 2018 on the ScoopWhoop platform were those that highlighted the sensationalist moments, characters and actors in some of this content.
And finally, Relatable continues to Rule
Relatable content continued to captivate youth in 2018 because it's a truly social content product that's made for sharing and tagging. When the on-screen mom was unshackled from her Bollywood-given emo chains and represented in all her savage glory, everyone and their moms could finally relate. We've all been that girl sitting through all those terrible dates. And we've all struggled to translate things between our mother tongue and English. Getting fooled by stupidly simple stuff happens to us all. And so it goes on. The joy of finding a piece of your identity on the giant internet is irresistible and must be shared.
Content, identity and culture have always fed off each other. But now in the age of high speed internet these three things have almost become indistinguishable. Young India is constantly showing itself and its culture through its content choices. And at ScoopWhoop we're always listening and learning.