Dabur India Limited recently expanded its product portfolio with the launch of a new beauty and skincare range under Jaquline USA. The brand also plans to expand its retail footprints across the country by launching over 500 SKUs within this fiscal year. Manish Asthana, Business Head of NewU (Dabur India's beauty retail venture) talks about the new range, their efforts to reach out to the young people and their growth rates.
Q] What are the product categories under the newly launched beauty and skincare range? Who do you want to target with this new range of products?
The newly launched range under Jaquline USA offers products in different categories. For example, the makeup category has products for lips, eyes, face and nails. The skin care category has products for face care, bath & body, sheet mask, and wipes. It also has a fragrance category along with beauty tools and accessories. The new range has been designed to connect with the large network of beauty lovers across the country. We are specially trying to reach out to the Gen Z and millennials with these new products.
Jaquline USA was originally owned by Fem Care Pharma in the United States. Dabur India completed its acquisition in 2009, and its products are available now only in India.
Q] Why do you think that Gen Z will be attracted to the new products?
Today people belonging to the younger generations are very much aware of the social causes. They don't want to use any product that has been tested on animals. The products under Jaquline USA are made with natural ingredients. They are cruelty-free, paraben-free, and they have no nasty-chemicals. In addition, they are dermatologist-tested that takes care of your skin, and allow you to comfortably wear them.
As Jaquline USA comes from a US based company, we observe what is happening there (US) and try to Indianize it. We try to cater to the Indian skin needs and the kind solutions Indian users would love to have. We want to basically cater to Gen Z and millennials right now, because they are the ones who have the most disposable income. They are tech-savvy and they want to try out things that they are confident about. And our tagline for Jaquline USA is - Own It, Express It.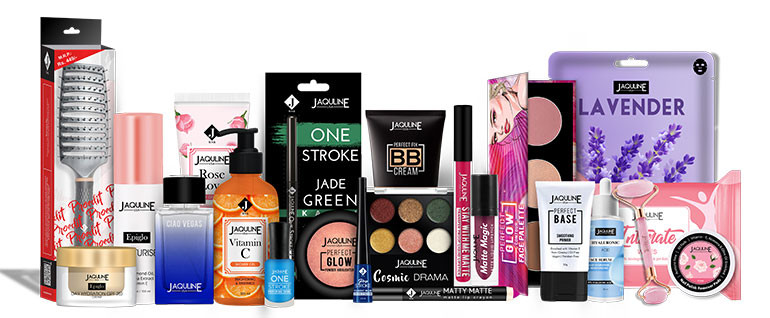 Q] What were the growth rates of Jaquline USA and NewU in FY-2022? And what are you expecting this year?
Jacquline USA grew by 175% last year and it would grow by another 120% this year. We are already on track, as far as the first quarter is concerned. The growth is astronomical because the range has been loved by both Gen Z and millennials. We have also launched over 180 SKUs and that added to the growth.
NewU as a brand grew by over 110% last year. Of course, last year we were more aggressive because it was slightly hit by Covid-19. This year, the expectation is to grow by around 48%.
Q] Presently, the products of Jaquline USA are available only in India. Do you have any plan to create markets in a few foreign countries too?
Yes, discussions are going on about entering Nepal and Bangladesh, but that has not been finalised yet. Actually, there's a huge growth potential in India itself and we want to tap into that for the next one or two years. Probably, after that we might look at more global expansions.
Q] What percentage of your sale is now coming from e-Commerce? How much has it increased post pandemic?
Post pandemic, definitely it has increased because there was a lull for offline businesses at one point and that accelerated our growth in e-Commerce. Currently, around 12% of our sale is coming from e-Commerce and by this year-end should increase to 17-18%
Q] What does your marketing mix look like?
We are getting very aggressive on Digital, and around 80% of our spends is going on that. But we continue to do our offline marketing as well. Our mall-promotions will continue. We do consumer activations at the malls, and there are a lot of promotions through our loyalty programmes. NewU has over 2 million loyal consumer base, and we keep them engaged with new launches, new arrivals etc. We also keep conducting activities for them. For example, we organise different contests so that they can participate every month (or quarter).