Cost pressures, deadlines, changing consumers habits, incorporating client demands and a variety of factors pose challenges to the media agencies of today in making a campaign successful and keeping their clients happy. Clients will look for alternatives if the agency fails to meet the expectations. Now more than ever, agencies need to be agile enough to adapt and evolve to suit client needs. In such an ever-changing scenario, top industry leaders came together at the inaugural edition of e4m Confluence: The Media Investments Summit, to discuss the possibilities that could be explored to build 'The Media Agency of Tomorrow'.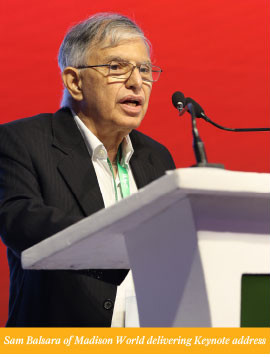 In his keynote address, Sam Balsara, Chairman, Madison World took the audience through the inception and growth of media agencies in India. "The first media agency was formed in France in 1968 and then in the US in 1980, India got its media agency in 1993 when P&G signed Madison for its media AOR. There was a lot of debate over unbundling of ad agencies those days. Media agencies continue to grow, and today they dominate the ad sector to the extent that creative leaders feel left out in the meetings."

He shared that at present, no media or ad agency figures among the top 10 companies of the world. As business schools often don't offer a specialisation in media & ad sector, Balsara strongly believes that it's high time we explored setting up MAS on the lines of IAS and TAS. "MAS cadre will have hands-on expertise in areas like creative, media, digital, PR, content etc. It will help us to get skilled people at mid-level."

Citing statistics, he further stated, "Traditional media's share in the AdEx was 82 per cent in 2017, but now it's likely to remain just 65 per cent by the end of 2022. Meanwhile, digital media has grown by twice its size over the past five years. Print media's share has declined from 35 per cent to 21 per cent and BARC reports indicate a decline in TV media viewership. Digital has grown globally up to 57 per cent and if we include revenue of web platforms of Print and TV media, it could easily touch 77 per cent."

Addressing the new breed of media consultancies that have come up, Shashi Sinha, CEO, Mediabrands India said that while the A&M ecosystem had completely changed, agencies were still very much on top of the food chain as others couldn't hope to compete with the sheer volume of creative and commercial output that agencies put out and the kinds of margins they commanded.

Commenting that while there was much change and transformation in the industry, Sinha said, "As long as there are passionate people in the business, who aren't just seeing it as a meal ticket, they'll be able to keep up with any changes or challenges that come up in the future. This business is here to stay and is not going anywhere. As long as you can balance the pains (whether it's the long working hours or tight deadlines) with the fun and your passion, it's all good."

Explaining how the emergence of new businesses will impact the agency business in the years to come, Prasanth Kumar, CEO, GroupM South Asia shared, "There is an evolving product or a service or an opportunity coming up. We need to keep an eye on the emerging trends and then proactively try some of the aspects which will give us the best solutions for the entire task itself, and by the task, I mean the client's business. Learning about newer trends like influencer marketing, CTV or different technology-related products will add to the advantage of coming up with solutions for that business."

"Digital space has gotten more exciting, and if you compare the media plan today versus a few years back, you will have seven to eight slides more about solutions that we would have never thought about previously. That trend will only get accelerated because solutions will become much more innovative. We should continue to experiment so as to develop expertise in each of these aspects," he explained further.

Ankit Prasad, Founder & CEO of Bobble AI, shared his perspective towards future readiness for brand digital strategies at the event, discussing the four key ingredients for future readiness in digital strategy. "For the last decade, cookies were at the forefront but now that they are crumbling, it could potentially lead to a loss of data in the future. Since the penetration of mobile has happened with the advancement of 4G and 5G, the time has come to adopt Mobile IDs as primary targeting identifiers for the deterministic advantages."

He pointed out that in order to achieve more impactful targeting of customers more apt service like Bobble keyboard is needed. "It's a fact that 100% of mobile users are engaging with the keyboard as a must-have utility. The keyboard intents can be processed to derive in-depth user insight which can fuel innovative marketing campaigns. For this, Bobble AI came up with DaaS i.e. data as a service offering data intelligence that matters to brands. This can be used by brands for generating insightful and actionable market intelligence, programmatic advertising or simply for enriching first-party data."

Delivering the keynote speech on the topic FTA - a crucial platform to reach Hindi Heartland, Sandeep Gupta, COO - Broadcasting Business, Shemaroo shared that the Hindi heartland is where the possibility for headroom exists. States such as Uttar Pradesh, Bihar and Rajasthan continue to have low TV penetration, creating an opportunity. "The Hindi heartland's audience is rapidly increasing. With a population of 1.3 billion, there are 300 households, with TV penetration of 21% in the HSM and 32% in the Hindi heartland. The heartland is essential for advertisers who wish to target any TG."

According to Gupta, FTA was the biggest platform to reach the Hindi heartland. "The growth in 2019 was close to 40% in states like UP, MP, Rajasthan, and Bihar, whereas, growth in these states in 2022 is now close to 60%. As a result, it is a clear reality that television is increasing, and the growth is coming from the Hindi heartland."
In his presentation, Gupta showcased how the TV penetration was increasing, reaching 66% in 2018 and is expected to rise further. "Unfortunately, no broadcast industry poll was conducted, otherwise the figures would have grown by a couple of percentage points," he said.

The day-long summit also witnessed two power-packed panel discussions. The first panel discussion 'Diversity and Inclusion- The bedrock of future of media agencies' was moderated by Neeta Nair, Associate Editor of IMPACT Magazine. The esteemed panelists - Priti Murthy, President, GroupM Nexus; Lara Balsara Vajifdar, Executive Director, Madison World; Amit Wadhwa, CEO, Dentsu Creative India; Rathi Gangappa, CEO, Starcom India; Harshil Karia, Founder, Schbang, and Aditi Mishra, CEO Lodestar UM spoke in-depth about inclusion of women at workplace and the role played by the organization to safeguard interests of women.

In the other panel discussion, industry experts discussed 'Integrated Media Agencies vs Digital Specialists'. The panel was chaired by Deepali Naair, Director, Digital Sales Centre, Bangalore, IBM. The other experts included Ajay Gupte, CEO, Wavemaker; Tanmay Mohanty, CEO Media Services, Publicis Media Groupe India; Sonali Malaviya, Managing Director, India, Essence; Prasad Shejale, Founder & CEO, LS Digital, and Shantanu Sirohi, COO, Interactive Avenues - A Reprise Network Company. The discussion revolved around how companies and clients choose media agencies based on their focus and business plan, and how the consumer journey makes all the difference in choice for a media agency.