Q] Domestic box office numbers crossed Rs 4,002cr for the first time in two years while the remaining part of the year 2022 is projected to close at a gross domestic box office of Rs 12,515cr (highest ever). What are the factors that have driven the surge?
Ajay: 2019 was the best year for the Indian box office. Two years of lockdown and cinemas being shut, resulted in revenge consumption. The report also captures a very interesting trend that apart from Hindi and English, regional content is drawing in audiences across nation. These are some of the reasons which have led to the surge.
Q] The report says, Hindi cinema has contributed 38% to the box office. However, almost 60% of this share comes from Hindi dubbed versions of South Indian films. Especially with films like KGF 2 and RRR ruling the theatres, why do you feel South Indian content is faring better?
Shailesh: The last five years saw the breaking of the language barrier a lot more because people have now got comfortable with the idea of dubbing which was earlier seen as inferior to original content. With Bahubali first and then with OTT platforms in general where people are watching content not just in Indian languages, but in foreign languages, the Hindi audience is actually not comparing between South and Hindi. They are evaluating each film on its own merit. It is a good sign that audiences are opening up to films from multiple languages. It is not to say that original Hindi language films will not work. Recently Bhool Bhulaiyaa was on its way to touching 150 crore plus. There will hopefully be five to six big Hindi films, which would do 150, 200, 250 crore numbers. So I think this will get rounded off nicely. The 60% may only be 30%-35% by the end of the year.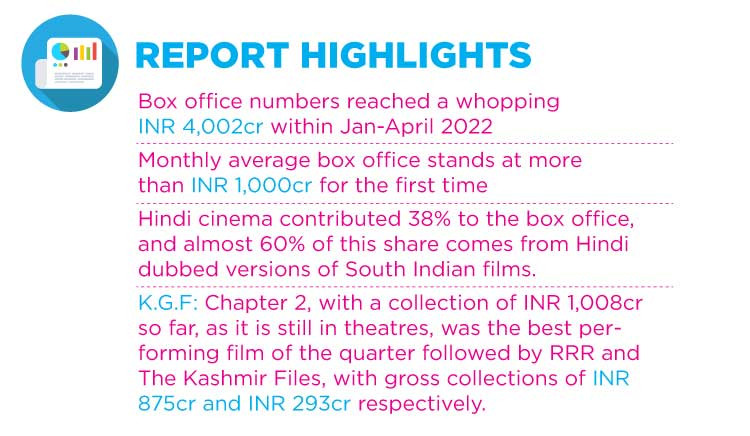 Q] Since years, we have been seeing brands like Manyavar and Syska investing big on in-cinema advertising, how receptive are other brands today to in-cinema advertising, especially the new-age ones?
Ajay: Prior to the pandemic, cinema for the last many years was the second fastest growing medium after Digital, even though on a small base, but you have more and more brands embracing it. With KGF 2 we had close to 280 brands coming back to cinema which kind of takes us very close to the peak number which we saw in 2019. As audiences return, advertisers will get more and more confident of making their investments in this medium. Any brand which is trying to get an image association or the image rub-off because of movies or a larger than life kind of narrative, looking at premium audiences or young audiences cannot afford to miss the advertising in cinema. Also the mobile phone penetration amongst the cinema audiences is in high 90%, so the new age client can target premium & young audiences who are digitally savvy. Some of the big OTT players have been amongst the largest investors in cinema advertising. So, across the board from some of the larger global tech platforms and players to our new age start-ups, all have invested very heavily. The growth percentage will be largely skewed in favour of these new-age clients.

Q] What are the changes and trends in movie watching? Earlier we had to watch a movie in the theatre and wait for at least 6 months for it to come on TV but now it just takes a week or two at times, how will the little gap in theatre release and OTT release affect the business?
Shailesh: Windows have been fluctuating. There was a time around 15 years ago, when the television window had reduced to just four or six weeks, then again, it went back to three months. So, such experiments keep happening. Producers have to ask themselves: Is this something that the film audiences want to watch in theatre, or on streaming? I would say mid-range films in terms of production, scale and storytelling, which are more intimate in terms of their drama, and the audience would work more on streaming. So this is a real choice now content creators have to face.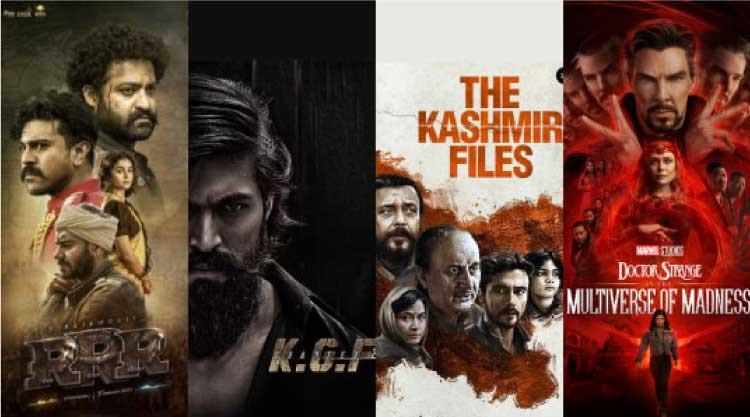 Q] What percentage do you see Cinema advertising contributing to AdEX this year?
Ajay: Cinema overall in India was growing very fast. We were for many years below 1% of the total AdEx. At its peak we reached almost 2%. Will we get to 2% this year? Probably not but in the second half of the year, we see cinema advertising returning on a monthly basis to almost similar levels as 2019. And going into 2023, we see it blazing a high double digit growth even from these levels. So it is going to be a high growth medium because of the low base of 2020 and 2021, the fastest growing medium between 2022 and 2023.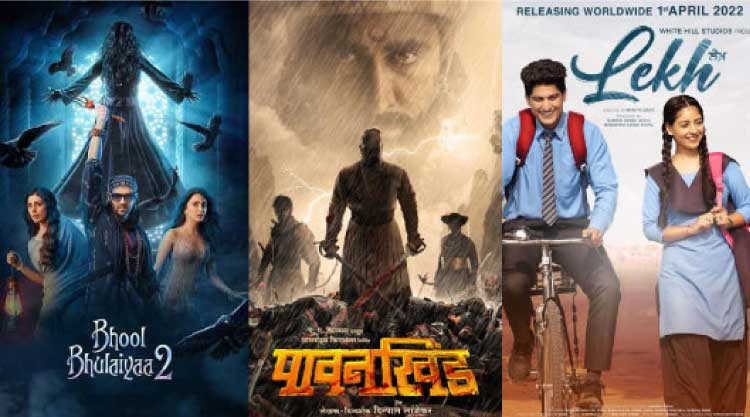 Q] How do you see the future of regional cinema as compared to Hindi cinema?
Shailesh: It's very bright. First of all the word regional itself, I feel we should question if that is relevant because today there are multiple languages, which have grown and a lot of big cinema is not limited to a region. Leaving aside Marathi, Punjabi and Bengali, when it comes to bigger films especially from Tamil, Telugu, and Kannada and even to some extent Malayalam markets, they have audiences across at least 3-4 states and sometimes all India. So, it's going to be multi-language and English being one of them, which is big. When we see the percentage break up of Hindi vs. Tamil vs. Telugu, from an industry point of view it doesn't matter where the box office comes from.