E4m in association with GroupM ESP hosted the inaugural edition of a unique Sports Marketing Summit last week in New Delhi. The theme of the summit was 'Shaping the Future of Sports Business'. The day-long event saw a gathering of top industry leaders and prominent sport personalities, who addressed the gaps in the industry, and discussed the future of the sector.

Dr. Annurag Batra, Chairman & Editor-in-Chief, BW Businessworld & exchange4media Group said in his opening speech, "At exchange4media, we started our first sports marketing summit over 15 years back. We had envisaged sports marketing as an initiative to bring the then rising non-cricket sports and the leaders of the non-cricketing sports together. So this is 16 years too late or possibly we started too early, but in the last 16 years a lot has changed. Today, when we talk of sports, we talk about women in sports, which we didn't 16 years back."

Vinit Karnik, Head – Sports, Esports & Entertainment, GroupM, said, "We are ecstatic to have hosted India's first sports marketing summit called 'Let's Play' with exchange4Media. With the kind of discussions that took place at the summit, it is certain that India's sports future is bright and we're marching towards becoming a sporting nation. My sincere thanks to exchange4Media and all our partners who made this event a huge success."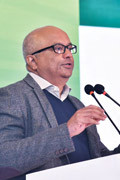 Welcome Address
Speaker: CVL Srinivas
Country Manager, India – WPP

CVL Srinivas, Country Manager, India – WPP gave a little sneak peek to the GroupM industry report, set to be published in March. "At WPP, we're extremely bullish about the prospects of the sports industry and the opportunities it presents, the reasons for which are fairly obvious. The first is of course, the extraordinary performance by Indian sportspersons over the last few years. India has shown that we can compete with the best all over the world, and without such great performances there would be no sports industry to speak of," he said. He went on to elucidate how the entire Indian sports ecosystem, from fans to players to teams' management, have evolved over the years into a living, breathing, and thriving behemoth. "We also can't forget the large role that the government has played in ensuring the growth of the industry. We are excited to partner with e4m and over the course of the day, explore all the exciting opportunities and developments in sports marketing," he said.



Topic: Nurturing India's Future Stars
Speakers: Ayon Sengupta, Editor of Sportstar and India's National Badminton Team Coach Pullela Gopichand
The summit witnessed an exciting session on the topic - Nurturing India's Future Stars, in a fireside chat with Ayon Sengupta, Editor of Sportstar, and India's National Badminton Team Coach Pullela Gopichand. The two talked on various topics, including the support of corporates for sports, future of badminton in India, and the portrayal of local sports in the Indian media. When asked about support from corporate houses towards the development of sports in India, Gopichand said, "To be fair, there's been a decent amount of support in the last few years. Whether it's the Tatas, Kotaks, Dalmias, or IDBI Federal, they've put in a decent amount of money. So, I think a lot of corporate India is also looking at sports. When we want performances, we have to build infrastructure. That's definitely important. But there is also the need to have a structure for all aspects of sport: infrastructure, coaches, support staff, policies. All of them have to go hand in hand." Lastly, he shared that the sports authority has significantly improved over the years. "Definitely, we have consistently had long stints with people who were genuinely interested in sport. Because Prime Minister Narendra Modi is interested, nobody takes things lightly now."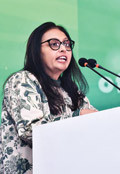 Topic: Rise of Challenges of Non-Cricket Sports in India
Speaker: Vita Dani, Co-Owner, Chennaiyn FC and UTT
Vita Dani, Co-Owner, Chennaiyn FC and UTT spoke about the rise of challenges of non-cricket sports in India in her keynote address. According to Dani, only a collaborative effort at the grass root level with the help of media, Central and State Governments, corporate sponsors and broadcasters will launch Indian sports to its next phase. The Indian Olympic contingents brought back seven medals in 2021; Dani believes that this is only the starting point for the country. "It's not a short-term aim, it takes 10 years for any player to really mature. So there's a lot of potential for the young people of India. The tech-savvy, the passionate young India that wants to give back to society. Dani mentioned that India will host the International Olympic Committee's (IOC) session in 2023 after almost 39 years. She pointed out that the games are not only about building physical infrastructure, but also identifying talent from the grassroots of the country. "It's all about encouraging people to play one or multiple sports," she emphasised. Dani also noted that sports have the power to amalgamate the diversity of India and integrate India and Bharat."



Topic: Let's Play India Building a Sporting Nation
Speakers: Prasanth Kumar, CEO, South Asia, GroupM and Mohit Burman, Director, Dabur India
Mohit Burman, Director, Dabur India, during a fireside chat with Prasanth Kumar, CEO, South Asia, GroupM on the topic - Let's Play India Building A Sporting Nation, recounted his journey as an IPL franchise owner and his views on the scope of sports other than cricket in India. "It all sounds very rosy now. However, we had no idea what we were getting into when we bought the IPL franchise. Not a single sponsor came on board for the first season. The situation remained the same in the second season as well. In the initial six-seven years, many teams were in revenue losses. Two teams were barred. IPL was shifted to South Africa as the tournament's dates clashed with the general elections, and then the IPL chairman (Lalit Modi) left. In the 10th year, the cost of media rights went up dramatically. Central revenue helped everyone to grow then. If cricket took 10 years to make money in India, other sports will also take time to grow," Burman said, when asked about the challenges of sports marketing. He further said that in recent years India has made significant achievements not only in cricket, but also in other sports like badminton, kabaddi, kho-kho and tennis. He reiterated that multi-sports tournaments are needed in building a nation. He also added that more Indian sports needed a boost in the country.



Topic: IPL on TV - India's Super Bowl
Speakers: Mansi Dutta, Chief Client Officer, Wavemaker (Moderator); Gaurav Verma, CMO, PharmEasy; Kaushik Khushal Bhai Thacker, Marketing & Growth, Winzo; Archana Aggarwal, VP - Media, Airtel; Deepa Bhatia, GM, YouGov, India and Karan Taurani, Senior VP, Elara Capital
The session witnessed a power-packed panel on the topic - IPL on TV - India's Super Bowl. The panelists discussed the role of TV as a medium for advertising during IPL. They also shared their thoughts on IPL vs. Superbowl, cord-cutting, and how brands are leveraging sporting events. During the discussion, it was highlighted that IPL has become a huge property and is definitely bigger than Superbowl, further stressing that IPL is watched by people, indoors and outdoors. They further explained TV has been able to grab new audience because of IPL and how it has doubled the recall value for brands as well. Experts also believe that sports will sustain on TV mediums because of live consumption. It will have very little impact in terms of the shift to Digital, which of course will grow at a faster pace as compared to TV, but there is a very low likelihood of digital surpassing TV.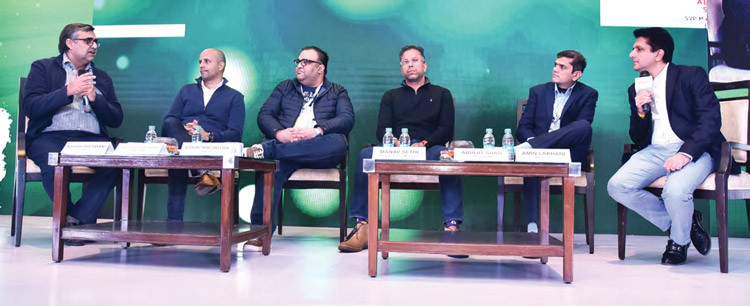 Topic: Sports Streaming Becomes Mainstream
Speakers: Ashish Pherwani, Partner – Media and Entertainment, Ernst & Young; Damyant Singh Khanoria, CMO, Oppo India; Utsav Malhotra, COO, Noise; Manav Sethi, Head – Martech and Growth, Vida Hero MotoCorp; Abhijit Shah, SVP – Marketing, ICICI Prudential MF and Amin Lakhani, CEO, of Mindshare, South Asia (Session Chair)
An eminent panel of experts discussed how sports streaming has become mainstream. They shared their views on mainstreaming sports streaming at the summit. They also shed light on the opportunity of sports streaming in India, and discussed how content has assisted in the reinvention of sports and what kind of impact regional languages have had on sports streaming. The panelists further explained that if one wants to bet on sports then he/she has got to calendarise it first. According to them, there is a whole bunch of niche sports that actually make no sense on TV but work very well on Digital. They strongly believe that we are all obsessed with creating differentiated content but if we don't have the right target audience, it is not going to land.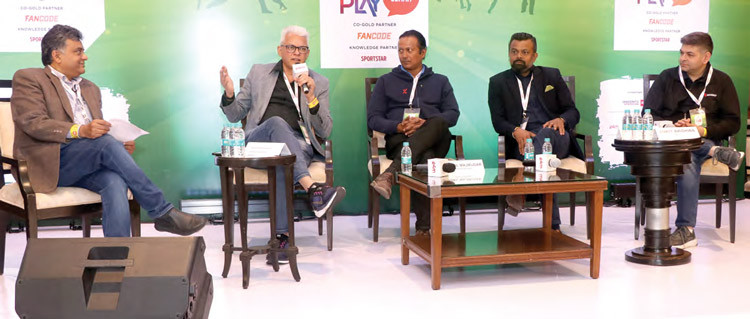 Topic: Marketing of a Sport: Fan Engagement for the Next Generation
Speakers: Navin Khemka, CEO, MediaCom, South Asia (Moderator); Joy Bhattacharjya, CEO, Prime Volleyball League; Saumil Majmudar, CEO & MD, Sportz Village; Tenzing Niyogi, CEO, Ultimate Kho Kho2 and Ankit Wadhwa, Co-founder & CEO, Rario
A high-power panel of experts spoke on the topic - Marketing of a Sport: Fan Engagement for the Next Generation. The panelists discussed the fast-changing landscape of sports marketing and the evolution of brands in the Indian sports industry. They shared insights on the sports industry and its growth over the years. They also explained why the world considers India as the single, biggest opportunity in sports. The panelists opined that a strong emotional connection between a sports player or the club and their fans, lead to increased brand loyalty and a positive perception of any brand. They echoed the same sentiments, agreeing that sports industry has a lot of potential in India and the right minds can make it a booming industry in the years to come.




Topic: Athletes Wishlist for Corporate India
Speakers: Anju Bobby George, Indian Athlete; Ajay Gupte, CEO, Wavemaker, South Asia; Vijender Singh, Indian Professional Boxer and KC Vijaya Kumar, Sports Editor - The Hindu (Session Chair)
In an engaging panel discussion chaired by KC Vijaya Kumar, Sports Editor - The Hindu, with eminent panelists Ajay Gupte, CEO, Wavemaker, South Asia; Anju Bobby George, Indian athlete; and Vijender Singh, Indian Professional Boxer touched upon multiple topics revolving around the role of corporates in supporting sports athletes. They also discussed in-depth about how corporates today play a key role in developing the sports ecosystem in India. The panelists described how sports has evolved in India and how athletes struggled earlier. Sports personalities on the panel also shared their own journey. The panel further addressed some tough questions like whether brands endorse sports athletes after winning medals at important sporting events or they also invest on emerging sports athletes as well, and if it's a challenge that the sizeable chunk of advertising money is spent on cricket rather than on other sports in India.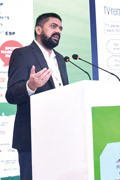 Topic: Sports Broadcasting on TV: A Match Made in Heaven
Speaker: Vibhor Gauba, Associate Partner, KPMG India
Vibhor Gauba, Associate Partner, KPMG India shared insights on the topic - Sports Broadcasting on TV: A Match Made in Heaven. He spoke about the sports broadcasting market and the penetration of Television in India. "Ever since Reliance Jio came out with its 4G plans in late 2016 and Digital started picking up, the conversation has often been that TV is under threat. If you look at the TV penetration in India, we are at 210 million households and if you look at the overall penetration in India and TV, it's close to 70%. So out of around 300 odd million households that we have, only 210 million households are actually using TV. So still a very big gap of 90 million households." Sharing his perspective on cord cutting, Gauba explained, "Cord cutting is something that is a reality and a fact that some households and some top tier individuals are actually moving away from TV. But that number is extremely small right now based on our industry conversations to actually make a dent in the TV household. So if you look at the numbers today, cord cutting would only be close to 0.5 to 0.7 million households in India, which represents less than 1% of the overall TV household base in India.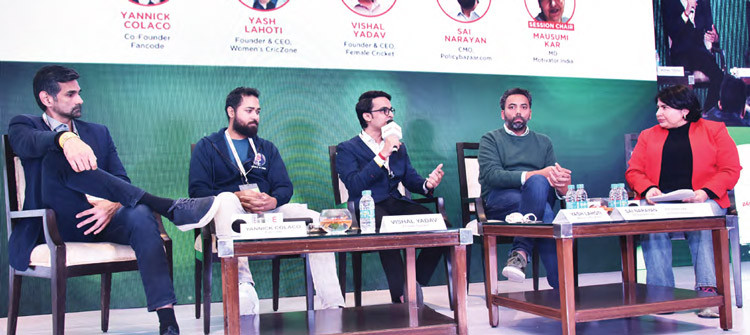 Topic: Women's Sports - Future of India Story
Speakers: Yannick Colaco, Co-Founder, Fancode; Vishal Yadav, Founder & CEO, Female Cricket; Yash Lahoti, Founder & CEO, Women's CricZone; Sai Narayan, CMO, Policybazaar.com and Session Chair: Mausumi Kar, MD, Motivator India
The panelists indulged in an interesting panel discussion on 'Women Sports - Future of India Story,' where they discussed women IPL broadcast rights, and India at the Women's World Cup. They also discussed about South Africa Under19 Women World Cup and how India is likely to lift the trophy. The experts also believe that Indian women can be the flagbearer of Olympics. The panel discussion further explored how women's sports can be the future of India story at the summit.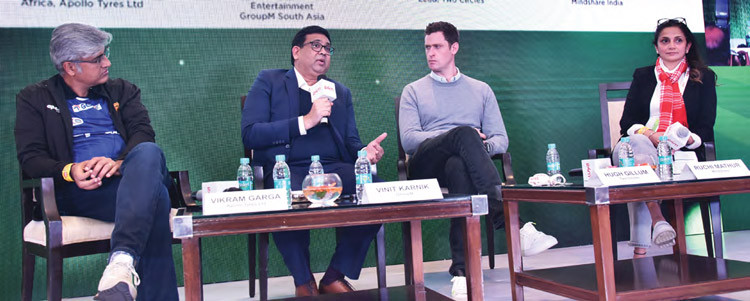 Topic: Sponsorship Rights 2.0
Speakers: Vikram Garga, Group Head Marketing, Asia Pacific, Middle East and Africa, Apollo Tyres Ltd; Vinit Karnik, Head – Sports, Esports & Entertainment, GroupM; Hugh Gillum, Commercial Sales Lead, Two Circles; and Session Chair, Ruchi Mathur, Chief Growth Officer, Mindshare
With sports marketing evolving manifold in the last few years, the discussion revolved around league sponsorship, how brands need to make the most out of sports sponsorships and much more. During the discussion, the panelists touched upon how sponsorships around technology and women's sport have evolved while speaking about the relevance of women sports and investing in them. Looking at individual sports like Olympics, Commonwealth and Asian Games, experts opined that maximum medals, almost 35%, have been won by women, which means, it's not only the men, but the women who can actually get medals. They also spoke about the strategic view that brands need to take for their sponsorships, and advised brands to understand the relevance of connecting with a sport and how they would leverage the association to build the brand.




Topic: What to Expect in E-sports in 2023?
Speakers: Nimish Raut, Global Head Esports, Partnerships & Special Projects, Nodwin Gaming; Richa Singh, Co-Founder & CEO, FanClash; Animesh Agarwal, Founder & CEO, 8Bit Creatives; Sonali Malaviya, Chief strategy & Transformation officer, EssenceMediacom, South Asia; Rohit N Jagasia, Founder & CEO, Revenant Esport; Sagar Nair, Co-Founder & CEO, Qlan and Session Chair - Piyush Kumar, Founder & CEO, Rooter
The pandemic lockdown resulted in a sudden jump in e-sports viewership, and the huge interest initiated conversations in the advertising community. But now that live sports are back in action, what can we expect for esports in 2023? To answer some of these questions, and more, a panel of experts delved into the topic - What to expect in e-sports in 2023? The panelists explained what esports means and how it has evolved. They opined that the general perception towards e-sports is that it is a recreational platform where people just spend some free time, but now the definition of e-sports has changed. It is a legit gaming platform where people have built careers and there are celebrity esports players. Sponsorship, branding, owning and supporting e-sports - all that and more is the future of this industry. Decoding who are the audiences consuming esports today, the panelists shared that anyone who has access to a smartphone and data is an audience of esports today.