Q] For a brand like Coca-Cola, what was your approach with regards to the association with IPL 2019? What did the brand seek to do differently with this association and what were your key objectives?
Cricket has always been more than just a game to its fans. It brings together the nation's people and their fervent devotion to a sport that exemplifies moments of upliftment. The Coca-Cola Company has a longstanding connection with cricket and its ability to bring people together. We are always on the look-out to create unique memories for our fans as well as explore opportunities to deepen engagement with our audiences. Sports events like IPL provide us with the scale to target specific audiences in our key consumption months; enabling a segmented approach in reaching out to the right consumers, in the right markets, with the right brands from our portfolio.

Q] How do you think IPL helps in creating a perception shift or a behavioural shift among key audiences? Has there been a similar shift for your brand?
IPL has made cricket more deeply rooted with its localization. IPL enables us to reach out to the consumer daily at the right time and make our brand and portfolio relevant in their lives. The campaign helped Coca-Cola enter the hearts and carts of the consumers. The growth in the base of people who consume our range of products is a strong testimony to the fact that we are part of their lives daily.

Q] Given that you have various brands under the Coke umbrella, could you help us understand how you leveraged your IPL association to gain maximum traction for each brand across specific markets?
In India we are on the journey towards being a total beverage company, offering beverages for different occasions and moments and as per the preference of the local palette. Our consumer-first approach focuses on the brand in its priority markets and delivers communication in the local language feed. IPL is a festival of India, each season has its memorable moments, thus, making our brands a part of our consumer's life. Consistent communication during IPL – repeated over the years – leaves an indelible memory in the minds of consumers who love our brands.
Q] It's safe to say that audiences have evolved today from an ad consumption perspective today. Along with this, so have platforms like TV and Digital. What kind of impact does this evolution of audiences have on your brand?
Audience are looking for entertainment/information. The landscape has evolved and kept up with the pace of delivering to the consumer what he/ she seeks. This coupled with personalisation, interest based and language options has led to an explosion choice of content available to every individual who has access to multiple mediums. The current behaviour of the consumer indicates and dictates that they should not be interrupted but engaged when they are open to hearing from you. During the IPL in 2019, we allowed consumers to express themselves with help of an emoticon to celebrate their special moments on the match. The current approach is to experiment with formats beyond display / video.

Q] What does creativity mean for a brand like Coca-Cola and how important is it when you are planning your advertising?
Creativity for Coca-Cola simply means connecting with our consumers. The authenticity helps make them feel special and a part of everything that we do. All our stories #ShareACoke, #SayitwithCoke and #TheTwelfthMan, are a tribute to how our consumers feel and live their lives. We believe that these stories essentially reflect emotions and when done consistently, it drives behavioural and attitudinal change over time. This, in turn help us build and strengthen brand love.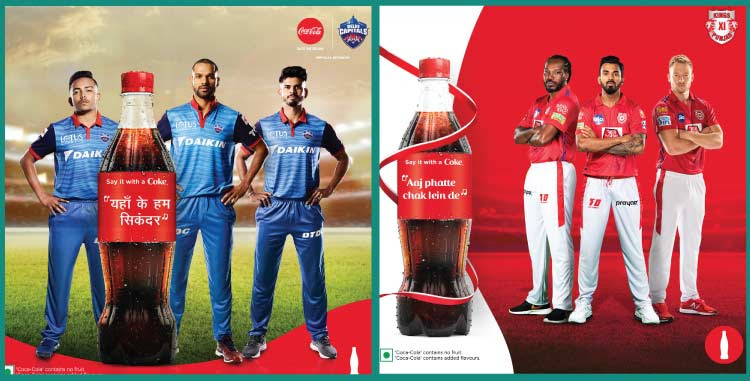 Q] We saw some very innovative integration of your brand on Hotstar last year. Could you elaborate on this integration, how it worked, and the consumer feedback/engagement you saw with that initiative?
Integration drives experiences. Very often when these are contextual to the moments that our consumer cherishes, they build positive engagement. During the IPL, we wanted to give the consumer more opportunities to express themselves while watching the game live. Therefore, we partnered with Hotstar to embed a special emoticon to express 'love' and 'cheer' for the moment. Each time the user clicked on the emoticon two bottled of Coca-Cola cheered. We found millions to users interacting with this simple integration repeatedly. Contextual branded cards appeared within the chat environment that celebrated partnerships and other relevant moments. For the first time in 2019, Hotstar let users invite their friends to the chat in the platform. Coca-Cola continues to be present as an enabler of this action.
Q] In the last few years, IPL has become one of the biggest marketing platforms with multi-language feeds, live stream on OTT, etc. How do you think these benefit marketers and how can this be leveraged?
Companies are investing and spending on neurosciences and analytics to capture consumer insights on products and marketing strategies and messages. To cater to the needs of the ever-evolving consumers has become quite a need of the hour. The IPL is a marquee property with wide reach, connecting a billion consumers over the common passion of cricket. Furthermore, its dynamism as a marketing platform with offerings such as multi-language feeds and OTT makes it a lucrative platform for brands to be associated with and allows marketers to deploy a single idea via a single platform but see it tapping different consumers and different markets, thus catering to the needs of the larger populace. Our brands continue to be seen in relevant moments, at the right place and in relevant language feed.
Q] As a brand that used IPL advertising on TV and OTT, how do you think this impacted your business and brand objectives?
We at Coca-Cola are constantly working to ensure our presence across a variety of consumer-preferred platforms in different formats. Our effort has been to bring alive an idea seamlessly across various connection points, driven by the belief that everything from a label to a gif communicates. These minutely detailed planned interventions have resulted in growth for our business while sharpening our brand edge in the consumer's mind.
Q] What are you looking forward to in IPL 2020?
We look forward to a blockbuster IPL 2020, where we deliver engagement at scale. Our brand voice embedded in memorable live action. As always things go better with a Coke.