Earlier this year, Tata Consumer Products acquired homegrown cereal brand, Soulfull. Prashant Parameswaran, MD & CEO, Tata Consumer Soulfull Pvt Ltd explains what the new acquisition means for the brand in terms of growth and reach. He also tells us how the recent announcement by the UN to make 2023 the year of millets will have far reaching implications for the country's smaller farmers and even for the brand
Q] Soulfull was recently acquired by Tata Consumer Products. What does that mean for your brand, and what are your expectations now post the acquisition?
We have always been very clear that millets are not a niche area. With Tata Consumer and the rebranding of the company as a Tata Consumer Soulfull, our entire single minded focus is about making health accessible and mainstream. And how do we utilise the power and the strength of the brand of products to take this to more than just the top set of the cities, to smaller towns as well and make it into a household name – now that becomes extremely important. And what 2023 as the International Year of Millets (as declared by the UN) also does is, it provides us that platform, not just at an India level, but also at a global level to test and see where those boundaries really are. At the same time, given the work that we've done on science and technology on millets, how do we take the power of Tata's research and development, and how do we bring the beauty of these two worlds together? So that's essentially what we're really looking at.



Q] Last year, Soulfull launched Ragi Bites baked snacks for kids. How did the product perform in the market?
Interestingly, we had launched that right during COVID times, exactly a year ago. We had piloted the product in Bangalore and had a fantastic result that came out of Bangalore, large repeat rates from our test market. And with the acquisition of Soulfull by Tata Consumer Products, one of the things that we had also said is we need to scale up each piece of our business. And snacking is a lot more driven through the physical store, Ragi Bites is a great product but there are a lot of other products that we plan to focus on, but we want to try and scale up what we already have and then bring in innovations that we've done over the last one year.
Q] Soulfull is currently present across 12 cities in India, mostly in the South. What are your plans for expansion to other parts of the country?
If we have a plan to make health mainstream, it's very important that we don't just stay within the cities where we were, predominantly right in the South, NCR and Kolkata. As we roll out, we will start going close to 20 to 30 cities, and then we will further scale up the number of cities. So definitely the plan is to go into more cities. And that will enable us also to use the sales and distribution network that TCPL as an organisation has, i.e. 2.4 million outlets. The point is to say, where all can we take the brand? And how can we make the brand truly mainstream and make health accessible for India?
Q] Soulfull has collaborated with various e-commerce platforms like Amazon and Flipkart. What kind of sales and traction are generated from these platforms?
For any new age brand, e-commerce is an essential channel. Our e-commerce is around 15% to 20% of our business as a channel, which is significant. In fact, there are certain products and portfolios, where we sell only on e-commerce. We have quadrupled our business online. And that's definitely a strong growth story that we have in e-commerce, which is here to stay. I believe COVID is just accentuating it.
Q] As you mentioned, the UN recently declared 2023 as the international year of millets. What are the implications of that for your brand and the country?
It's an extremely big and bold move. Given that India is in fact the largest producer of millets globally, what this provides is a good platform, which not only enables India to showcase millets, but also for the entire supply and for the farmer community, actually being able to take millets not just to an Indian diaspora, but also globally. The move also enables millets to come into the forefront and also take a global scale. We at Soulfull see this as a great move from the UN. Millets have always been in India, but over time they seem to have lost their importance. So the constraint has never been about supply but it's about how do we ensure that there is demand so that the supply can really benefit. It essentially provides a market for the Indian farmers and suppliers at a much larger scale. It also just goes along with the health and wellness trend that has been accentuated by COVID.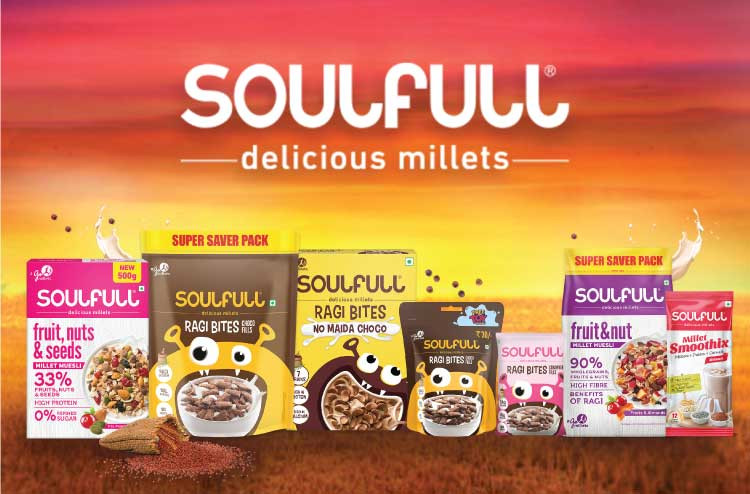 Q] What were the challenges of re-establishing millets in the Indian market?
So it was never that India didn't know about millets. The only difference was that your parents never consumed millets. So interestingly, when we speak to consumers, it was their grandparents who were doing more of the consumption. So what we asked ourselves is that – how do we focus on making relevant products for our consumers based on the concept of millets? Now, with that, obviously comes a whole host of challenges. One major was at the back end, which is around the technology. Unlike the mainstream crops of rice, wheat or corn, millets have not really had enough investments of time and energy towards development of food processing technologies of the science behind the grains, and much more. So we had to actually spend a lot of our time and energy developing all of this in-house, which makes us different. Another major obstacle was to retain the nutrition of millets and ensuring that the shelf life of the product is being maintained. We have made strides there and hope to keep that momentum going.