Q] Could you give us an insight behind the latest ad campaign? Why did you rope in Shah Rukh Khan as the brand ambassador?
As a category, body wash is not very highly penetrated in India. But it is a category which is quite aspirational. Consumers understand that it offers something over and beyond their regular bar soap. So, the awareness and desire for the format are there. What we are doing with Magic, is that we are bringing in a pretty interesting technology of reconstitution. It means consumers purchase a small sachet of gel, which they have to mix with water to make a full bottle of body wash. As we are selling a sort of concentrated sachet rather than a full bottle, less plastic is being used in the packaging, and less fuel is used in the transportation. Thus, the product is clearly cost-effective for consumers and very importantly, kinder on the planet.
As for Shah Rukh Khan, obviously he is a massive celebrity and we chose him because of the attention his celebrity status gets you. But it goes a bit further than that too. It's actually been a while since Shah Rukh has been in this type of ad. It's not a conventional sort of product advertisement. In fact, it's almost like a behind the scene view of a product advertisement. So, we felt that Shah Rukh, in addition to his stature, is a person who could do complete justice to that creative idea.
Q] Four countries - India, Indonesia, Nigeria and Bangladesh - currently account for 80% of GCPL's revenue. What is India's contribution to its global business? How much has it increased over the past few years?
India's contribution to GCPL's global business is around 50%. As for the second part of the question, as we went on our international expansion, the proportion of India would have reduced, because we are building big international businesses. But we have not done much acquisitions over the past few years. Therefore, over that period, India's contribution has continued to be about 50%, because both India and the international businesses are seeing good growth. Thus, both sides are roughly the same.
Q] Four years ago, GCPL set up an independent e-commerce business unit in India, with separate profit and loss (P&L) accountability. How has this unit performed so far?
That unit was set up after recognising that e-commerce is quite different as a channel and it really requires different capabilities to succeed. At that time, we felt that this organizational structure of an independent business unit was a good way to rapidly accelerating our development of those capabilities. I think, it's been a success story as we were able to quickly develop these capabilities. For example, management of content on e-commerce and retailer websites, be it the catalogue or the banner advertisements, is a sort of specialist skill. We were able to build that and the performance has been good.

Its performance in FY 2021-22 was also strong. In all honesty, there was some tailwind from wave II of the pandemic, because offline retailers were shut during those months and that helped online retail.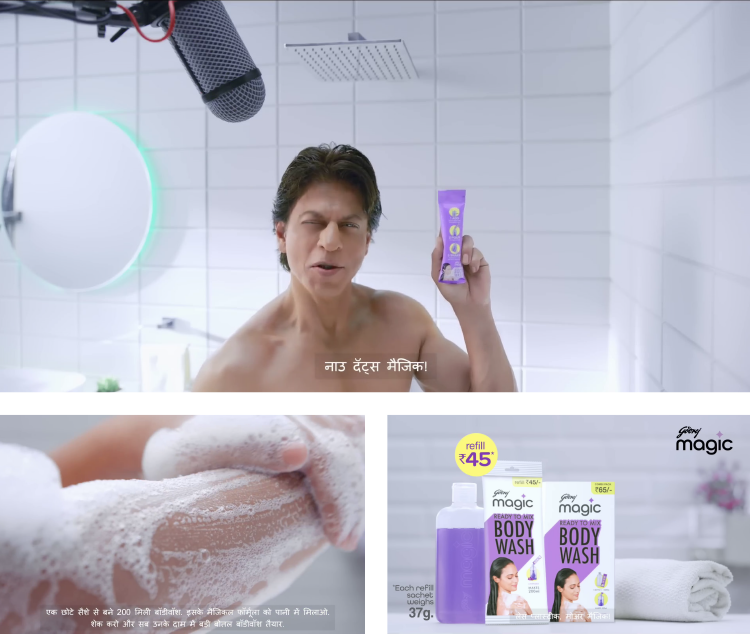 Q] Overall, what percentage of your sale is now coming from e-commerce? How much has it increased over the past three years?
The percentage of sales is actually a bit of a tricky metric for FMCG companies because the relevance of e-commerce as a channel varies from category to category. Having said that, we are now at around 4 -5% e-commerce salience, depending on the exact metric that you look at. Before we formed the e-commerce business unit four years ago, we were at about 1% or less than that. So, it's been quite a significant increase. Salience is something that we track, but what is more important than the overall salience is that both market share and profitability should be accretive relative to the other channels.
Q] As per media reports GCPL is aiming for a double digit volume growth over the next few years. Which areas of the business are you focusing on for achieving the same?
That's actually a very big question. But to sum up briefly, we truly believe that there are huge amounts of volume growth available to us simply by increasing the penetration of our core categories in our core countries. As an FMCG company, I think it's easy to be almost seduced by new categories and that certainly has a role to play. But the majority of our growth will actually come from increasing penetrations. So, the number of households using our categories such as household insecticides, hair colour and others still has a lot of headroom to grow. Therefore, we think that by focusing on that across all the elements of the marketing mix, a lot of volume growth will come to us.
Q] Recently it has been reported that GCPL has reworked its business plan with a global view. Can you please throw some light on this?
GCPL has at least for the past 10-plus years had a global strategy. One of the big drivers of GCPL's growth in the past 10 years has been international expansion which has been largely acquisition-driven, along with some organic expansion. In fact, we've been managing our product pipelines globally for a long time. For example, when we launched our highly successful hair colour product, Godrej-Expert Rich Creme, it benefited significantly from the insight coming from our Latin American business. Having said that, we are now looking to accelerate this and think of our business even more internationally. We are, in fact, looking to do an even better job capturing the synergies that exist across countries. Obviously, consumers in a market like Argentina are pretty different from consumers in a market like India. But there are actually a lot of commonalities in their behaviour and attitude. You'll find that consumers across our markets are very concerned about mosquito-borne diseases like dengue and malaria. Thus, we are finding that both product pipelines and advertising content can be leveraged across different markets, obviously with a lot of customization for the local context. The consumers are not the same, it's just that in certain categories a lot of their needs are the same. A good product example would be the liquid vaporizers under our Good Knight brand. We're in the process of airing a new ad across three or four of our biggest markets globally.