Q] What was the insight behind Great Learning's recent campaign - #NewBeginning and what kind of response has it received?
I think the need to learn, upscale, stay contemporary is a necessity, because of the way things have been changing around us owing to Covid-19. So we realised that we had a lot of these questions in our routine interactions with our learners, we've understood that this is not something that everyone clearly knows. They're actively looking for some information and guidance to be able to make the right decision. So it's not a question of should I, but which one should I. We had asked people to share their stories of #NewBeginnings and heard from over 500 professionals, we were blown away with the response.
Q] What was the marketing mix for the campaign?
We mainly pushed this through our own assets like social media, mainly LinkedIn where it was very well received.

Q] What was the reason behind choosing Virat Kohli as the brand ambassador and how will you leverage this collaboration in future?
Great Learning's philosophy is - 'Jo Seekhta Hai, Wahi aage badhta hai', which is about lifelong learning and Virat Kohli was the perfect candidate to endorse it because he represents the aspirations of young India and has such a deep connect with the youth of our country. We got him on board with our first campaign for IPL on Hotstar where we were the associate sponsor. It's going to be a long association with Virat Kohli.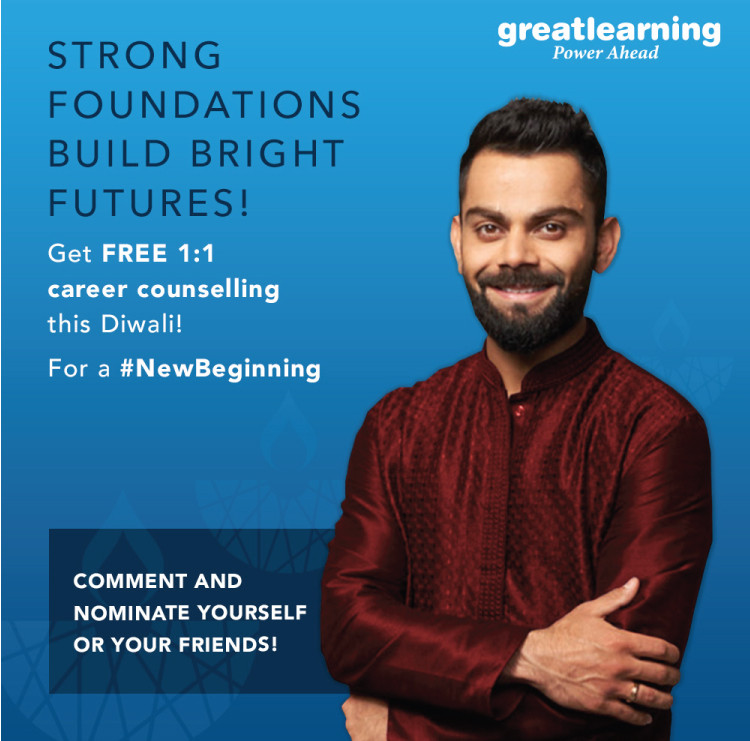 Q] What kind of marketing approach did you adopt during the pandemic and which was the most sought after course in the past eight months?
The pandemic was an extremely busy time for a lot of EdTech firms and Great Learning was no exception. All of our big marketing campaigns were launched during the last four months. We made our debut on television in August with the message - 'Jo Seekhta Hai Wahi Aage Badhta Hai'. This TV campaign was run across multiple channels and in different languages. We followed it up with the Virat Kohli campaign in IPL. In addition to that, there have been a host of other educational campaigns all of which made sense because we've been seeing a massive uptick in some of our programs that deal with new age tech skills like analytics, machine learning and artificial intelligence. All of these have been growing significantly, because of the large number of learners who have been wanting to upskill during the lockdown.
Q] What is your take on the new National Education Policy passed by the government? What impact do you think it will have on the online education sector?
The NEP 2020 brought in much needed changes after 34 years, when the first policy was made, to usher in a new contemporary era of Indian education with more emphasis on innovation and creativity, rather than just burdening learners with just a lot of information, keeping them constantly focused on only scoring and learning of the content rather than essentially getting a good grasp of conceptual learning. It's really positive that some of these very hard compartmentalization of subjects has been done away with which gives students a lot of flexibility to pick and choose according to their aptitude. The digitization push helped in setting up of the National Education Technology Forum (NETF) which will oversee how we build capacity, develop e-content and provide a platform to different education institutes to share the best practices and technology.
Q] What marketing strategies have you planned going forward?
Awareness building will remain our priority in the near future. While building that awareness, we'll also ensure that we are empowering our learners with access to the right kind of information to make the right decision. If you look at some of the things that work really well for Great Learning today, we have the highest completion rate in the sector-- about 90%. Two out of three of our learners experience career transitions within the first six months of their program completion. So our focus will continue to be on these kinds of outcomes as we scale.
Q] What is your personal vision for the brand since taking over as CMO?
Quality leadership in this space is essential. And Great Learning is very focused on maintaining the quality of the learning, which is very high currently. The kind of completion rates that we are seeing is very high, even globally. This is a sector that's definitely heating up. We will be focusing on offering the highest quality programs that bring about a transformation in our learner's career and life. Therefore, as a CMO, the top priority for me and my team will be to create awareness about us and our offerings.