In a conversation with IMPACT, Manish Chowdhary, Co-founder, Wow Life Science discusses the appointment of Kareena Kapoor as the face of the Wow Life Science Organic Apple Cider Vinegar drink and more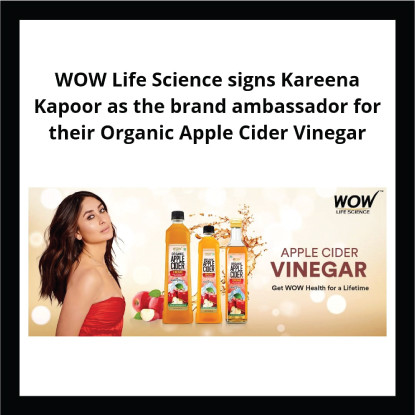 Q] Why did you pick Kareena Kapoor to be your brand ambassador and how do you think having her on board is going to help Wow Life Science?
Kareena Kapoor Khan is an inspiration for the whole country when it comes to health and fitness. She is a trusted name among millions of people who aspire to lead a balanced and healthy lifestyle. Her affinity for a natural and organic lifestyle was completely in sync with what Wow Life Science stands for, as a brand. It was especially relevant when it comes to our Apple Cider Vinegar Drink. Having her on board will help this drink reach its desired consumers and help them in their quest to lead a healthier lifestyle.

Q] Tell us a little about the health drink, Organic Apple Cider Vinegar. What distinguishes it from the other products in this space?
The Wow Life Science Apple Cider Vinegar is derived from the juice of the finest apples grown organically in the Himalayas. It is 100% organic, made from natural ingredients and has multiple health benefits. It is unfiltered, raw, and comes with the 'Mother of vinegar', which means that it retains apples' natural residue and potency. It is rich in antioxidants, vitamins and minerals, and has multiple health benefits as well. It helps keep weight in check and also boosts metabolism. It is an age-old health companion that people have put their trust in. Wow Life Science brings the best to our customers.
Q] Last year actors, Bhumi Pednekar and Disha Patani were roped in, and now Kareena Kapoor. In what way do such collaborations with A-List celebrities help Wow, does it help you break through the clutter better?
Our collaborations with Bhumi Pednekar, Disha Patani, and now Kareena Kapoor are a medium to reach out to a mass audience and generate more awareness about the natural goodness and high-quality products which we have to offer. Assigning a popular trustworthy face with like-minded values helps us create a better brand image and build credibility.
Q] What plans does Wow Life Science have for upcoming campaigns and what are the mediums you are targeting?
We have a host of new categories and products which we will be launching under Wow Life Science this quarter. We will be promoting them through social media, tie-ups with celebrity influencers who align with our values, credible nutritionists and coaches. We are also exploring ATL and BTL activities to engage a larger set of audiences.
Q] Tell us about the big changes in your advertising journey since you launched Wow? What were the key focus areas for you then and now?
We deliberately chose to keep minimal marketing budgets when we launched. Word-of-mouth, being bestsellers on Amazon, social media outreach and influencer marketing initiatives helped propel growth for us in the initial stages. Our focus areas now are mass reach mediums like Television, leveraging our set of brand ambassadors Kareena Kapoor, Disha Patani and Bhumi Pednekar, establishing more strategic partnerships and stronger content to play on our brand's strengths. Earlier we employed a digital first strategy to reach out to the maximum number of consumers and succeeded to a great extent. But now we are ready to scale up and employ mass media like television as well.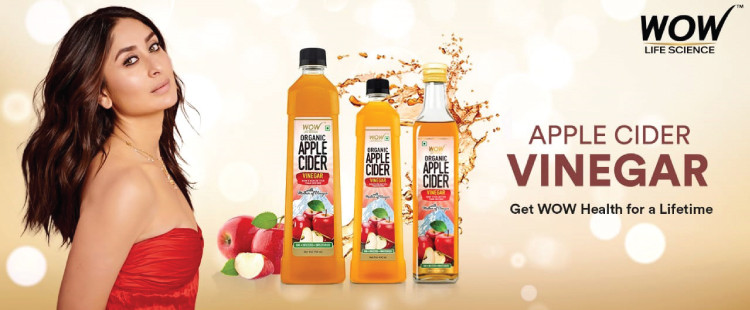 Q] Today has the priority shifted towards using organic, cruelty-free products to maintain skin health during the last year? What are some of your most popular products today?
Yes, definitely. Millennial and Gen Z cohorts in particular are much more conscious of the brands they choose. With growing awareness and education, audiences are realizing the benefits of using natural and organic products. Our Onion Hair Kit, Apple Cider Vinegar Shampoo and Face Wash, Vitamin C Skincare range are bestsellers in the market. And, yes for sure the pandemic has made people understand and appreciate the importance of self-care.
Q] Are you facing more competition from the bigger established brands like L'Oreal, Lakme, Garnier, etc. or the home-grown newer organic brands like MamaEarth, Plum Goodness, etc?
Brands like L'oreal, Lakme, Garnier have existed for years and carved out awareness in customers' minds and a good chunk of market share. But we have always believed in standing out from the crowd and remaining focused on our ethos of being nature-inspired, customer-centric and agile. Our innovative formulations are inspired by traditional Ayurvedic secrets for delivering the finest of health and beauty essentials.
Q] In the near future are you looking at bigger sales coming from online channels or offline channels like pharmacies and supermarkets...will you be launching Wow stores?
We are aggressively focused on growing through both online and offline channels. While we are pretty established online, we have a huge scope for growth in offline channels and we plan to expand rapidly in that segment. Yes, we are looking to launch exclusive Wow outlets in future.
Q] What kind of growth has Wow registered during the pandemic?
Though we cannot reveal exact numbers, fortunately, we experienced unprecedented growth last year. Multiple factors contributed to that – we saw a greater preference for natural plant-based products, there was a paradigm shift in consumer behaviour in the personal care category and people showed increased interest in self-care.