Sandisk, a Western Digital brand, has recently rolled out a campaign - #ShareYourWorld to celebrate the spirit of photo enthusiasts. Jaganathan Chelliah, Senior Director of Marketing, India, Western Digital talks about how they are encouraging people to share their beautiful memories and how the brand is harnessing the power of Digital technology.
Q] Tell us about Sandisk's new campaign - '#ShareYourWorld'. What was the insight behind it and what kind of reactions have you received so far from consumers?
In today's digitally empowered world, pictures play a huge role in reminiscing the moments gone by and sometimes provide hope in an otherwise not so optimistic reality. Especially, with the pandemic teaching us the value of being connected and having memories to rely on, even in the darkest of times. We leveraged this insight to roll out our latest #ShareYourWorld campaign. As one of the most trusted brands for storage solutions, SanDisk wanted to provide a bridge for people to connect their experiences through their photographs, while also emphasizing the need for safely storing these photos, to preserve memories forever. We leveraged World Photography Day to celebrate the spirit of photo enthusiasts who bring the unseen stories to life through their shots while driving home the idea of preserving their old and new photos & movies with SanDisk. We saw a massive participation from consumers with over 5900 unique entries, over 25600 images uploaded on our microsite.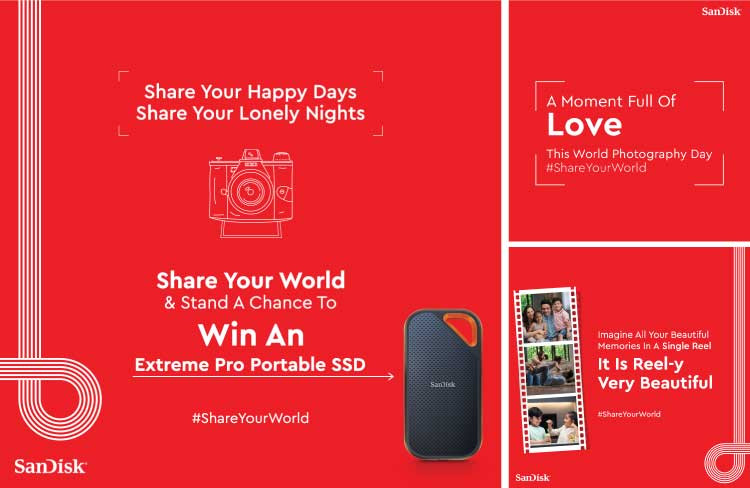 Q] What is the media mix and budget for the campaign?
Since the campaign objective was to drive high affinity amongst our core TG , we provided 70% weightage to digital video formats and 30% to rich media. YouTube and Instagram were the lead channels supported by Travel, Lifestyle and Tech channels.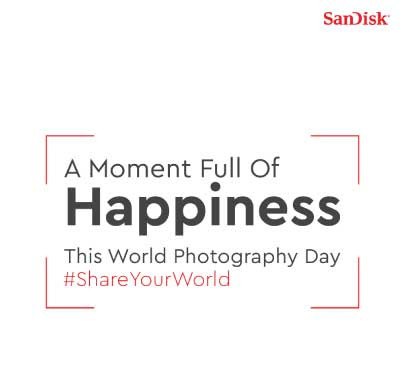 Q] What are some of the big shifts and areas where you made big changes in terms of marketing since the pandemic?
Now, more than ever, we have realized the importance of humanizing our marketing efforts through content that resonates with our consumers and building trust. We were one of the first brands to move into a digital model of engagement with both our partner and end-user ecosystem. For example, Western Digital launched two products through a virtual press conference by innovating a 3D platform, which set an industry benchmark. The digital video campaigns and social media initiatives further help Western Digital and our popular products across portfolios like SanDisk, WD My Passport, and WD_Black. All our campaigns are aimed at hitting the right chord with the consumers' lives across touchpoints and making their lives convenient. For example #BackUpAndStaySafe campaign is aimed at building awareness around the benefits and the importance of backing up digital content. As a part of this campaign, Western Digital also unveiled a micro-site populated with informative posts, interesting facts about data backup, quirky creatives, myth busters, and interactive quizzes to make the experience more engaging for the visitors. As an organization, we are fully prepared for the new normal with new-age digital tools and solutions.
Q] What are some of the innovations and avenues you are using on Digital?
We have successfully put together digital campaigns that integrate a 360-degree approach using interactive banners, engaging content formats on social media and collaborations with leading industry influencers. Understanding that our target audience is highly active on social media platforms, we have leveraged Instagram to launch the #ShareYourWorld campaign. The campaign resulted in an outpour of user generated content on our microsite. We further curated mini reels of the images and brought these stories to life.
Q] How is your brand harnessing the power of technology?
Our vision behind introducing any new product is – how can we make our consumers' lives easier? Thus, as a technology-first company, we are constantly innovating with an emphasis on bringing convenient products with newer, better, and faster technology. We are constantly researching the market trends to provide our customers with need-based solutions. Whether it's SSDs, HDDs, Flash Drives, SD cards, MicroSD Cards, or our Dual Drives. The unsurmountable trust that consumers have in our products is a testament to the supreme technological innovations that we bring forth for them. Just to give you an example, we recently launched our portfolio of SanDisk IXpand Wireless Chargers. It is the world's first device with the dual functionality of wireless charging + storage and backup packed into one sleek device offering. We have also been the early adopters of high performance NVMe-powered technology into portable SSDs and launched the SanDisk Extreme® and SanDisk Extreme PRO® portable SSDs.
Q] With gaming and content creation seeing massive growth of late due to the pandemic, have you seen any substantial increase in demand for your products?
During the pandemic, we saw an increasing interest in PC and mobile gaming. Our 'Next-Gen Gamer' survey revealed that along with having a good graphic card to support high graphic games, having a high performance storage space with the right capacity is essential for gamers to ensure faster upload time. As per the survey, 57% of the gamers stated that slow storage leads to a poor gaming experience and that two in every five gamers had to make tough choices of deleting their favourite games due to lack of storage space so that they could have a better gaming experience. These findings determine the need for fast and high-performing storage solutions that provide you with an immersive experience. We have a keen eye on the developments of this sector and constantly keep innovating to keep up with consumer demand. Our WD_Black SSD portfolio is specially designed to meet the needs of the rapidly growing gaming ecosystem. We introduced two new devices to the WD_BLACK portfolio - WD_BLACK SN850 SSD and AN1500 NVMe SSD add-in card. Both devices have been designed to provide more storage and added speed to the game.
Q] What strategies have you planned to drive growth for your brand, going forward?
As India is a mobile-first consumer economy, we are increasing our focus on the portable SSD category and the mobile USB category, for which we have the SanDisk Extreme Portable SSDs, and SanDisk Dual Drive range – catering to multiple devices across operating systems. Moving forward, we will also be leveraging the vast base of laptop and desktop users and help them increase their PC performance with our WD Blue SSD portfolio.