Nikhil Gandhi, a seasoned media professional, was recently roped in by Times Internet-backed MX Media as COO to drive growth for the company in India and globally. He spells out his key priorities as COO, which include growing the reach of MX Player and MX TakaTak, driving investments in technology to enhance the user experience on both the platforms, and growing the scale and scope of revenue streams beyond AVOD and SVOD.
Q] What are your key priorities as the COO of MX Media?
Our business has grown leaps and bounds in the last 2.5 years and given the scale that MX Media has reached, there are three or four factors that I am going to be driving. 1) Expanding the geographical reach not just in India where we have a large base but also some of the global markets where we are present and want to grow our user base. 2) We want to enhance our entire data-driven as well as tech innovations that we are currently investing in. 3) At a business-level, we want to grow the scale and scope of our revenue streams that go beyond AVOD and SVOD.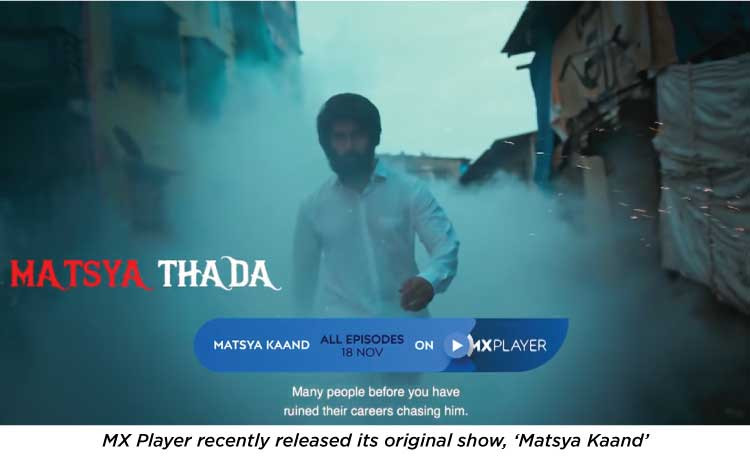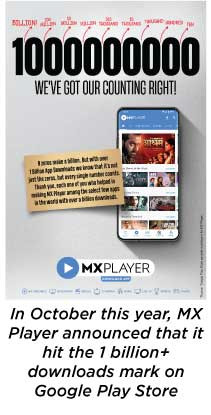 Q] Can you elaborate more on each of these three points?
Geographical expansion is of many natures. If you look at MX Media as an organisation, we are a business of multiple apps that we have as an offering. MX Player is one of the biggest apps that has more than 300 million users globally. We have short-video app MX TakaTak, which has about 200 million users.
Within MX Player, which is a super app, we have a gaming and music streaming service. As a wholesome offering, we are poised as the only one in the market to have all forms of entertainment under one roof. That makes us a media and entertainment digital giant with 450 million users in India and globally. Recently, we had achieved the 1-billion download milestone on app store surpassing 50 other players, which also includes global giants. It is a huge achievement for an Indian company.
Our growth levers include expanding geographical reach in markets where we are present. We also want to increase and improve the experience for users, both in India and abroad, in terms of content layers as well as the new innovations and new services.
The second lever that we are very strongly poised with is engagement. Now, engagement is driven in three or four ways. One is content consumption engagement, which is our online streaming business in MX Player, which has originals, movies, and acquired content across multiple languages. We are looking at ways to improve the user-engagement in terms of billion minutes of watch time that we garner. Within engagement, the second lever of growth is to improve interactivity through our gaming and short-video business.
The third level is influence. Given that our app has this kind of massive reach and technology, how can we build our business? On the streaming service, we have some of the biggest talent and, on the other hand, we have creators and influencers on our short-video service. We want to increase that pie, which is sitting at 150,000 creators. We are looking to create grassroot-level creators, who are showing great talent signs of success.
So our three growth levers are expanding reach in India and global markets, increasing engagement through interactive as well as content buckets and building influence through our talent on OTT streaming as well as influencers on our short-video platform.

Q] How do you plan to scale up MX Player and MX TakaTak further?
MX Player is second only to YouTube in the AVOD market for a while now. We have reached that scale in a short period of time. We have developed a very sharp sense of user acquisition as well as growing our content buckets. That journey will continue. We will venture into various user as well as language segments that we got on the app, which will drive our growth to the next level.
On MX TakaTak, we have reached a certain level of user base. Now is the time to mobilise it. We are at an inflection point, where we are looking to drive aggressive growth over the next 2 to 3 years. We are excited about the journey that creators have had especially with the new-age creators that we have been able to discover on the short-video service. Content and technology investments are going to be our priority going forward.
Q] What are your content plans for MX Player?
Our investments in original content continue to be at the forefront. We will launch more and more new shows on the app. Currently, we have one or two new show launches on a monthly basis. We plan to launch 4 or 5 shows every month going forward. The aim is to have a constant supply of originals as well as new acquired genres that have not been explored as much in India. That will drive a certain level of content consumption and watch time. We will be designing our content buckets across multiple genres as well as languages that drive our growth numbers to the next level.
Q] How are you building the creator economy on MX TakaTak?
After the exit of TikTok from India, most of the creators migrated organically to MX TakaTak for multiple reasons. We had already demonstrated a certain scale right at the time of launch. They were impressed with our technology and the success that MX Player had already shown in a short span of time. We were also able to drive a new dimension of content creation through the effects that we have on the app. These three things encouraged the creators to continue their journey and build from thereon. That itself has driven the creator economy to not just grow their presence but also to start monetising. Most of the advertisers are looking to work closely with these influencers and creators to drive their communication agenda. We provide reach, interactivity, engagement, and influence. This is a very lethal combination that gets lapped up by an advertiser. Increasingly, advertisers are earmarking budget exclusively for short-video platforms. Being the leader, MX TakaTak is able to drive a lot of innovation through our VFX as well as technology.
Q] Apart from advertising, which are the other revenue streams that MX TakaTak will focus on?
We are going to be driving our business through multiple revenue streams. If we have a sizeable user base and advertisers are attracted by our combination of reach, engagement, interactivity, and influence then advertising will be one of monetisation opportunities we will certainly look at. If you look at the short-video space, there are maximum two players who have achieved scale. The ones who have not been able to achieve scale are pivoting to different areas. We will certainly have a combination of a lot of things in the future.
Q] How has the advertising growth been for MX Player and MX TakaTak, considering both platforms have a significant presence in tier-II, -III and rural markets?
We are present in all sections of the market, whether it is urban or rural. We have a diverse set of audiences on our apps, which attract a lot of advertisers to the platform. We enable sharper targeting of different user bases in terms of age, gender, and profile. We have collected a lot of deep data in the last two years. Our analytics provide far sharper targeting compared to other platforms. MX Player is a long-form video format platform and MX TakaTak is short-form video platform. More than short-video it is also vertical consumption. Advertisers find different kinds of audience set on both the platforms. Our advertising has seen phenomenal growth in the last 18 months. We are happy with the progress that we have been able to make through our data analytics and ad tech.