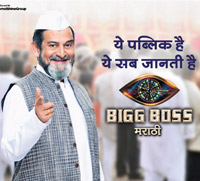 Colors Marathi has just begun the new season of Bigg Boss Marathi, with Rin on board as the presenting sponsor, while Puraniks and Helo app have joined as special partners.
Nikhil Sane, Business Head – Marathi Entertainment, Viacom18
, says, "As per Colors Marathi's performance, we have grown in terms of GVM by 49%. Our market-share is up from 11-16%. The topline has also grown in the last financial year by 42%. We have our own expectations. Ad rates have increased by 20% from last year."
OTT STRATEGY:
Sane claims that the show has done extremely well on OTT platform VOOT, which has compelled the advertiser to look beyond TV. On VOOT, avers Sane, "It (Bigg Boss) has been the Number 1 show during that period, growing by 26%. It crossed Naagin and MTV Roadies. Advertisers are also seeing great value, beyond BARC ratings."
"This time we are trying to have the show up on VOOT immediately after it goes on air. Last year, we had put the episodes the next day. If we are able to put it on the same night, I am sure the performance will spike up. We will continue to have the voting exclusively on VOOT because the response has been fantastic. Probably that will also help us build a brand which will be the extension to Bigg Boss and Colors Marathi," says Sane.
EXTENSIVE MARKETING PLANS:
The channel has drawn up an extensive marketing and digital outreach plan to draw the viewer closer to the show. The broadcaster has identified a large number of State Transport bus stands in Maharashtra to reach out to the rural population. In addition, the Railways are going to be an important factor too. That apart, the channel has also created a real Bigg Boss house on a bus.