The digital momentum from 2020 will enable advertisers to capitalise on innovative ways to use data and deploy programmatic technology to achieve stronger outcomes from their marketing investments
E-commerce platforms are an essential digital channel for advertisers to reach their target audiences and influence sales. But e-commerce is a booming and evolving world that may present new and daunting challenges for some marketers. Success in e-commerce demands that they adopt a data-driven, omnichannel advertising strategy. That's why they're turning to programmatic media. Its extensive reach, real-time responsiveness, and AI-enabled optimisation capabilities are the only way to achieve the scale, agility, efficiency and effectiveness they need to compete in e-commerce.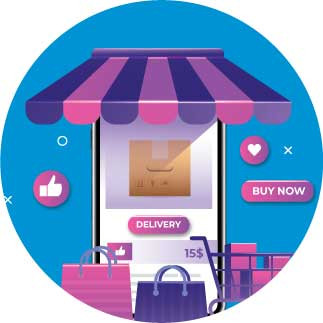 E-Commerce: Transforming India's Retail Segment
The year 2020 was transformative for India's massive retail sector. Many businesses and retailers embraced the online business model to respond to consumer demands amidst a large-scale lockdown, which served as an added impetus to the market's already flourishing e-commerce industry.
According to the India Brand Equity Foundation's Indian E-Commerce Industry Report, India will surpass the US to become the second-largest e-commerce market globally by 2034. Currently, consumers are spending more time shopping online than going to brick-and-mortar stores. A McKinsey survey shows that 57% of Indian consumers expected to shift their holiday shopping online in 2020 – and 70% intend to continue shopping online even after lockdowns are lifted. Indeed, this digital shift is only just beginning.
To adapt to the modern customer journey, ad budgets and campaigns must discard their traditional 1:1 strategies and transition to an omnichannel marketing approach.
How E-Commerce Strategy Has Changed
In the past, brands attempted to reach customers through various individual e-commerce channels, including social commerce and virtual stores. But those marketing efforts sometimes fell short in influencing consumers' purchase decisions. Lacklustre customer data strategies failed to take in the full scope of digital touchpoints, leading to increased cost per outcome and inflated marketing budgets.
Marketers must not only gather sufficient customer data, they must collect, vet, and analyse it intelligently. It can be challenging to derive valuable insights and design marketing strategies that achieve the desired campaign outcomes and improve ROI. When brands and advertisers look at each channel separately, there is a high potential for overlap in audience targeting, which will reduce campaign effectiveness and lead to wasted media spend.
How Programmatic Makes E-Commerce Media More Effective
Programmatic leverages advanced analytics and strong industry partnerships to help advertisers reach and influence consumers more efficiently and effectively. Adopting an omnichannel approach built around programmatic media enables brands and advertisers to reach the right audiences at the right time across multiple channels, and to track it all through one source in real time.
For businesses looking to leverage demand-side platforms (DSPs) to reach customers across multiple touchpoints, large e-commerce platforms like Amazon and Flipkart provide an ideal channel for brands to advertise. These platforms operate their own DSPs and enable deep analysis of important data points like buying patterns, location, and product searches. With insights derived from e-commerce site data, advertisers can develop strategies that deliver better outcomes, like finding users interested in their product category and directing them to the brand's site.
Cutting-edge analytics technology, powered by programmatic precision, helps brands utilise consistent and reliable e-commerce data to retarget shoppers and find new prospects. This can be paired with Artificial Intelligence solutions to enable data-driven, personalised creatives to be delivered programmatically, helping increase the efficacy of the media.
For brands and advertisers relying on outdated advertising approaches, 2021 is an ideal time for programmatic transformation. The digital momentum from 2020 will enable advertisers to capitalise on innovative ways to use data and deploy programmatic technology to achieve stronger outcomes from their marketing investments.
The author is Rita Sahajpaul, National Head of Product and Marketing Science, Xaxis India (GroupM)