Q]

In April this year, the Bank of Baroda had released a campaign 'Power of Three' talking about its amalgamation with Vijaya Bank and Dena Bank, featuring three kids. Could you take us through the insights behind the campaign and your overall marketing plan for the brand?
Bank of Baroda was set as a model bank by the Government to go in for an amalgamation. We were chosen as an anchor where two banks were merging with Bank of Baroda. So, the campaign 'Power of Three' had to ensure that the message of a positive development and its larger benefit reached all stakeholders. It was a very structured campaign. The campaign talked about the benefit of three banks coming together and the positive impact it can make across corporate, SMEs and rural areas. We chose to push the message through three young kids depicting the energy and synergy of three banks coming together. The campaign was executed across all media. And based on the success of that amalgamation, the Government has now come up with larger amalgamation of Public Sector Banks.
Q]

How will this amalgamation impact the overall marketing activities of the brand? Will it eventually become a single brand Bank of Baroda or will the two brands be under the umbrella of Bank of Baroda?
According to Government notification, the name Bank of Baroda will remain. Hence the brand name remains intact. In terms of the logo and branding part, we have had an interim arrangement to include Vijaya and Dena Bank logos along with ours. It is a very crucial issue where sentiments of public and staff have to be taken care of, with due thought process. For example, a customer of Vijaya Bank, on suddenly seeing a vermillion board, might wonder where his bank has gone. Keeping this in mind, we have retained Vijaya and Dena branding as it is on signages and put a note alongside that this is now legally part of Bank of Baroda. But this is definitely an interim measure until the staff and customers are on board with the combined entity. We are in the process of hiring a professional agency with the help of which we will be able to handle the brand better and ensure that Bank of Baroda brand, which is rated highest amongst the public sector banks, retains its position in the market and customers remain connected to the original bank. It is a very tedious process where a lot of inputs and patience will be required to ensure that the synergy with the existing brand of Bank of Baroda is sustained.
Q]

Have you finalised your creative and media agencies?
We are in the process of finalizing them. At present, as an interim measure, we have taken elements of Vijaya Bank and Dena Bank and have created a hybrid brand identity. But it obviously cannot sustain for long because it is too complex to adopt. And in today's perspective, everyone is looking for simplicity. So this has to undergo a change. We are looking at hiring a professional agency to take the brand through this transition seamlessly, gelling with our existing brand philosophies.
Q]

Bank of Baroda has been associated with badminton players like PV Sindhu and K Srikanth. How has this association been for the brand? And now with Sindhu winning the Badminton World Championship Gold, how has the impact been on the brand?
It was our vision and faith in PV Sindhu and K Srikanth to get them on board at a time when they did not have much limelight. The bank stood with them even through their downfalls and still continues to have faith in them. Today, they are most known faces in the country and the Bank will certainly gain a lot out of this association. The ranking that PV Sindhu holds today and the kind of ranking that Bank of Baroda has in terms of brand equity, go together and this is probably one of the best combinations we can have to pitch our brand further.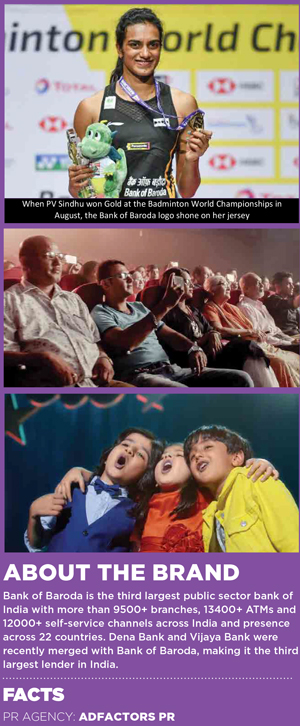 Q]

Is being a public sector bank an advantage or a disadvantage for the overall brand equity of the brand? What are the challenges and advantages that you have being a public sector bank?
Based on my personal experience and feedback from branches and customers, we have come to understand that people today do have trust in public sector banks. Public sector banks today are able to match the good services of private sector banks. Also, since we have a mandate from the Government and are working for a social cause, we have got branches even in remote rural areas or semi-urban areas. Having such deep penetration with the geographies of the country and being part of social development is a much bigger advantage for a public sector bank.
Q]

Is customer acquisition easy with a public sector bank brand?
It depends purely on the quality of service you give, the kind of digital platform you have created today for the customers, the kind of 'wow' factor you are giving to the customer and the kind of brand visibility you have created in the market. We are no less than a private sector bank on all these parameters. So, from that perspective, I don't feel there is any challenge in customer acquisition for Bank of Baroda. For example, services like automated passbook printing 24/7 and cash deposit machines being available 24/7 in remote rural villages of Bihar – I don't think any private sector bank has got these facilities for customers.
Q]

Even within public sector banks, the brand SBI is rather well known. Where does Bank of Baroda stand among the public sector banks and what are your plans going forward for the brand?
State Bank of India (SBI) has got a huge scale and size, so they have more visibility and more branches. But Bank of Baroda has its own strength, especially in the regions of Gujarat and Maharashtra. Our presence in these geographies is highly concentrated and public loyalty is a lot more. And now with Vijaya Bank and Dena Bank on board, we have got their strength of South and Gujarat region, respectively. With the amalgamation we have an edge over SBI in these geographies.
Q]

According to industry experts, 'feel good' campaigns make marginal or nil impact on customer acquisition. What are your thoughts about targeted and more focused campaigns for banks?
With regard to our campaign, product promotion was not the idea. The message that we were trying to convey was that after amalgamation, we now stand stronger with the 'Power of Three'. It ultimately gives a multiplication effect where customers can go to any of the three bank branches and avail services. As and when the branches are interconnected and we roll out more services, I am sure the benefits will be visible subsequently. It will take some time to address certain teething issues. But the purpose of the campaign is to keep stakeholders informed.
Q]

Please share with us the brand's extension into Bancassurance model and foray into e-commerce. How will the core value of the brand be extended here?
It is purely a bank assurance model where we are working as a distributor of services to the customers through our partnerships and tie-ups. Since everybody today needs insurance, be it life, health or general insurance or investment options, our tie-ups and partnerships will enable multiple services to our customers through our network of branches and digital channels. It will have no impact on our brand equity.