Q]

FIFA World Cup is on and we are seeing a lot of branding from Adidas and Puma. We are not seeing Skechers, though. Why is that so?
We are a six-year-old brand in India. So, we are still fairly new in this market. We have opened around 166 retail outlets till date in India, and market-wise we are present in 60 odd markets if you consider our retail stores. More than 120-130 markets are multi-brand operators (MBOs) and multi-platform with dealer distributor networks. So, while you see a lot of other brands and you are just perhaps starting to see Skechers because we are picking up pace slowly and steadily, as we are new. Whatever initiatives and campaigns we have done so far, has worked extremely well for us in terms of our sales figures. So yes, visibility and awareness is something that we are chasing and working on with that objective for our campaigns.
Q]

How effective has your recent campaign 'Beat my Speed' been? What is the awareness quotient that you have derived from the campaign?
One of the insights that we had for the campaign was that people were not aware of the brand Skechers in this country and they had not used our products. One of our biggest USPs is the range of products we have. So, we decided to take our products to the consumer for them to experience, because we have seen that anyone who uses a pair of Skechers, buys a pair of Skechers. So, the whole initiative of 'Beat my Speed' was to get people to experience our latest running shoe GoRun 6 which was launched in April where we challenged them to run in a particular speed in our shoe, and if they could attain it, there was a possibility of them winning a free pair of shoes. It garnered great response, especially in Delhi and Kolkata, where we did a big event around this particular activation. We also saw an increase of about 30-40% in the online user generated content on our performance category pages.
Q]

Are Delhi and Kolkata regions your key markets, geographically?
Yes, North is one of the key regions moving ahead. And Kolkata in the East is responding extremely well to our products. This gives us a lot of confidence to bring in our latest running shoes to the market. There is acceptance for the product, and the pride of associating with the product has increased.
Q]

How has the campaign worked in terms of the overall brand Skechers? You have used a lot of Outdoor, Print and Digital and on ground but you didn't use Television for the campaign.
The kind of reach that we were chasing for this particular campaign was easily attainable by the mediums that you have just named. And since this was more of a running-centric campaign, we were largely focused on the activation because we wanted people to test the product. So, that is the reason why we didn't choose TV as a medium for this particular campaign. It has fared extremely well for us in terms of product sales. We sold out of GoRun 6 in practically all the markets.
Q]

Do you plan to come out with an overall brand campaign for Skechers and not for a particular product?
In fact, as we speak, we are on the brink of launching a brand campaign for our walking category. It's huge for us. This category contributes practically 30-40% of our overall business. And it's a category we pride ourselves in because no other competitor has the kind of products for walking as Skechers has. Till date we have focused on product-centric campaigns, as we are new and want to chase reach and engagement from consumers for our products.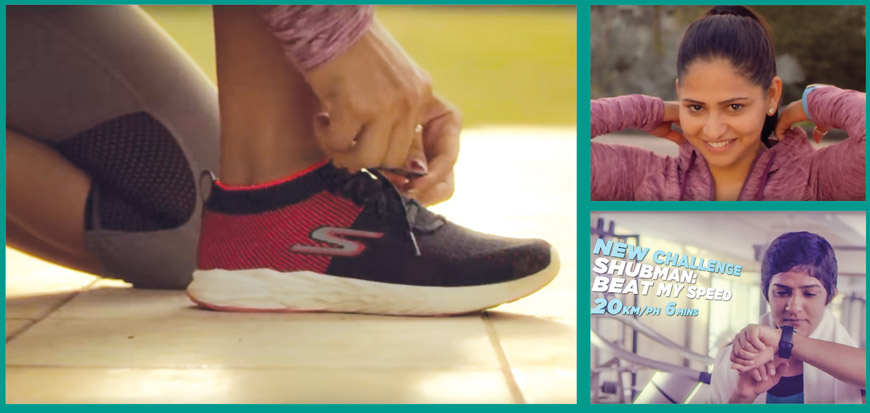 Q]

Overall, how are you positioning Skechers in India?
So far, Skechers in India has been accepted as a sportswear brand by which I mean running, walking and training shoes. We also have a huge range of high fashion shoes which India has still not seen. Moving ahead, there will be a lot of focus on this fashion and lifestyle category. We have started working on the portfolio. We have already started talking about the category Skechers Street on our social media pages.
Q]

Skechers moved beyond footwear and introduced apparel and accessories in 2017. How are you going about it?
Globally, we introduced apparel 2-3 years back, so we are taking it slow. We are trying to understand how the products are doing. So, as of now we are testing the waters, and probably we will be able to comment on a long term strategy by the end of this year, at the start of spring-summer 2019.
Q]

What's your overall approach for digital marketing?
Today, majority of the population is on Digital, either on the desktops or tabs or mobile phones. And the rate at which they are consuming data online is increasing manifold. So, our focus is very strong on Digital. In fact our Digital spends have gone up by nearly 20% as compared to 2016 and 2017. We would be focusing very heavily on these platforms in the coming months as well.
Q]

What are the key consumer insights of the Indian market that drives your marketing strategy?
We have realized that as a country, we love to walk. That is why our focus on walk has increased by leaps and bounds over the last 2-3 years. In fact, we have received a lot of consumers at stores who have bought running shoes and have started walking in them. Also, as a country, we are becoming fitness conscious and we see running and training also picking up pace and product sales are increasing day by day.
Q]

How are you facing the competition? What's your approach?
Category-wise, we don't have much competition when it comes to walking. As for running, yes, we are taking it as per the products that we are launching, and it is effective for us. For fashion and the lifestyle category, we will be working on a lot of associations and Digital content which we will be promoting on social media.
Q]

Do you plan to associate with any big celebrity?
We have worked with a lot of them to associate with their target markets and fan following. But as of now, we don't plan to, because the strategy for us in terms of associating with individuals related to a particular product has worked for us. However, moving ahead for 2019, I will be able to give you a better and clear picture at the start of springsummer 2019.
Q]

Skechers in the US is mainly considered a kids' sneakers brand which is also into lifestyle and running. In India, how are you promoting kidswear?
We have a couple of community outreach programmes for kids wherein we organize summer camps in a few cities and train kids to do physical activities and be more active in their day-to-day lives. So, kids as a category is very important to us.
Q]

Skechers is also known as a marketing company which is into footwear business, what do you have to say about that?
We believe that whatever we have in terms of value offerings we have to put it across to our consumers because there is a firm belief in the company that 'unseen, untold goes unsold'.