Q]

Wardrobe Refresh is your first marketing campaign for Shoppers Stop. What are the focus areas going to be?
Too early to define the marketing strategy as it's been only two months since I've joined Shoppers Stop. I almost started my career with the brand, and the way I think is pretty much shaped by my early days at Shoppers Stop. The idea behind Shoppers Stop's Wardrobe Refresh campaign was seeded in to break away from the routine every day and to bring back the joy of dressing up while leveraging on the customer sentiment during this season. So, the campaign represents everything that Shoppers' Stop stands for, while also bringing in an element of newness to our communication. Having studied our customer profile closely what I have found is that our core audience is still very strong, and currently 75% of our revenue comes from the loyalty base, the First Citizen customers. One of the missing audiences in Shoppers Stop today, considering the brand mix that we already offer is the youth. Hence, the campaign is really talking about how you can refresh your wardrobe in time for the festive season, but is also youthful in its appeal. It specifically talks to people who are fashion forward.
Q]

Shoppers Stop typically uses a good mix of ATL and BTL when it comes to marketing. Do you plan to continue with that strategy for this campaign?
For this campaign, we are definitely using TV because that has the benefit of reach. We already do a lot of online marketing through our own website, shoppersstop.com. Another thing we want to focus on is content marketing because we actually have a lot to say to our customers that can help them, and given the number of brands we have, we can fill that information gap. Today, with both TV and OTT coming together as platforms, there is enough opportunity to leverage content creatively and differently. Currently, about 10-12% of our ad spends are devoted to Digital and e-commerce. That number will definitely increase to about 25%.
Q]

What kind of ad spends are you devoting to the Wardrobe Refresh campaign?
For the festive period, which started with our regional Puja campaign in the East, followed by the Wardrobe Refresh campaign, we will be spending about Rs 13 to 15 crore. Of this, 75% will be spent on TV, 15% on Digital and 10% on Print.
Q]

How do you handle competition from e-commerce fashion portals like Myntra that offer heavy discounts?
Today, customers choose to shop online a lot more and that is no longer a revelation. E-commerce is convenient, offers a compelling proposition and it is price sensitive. The more important question we need to ask is what motivates a customer's choice. Shoppers Stop has a strategic partnership with Amazon, something we entered into about a year ago. This makes Shoppers Stop merchandise available both, on Amazon and on our own website, www.shoppersstop.com. Between these two, our online strategy is pretty robust. You cannot buy customers with heavy discounts. In fact, many online players today are opening physical retail stores. So we just have to play to our strengths when it comes to competition.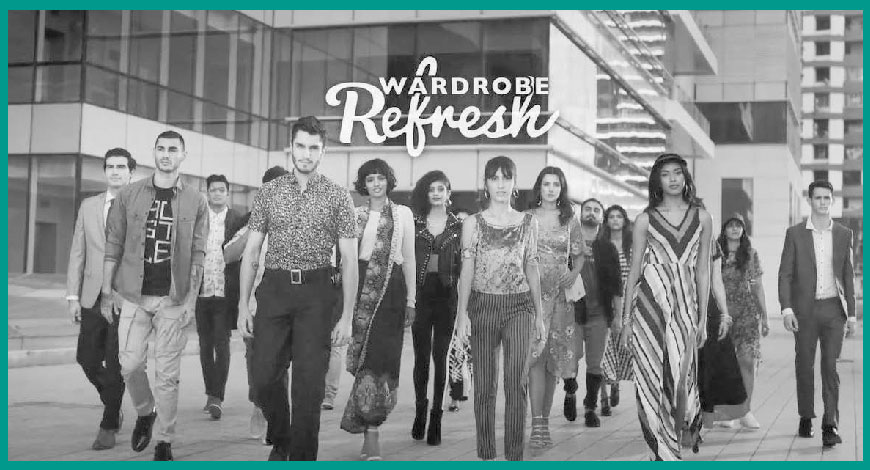 Q]

What percentage of your sales comes from e-commerce?
We are focused on delivering end-to-end, seamless experiences for our customers across touch points such as the SS app, web and m-site, apart from marketplace, Amazon. We have witnessed 2x growth in last two years from the e-commerce platform with over 80 million visits annually. Currently, the online sales contribute 1.5% of the total revenue of the company and we aim to grow this every year through various digital touch points.
Q]

What is Shoppers Stop doing to enhance customer experience?
We have the personal shopper service in the store which is also extended to a home service. This is a completely customized shopping experience, so the personal shopper will curate and select products for the customer, bring it home for trial or schedule an exclusive visit with one's personal shopper at the store. We have rolled out a campaign for the personal shopper purely on Digital, which is a lead generation or appointment generation campaign. The personal shopper programme already contributes about 12% of our revenues. This is the first time that we are actually going out to consumers with a video-led Digital campaign to promote this service. In addition, there is also the First Citizen program. It has been a strong program for us, but we are looking at how we can strengthen the proposition for our loyal customers.
Q]

How has the retail category changed with e-commerce?
One cannot look at this category the same way anymore. Over time, the way the consumers look at leisure, lifestyle and entertainment has changed. There is no doubt that e-commerce has made things convenient for consumers and changed the face of retail, but I believe that our wide network of stores, coupled with our online presence ensures that we are in a good place.
Q]

Shoppers Stop has a fairly substantial presence in the metros and Tier I cities. Are you also looking at expansion in smaller markets?
At this point we are expanding our stores gradually, but I am sure that will change in the future because the market is big for different formats and variations. We have stores coming up in Guwahati and Bhubaneswar soon. We plan to add 4-5 new department stores of which 2-3 will open in new cities and add 12-15 beauty stores this fiscal year.