Q] Can you please give us an insight into your latest ad campaign, 'The Secret of Fine Taste?' How was it conceptualised?
At Crompton, we start and end with consumers. We had done an equity study, and realized that the most important thing that a consumer is looking for in a mixer, is finer grinding. So we thought of creating something really promising to cater to that requirement. We have MaxiGrind technology, which promises a finer grind as compared to the other mixers available in the market. Also, we realised that gone are the days when people didn't enjoy staying in the kitchen. Now people find cooking an indulgent activity, and also expect their kitchens to provide the joy of cooking. So, we thought of designing something very thoughtful for consumers, which finally gives them a great taste. Therefore, we moved ahead in that strategic direction and talked about the secret of fine taste. Apart from giving a finer grind, the unique MaxiGrind technology helps spice up everything in your kitchen, and gives you the best aroma and taste.
Q] This is the very first TVC for your range- Ameo-Neo Mixer Grinder. Why was no TVC made for this range earlier?
For the first time we are going a little aggressive on our mixer category when it comes to communication. The kitchen appliances have become a very interesting category for us, because we've seen a huge success in this category in the past couple of years. That success has further built up our confidence to invest more in it. We've also launched large appliances, such as chimneys, dishwasher, among others. As a category, mixer is promising with 94% penetration. So, considering the experience of the past (which had given us success in this category), the consumer need and our own internal capability to meet that, we thought that this is the right time to come out with our first campaign.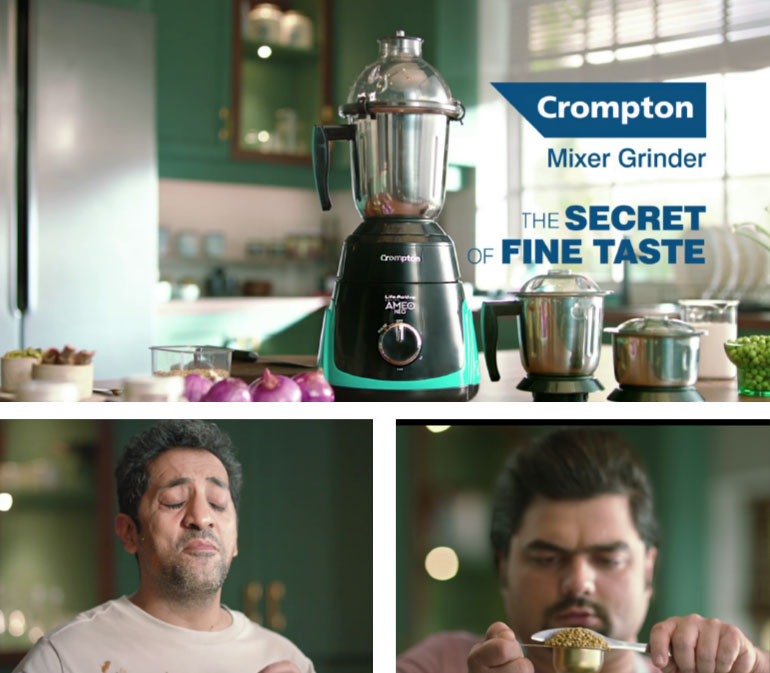 Q] It has been observed that earlier Crompton used to focus on the functionalities of products during promotions and communications. But now it has humanized the approach. Can you please throw some light on this?
Functionality is important, and I won't deny that. But yes, we are now trying to humanize the approach. Let's take the example of lights. When you look at a light, one tube does not differ much from another. So when we were doing a campaign, we thought of getting into the shoes of the consumer and giving a meaning to an overall product range. We observed that during the pandemic and even now, people are appreciating their houses, and investing in them a little more. Especially, with the 'work from home' culture, houses play a multi-faceted role. Now, a house is an office setting for a lot of people, a playground for the kids, and also a place to watch TV, and spend some quality time with your family. In that house, what plays an even bigger role is the lights. The moment you change your lights, the entire ambience of your place changes. So, we said light has the power to transform. Our lights can be yellow, white etc., but explaining it to the consumer with a functional approach would not have worked so well. Therefore, instead of putting it technically and functionally, we said light transforms your house the way you desire or the way your mood is. So, we said 'mood jaisa, light waisa.' This is how we humanized that approach.
Q] To what extent are you focusing on e-platforms?
Consumers are now finding it easy and quick to buy online. So, our entire go-to-marketing strategy has been a little more oriented in the past two years, and we are investing quite highly in e-commerce. Currently, Crompton participates in the e-commerce world through marketplaces, and they are Flipkart and Amazon. For these platforms, we have laid out a strategy to decide on which part of the year we have to focus on which categories and products. Last year in fact, Crompton was the only brand in the consumer electrical industry, which was awarded for its strategy for fans on Amazon. We were the top-rated brand for driving consideration for our brands on Amazon. Thus, we've been very focused on how this e-commerce thing has to shape up for us.

Presently 5-6% of our sale come from e-commerce. For us, the e-commerce growth is quite promising, and it is ahead of our normal traditional channel percentage growth.
Q] What does your marketing mix look like?
Over the years, the mix has changed from traditional-only to a traditional-plus-digital approach. We have been very careful as to what works where. We are present in categories such as fans and lights, which have 97-98% penetrations. So of course, we need to be present in traditional, but we are also cautious that digital is fast catching up. One of our studies on fans revealed that more than 80% of the information search is happening online. So, the marketing mix is getting oriented towards digital. But in Digital also, our approach towards a highly penetrated category would be very different from the approach towards a category that is not highly penetrated. I would look at reach as a key target for one, while in the other, I would look at consideration as the key target.

To give another example, in case of water heater, a lot of information is sought online. So, if I do a campaign for it in Digital, it would give me a much higher reach than it would give me for fans. Thus, different categories behave differently and hence, the marketing mix for each category is defined on the basis of the reach and affinity scores for different TG type.