Q] Tell us a bit about the third edition of TVS Eurogrip's Brunch & Biking, and what kind of response did you receive?
Normally the biking community is linked to a bike brand, such as Riders of Enfield, or riders of some variants of Bajaj, and so on. But there are no groups for bikes of any other kind. However, riding for an experience is something that any two-wheeler user would want to have. So this was an opportunity for us to bring riders from across brands. While experiencing the joy of riding, it is also important to have a social cause. Therefore, we carried the message of the importance of vaccination then, and now for the third edition, thankfully, in Chennai, it was more about road safety. At this point in time, Tamil Nadu has one of the highest on the road fatalities from accidents.
So, it's a good cause that we ride for. It was a beautiful ride along the East Coast Road of Chennai, starting in the middle of the town and all the way to Mahabalipuram. The response was enormous, we had about 200 people who came from various places with different bikes.
Q] What marketing strategy did you use to leverage the campaign?
We had asked for registrations to be made by enthusiasts, and got more than 3000 registrations. Obviously, we can't get the permission for that kind of number, so it was limited to 200. We had print ads with the message saying, 'there's something happening on the Madras Formation week.' It generated a lot of interest.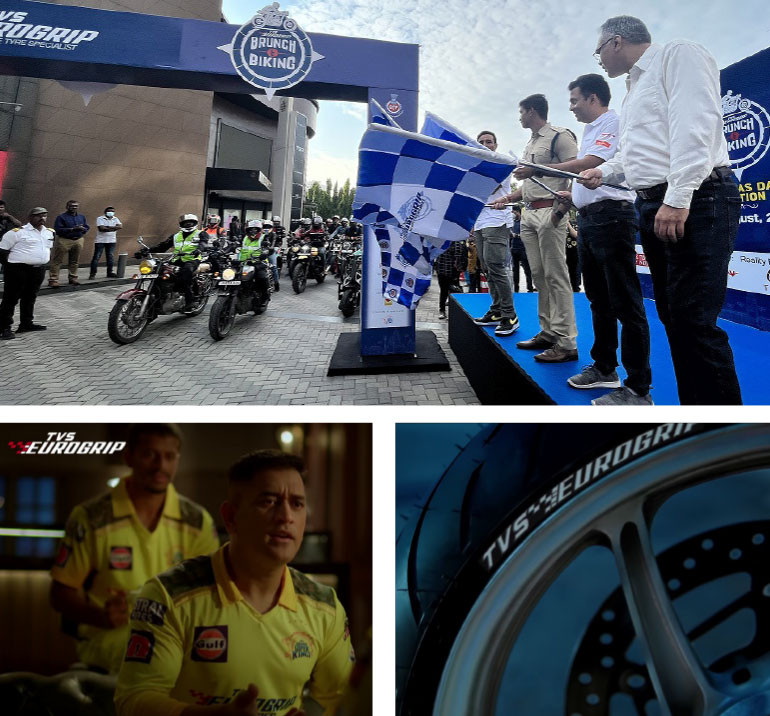 Q] Nowadays, even tyres have made it to the online market. What kind of sales do you get from online and ecommerce channels for your brand?
Even in an evolved economy, tyre sales are still not at a very high percentage. It's still in the single digits. However, in a country like ours, it is just coming up and going to take a while. The numbers today are negligible. We still remain a brick and mortar business. There is an element of fitment that comes into play. So, that would mean that the last mile connectivity is very important. For example, you bought a tyre online but you can't fit it yourself. You need to go back to a shop or a mechanic to get it fitted. It'll take some time for customers to evolve. Eventually, there'll be an inflexion point where you'll find quite a few opting to buy online and get it fitted offline.
Q] What is your current marketing share in the tyre category, and which are your strongest growth markets as of today?
We are market leaders in the OE (Original Equipment) segment and in the aftermarket, we are emerging as a very strong player, possibly leading the market in a few territories. As there are no syndicated reports, I wouldn't be able to state with confidence that in this state or by X percentage. But in the OE, we are clearly the market leaders, and in the replacement market, our market share has been rising consistently.
Q] As the brand already has a global presence in over 85 countries around the world, tell us a bit about your further expansion plans and initiatives undertaken for the global market.
Yes, India still has a bit of distance to go. We have the distributors, next step would be to get into pin code level distribution expansion and so on, that's within India. In terms of exports, we are present in about 85 plus countries and are looking at expanding, doing range selling in these markets. These are good markets like Latin America, Africa, and Asia that offer a lot of scope to build a business. We're looking at this and these will be our main state in the coming year.
Q] What kind of positioning do you hope to create for TVS Eurogrip, going forward? Will we see a lot more campaigns from the brand?
Yes, you will see us active on the brand front and that is because of the Chennai Super Kings tie up, which is a very important landmark movement for us. The brand Eurogrip was launched in 2019, after COVID hit, and then there was a period of hibernation for about 18 to 24 months. We restarted this year with a partnership with CSK and that partnership will last another two years at least. Therefore, you'll find us active on the brand front over the next two years. On the positioning part, we are the only player present primarily in the two-wheeler segment and we are also market leaders in the OE space. We understand bike tyres and bike expertise like no one else does, and hence our tagline - Bike Tyre specialist. We know exactly what a two-wheeler rider is looking for and that's the space that we would like to work on and stay ahead of the curve there. Plus, a combination of what we do with CSK will take the brand to the next level.
Q] Apart from cricketing events or IPL, do you have plans to collaborate with other properties?
Our TG is young and two-wheeler riders, the demographics are completely different. And sport is the right way to reach there and there's nothing better than cricket when it comes to sport. It is far bigger than any of the other GEC properties. Therefore, we will stay with cricket and also work on the biking experience and events like the Brunch & Biking that we just did.
---
PROFILE
P Madhavan is the Executive Vice President – Sales & Marketing at TVS Srichakra Limited, an Indian tyre manufacturing company. He heads the corporate marketing function, two-wheeler tyre business for India and global markets, and has been instrumental in strengthening various facets at TVS Srichakra. He has had a long and distinguished career of 34+ years in Indian and multinational corporations with a long record of successful stints in traditional and new age industries. Before joining TVS Srichakra, he was the Senior Vice President & Chief Delivery Officer-Business Head at HCL Technologies. Has also been with bluechip corporations such as the Tata Group, Pepsico, and Nestle.
About TVS Srichakra
TVS Eurogrip Tyres is one of the leading players in the 2 and 3-wheeler tyre category in India. The brands' positioning for TVS Eurogrip is that they understand bikes and bike tyres the best and the tagline "The Bike Tyre Specialist" brings that positioning to life. The brand has an extensive product range with tyres for all kinds of two-wheelers. The tyres are designed globally with product development centres in Madurai, India, and Milan, Italy. Manufactured in India and tested and sold across the globe, the brand is available in over 86 countries.
Facts
Media Agency: Havas Media
Creative Agency: Vector Brand Solutions
Social Media Agency: Ampersand
Digital Agency: Havas Media
PR Agency: Perfect Relations