Q] What was the insight behind the reboot of the global idea 'Whassup Bud' for the recent Budweiser 0.0 campaign?
As the pandemic continues to alter our lives, we want to reinforce how important it is to do our part by continuing to stay apart. With restriction relaxations under way, many are eager to step out and meet their friends. While we understand the sentiment here, the importance of physical distancing cannot be overstated. The 'Whassup' campaign underscores this necessity, by encouraging friends to check in on each other virtually, and continue to celebrate their friendship, even while apart. Our focus in the near-future will be to leverage digital-led avenues that can help us fulfil our objectives of bringing consumers together, while staying apart.
Q] Tell us about the marketing initiatives undertaken by Budweiser 0.0 during the COVID-19 period...
Standing in solidarity with our nightlife community, we had launched BUDXHOME during the first phase of the lockdown. It was a unique live-stream experience bringing together leading artistes of the country over 14 days, virtually, underlined by our purpose to provide a monetary backing of Rs 1.5 lakh per stream to the at-risk nightlife workers. We have also engaged with various State governments to equip those on the frontline with protective gear and hand sanitisers. We have donated over 73,500 litres of hand sanitizers and 25,000 FFP2 masks in Delhi, Maharashtra, Haryana, Karnataka, Telangana and Uttar Pradesh. Building on our 'One Team' sentiment, we also collaborated with hip-hop star DIVINE and Gully Gang Entertainment to launch 'Project Salaam', an expression of gratitude towards the frontline heroes, while also providing financial aid through organizations like GiveIndia and PharmEasy.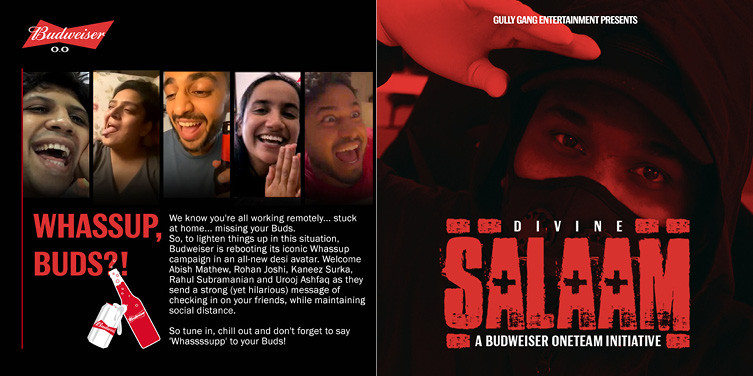 ABOUT THE BRAND
Budweiser is a premium brew from the AB InBev stable. In India, the brand offers two other variants – Budweiser Magnum, a super-premium beer, and Budweiser 0.0, which marks the brand's foray into the non-alcoholic beer segment in India since 2019.
FACTS
MEDIA AGENCY: PHD
CREATIVE AGENCY: draftline and Animal
DIGITAL AGENCY: draftline
PR AGENCY: MSL
Q] How much of an impact has the pandemic had on your business? Tell us a little about the areas most affected...
The easing of restrictions and subsequent recommencement of liquor stores in several parts of the country has provided a considerable boost to the industry and the state exchequer. In India, beer which is a moderate alcohol beverage, is taxed at the same rate as harder forms of alcohol which makes beer more expensive than hard spirits, despite having moderate alcohol content, between 4% to 7% ABV. The post COVID-19 special tax has only led to higher price tag on beer. Prices have shot up by a whopping 70% in some States. This has resulted in a significant decline in overall beer volumes compared to last year, to the tune of over -50% to -80%. Summer is the peak season for beer and the introduction of additional tax with an oversized impact on beer will lead to missed revenue opportunities for the States and cause distress across several segments of the economy including farmers that are part of our time-aged local brewing tradition in India.
Q] What is the marketing strategy that you have adopted in these times, to counter the damage?
As we progress towards a new normal, we are refreshing our strategies to provide for more in-home experiences, so that our consumers can continue to engage with their passion points, from the safety of their homes. We are also working closely with our partners to offer more contactless services, to limit physical interaction. We are adopting agile ways of working that will enable us to innovate and improvise our business in a manner that is practical, beneficial and considerate towards our stakeholders, in the time to come.
Q] India has been one of your key markets in the Asia Pacific region. How do you see this market contributing to the growth of the brand, post the lockdown?
Every year, we add over 20 million people of legal drinking age as consumers to the category. In the near future, there will be an appetite for more in-home experiences and collaborations and as a purpose-driven brand, we will continue to stay attuned to the needs of our consumers, customers and communities as we all transition to a new normal. We are also constantly looking at ways to serve our consumers with superior product experiences and in the months to come, we will strengthen our non-alcohol beer portfolio and expand the reach of our specialty wheat beers through the 7 Rivers Brewing Co.
Q] AB InBev launched the non-alcohol beer in India in 2019 and aimed to make non-alcohol beer at least 20% of its global beer volume by 2025. How is that coming along?
The non-alcohol category is a very niche segment at the moment, but has a strong potential to grow and we are bullish about this category. In India, the variant accounts for less than 1% of the overall beer market. Although, owing to the positive and encouraging response we have received for the launch of Budweiser 0.0, we are exploring launching other non-alcohol variants this year. This, we believe, will not only contribute to the growth of this segment in the country but also aid our overall global smart drinking goal, as we provide consumers with varied choices to enjoy the taste of beer freely and responsibly when they choose not to or cannot consume alcohol.
Q] Has the pandemic affected the sale of the non-alcoholic beverage?
We witnessed a 3x jump in sales during the lockdown phase across convenience stores and standalone supermarkets, as consumers look for new ways to enjoy the refreshing taste of beer. Although the number of stores which were open during the lockdown were fewer, we outperformed in the ones that were open during this phase due to the growing consumer demand. E-commerce continues to drive the sales for this category. We have also tied up with on-premise outlets to promote 0.0 Mocktails and are working to create our own range of signature mocktails with Budweiser 0.0 and Hoegaarden 0.0. We are promoting the same through food delivery platforms of Swiggy and Zomato.
Q] How well is the company strategy of focusing on premiumization working for the Indian market?
The Indian market provides an environmental advantage of having a tropical climate almost all through the year. We have been working towards ensuring that our premium portfolio accounts for nearly half of our total business in India. If we look at the premium segment as a whole, we command a majority share with brands like Corona, Stella Artois and Leffe. We have also entered into a partnership with Indian Hotels Company Limited (IHCL) to open microbreweries at the marquee Taj Hotels properties across the top urban centres.
Q] What is your take on most of the people discrediting the norm of social distancing, so as to get access to alcohol?
To counter this problem, adoption of e-commerce to facilitate the delivery of alcohol will be a worthwhile solution. Several States have already embraced this measure, effectively curtailing the problem of overcrowding at liquor stores. With the proliferation of Internet consumption in India, institutionalizing this mode of sale will surely benefit the industry at large. However, the Government must implement a strong, regulated ecosystem to avoid misuse or illegal purchases. This purchasing process must entail multiple verifications to ensure alcohol is only accessible to consumers above the legal drinking age.
PROFILE
In his role as Vice President Marketing for South Asia at AB InBev, Alexander Lambrecht leads all brand marketing. Prior to joining the AB InBev South Asia team, he was the Vice President of Marketing for Australia & New Zealand. He has been with the company for more than 14 years and has held various marketing and brand roles in the US, China and Belgium.
MARKETING TIP
Shift from marketing and advertising mode to relevance and people-centric communication