Q] The branded luggage industry has shown 50-70% growth over 2019, which was reportedly among the best years for it. For the last two-three years, most of the category communication was centred on bringing people back into the travel mindset, but your new campaign with Virat Kohli takes it a step ahead. Share your thoughts on this please.
Right now, travel is not just back, it's back with a bang. 2019 was a great year for us, but 2022 and 2023 have been even better, and this is an industry-wide phenomenon. People are really keen on getting back to travel, and taking those trips that were shelved after 2019. They now value travel much more than before. The three years of not being able to travel has made people realise that they just don't want to go on a typical bucket-list kind of holiday anymore. They want to do something different where they can spend time with family and friends, and at the same time, explore a newer side of themselves.
Q] So can we say that your objective with this campaign is to associate with an evolved travel mindset?
Yes. Even before COVID, there was a shift towards experience-based travel. With this campaign, we are talking to people who want to push the envelope when it comes to their travel experiences. Travel is essentially one of the ways in which people grow, as they learn new things about themselves and the world. It is all about crossing familiar and comfortable boundaries, and we have tried to marry this mindset with our campaign.

Additionally, we are an extremely well-known brand. Consumers know that 'American Tourister' is going to be the best-in-class, it's going to be reliable, and it's going to provide them with cutting-edge innovation and features. So, now is the time to talk about something more, to take the journey to the next level and connect with consumers emotionally. In that sense, our main objective with this campaign is to build brand love.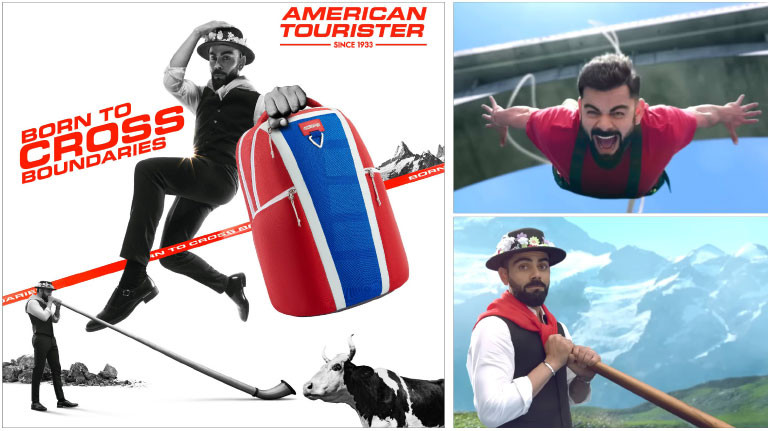 Q] What is the media mix for this campaign, and how have you allocated the budget across different mediums?
We are on TV, Digital, Print, Outdoor, and Cinema, so it is a 360-degree campaign. We have roughly allocated 50% of spends to TV, and the rest is distributed among other mediums.
Q] How do you decide on the medium that you want to prioritise for a campaign?
This is the first time we are advertising on IPL. The IPL season this year coincides with the travel season, and I think it's the easiest way to reach out to a large number of relevant audiences. Besides IPL, we are going heavy on social media and Digital marketing, because that's where a large chunk of the young American Tourister consumers are present.
Q] We all know that travel is a very influencer-dominated space. So, do you work with influencers?
Yes, we do work with a lot of influencers, but it's not simply about getting them to endorse our brand or talk about the product. It has to be done in a way that really connects with people and brings some fun in their lives. This time around, we have a bunch of mega, mid-size, and micro-influencers who are trying to push their own boundaries when they travel.
---
PROFILE
Anushree Tainwala has been associated with Samsonite South Asia as Executive Director, Marketing, since 2012. She manages a range of brands under the Samsonite portfolio including Samsonite, American Tourister, Lipault, High Sierra, and Kamiliant. Tainwala has been instrumental in popularizing the non-travel category of Samsonite and American Tourister consisting of backpacks, duffels, rucksacks, and briefcases among Indian consumers. It was her idea to onboard Virat Kohli as the brand ambassador to connect with the youth.
ABOUT THE BRAND
American Tourister is a well-known international luggage brand that has stood tall for the past 90 years. It is positioned in the midst of the pyramid at the mass premium segment, making it a fine mix of premium and accessible. The brand caters to travellers who are in search of resilient, efficient, and trendy luggage.
FACTS
CREATIVE AGENCY: Famous Innovations
PR AGENCY: Frangipani Communications
MEDIA AGENCY: Initiative Media
DIGITAL AGENCY: Big Trunk
SOCIAL AGENCY: Schbang