Q] Tell us about InterMiles' new integrated marketing campaign. What is the kind of budget you have allocated for this campaign?
InterMiles is a young brand created with a vision of fulfilling aspirations through rewarding and memorable experiences. We have brought this vision to life by creating various platforms of growth. We have our own aggregator platforms on the website offering online shopping, flight and hotel booking, fuel, dining, conversion partners, co brand partners and the entire ecosystem. Keeping in mind the needs of the discerning consumers along with our offerings, we thought it was the perfect time for us to create the campaign.

It is based on a simple, key insight that while all journeys in life are important, whether big or small, work or leisure, you want to enjoy rewards for every activity and transaction you do. And what better place than InterMiles where you get rewarded for everything you do and make it count! So, 'reward for all journeys of life' is now the campaign's philosophy. Since it is a new brand, we have taken a high mass awareness approach. The media mix is broadly focusing on awareness and reach perspective and keeping that in mind, a lot of media vehicles have been decided. So, we recently went live on TV and will soon follow on Digital via OTT platforms and Social Media.
Q] What are the objectives behind the campaign, and who are your target consumers for the same?
The objective is first to create mass awareness of the new brand, and let a larger audience beyond our member base know that we are a brand that truly empowers everyone's traveling lifestyle needs. We have also introduced our app with this launch. The second objective is to build traction and awareness of flight and hotel booking platforms and have people come visit, discover and book through them. And the third is to drive engagement beyond these making them enrol into the programme as members.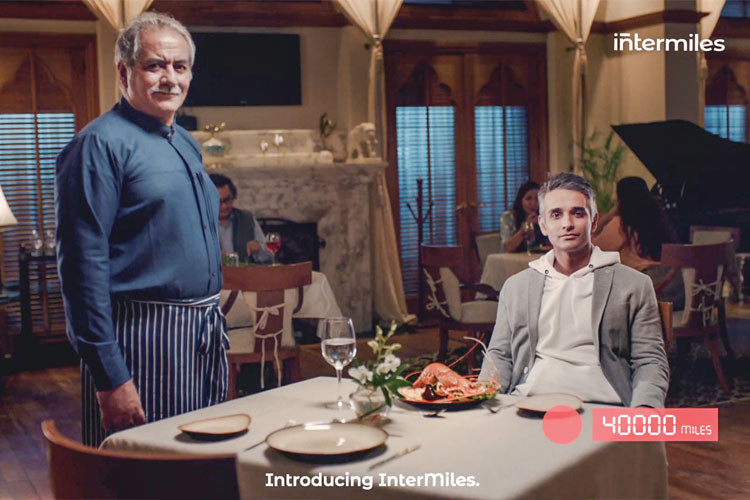 ABOUT THE BRAND
InterMiles is a travel and lifestyle reward programme from Jet Privilege Pvt. Ltd. With close to 10 million members, InterMiles helps members fulfil their travel and lifestyle aspirations through its rewards and recognition currency, also called InterMiles. The programme offers a wide range of rewards across airline and hotel bookings, shopping, dining reservations and more by earning InterMiles, which can be redeemed for flights across airlines, hotel stays, fuel, dining and over 2,500 merchandise options.
FACTS
MEDIA AGENCY: MINDSHARE
CREATIVE AGENCY: DDB MUDRA WEST
DIGITAL AGENCY: MINDSHARE
PR AGENCY: WEBER SHANDWICK INDIA
Q] Tell us a bit about your approach for this campaign. Are you looking at investing in any specific medium/platform for this?
Today, consumers consume multiple media. It's not a linear approach. We are talking to a targeted set of consumers, a profile of consumers who value experience more than activity or the transaction. We are targeting people who are upwardly mobile or digitally savvy, who have a 'mobile first' approach for all the activities. So, this is the kind of consumer profile that we are talking to, and the media mix has been planned keeping the media habits of these people. An integrated approach always helps because every channel of communication has a different role and objective. So, for the first time we chose TV because the objective was creating mass awareness and reach. We are going to top it up with Digital, which will incrementally add to the reach as well as drive engagement through narrow casting and re-targeting approaches. We have an influencer outreach program along with it as well as OOH amplification, which will create the 360-degree multiplier effect.
Q] Considering that there are different travel and lifestyle platforms already available in the market, what is the one USP that sets you apart from the other players in the market?
Intermiles wants to be an enabler for an individual's every journey and need. So, our approach since the last five years is to be a partner agnostic, independent, neutral, everyday travel and lifestyle brand for our customers in all their journeys. So, with that vision in mind we are very uniquely positioned because we have a captive ecosystem of more than 150 plus program partners across 13 categories, from financial services to hospitality, from travel to e-commerce, from dining to car rentals and even travel insurance. So, it's the entire ecosystem that we are looking at and the means of earning the miles is different for every individual, but they all earn miles with the vision of getting the same end benefit of a reward, which is a free flight or a hotel stay.
Q] How are you leveraging the Digital space to connect with the consumer for your newly launched app?
These are early days for us with the mobile app. We have just launched it a couple of days back. The challenges will be similar to what any marketing organisation would face, which is post the install. We are fortunate that we have a member base of close to 10 million members. Regarding new audiences, the awareness campaign is primarily to create that intrigue, appeal and interest in people and hopefully resulting in a download.
Q] What is your target market share and which are your strongest growth markets, as of today?
Customers are broadly experience seekers and for them a transaction or an activity means nothing because that doesn't translate into loyalty unless it is rewarded. These profiles could be anywhere from the top six metros to the upcoming metros, even places like Surat and Chandigarh. Since we are a company which is widespread across multiple categories, we want to own the entire ecosystem and putting a number on a market share will be tough because we are present in 13 categories. There are a lot of opportunities in the top six cities and the tier I and II markets for us, but it's the specific value creation zone of customers that we want to talk to.
Q] What do you anticipate the travel and lifestyle category to evolve, five years down the line?
Five years is a really long time actually. This whole space is being disruptive and a lot of innovation has already happened. A lot of players are actually challenging the status quo. Now, if you look at the consumers which are broadly driven by the millennials and the Gen Zs, they are not looking at ownership today. They don't buy but rent out. They don't cook at home, but rather use the food ordering apps. Everything is the 'mobile first' approach where people are making this the first interface of the screen of usage. Consumers today want to measure their lifestyle basis the wholesome life that they want to live, whether it is work or personal. It's not compartmentalised in two different buckets. It's one life. And it's one lifestyle that you want to cater to. So, brands are becoming extremely cautious of that fact. If you look at the Intermiles' vision also, which is fulfilling aspirations of creating truly rewarding and memorable experiences, we again want to own the entire ecosystem and all the touch points by which we can cater to the travel and lifestyle needs of our customers.
PROFILE
As the VP – Marketing & Member Engagement at InterMiles, Zameer Kochar is instrumental in driving new member acquisition, deepening existing member engagement to build businesses through creation of brand equity and reputation resulting in sustained top and bottom-line performances. With over 15 years of experience in Brand Management, Kochar has worked in FMCG, media & loyalty companies before his stint at InterMiles.
MARKETING TIP
Always hear the voice of the customer because they are the ones continuously evaluating your brand.