Q] Your latest TVC seems clear in terms of targeting the millennial consumer. Tell us a bit about the 'thoughtful is beautiful' campaign.
The campaign was designed keeping contemporary India in mind. It is centred on a playful one-upmanship of millennial couples and the product features are showcased via this banter between them. Millennials are crucial for any brand today - this mobile-first generation, which is comfortable with technology, and active on social media, wants convenience in life. Therefore, they're looking for brands to provide them with easy solutions. The campaign demonstrates how it's not just about beautiful products in your bathroom but also thoughtful products, which add convenience to everyday living. Our target group is the new age consumer starting upwards of 25 years.
Q] What is your marketing mix for the campaign?
Digitalisation has emerged as one of the primary enablers of the business continuity. We're also driven by a mix of traditional and digital economics. Our campaign is not just on TV but also on Radio, Print and other traditional mediums. Digital is a big chunk of our media strategy overall. We've gone to OTT platforms like Hotstar, and Sony Liv; we are there on YouTube, Facebook, Instagram, and Twitter. We will be working on user generated content, and native content that we plan to build so digital will be a very strong pivotal point to reach out to our millennial audience.
Q] What were the last 10 months like? Was your distribution affected during COVID-19?
We were hit badly because of COVID-19 since our industry is discretionary in nature and you can postpone in case you have a situation that is not conducive for expenditure. The industry is governed by the brick-and-mortar space. The consumer wants to touch and feel the product before buying it. All of us, including distribution, retail, channel partners, suffered major setbacks last year. There was a lot of handholding that happened from a digital transformation point of view. Most customers are undertaking their primary search online so it is imperative to have digital basics in place. It is important for the brand's trade and distribution partners to have an online presence so that they can be searched by consumers.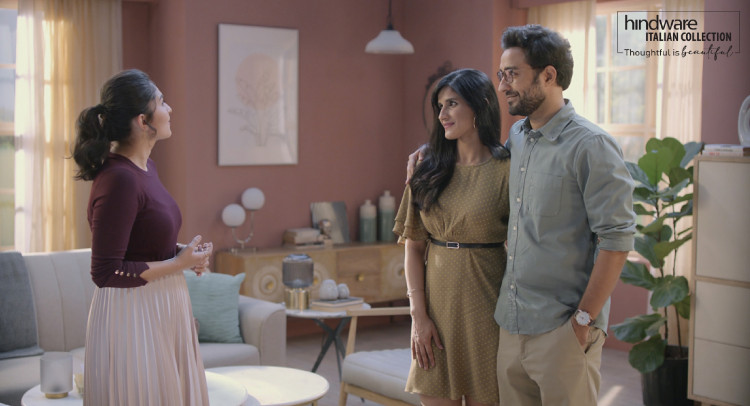 ABOUT THE BRAND
Brilloca, makers of the Hindware brand, is a leading building products company in the country. Brilloca has a varied range of bathware products that caters to a wide cross-section of the customers. The company is also home to other brands in the value chain such as Queo, Alchymi, Hindware Italian Collection, Benelave and more.
FACTS
Creative agency: Magic Circle Communications
Media agency: Mindshare
Social and digital media marketing agency: Grapes Digital
PR agency: Regional Public Relations
PROFILE
Charu Malhotra Bhatia is the Vice-President, Marketing at Brilloca Limited. With 20 years of managing marketing and sales functions across sectors like FMCG, banking, and building material industry, she has played a pivotal role in growing brand equity and leading brand strategy at her last stint at Somany Ceramics.
MARKETING TIP
Obtain value for whatever money you are spending and find credit in such a way so that you optimise your spends rather than blowing it everywhere. This is the time when you need to really personalise your messaging.



Q] Given how Digital has taken centre-stage, how is the brand adapting to meet consumer demand through e-commerce and online channels?
The brand has seen some traction coming from e-commerce giants like Amazon even though the industry is driven by brick-and-mortar stores. The traction has been limited to the faucet range which is far easier to buy online whereas sanitary ware because of logistical issues is difficult. Brands like us will have to be geared up for the future to accommodate these changes as well. The way the digital medium has accelerated post the lockdown and consumers being so comfortable shopping for anything online, the brand will have to quickly be agile and adapt to selling even sanitary ware on these platforms but I believe brick and mortar stores will have their own relevance.
Q] Hindware also launched a touch-less sanitary ware range recently, what has the response been like?
The renewed focus on health and safety has breathed life into contactless products. The current situation has accelerated the adoption of this technology. They are available for residential use as well as commercial use. Residential users would be comfortable using the range in their guest rooms and powder rooms whereas it makes sense to install it all over commercially. The range consists of contactless faucets which are sensor operated. We also have urinals and WC which are in limited range right now but we are extending the portfolio. The adoption is in the commercial space right now. We hope that the changing consumer behaviour and patterns will pave the way into private spaces.
Q] How important are the non-metros for the brand? Considering that they were greatly impacted by the pandemic, will you be increasing focus on the smaller markets?
When the government announced the development of smart cities a couple of years ago, all brands in the construction industry had their eyes on tier-II and tier-III cities. We've seen that most of the business has started coming from these markets over the years. So as a brand, we're very bullish about strengthening our distribution network Apart from that, our film comes in different regional languages to tap the audience living in tier-II and tier-III cities. The brand is focusing on hyperlocal marketing where we're are targeting various cities so we can drive awareness and footfalls, and lead generation. We will also focus on vernacular and native content because metros are a saturated market until one tries to change consumer behaviour. The real growth will come from these cities for the next couple of years.