Q] You've recently roped in Ayushmann Khurrana as the brand ambassador, who also features in your Smart Living campaign series. How has this association helped you?
The initial indicators suggest an increased positive sentiment for the brand. Key metrics in terms of organic brand search volumes, engagement, visits and queries have been positively impacted on the back of the campaign. Ayushmann scores high on relatability and likeability.

Such a celebrity anchoring on our smart and differentiated products and innovative digital solution – Smart Assist, will deliver on brand and business objectives.

Q] Early this year, you introduced a comprehensive WhatsApp service with several features for your customers. How well has this worked for you and your customers?
We were the first life insurer to offer the most comprehensive set of services on WhatsApp, so that our customers can avail of a wide range of services from the comfort of their home.

These services range from premium payment to tracking fund value, and updating personal information to downloading policy documents. Initially, when our branches were shut due to lockdown, WhatsApp services garnered one of the most number of transactions across all our digital assets.

The numbers have been growing month on month, making it one of the most digitally transacted assets.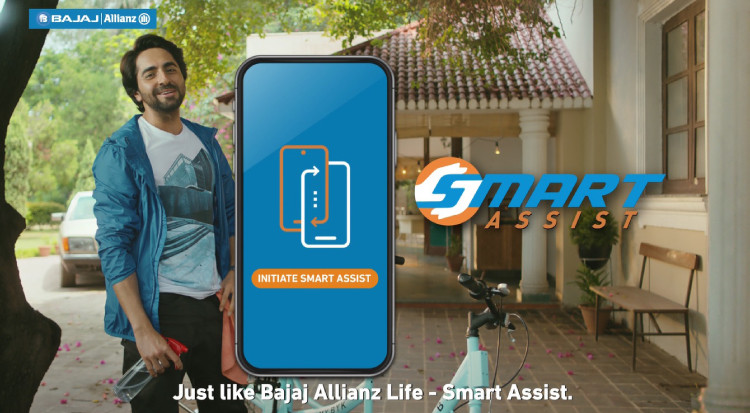 ABOUT THE BRAND
Bajaj Allianz Life is an Indian private life insurance company in India, with a partnership between Bajaj Finserv Limited and Allianz SE. Commencing its operations in 2001, Bajaj Allianz Life has in less than two decades expanded its presence across the country. It serves millions of customers through its 556 branches, 80,000+ agents, and comprehensive set of partners via its online sales channel.

FACTS
Media Agency : Havas Media
PR Agency : Adfactors PR


Q] Which marketing strategy have you adopted in these testing times to separate you from other brands in the market?
Very early during the pandemic, we launched #FitnessFromHome initiative where we have been conducting live fitness sessions by experts across our Social Media platforms.

Besides, we geared up our digital assets to cater to the voluminous post policy services which customers could avail from the comfort of their home. Recently, we also launched one of the most innovative and relevant digital solutions developed during these times i.e., Smart Assist.

This revolutionary tech service enables customers to connect with us through secure screen sharing and avail real-time form-filling assistance and receiving expert guidance on products.

Q] Do you plan on continuing the Bajaj Allianz Life Plankathon initiative in better times?
The Plankathon, both offline and online property, has rapidly emerged to be one of the most engaging health initiatives across categories. Anchored on a noble social cause, it is one of our good-health-enabling initiatives to induce mass fitness participation. We will continue to build on this initiative and continue to expand its reach.
Q] Give us a sense of how the company is performing during these testing times…
From having robust business continuity plans, realigning business models to faster adoption of digitization and launching smart new-age products, we realigned ourselves to meet the immediate and long-term needs of customers.

In terms of numbers, Bajaj Allianz Life has grown by 9% in individual rated new business premium YTD Aug FY20-21, whereas the industry growth rate declined by 10% in the same period, over the last year. Our renewals have also grown by 23% over last year.

Q] In the current situation, has the growing need for health insurance affected the demand for life insurance?
Both categories, health insurance and life insurance, form a very basic foundation of financial planning for customers across profiles of age, gender and income.

Both the categories co-exist and meet very different needs. Both are potent risk mitigation products and protect families from a huge loss of savings or income arising out of healthcare expenses or loss of life.
Q] Who do you see as your biggest competition?
The biggest competition is customer inertia and limited literacy. In the context of continued high under-penetration of life and general insurance products, the market potential is enormous. However, both life insurance and general insurance industry players have come together, along with the regulator to drive the agenda of increasing insurance awareness.
Q] How do you anticipate the life insurance category to evolve five years down the line?
The offerings and value proposition to customers will get far more personalised, strongly powered by data analytics and tech. Based on how regulations evolve, there will be a strong interplay between related service providers. Increased financial literacy, increasing awareness of term and health and increased adoption of Digital will impact the transition of industry from push to pull centric.



PROFILE
Chandramohan Mehra joined Bajaj Allianz Life in January 2018 and is responsible for driving brand awareness, consumer research, digital marketing and communications. Prior to joining Bajaj Allianz, he worked with Sony Pictures Networks, as Senior Vice President and Head-Marketing, for more than three years. He was also associated with SBI Life Insurance for eight years and with companies like Kotak Mahindra and FCB Ulka Advertising in different roles.

MARKETING TIP
Trust comes on foot, but leaves on horseback.