Home appliance manufacturer, Voltas Beko recently rolled out two campaigns to create awareness about equal sharing of workload at the home. Prasenjit Basu, Head of Marketing, Voltas Beko shares insights behind the two campaigns, the brand's women-centric messaging and its marketing strategies during these challenging times.
Q] What was the thought behind Voltas Beko's recent 'ghar sabka zimmedari sabki' campaign? What consumer reactions have you seen so far?
As marketers, we have the power to bring a positive change in the perception as well as routines of the masses. The digital campaign 'zimmedari' was one such attempt to debunk the age-old belief that women are responsible for taking care of every aspect of the home. The video emphasises that a home is a comfortable abode if every family member contributes equally. The film, with its fun-filled moments, tried to bring up the importance of collective responsibility in the home. Films act as great messaging boards that help in changing age-old narratives to how the newer generation is looking towards the world. Since our brand campaigns revolve around women, our primary objective is to look beyond the normal and see how this would help in initiating conversations that would lead to change.
Through this campaign, we highlighted how adopting advanced home appliances can make tedious household chores simpler, allowing more time to spend with your loved ones. The DVC received a great response, from mothers, children, and their families. The film was shared across social media platforms. The hashtag Zimmedari was used by many mom influencers and communities to share stories of how their families have helped them during the pandemic. It was extremely heart-warming to see the overwhelming response and we take pride in bringing small yet significant perspective shifts in society through our campaigns.
Q] What does your media mix look like?
For home appliances, like last year, embracing Digital is the need of the hour. Before the pandemic struck, Digital used to be around 10% of our overall media mix, but today, it has is above 25%. Hence, for this campaign, we focused on social media as our primary platform. We opted for a mix of owned, paid, and earned influence for the Zimmedari campaign and we will continue to adopt similar strategies in near future.
Q] Tell us a bit about your other campaign, 'freedom from expectations'. How well was it received?
Our digital campaign #FreedomFromExpectations was a poetic depiction of a woman's journey of breaking free from the high expectations that society puts on her, not only as a mother but also as a woman, set by dominant social discourse over decades. The film traced a mother's journey as she balances the complications of trying to do it all perfectly with the normalcy of making mistakes and sometimes, taking a moment just for herself. The campaign received a huge amount of appreciation from mothers due to the artistically visual showcase of a mother's journey and how it encourages them to accept the beauty of making mistakes. Many moms shared their review of the campaign and expressed how they could relate to the emotive monologue played in the background of the film.
Q] Over the years, Voltas Beko has been using emotional appeal for all its campaigns which are mostly women-centric. Is that a conscious effort, the endeavour to stay connected with women consumers?
Our products are gender neutral and we aim to offer innovative and technically advanced products that add comfort and convenience to the lives of all Indian families. Considering women are the strongest pillar of the family, our campaigns seek to create awareness and support them. We have been very gender inclusive in our approach and have showcased on multiple occasions that running a household is the responsibility of every family member.
We expect these campaigns to empower all members of society to move past any limiting ideas and strive to live fulfilling lives. We seek to automate most chores and enable our customers to take a break and spend some time with their loved ones.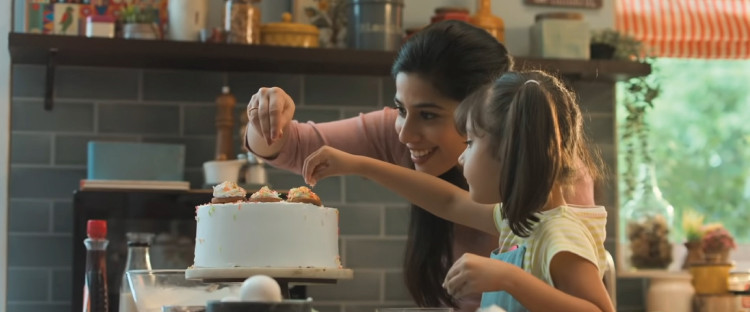 ABOUT THE BRAND
Launched in 2018, Voltas Beko is a home and kitchen appliance manufacturer with a portfolio of products including refrigerators, washing machines, microwaves/ovens and dishwashers. With over 2,000 consumer touch-points, Voltas Beko has been consistently increasing its footprint in the Indian home appliances segment.
PROFILE
As the Head of Marketing at Voltbek Appliances India Ltd, Prasenjit Basu drives all the marketing activities for the brand. With a career spanning over 18 years, Basu has worked across industries like media, consumer durables, retail and FMCG. He was previously associated with companies like Videocon, Ten Sports and Reliance Digital.
MARKETING TIP
Going forward, brands need to focus on building a community on their owned channels where they not only talk about products but ideas and solutions that add value to the lives of audiences.



Q] What is your marketing strategy to increase consumer engagement and to drive growth for your business?
We have adopted a hybrid and dynamic strategy to ensure we are present across all platforms where our target audience consumes maximum content. We will also continue to drive our omnichannel presence, by integrating digital, electronic, and on-ground activations. Within Digital, our thrust on search, social, programmatic and e-commerce will continue this year. In case the situation remains conducive to positive consumer sentiments, we will come back to broadcast media with a skew towards sports, GEC and news channels, supported by local tactical print media. Marketing to millennials has been an important pillar for most Voltas Beko campaigns and we have been using influencer marketing to reach out to our audiences as OTT and social media have become one of the most used channels by our customers, especially in the lockdown and continued WFH scenario.
Q] What kind of growth have you seen from non-metros during the pandemic?
We have always believed in adopting a more streamlined approach for non-metro markets since we have the highest distribution reach in the AC industry and aim to replicate that for our range of home appliances under Voltas Beko. There has always been an increasing?need for home appliances in? tier 2 and 3 markets, which will only get stronger post-COVID. Entry-level products, as we have experienced with our range of direct cool refrigerators and semi-automatic washing machines, work better in tier 2 and 3 markets.?And TV helps us to stay relevant and engaged with that audience set.