Q] Tell us about Madhur Sugar's 'Madhur Mithas' campaign and the 5S proposition. What was the insight behind it?
Madhur Pure & Hygienic Sugar's new campaign celebrates the love for sweet delicacies and the unadulterated joy of guilt-free indulgence. Everyone likes to indulge in sweet delicacies from time to time – Indian or Western,
and this craving is felt even more strongly during the festive season! Madhur Sugar encourages everyone to dig into their favourite sweets, but only after ensuring that they are made at home with the purest and most hygienic Madhur Sugar – the only sugar in India offering the 5S guarantee.
Q] What media mix and budget has been used towards this campaign?
This campaign is our first big digital-first campaign, supported in part by very high frequency Radio and BTL channels.
Q] As the campaign has already been launched in various states, what consumer reactions have you received so far?
We have received a lot of love from our audiences and consumers, especially on the digital platforms. Earlier, Madhur Sugar had spent a lot of time educating consumers about the ill-effects of consuming loose sugar.
Even as it continues to do so, the celebration of guilt-free indulgence and the joy that it brings, is literally the icing on the cake with this campaign. Personally, I was very overwhelmed when a consumer pointed out that Madhur was really the only brand that could credibly talk about indulgence because almost all applications of sugar at home, barring beverages are sweets/desserts for indulgence.
The sweet taste itself signifies indulgence. And Madhur Sugar, being the leader in the Indian branded sugar market by a huge margin, is by far the best placed to talk about it.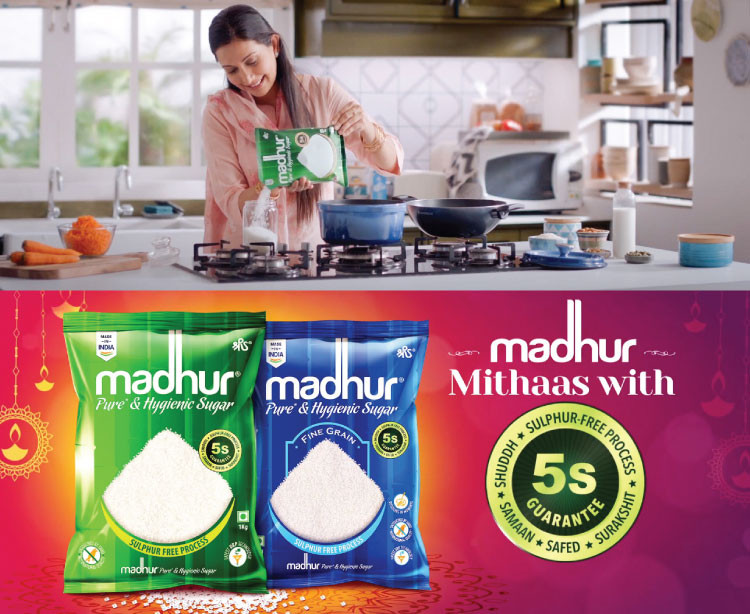 ABOUT THE BRAND
Madhur Sugar comes from the house of Shree Renuka Sugars Ltd, which is one of the largest sugar producers and manufacturers in the world. Madhur was launched as an independent brand in 2007 offering sugar that is pure, hygienic and that meets international standards. The brand has a significant presence in markets like Karnataka, Gujarat, Maharashtra and Rajasthan

PROFILE
Satbir Sindhu is the President, Marketing & OD at Madhur Sugar, and is tasked with leading the growth for Shree Renuka Sugars' Madhur division. He is an astute business manager with 32 years of cross functional experience across the FMCG industry with organisations like Godrej Soaps and Adani Wilmar.

MARKETING TIP
Being authentic and connecting with our consumers has been our mantra this year. When a brand can create an authentic connection with its customers, they will not only remember it, but continue to patronise it as well as tell others about it.

Q] What impact did the on-going pandemic have on your business and how did you cater to the demand earlier this year during the lockdown, with reduced manufacturing scale and distribution challenges?
Being an essential commodity, we merely faced a few supply chain issues in the first few weeks of lockdown. Barring that, our supplies have been consistent. Also on account of the pandemic, a lot of consumers have upgraded to the packed sugar segment, and more specifically to a trusted brand like Madhur.
It helps that Madhur Sugar has been consistently advertising for many years about the perils of buying and consuming loose sugar, which is laced with impurities, pollution and germs or contagions.
Q] What have your expectations been from this festive season in view of the ongoing pandemic? Has the demand for sugar increased?
This festive season, our only wish is that everyone celebrates to their heart's content, but without compromising on safety of any kind. So celebrate, but maintain social distance. Indulge, but only in sweets made with the best ingredients and trusted brands like Madhur Sugar.
Q] Which are your strongest growth markets right now and what is your target market share?
The West and South traditionally have been markets where Madhur has been loved a lot.
Having said that, over the past few months, we have seen very encouraging feedback and support from the consumers in the North as well. Our retail partners and consumers together have warmed up to us so much so that we are truly delighted.
Q] Going forward, what will be your marketing strategy and which medium do you plan on investing in the most?
Madhur Sugar is likely to have a pan-India presence shortly. With that, our efforts in the next few years would be to upgrade a substantial consumer base in India from the unhygienic loose sugar to Madhur Sugar – which offers the unique 5S benefits.
In doing so, digital and BTL will play a critical role as they will allow us to channelise our efforts in a very efficient as well as an effective fashion.