Q] Tell us about Arrow's latest campaign. What was the insight behind it and what is the kind of consumer response you have seen so far?
Arrow is a brand with heritage since 1851 and the essence of the brand is New York's spirit, its architecture and tall skyscrapers, which is the inspiration for the campaign that once you live in New York and see the height, there is a feeling that you're on the top of the world.
Our agency WYP, came up with the idea of one of the most iconic images of skyscrapers of New York from a 1932 image called the beam where the Rockefeller Center was being constructed. In that picture, workers can be seen sitting on a beam and having lunch on the 100th floor.
And that very iconic picture of New York became an inspiration for the campaign we have created with Hrithik standing on the beam with the Arrow logo. We want people to view the campaign and feel on top of the world too.
As far as the reaction is concerned, we have only just launched the film but we have received positive feedback so far from the people who have seen it.
Q] What is the kind of budget allocated towards this campaign, and what is your media mix for it? What makes Hrithik Roshan the right fit for your brand?
This campaign is basically targeted at metros because our whole business objective is to glamorise the appeal of the brand in the metros.
We therefore felt that we needed a campaign with a big celebrity that will appeal to consumers in metros, with a digital first strategy. So the key aspect of that digital first strategy is Hrithik himself, he has already posted the campaign on his social media and received positive reactions from lakhs of people.
In addition, we will release our video and banner ads across Digital platforms to amplify the campaign. And we plan to use a lot of good points of sale across 100 cities where we operate.
As far as the costs are concerned, I don't want to put a number, but considering we have a celeb Hrithik on board, this is a multi-crore effort to glamorise the Arrow brand in the metros and top 10-12 cities.
Q] As the festive season approaches, how do you anticipate consumer sentiment to change? Will we see a more positive consumer sentiment?
There is clearly a gradual improvement in the business and in the walk-ins in offline stores and also the traffic online.
So people are now probably getting used to living with the pandemic. And also, whenever there's an emotion and a family feeling, people are shopping and we saw that during Rakshabandhan, and I believe that Diwali will see a good business.
Q] How big is your retail footprint now, and what kind of expansion do you expect to achieve by the end of this year?
Arrow has been in India since 1994-95. It's a very established brand. Our footprint was in more than 100 cities.
We are one of the few brands which have that kind of reach in India including metro, non-metro, smaller towns, and online. And as a part of this current phase, we're trying to glamorise our brand through our campaign and we also have been opening a lot of stores with new retail identity.
This new retail identity is designed based on New York's architecture style and art deco. Since February 25, we have opened new stores in big cities across North and South India. We have the West launches now, and 20 stores under construction which will also open by December this year.
So we will hit close to 300 stores by the end of this year. In addition, we will add a lot of new zip codes to expand our online reach.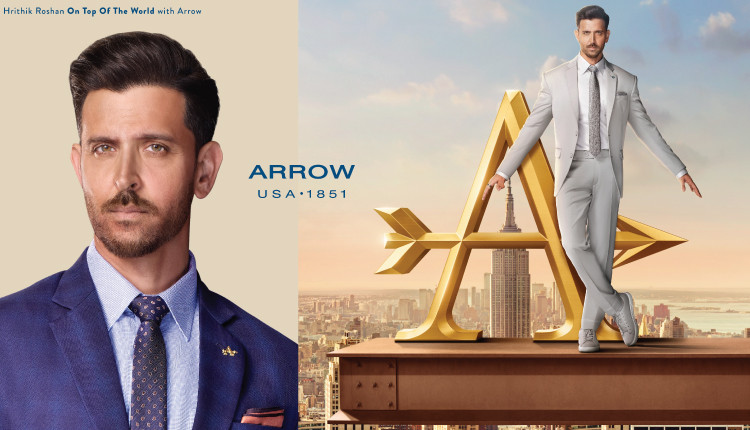 ABOUT THE BRAND
Arvind Fashions Ltd is a casual and denim player, with a portfolio of brands like US Polo Assn., Arrow, Tommy Hilfiger, Calvin Klein, Sephora etc. Arrow, the American menswear brand from Arvind Fashions Ltd, offers a formal apparel range that suits corporates with legacy, offering both work wear as well as cool, young fashion.



FACTS
Media agency: WYP Creatives
Creative agency: WYP Creatives
PR agency: Actimedia



PROFILE
As the Managing Director and CEO, PVH brands at Arvind, Shailesh Chaturvedi runs the business of Tommy Hilfiger, Calvin Klein and Arrow brands in India. With expertise in development of premium fashion brands, Chaturvedi has 25 years of work experience in the apparel retail industry.


Q] Due to the pandemic this year, a majority of the industries witnessed a shift towards e-commerce rather than brick and mortar shops. How much of this change are you seeing in the fashion retail industry, and how are you adapting to the change?
Even during pre-COVID times, online was gaining traction and we were reaching out to many zip codes and even smaller towns that were not covered directly in the 100 odd cities.
So the time has come, and we've been working with all the key players, be it Myntra, Flipkart, Amazon or Ajio, we have our own urban group site called now.com.
All our brands are available there. So there is a complete 360 degree all out support to grow business online and in COVID times, that is further accentuated because people are not able to travel out and prefer to shop in the safety of home.
So, online has become important and we are now going with an omnichannel strategy. We linked up all stores and warehouses to give the consumer an omnichannel shopping experience. We are also doing home delivery from store to home. So we are using all means and channels to reach the consumer, whether online or offline.