Q] Please give us an insight into your latest ad campaign?
Symphony is a highly responsible brand when it comes to the conservation of planet earth. We take measures to prevent possible damages to the environment. While technology has made our lives simpler and more convenient, it has proved to be hazardous for our environment. The objective of this campaign is to educate consumers on why they should be mindful of the side effects of their choices. We also wanted to inform them that adapting to sustainable ways of cooling can lead to a positive change. Apart from that, our research findings have also shown that air coolers as a category is more environment-friendly and conducive than ACs. So, we thought it's the right time to bring about a change and conserve our planet.
Q] What are the new products that you've launched this summer?
We've launched two new products, and the first one is within the cooler portfolio. Normally, children look for something more colourful, and not regular white coolers. So, for the first time in India, we have launched Disney and Marvel-themed air coolers. These coolers are packed with an aesthetic appeal, innovation, and technology. The second product is Symphony Tower Fan, which is being launched in select cities. It's a nascent category that we have created, and it offers both sleek design and wonderful performance in terms of air-flow that is missing in pedestal fans.
............................................................................................................................................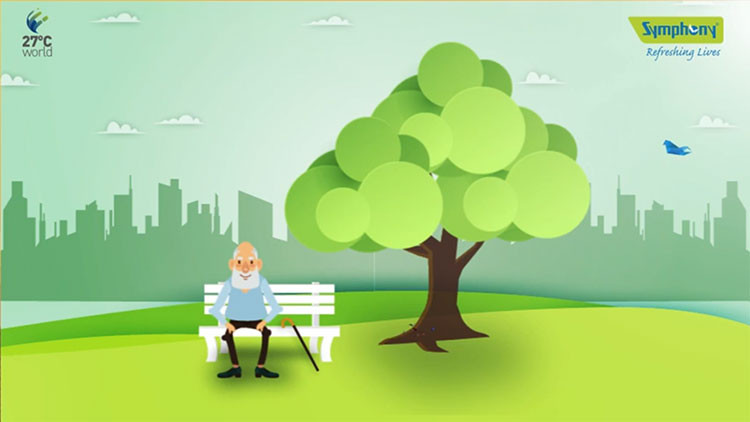 ABOUT THE BRAND
Established in 1988, Symphony is a leading evaporative air cooler brand. It focuses on innovative design to create better and eco-friendly products for domestic, commercial, and industrial customers in 60 countries across the globe. At Symphony, design-driven innovation and green engineering is a sustainable competitive advantage. The company delivers market-leading products with engineering and design innovation, improved energy conservation, distinctive styling, and customer-centric design.
FACTS
Digital agency: White.Agency
PR agency: Perfect Relations
PROFILE
Anuj Arora is the Global Chief Marketing Officer of Symphony Ltd. With over 16 years of rich experience, he has expertise in Brand and Category Management, Retail, Strategy, Corporate Planning, and Sales. He started his career as a Management Trainee at Godrej Consumer private limited. He was also associated with Reliance Retail as a Strategy Planner.
............................................................................................................................................
Q] When it comes to communication and promotion, how do you try to stand out in a cluttered market?
To stand out in this cluttered market we always highlight relevant consumer insights. One of the key aspects of buying air coolers is the low cost of the product, and its affordability in terms of operating it. We are trying to create awareness around that through our campaigns. For example, in April, we had launched a campaign with an innovative approach - Ek Samose ke kharche mein poore din ki Cooling - Garmi Ko Karo Symphony. Our survey had revealed that the cost of quintessential Indian snacks such as Chai in UP and Bihar, Kachori in Rajasthan, Khaman in Gujarat, Samosa in Delhi, or Vada Pav in Mumbai, is the same as the cost of daily cooling of Symphony air coolers. So that campaign was a creative expression of spreading the product benefit and contextualizing the low running cost of air coolers. We ensured that our consumers find value for money and have an impeccable shopping experience.
Likewise, we roped in cricketers Harbhajan Singh and Shikhar Dhawan for a unique AI-led nationwide initiative in May. During that initiative, we created hyper-personalized video films for over 2,300 retailers across India. That was for the first time in the consumer durables industry when a brand leveraged artificial intelligence, and initiated geo-targeting for each retailer.
Q] What does your marketing mix look like?
The spending on Digital has increased across all categories and that is true for us as well. Earlier we used to be heavy on Television and Print, but this year we have included regional mediums like outdoor, cinema, etc. as part of our media mix, so that we can target specific regions and give regional support that is required.
Q] What was your growth rate in the last financial year?
We grew by 15% in the last financial year. If everything goes well, we can expect this kind of growth this year as well.
In February, we had also launched our D2C website. In fact our kids range coolers were exclusively launched on that website, and we are now receiving good response from across all regions. We will continue to launch new products on that website in the future too.
Q] Outside India, which are the markets where you are growing? Is there any plan to penetrate into new countries?
50% of our sale comes from outside India. We have subsidiaries in the U.S.A., Australia and Mexico, and they are doing quite well. In the coming years, we can see good growth in the new markets in Brazil and Middle East. As of now, we are operating in Brazil and the Middle East on a smaller scale, but our focus is going to be bigger in those countries in the future.