Ask Punit Misra, Chief Executive Officer of the Domestic Broadcast Business of Zee Entertainment Enterprises Limited, to describe himself in one word and he says 'inquisitive'. Therefore, when he took on the role in October 2016, after 20+ years of working with Hindustan Unilever, learning the ropes of the broadcast business was fairly easy for him. Two years later, Misra leads a successful and profitable network of 37 channels in nine languages, having infused along the way a process-driven culture in its working. What enthuses him most is the all-time high in viewership (non-sport and non-news) that the network has achieved, with consistent numbers since April 2017. "We have had an immensely successful journey over the last few years," says Misra. "Our topline has always grown ahead of the market. Also, our bottomline has grown ahead of our topline. The good thing is, some of that growth has accelerated and at 19.1% viewership share, we have hit the No. 1 network position, and that is hugely satisfying. This is viewership share, 2+, all India, Urban+Rural, since April last year. So, we are not talking one week, one market, one socio-economic class, Urban or Rural. We are talking the pristine, full number. That's incredible."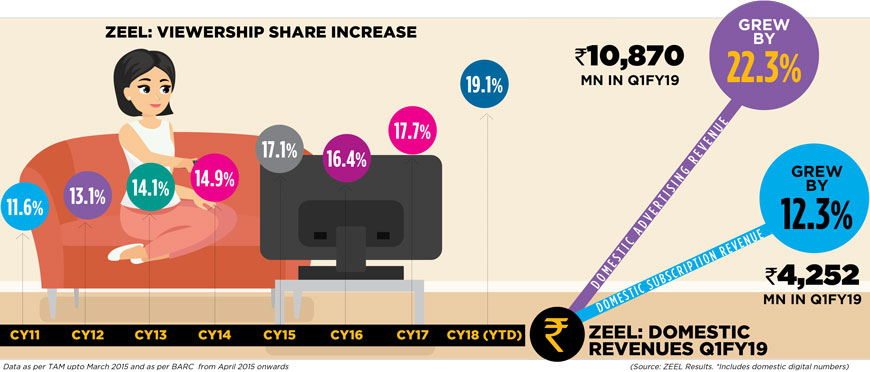 BUILDING PROCESSES
One important thing that Misra brings to ZEEL from his days at HUL is this whole reliance on process, across functions. "Be it innovation process or capability building process, the aim was to institutionalize pockets of brilliance which already existed at ZEEL, into what I would call repeatable models so that strength travels and does not stay as islands of strength," Misra says. "We are building repeatable models, which is the reason why you find consistency of performance across markets. As the domestic broadcast leadership team, we collectively have worked towards building some of these institutional strengths, be it content creation, content discovery, or how we think about our channel brands, treating them as brands in their own right. For instance, we have institutionalized the whole data and insights process, so people spend a lot more time not on accessing data but analyzing that data. We have built some of these new muscles which we are really flexing now."

THE TALENT POOL
Misra is upbeat about ZEEL's 'strongly diverse' talent pool and that it has remained steady for years. "New Zee TV Business Head Aparna Bhosle was already running the business, it's just a shift of role for her. &TV Head Vishnu Shankar was already running a channel for us. So, they are all home-grown talent who have been with us and who have delivered. The fundamental diversity of talent has been the strength of the network. We have people like Ruchir Tiwari, who joined us as a trainee, and now heads the Cinema cluster. He had joined a marketing job and moved to the content side. We have Sachin Rumde, who runs operations, who had also joined as a trainee. The organization has valued very different kinds of talent, and the key thing has been performance before potential.
What we have done additionally is, compliment this very strong leadership with equally strong new muscle. For example, we brought in Prathyusha Agarwal who has a consumer marketing, consulting and e-commerce background. She has contributed very significantly to marketing across the network, helping business heads – often with sales or programming background - who have marketers under them build the strength of the marketer. We also got in Venkat Nettimi to help build some of the data and analytics strength which was not a big strength earlier. It's just more complimentary skills getting added to the very strong leadership that we have had."

THE GAME-CHANGERS
Looking ahead, what would be the three game-changers for the domestic broadcast business of ZEEL? What would be Misra's priorities? "I am a firm believer that 'more is more' - as more great content gets created, and gets served, we will see more consumption," says Misra. "I have seen that play out in all our regional markets. Every single market where new competitors have come in has only grown the market. More quantum, better quality of content justified through more number of hours of consumption. Then it's your job to get more and more share out of that pie. For any marketer, driving penetration is relatively easier than growing consumption. In our business, we are blessed that we are able to see consumption growth. Then the marketer or the content creator's challenge is how to get more market-share. We will have to make sure that we continuously get stronger and better and remain more connected with our viewers. Then there has to be a process from a creative standpoint too, though it seems to be at cross purposes with creative work. This process is an innovation process - how do you continuously create content brands that people will love? That is a challenge. The third challenge is the challenge of talent. Getting new talent - be it writing talent, or acting talent, or young executive producers and group heads and so on… We are now 25-26 years old in the country. Are we the place for the best business talent, the best marketing talent? Are we getting the best creative minds?"
ON GROWTH IN THE NEXT 3-5 YEARS
"We have gained 200 basis points on viewership share in the last two years. That averages 100 a year. Why should we not continue with that and get better?" asks Misra. "On revenue, we have delivered numbers, which are in the public domain. Why should we not continue to grow at that rate continuously for the next three to five years? Linked to that, obviously when you do that number and viewership and topline, your bottomline will also strengthen. So, we should get better."
Ask Misra about the large number of eyeballs the network has attracted – a weekly cumulative viewership of 669 million across 37 channels - and how it relates to revenue, and he immediately answers, "Get the eyeballs, revenue follows; the models are clear!"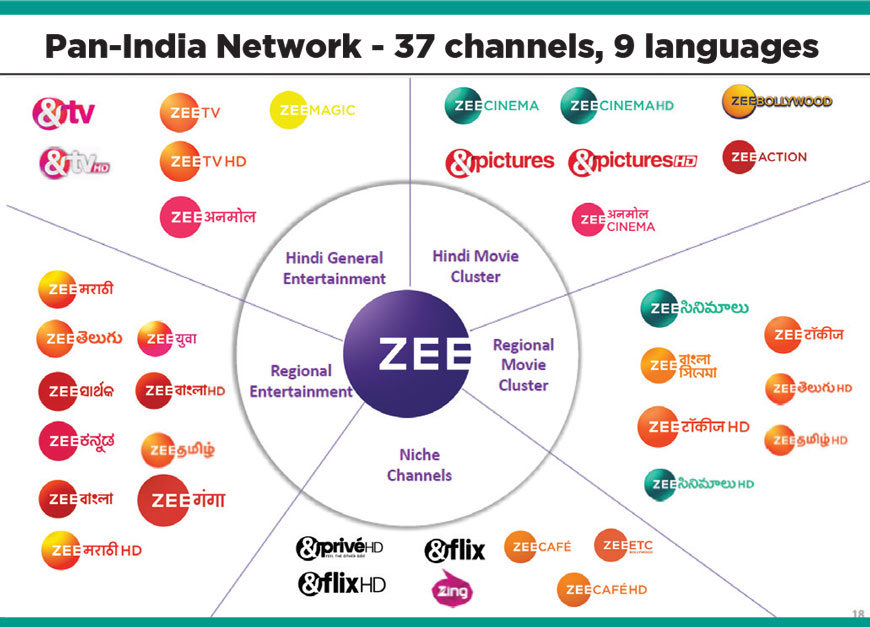 ON TRACTION FROM THE GENRES
On the four broad clusters - Hindi GECs, Regional Entertainment channels, Hindi Movie channels and English Premium/Niche channels – Misra says, "We truly live in an 'and' world. Here I will go with the analogy of mutual funds versus investing in individual equity. You invest in mutual funds because it's a diversified portfolio and it manages to find ways to beat the market, hopefully, it's a good fund. And that's what we are. We are a brilliant collection of great brands and we would want to grow all of them."
ON DISTRIBUTION AND THE TRAI ORDER
On distribution, there are only opportunities out there, feels Misra. ZEEL was the first network that announced channel pricing even before the Telecom Regulatory Authority of India's deadline to unbundle and declare TV channel subscription rates was over. "It was a choice we made of sharing what we believe viewers will be willing to pay for the kind of content that we bring to the table. Our belief is that whatever operational challenges, and I am sure there will be some, can come but with the implementation of the TRAI order on pricing, I see an opportunity. The fact is that RPUs are lower. I will give you an interesting statistic - while the RPUs of Television have grown at 200 to 300 basis points lower than inflation in the last 15 to 20 years, for the industry to grow, it must get fair revenue so that it keeps investing to build better and better content, get better at marketing, get better talent in. And I think that's where I see this playing out very positively. It's a great opportunity, and people will pay as long as you offer the right kind of product," he says.
'We chase our viewer's hearts with all our minds'



PRATHYUSHA AGARWAL
CMO, ZEEL
Bringing today's demanding viewer to the centre of every conversation and business decision-making process, marketing at ZEE champions our unique Brand POV-led content creation and discovery approach. We have been on a purposive journey over the last 18 months, defining and delivering a portfolio brand strategy that is helping us build strong destination channels that go beyond mere content affinity. Whether it's capturing the great Indian middle-class spirit through Aaj Likhenge Kal and steadily strengthening flagship GEC Zee TV's brand and marketshare or pole-vaulting Zee Tamizh to almost double the GRPs through strong culturally connected offerings, the focus is to build repeatable success models that are context and people agnostic. We are restlessly asking ourselves what's new and next, pushing new culturally relevant, topical and meaningful dialogues with our audiences and creating new equations of brand loyalty where we co-opt and partner with them through conversations and not just communication. Today, we are the No.1 Entertainment Network with increasing market-share and brand power in each viewer segment and region and the wooing has only just begun as we continue to chase our viewer's hearts with all our minds!
'We nudge viewers to draw from their inner strength'

APARNA BHOSLE
BUSINESS CLUSTER HEAD, ZEE TV & FTA GECS
In its 26th year now, Zee TV is committed towards presenting more forwardthinking content, keeping in mind the evolving consumption patterns of Indian viewers.
Through our shows, we have nudged viewers to draw from their inner strength, ask the right questions, take control of their destiny and pro-actively work today in order to achieve an extraordinary future. The channel is in excellent health being the No. 1 Hindi GEC (among pay channels) – Q2 FY 18 onwards and the No. 1 in overall primetime across HSM in FY 2019, No. 1 in weekday primetime Q3'18 onwards, and we will continue building on this strength going forward. As a network, we also have undisputed leadership in the FTA GEC segment with Zee Anmol driving our rural play. Not only does Zee Anmol command a 22% market-share in the Hindi FTA GEC space (Source: Aug'18 HSM Rural 2+), but the channel also leads in eight out of 10 prime-time slots on weekdays and weekends with a reach of 38.6%. With TV penetration only increasing, rural markets will be a big growth-driver and Zee Anmol is well in place to win the segment.
'We have entered the next phase of growth'


VISHNU SHANKAR
HEAD, &TV
&TV was launched as a challenger brand in the GEC space three years ago with the thought of 'diversified content, unified viewing'. This was evident in the values it represented, the progressive mindset targeted and the contemporary stories and characters introduced on screen. We redefined the way content was showcased on television through unique offerings, right from Bhabhiji Ghar Par Hain, Badho Bahu, Paramavatar Shri Krishna to Meri Hanikarak Biwi. Our recent channel campaign 'Hai Khaas Har Andaaz' marks our entry into the next phase of growth and the milestones we aim to achieve in the near future. As we move forward, the consumer will further take centrestage in terms of the content choices we make as a channel.
We are bullish about being the first movers in providing audiences with multi-dimensional opportunities for engagement and offering experiences that are best in the category. The best examples of this are Love Me India, a reality show for kids which puts the highest live voting power in the hands of the audience and the epic fantasy Vikram Betaal Ki Rahasya Gaatha which is set to be a visual spectacle.
'There is strong progress across the South markets'

SIJU PRABHAKARAN
SOUTH CLUSTER HEAD, ZEEL
South as a cluster is seeing a very robust growth for Zee as a network. We have improved our performance and have had strong progress across the South markets where we have presence today. If you look at data, today, Zee Kannada is the No. 1 channel in the urban markets with a 30% market-share which equates to 600+ GRPs. Zee Telugu is a very strong No. 2 with 25% marketshare and 680+ GRPs and Zee Tamil is the fastest growing channel across the network and South India with 22% market-share and 600+ GRPs. We aim to consolidate our South offerings with the launch of our new GEC in Kerala very soon and going forward, we will have newer channels across markets where we already have a strong GEC presence. Further, we look to add value to our advertisers across South channels with the improved performance that we have been showing and thus, improving our yield and monetization.
'We will continue to push boundaries to expand viewer base'


RUCHIR TIWARI
BUSINESS HEAD, ZEE HINDI MOVIES CLUSTER
Zee Hindi Movie Cluster is India's No. 1 Hindi movies cluster and the only player which has held a major market-share of above 30% for five consecutive years, leaving behind many of the leading players in the industry with a huge gap in the paid category. With the recent addition of Zee Bollywood, it has further consolidated its leadership position. Zee Bollywood has broken into the Top 5 channels list, securing the No. 4 slot and accelerating the cluster share to a whopping 37.8% in the paid category. The sustained viewership growth is based on the strongest pillars of content curation and customer centricity. The flagship channel Zee Cinema has always been a pioneer and trendsetter. The cluster growth in the past five years is also an outcome of identifying and tapping into need gaps beyond the flagship channel. This can be seen with each successive addition to the portfolio such as &pictures, the only premium channel launched for the urban progressive yet rooted audiences seized a significant 9% market-share; our FTA offering Zee Anmol Cinema that opened with the highest viewership; Zee Action witnessed a viewership growth of over 100% and the HD channels of the cluster, Zee Cinema HD and &pictures HD, have a distinct and attractive proposition thereby always staying ahead of the curve.
By being aware of the evolving trends, having sharp consumer focus and staying ahead of the curve as pioneers, we will continue to push boundaries to further solidify our leadership and expand our loyal viewership base.
'We understand the viewer and foresee emerging trends'


AMIT SHAH
CLUSTER HEAD, REGIONAL HINDI SPEAKING MARKETS, ZEEL
Over the last few years, we have managed to grow considerably across our regional channel portfolio and have delivered a strong performance across markets in Q1. TV audiences are growing significantly, and the regional space thus becomes extremely important, as these markets become the next growth drivers for Television. We are the leaders in RHSM and are witnessing a consistent increase in viewership share across markets, which displays the viewer's appetite to consume content in the local language. This can be attributed to a significant increase in quality programming in the regional language driven by deep-rooted understanding of the viewer and foreseeing emerging trends and preferences to make content that is far more engaging.
'Our premium channels are very well positioned'


SHAURYA MEHTA
COO, LIVING ENTERTAINMENT AND PREMIUM CLUSTER HEAD
The premium content viewing audience continuous to grow at a very healthy pace and our premium channels are very well positioned to capitalize on this growth. With new channel launches over the past year, our portfolio of premium channels in &Flix, &Prive and Zee Cafe offers very diverse and distinct content for our viewers. The growing digital and OTT space has helped expand the viewer base, however, the viewers are also seeking newer and differentiated content. To that end we have an exciting line up of the latest movies & shows from around the world for an ultimate viewer experience. We continue to invest and grow in the premium category as the viewers in India build their aspirational value, seek premium content and get more globally oriented.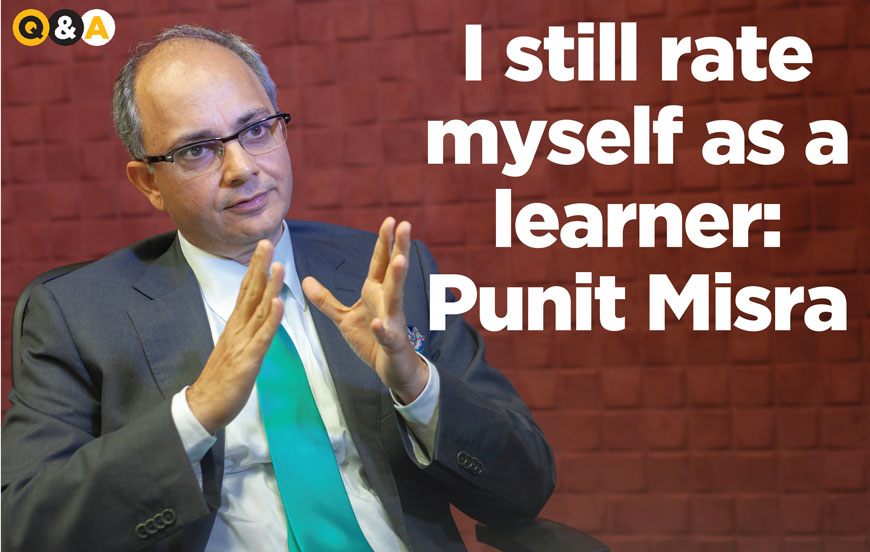 Humility is the hallmark of Punit Misra. Just as he says that he is still a learner in the broadcast industry, he also points out instances that have proved to be of immense learning earlier in his career. One such incident revolves around what Misra terms his "worst professional performance in a particular year". It was the first big leadership role that he had been given, heading sales for a region in his previous organization, recalls Misra. "In the history of that branch, it would not have had such a decline as it did that year. And I was the leader who had to take responsibility for that," he says without any reservations. "But from there, how we built that same team over the next 2-2.5 years to create what was then amongst the most successful several quarters makes up some of the crucial moments in my life."
Here are excerpts from a conversation with Punit Misra, in which he talks of the highs and lows of the last two years, the challenges he faced, the 'Extraordinary Together' philosophy and more...
Q]

From seasoned marketer at an FMCG major to CEO of the domestic broadcast business of ZEEL - what are the learnings that have worked for you over the last two years?
I did not know anything about the industry, and entered it with humility and a really huge appetite to learn. I still rate myself as a learner. When you have worked in a great organization, some things just become a part of you. The belief in brands, belief in consumers and the need to build that ability to get closer and closer to understanding consumers and customers, is something which has been of immense value. I have thoroughly enjoyed the ability to transfer some of those learnings into what we are trying to do here, across content, marketing or other functions. Finally, I am fond of saying that I was selling soap and I am still selling soap. In the last two years, while there is a lot more nuance and a lot of differences, at the heart of it is managing a business where there is a consumer-facing product, and a great set of people who are striving to make and deliver that product.
Q]

What is your own assessment of the overall domestic broadcast business of ZEEL? How do you rate its performance in terms of reach and revenue over the term that you have been at the helm?
Let's look at the organization and its totality of existence, an organization which is now in its 26th year of existence and a pioneer in the business of creating content which people love. Right from 2011, as a business we have been gaining viewership share. So, 11% viewership share is what we had in 2011. And as of last month, it is nearly 20% in the entertainment genre, which is non-sport and non-news. The second is the width of that leadership, because we have been gaining and leading market after market, be it the Tamil market where three years ago we were low single digit and are now near 20% share and growing, or Kannada where for eight weeks we are the No. 1 channel. As for Zee Bangla, where we were leaders several years ago, and lost that position maybe 8-9 years ago, we are now the No. 1 channel and growing share every month. We have further strengthened our position in Marathi and crossed 400 odd GRPs recently. Big Magic or Bhojpuri, is a business that we acquired, and we are growing there too, as well as in the FTA genre. So, it's a very broad-based, robust growth.
Q]

What have been some of the big challenges that you faced?
The first big challenge in any successful place is tackling the question 'What's the case for change?' Why change, as the 11% viewership share of 2011 was already 16% in 2016. We needed to sit together as a leadership team and be clear about the case for change. That took its time, and we went through it in a pretty organized 'Zee' way. The second challenge for me was keeping the core entrepreneurial strength of the leadership team at heart, while talking of process and institutionalizing things - somewhere they clashed. But we went ahead on that without a single leadership change, with the belief that here is a bunch of very successful leaders who know the trade, the business, the brand and the viewer. We have to make this change happen with those strengths intact. We brought in a few people as we created new jobs. And over a period of time, obviously some individuals do move, but 85% of the team if not 90%, is intact and getting better by the day.
Q]

What is the uptake on the new brand philosophy 'Extraordinary Together'? Has it had an impact in the short term?
At the 25th year celebration of ZEEL, we were moving from being a broadcast brand to a truly media and entertainment conglomerate. We needed to craft a brand point of view, and that's where 'Extraordinary Together' came in. It has set us on a journey of a bit more of consumer connect, a bit more of marketing savviness, being built into our own DNA. We had set up the whole marketing function when our CMO Prathyusha Agarwal came in, and this was the first big exercise under her leadership. And from there, we moved to doing the same for our Zee TV master brand. We made it travel to some of our other brands like the Zee Tamil re-launch. Also brand re-launches that we did on &flix and &Prive, and then Zee Bollywood. It helped us in institutionalizing some of these things so that they are starting to travel deeper and wider across the organization.

CHANGES THAT PUNIT MISRA WOULD LIKE TO SEE IN THE INDIAN TELEVISION INDUSTRY…
One change that I would personally want to be involved in is,
how do we get more talent coming in and growing across the spectrum of the industry whether it is on the content creation side, the business side or marketing side, or OAP side, or the sales side
. How do we become a much more sought after place for talent in this country; how do we pull more and more great talent? Second, how do we press the right levers to grow the entire advertising pie in the market? The overall advertising spends on TV in India is the same as in Indonesia, which is one-fifth of our size. So,
how do we ensure that the industry growth as a percentage of GDP is reflected in advertising spends?
There are significant pockets of under-monetization. It is for industry leaders to address that, not by wanting to charge more for the same, but by delivering value, and fair monetization. The third thing would be,
how do we get the whole tech data analytics coming in, not just at the high level, but rooted in the way we think about business and the way we think about content, which means democratizing it a lot more. How do we get new technologies in the content creation space?

THE REGIONAL PIECE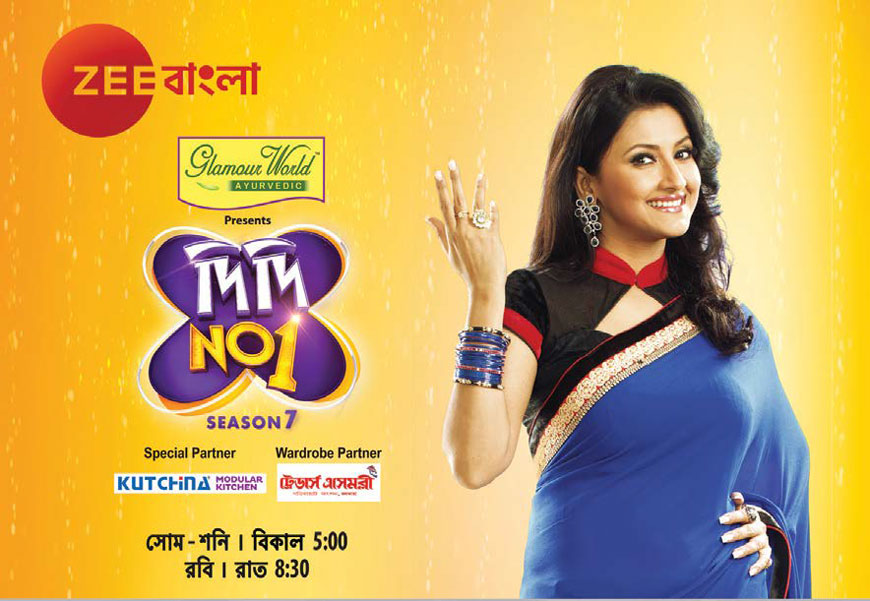 The regional cluster of ZEEL has been doing particularly well, leading the category in most regions, and each regional TV brand has been on a journey to strengthen its own core brand proposition. "Zee Tamil is a classic example," says Punit Misra. "Meanwhile, individual strengths are now being translated into group strength… we often have 20 odd people, who are the leaders of fiction across channels, sitting together in a room, sharing what they did last quarter, talking of the content. While considering what worked, more importantly we focus on what has not worked. Why a show is good and another is not… to dwell deeper on why that show is good, why it is still running, and what that show has which we can take to another market, which will also work there."
***
"I spend a lot of my time on content, though I don't decide content. I am not skilled to say 'let's do this show' or not. But, I sit on all content conversations and spend a lot of time on those," says Misra. "I just raise the questions, and I have learnt what are the right questions to ask after making a lot of mistakes in that journey. The leaders we have are great people who have the answers. That culture is propagating and multiplying, and that's great to see."
***
ZEEL is investing significantly in every single regional market. "We do business with sanity, not for vanity. We will invest fit for purpose in every single market. We will defend and grow our shares. We will improve our margins, and we will make sure that our toplines are growing significantly ahead of the market. We will do this in every single region," declares Misra.