For several decades, they have proudly housed the go-to newspapers for IAS aspirants in the country and journalism students alike, and now the publications from The Hindu Group, post the recently undertaken revamp have become 'cleaner, sharper and bolder,' while continuing to pack a punch with every edition that they deliver. In a very fresh approach, The Hindu and BusinessLine have stepped up to deal with the age-old concern of newspapers being looked upon as an older generation's medium for news consumption. They have introduced several measures to make it millennial and GenZ friendly without alienating their loyal reader base. After testing waters with Businessline over a month ago, the Group is in the process of revamping The Hindu's digital counterpart, the news website, to ensure a seamless transition between both the mediums, and to also compete with the digital-first news portals.
---
The redesign exercise- The Hindu
A promo panel below the masthead with pictures which tells you about the key stories in the inside pages.
A synopsis for most stories which gives the reader an option to deep dive at will or just get a basic understanding of matters.
The newspaper now shows prominent story headlines in bold type phase with larger font, and as the story becomes less prominent so does the headline on the page allowing for easier navigation.
More white spaces between columns, increased font size, sharper and concise stories with more pictures.

The redesign exercise – Businessline
Businessline's masthead has changed which makes the change in design much more tangible and apparent.
Smaller case letters for the masthead, signifying a more modern and younger portfolio.
More white space, more pictures, bigger font
For a reader who's interested in deep diving into a piece there are additional stories online with clear markers in the newspaper itself.
By using Google lens or camera, the reader can go straight to the website and read the story in depth.
---
LV Navaneeth, CEO, The Hindu Group, says, "Our new tagline reflects not just our design ethos, but also our editorial ethos. It resonates with what the brand stands for editorially, and what it has told over a 144-year-old journey. Design should reflect the changes around us. One might be a serious newspaper, but the definition of serious could undergo a change. Our business is truly good. We make enough money to invest back into design and serve our readers better, and like every other industry, innovation drives our business. In fact, we believe all newspapers should change their design every five years."
The highlight of this massive redesign of The Hindu carried out by legendary newspaper and magazine designer Dr Mario Garcia is clearly more white space between columns, increased font size, which lifts the look of the paper and gives more clarity; a promo panel below the masthead with pictures which tells you about the key stories inside, and a synopsis of most stories which gives the reader an option to deep dive at will or just get a basic understanding of matters. The newspaper now also shows prominent story headlines in bold type phase with larger font, and as the story becomes less prominent, so does the headline on the page. Explaining the logic behind that, Suresh Balakrishna, CRO, The Hindu Group, says, "The reader's eyes will automatically go to the stories that our editorial team feels are most prominent. They don't necessarily have to be on top, it could be placed somewhere in the middle too, but the bolder the headline, the more important the story. So, it's much better navigation for the reader and enables the use of larger pictures."
---
Digital overhaul on the cards
Businessline website recently underwent a revamp, The Hindu website will undergo the same this month.
Redesigned digital Sports Star and Frontline will be launched by February or March.

Print advertisers at THG
Retail brands like Pothys and Nalli are advertising and similarly the real estate market which has been doing very well over the last few years.
Education category is advertising more, while consumer durables have returned after 2-3 years to Print.
BFSI and government ads have picked up in a big way.
Edtech and e-commerce which were previously large advertisers have slowed down.
---
At a time when time is money, and people don't have the patience to read every single article in the newspaper, this innovation helps the reader to run through the most important stories in this design hierarchy while the synopsis helps the person devote more time on pieces that really interest him, and at the same time keeping him updated on the others. This is a sure shot way of competing with some of the digital platforms which provide story in brief while offering it the credibility of Print.
Talking about the revamp of their financial paper, The Businessline, Balakrishna says, "Businessline has gone through a more significant design change than the Hindu. Its masthead has changed which makes the change in design much more tangible and apparent. We have gone with the smaller case letters for the masthead, signifying a more modern and younger portfolio. We believe it's one of the best business newspapers in the marketplace, our areas of specialty are Commodities, Agri commodities, etc., and nobody covers them the way we do and we have got very good feedback from the business community, especially in Mumbai. I met the chairman of SBI and the chairman of LIC after the redesign, and they told me how Businessline has become so much more fun and easier to read."
With the font size going up, one wonders if that means less content in the same number of pages or more pages to accommodate the length of the articles, and if it is the latter, will it lead to an increase in the cover price of the newspaper at a time when newsprint cost has skyrocketed. Balakrishna explains, "We are the most expensive English language newspaper in the country as far as cover price goes, and it has never mattered to us if the respected competition followed suit or not. We are very proud of the fact that our reader is willing to pay so much money to read our paper. But yes, this might also signal another increase in prices, not this month but in the near future. The redesign does make the paper look more premium, younger, and we believe that our reader will enjoy the experience, it may take two-three months for the reader to get familiar with it. And we may consider a price rise post that. As far as increase in pages is concerned, not as of now, given that newsprint costs are so high."
LV Navaneeth emphasizes that this has given them an opportunity to be sharper in their writing, "So you're essentially communicating with lesser number of words, and for a reader who's interested in deep diving into it, there are additional stories online with clear markers in the newspaper itself. Where you could use your Google lens or camera and go straight to the website. On the paper there's around 10% lesser word space available than earlier, but that doesn't take away the reader experience at all."
Having said that, The Hindu has seen a greater number of pages from an advertising perspective post the redesign, because it happened right at the onset of the festive season. From a business perspective, Navaneeth says that they have had a spectacular year thus far, while adding a word of caution, "Some headwinds could be there for the next six months both in terms of advertising outlook and cost escalations, because newsprint costs are high, dollar rates are high, etc. But we are confident of ending the year very well, which will make it two good years in a row. FY 2022 was also fabulous despite the Omicron scare, which resulted in a slight slowdown in January. In terms of our revenues, advertising has been at pre-Covid levels for the first half of this year, and it will continue. Circulation revenues are at 85- 90% of pre-Covid levels. The lower priced copies and those consumed in public places like offices, airports, stations, hotels or colleges have come down. Our digital business has grown significantly since pre-Covid times. Last year we grew in excess of 50% as far as subscription and advertising revenue is concerned. There is a slight slowdown in growth compared to last year, but it is still very healthy. Five months to go, we will do spectacularly well this year, worst case scenario we will at least do well."
By the virtue of their Print business being a flourishing one, the contribution of digital to TGH's revenues is not that significant, but the management is hoping to shake things up a little, the Businessline website recently underwent a revamp, The Hindu website will undergo the same this month while the redesigned digital Sports Star and Frontline will be launched by February or March. And as far as their alternate streams of revenue are concerned, there is Step that offers online English courses, which is a natural extension of the prolific writing and command over language that Hindu is known for.
The year 2022 will certainly be known as a year of transformation for THG. But there is one thing that will not change, say the leaders. Suresh Balakrishna, CRO, The Hindu Group remarks, "We are very proud of our editorial choices, for example, a celebrity, Nayanthara got married a year and a half ago, which was top story in most newspapers in the South, we took it on the front page too but way below in the hierarchy. Our lead story was about 11 elephants having died in Karnataka after being run over by a train, which we felt was more important than Nayathara's wedding. Similarly, when Mr. Trump came to India, we saw Trump and Modi holding hands prioritized in all newspapers, be it English or vernacular. We also carried that story, but our lead story that day was about the 117 people who died in the Delhi riots the earlier day. These choices are what make us The Hindu."
---
'Won't sacrifice accuracy for the sake of speed'

"We don't chase big stories, we try and cover the everyday lives of people across India, holding the government accountable wherever needed. Even after the redesign we stand for credibility and authenticity. We see ourselves as the ones who get it right the first time, with our adherence to truth and facts, rather than rushing to be the first to run a story. We won't sacrifice accuracy for the sake of speed.
We follow the same even on digital where there is a greater pressure. We'd rather hold back a story than run it just because there is a deadline. Our readers from the older generation told us that they could now read the newspaper without spectacles. Also, it is appealing to the younger generation as we now provide a gist of the story, to be consumed at a fast pace. But that doesn't mean that we have given up on our in-depth coverage. Our long form writing will persist."

Suresh Nambath
Editor, The Hindu
---
'Younger but as authoritative as ever'
"Our masthead is completely in lowercase, in sync with the Instagram/ Facebook language of today. We have a lot more images on the pages, reduced clutter to make it less dreary to read. While we have made our editorial page less imposing, friendlier, and younger, we want to retain our image of a credible, serious and dependable newspaper. That's why we have a dot with a concentric circle at the end of the masthead. That's going to show that we remain authoritative as ever, and are the last word in business coverage.
We have received excellent feedback from readers and advertisers on the new look. As circulation is rising, I suspect it is also going to have a positive impact on advertising.

Raghuvir Srinivasan
Editor, The Hindu Businessline
---
"We Want to Give Premium Experience in Digital"
"People are now paying us for an annual subscription or a multilayer subscription. We're a premium product, and want to give that premium experience in the digital world as well. Our old websites were not mobile-first or home to new-age content. We have about 2 lakh subscribers today across our online properties. The big change on our news websites is mobile storytelling, meaning news is both created and consumed on mobile. We hope to provide a clutter-free experience, so the number of advertisements users see will give better value, both to readers and advertisers. For example, innovations like using a big banner ad above our content to ensure it doesn't disrupt the reader experience.
There will be more personalization and recommendations for each reader using AI engines. We're making discovery on our site easier with better search features. You will see more images, videos, podcast content across all stories. Also, advertisers will have more inventory on our site that is more prominent, and calls for reader's attention."
Pundi Sriram
Chief Product Officer, The Hindu Group
---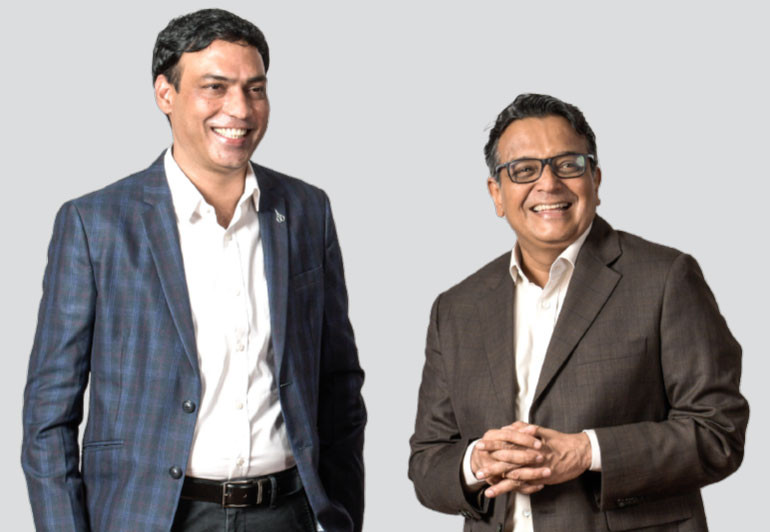 'Not Elitist, But A Serious Newspaper.'
Post the big redesign, LV Navaneeth, CEO, and Suresh Balakrishna, CRO of The Hindu Group speak to Neeta Nair about why according to them The Hindu is the best performing English newspaper with regards to advertising, why it would never do 'frivolous' stories, and why the group will do spectacularly well in this financial year.
Q] No newspaper has owned the English language better than The Hindu in India, your editorials are top notch and yet imposing, there is very little focus on celebrity news unlike other newspapers, but does that make it an acquired taste and an elitist newspaper as opposed to massy? At a time when there are questions raised on the future of Print, will that make expanding reader base more difficult for you?
Navaneeth: I won't call it elitist but it is a serious newspaper and will continue to be so. Over a period of time, the definition of what is serious keeps changing, and it will reflect that. So, we will stay in that space because that has served us well and that is what the readers expect from us. However, it doesn't mean that we won't do fun things. We just won't do frivolous things.

Suresh: Credibility and authenticity will never go out of fashion. In today's time and age, it has become an even rarer and more expensive commodity, thanks to the web developing at the rate at which it is. So, people and advertisers are willing to ride on a more authentic and credible newspaper, and pay a premium for it as well, because it has become like oxygen at 9000 metres, i.e., a little rare.
Q] In the last IRS results (Q4-2019) we saw how TOI, which is a relatively newer newspaper in Chennai, had expanded its base increasing its lead over The Hindu. While TOI Chennai's AIR grew by 17,000 between IRS quarter three and four, The Hindu's dropped by 20000, isn't that a big threat?
Suresh: TOI is a good competitor. We'd be fools to say otherwise. Also, they're very good marketers, who know how to market their newspaper and they've done a service to the city of Chennai by expanding the reader base. But if you looked at the IRS very closely, and markets like Bombay, Delhi, and Chennai specifically, the city with the least amount of duplication is Chennai. The percentage duplication between Times of India, Chennai, and The Hindu is very little. So, we largely cater to a different kind of reader base. Best of luck to them, but we do cater to a certain kind of reader base, which is very different.
Q] Some of the redesign you have undertaken is to cater to the GenZ, but is it possible according to you, for a newspaper to compete with digital platforms that this generation is more comfortable with?
Suresh: Our news reporting, ethos, content, it's not going to change and we have established very clearly what we stand for. The medium of delivering such wonderful journalism has changed. Luckily for us, the younger generation still reads news, even if it is reading it elsewhere, like the mobile, tab, laptop, and we are following them everywhere. They are still very interested in good, serious, authentic, credible content, and that's where we come in. Yes, the newspaper reading audience is an aging one. But in our country, the truth is that the aging audience is the richer audience, which most advertisers go after, if you ask the CEO of Mercedes, he will tell you that at least 70% of his buyers are above 40. So, I'm saying that there is a big audience as far as newspapers are concerned from an advertising perspective.
Q] As per the last IRS, The Hindu was number 2 in Chennai, and number 3 in Delhi. Also, Karnataka, and Hyderabad were not your strongest markets – to what extent would you say you have dominance over South, and where all are you a clear number 1?
Suresh: It depends on how you define dominance. If you are asking about influence, clearly, we are the most influential paper in the south.
Navaneeth: Our numbers are different in different markets for many reasons. Since the last time we spoke, we've improved from where we were in Hyderabad, we're more or less where we were in Bangalore. We have become far bigger in Kerala and in Tamil Nadu. In Tamil Nadu, Kerala, and Andhra Pradesh, we're clearly number one.
Q] Now that you have a new layout, is the aspiration to be a south specialist, or is it about being a paper that appeals to all parts of India?
Navaneeth: The two fundamental questions you ask when you do a new layout is how can I enhance the reading experience of existing readers, and how can I attract new readers? So, the new layout in our view makes it more convenient for existing users and makes it more appealing to non-users. Hopefully that appeal will draw people and help us expand. As far as our pan India strategy is concerned, our focus largely has been on the South. Delhi is an important market for us, and we do sell in many markets in the west and east, but our ambition there is not to be a player of great scale, our ambition there is to be a player of influence, to be highly priced and to make sure we're accessible to those who really want to read us. So, Calcutta will never be like Chennai for us, but it's an important part of our portfolio. In the South, each market is unique. Outside of South and Delhi, rest of India is a large market. We are happy being small and relevant in multiple markets, but as long as it adds up to a sizeable number.
Q] While your redesign has been carried out with the focus on readers, how have the advertisers reacted to it?
Suresh: I was at the Media Agency Awards organized by a large organization about a couple of weeks ago. And media agency heads of all significant agencies were there, from Shashi Sinha, to Sam Balsara, to PK, and almost all of them told me that they loved the redesign. Shashi for example, classically told me 'I'm spending more time with the paper now.' So, we are going to do research to find out, whether time spent has increased. Obviously, if time spent has increased on the paper, it'll have a direct rub off on advertising.
Q] Did the advertiser sentiment in this Diwali match up to pre-Covid Diwali or surpass that?
Suresh: We are seeing it largely matching up to last Diwali which was the first post-Covid one, and we are not complaining because last Diwali was very good for us.
Q] What kind of categories are advertising more this year in the festive season which also saw the onset of a global slowdown?
Suresh: Chennai has got a very vibrant retail market with brands like Pothys and Nalli. Along with retail, this year, the real estate market in Chennai is doing very well, even Education has really fired up. So, it's largely the traditional categories which are advertising. EdTech, which used to be very large for us, has slowed down significantly. E-commerce brands like Amazon, and Flipkart, which previously pumped in a lot of money, have slowed down significantly. BFSI continues to do very well, apart from the last six weeks when Reserve Bank kept changing its repo rate owing to which the banks are still reworking their interest rates, etc. They'll come back, I guess, after a couple of months. So, you're right, some category changes are happening here and there, but largely revenues are not impacted and it's the same categories, no new category has jumped in suddenly. Then there are consumer durables like OnePlus, Apple, Whirlpool, and LG that are back in action after going away from Print two-three years ago.
Q] How has FY 2023 been in terms of revenue and advertiser sentiment for THG?
Suresh: It has been a great year, and so far, advertiser sentiment has been positive. THG revenue is heavily skewed towards our print properties compared to Digital. Many of the advertisers have returned to Print like retail, real estate, education, and government, even though they might have been in a dilemma in the last five-six weeks, because of the US recession, the European markets, and the rupee taking a beating. But, if you ask me about April 2022 onwards to now, I would say that it has been a dream run for us, and I believe that in terms of advertising in English newspapers, we are at the moment the best performing newspaper.
Q] Newsprint prices have been a concern, how do you see that panning out?
Navaneeth: I expect newsprint prices to be at current levels, at least till the end of December. There's an issue with supply as well, many of the mills have reconfigured their machines and shifted to packaging material from what used to be conventional newspaper. This was driven partly by global shrinkage in newsprint demand. Newspapers have declined in many other markets, India and some parts of Asia are outliers. So, newsprint consumption has been diminishing since a few years globally, and that led mills to reconfigure. Plus, there is the impact of the Russia and Ukraine conflict. The pressure on freight and the given supply put constraints on raw material for newsprint production. The cost will stay elevated for some time, but I think freight trade will start to ease a little bit. We should see a slight softening of newsprint prices January onwards. For all newspaper companies, typically what you order today is what you'll consume four months down the line. So, this financial year will be a year of extremely high newsprint cost.
Q] Also, we have not seen IRS in a couple of years, do you feel it should return soon and will it bear good news for The Hindu?
Suresh: There is ambiguity about when the IRS will return, but I think we need to regroup. We cannot run a business without data measuring it. So, IRS is extremely critical for this industry. We need to bring it back, but it may take some time. MRUC, Shashi and all have already started reaching out to people. I think all of us need to put our hands in our pocket to fund this research. As far as we are concerned, yes, we are very keen to restart IRS, and we will support it when it comes.
Q] Roughly a decade ago, you also had a news channel called NDTV Hindu, any plans of getting back into the broadcast space?
Navaneeth: No. I think that the media landscape has significantly changed. Today I don't need a radio or broadcasting license to get the audience's attention, what you need is the ability to tell your stories in an audio and video format, and the place to house that content is on your own digital assets. So, we are serious about video journalism, audio journalism, audio production, but all of that will happen within our own assets. We are not doing as much of that as we should, but it is one of our key priorities. So, yes to video and audio, but no to broadcasting and radio.
Q] Your e-paper is priced at Rs 1300 per annum, TOI is free. HT is free. So, what is the strategy there, and what kind of growth have you seen in subscription?
Navaneeth: On digital subscriptions, we have various products. For instance, you could buy access to The Hindu's website and the app, or you could buy Businessline, or Sports Star, or Frontline separately. Then there are bundled offers. Our e-paper is a separate offering which can be bought standalone or the website and e-paper can come as a combined package. We don't disclose our numbers on subscribers, but we are seeing fabulous growth there. We are very happy with where we are on unique paying subscribers, and that number is growing. What's interesting within that subset is, if hundred people have paid access to our products, over 70% of them have access to the e-paper. Now conventional wisdom says that the newspaper is an old man's product and the e-paper is an extension of it. But the profile of the audience, which consumes the web and app, is very similar to the profile of the audience that consumes the e-paper and overwhelming majority of paying consumers either buy the e-paper standalone, or in combination with other subscription packs.

A large section of audience says that Digital is a boon, as it gives us unlimited choice. But with choice comes noise, and you don't know where to begin or to end. It's problematic. Even digital subscribers trust our editors to give them a finite product, which is curated, which they can consume, start to finish in a finite amount of time that also has credibility and authenticity. India is very unique in this, and I'd like to believe that we are also very unique in India as far as e-paper subscription is concerned.