Last week, the media and advertising industry was astounded by the announcement of the exit of one of its most accomplished, visionary leaders. After a 13 year stint that saw the dramatic transformation of the Star India business, Uday Shankar President, The Walt Disney Company APAC and Chairman, Star & Disney India took the industry by surprise when he announced his resignation from the company. Shankar took over the leadership of Star India in 2007 and was at the forefront of its evolution into the largest and most successful media companies in India. His role in revolutionising the media landscape of the region with a great team, valiant strategy and execution was truly significant.
A believer in the power of local execution, Shankar led Star's aggressive foray into regional and local language programming, transforming Star into a content powerhouse, which now broadcasts more than 30,000 hours of content every year. Over 13 years with the network, he has transformed it from a Rs 1600-crore entity back in 2007 to the Rs 18,000-crore media empire it is today. Uday Shankar is also the only media thought leader to have won two coveted titles – IMPACT Person of The Year (2010) and IMPACT Person of the Decade (2014). IMPACT Person of the Year is the highest and most respected award in marketing, advertising and media.
He officially makes his exit from Star and Disney India on December 31, 2020 to pursue 'a high impact entrepreneurial endeavour,' according to a company statement. Here's a look at Shankar's remarkable rise in the industry and his transformation of the Star India network.
Uday Shankar: the media revolutionary
Since taking over in 2007, Shankar has steered Star India to pole position as the largest entertainment media company in India. Since he was an editor and CEO of Star News at the time, many sceptics questioned the ability of a journalist to run a media and entertainment network. Shankar put to rest the doubts of the naysayers, as is seen in the company's meteoric rise. This growth is largely attributed to his acumen and risk-taking ability – be it radically changing the programming right after he took over to bring in refreshed and progressive content, expanding aggressively in the regional space, betting big on sports with huge investments, changing the game with the Indian Premier League (IPL), setting the agenda for social change with programmes such as Satyamev Jayate or the Nayi Soch positioning, introducing Hotstar at a time well before people even understood OTT as a platform or re-introducing India to the game of Kabaddi as a television sport. Most of Shankar's well-thought out gambles have paid off, and cemented his position as one of the most visionary, influential personalities in the Indian media and entertainment space.
Winning big with IPL
While Shankar's list of achievements is endless, perhaps the one masterstroke that had everyone's jaw drop back in 2018 was when the network acquired the IPL's global broadcasting and digital rights for a consolidated sum of Rs 16, 347.5 crore for a period of five years, starting from the league's 11th edition in 2018. Star India was the only company though to make a single global media rights bid. Since then, the network has pulled out all the stops to get maximum viewer engagement with diverse language feeds and deliver value to advertisers. According to media estimates, Star India clocked around Rs 2,200 crore as ad revenues across Television and Digital in 2019. This year, despite the COVID setback and a change in schedule, industry experts predict that it might clock a revenue of close to Rs 4000 crore! Shankar's announcement comes on the heels of what may well be Star's best year with IPL.
The Disney Star merger
The network saw an overhaul last year with the merger of Star India and Disney. Post the merger, speculation across the industry was rife about a clash between Disney's rigorous process driven approach and the characteristic entrepreneurial culture that Shankar's Star India was known for. The merger saw some high profile exits soon after – with Sanjay Gupta, Country Manager of Star and Disney India, Gayatri Yadav, Star India's President of Consumer Strategy and Innovation, and Amit Chopra, President and Head, Ad Sales moving out last year. Shankar held fort and quickly roped in K Madhavan as Country Manager for Star and Disney India. Since February last year, Shankar has served as president, The Walt Disney Company APAC and Chairman, Star and Disney India.
Leading digital disruption with Hotstar
Shankar's visionary leadership was also clear when he introduced Hotstar five years ago, which today has become the largest OTT platform in the country. He did so at a time when the OTT space was in its infancy and well before the proliferation of smartphones and data across the country, giving the company an added advantage. In April this year, Disney+ launched in India and the platform saw a rebranding as Disney+ Hotstar. The app today enjoys a global footprint, with its content offerings available across markets like the US, Canada and the UK. Since the network bagged the IPL broadcast rights a couple of years ago, Hotstar has been instrumental in transforming the OTT match viewing experience by adding a host of interactive features. According to Disney+ Hotstar, a total of 300 million viewers had logged on to its video-streaming platform to watch the previous edition of the IPL, a 74% jump in watch-time from 2018. This year looks even more promising, with as many as 8.1 million concurrent viewers logging on to watch the first IPL game on Disney+ Hotstar. (As per LetsOTT, a Malaysian-based digital media company)
Building a thriving ecosystem
Shankar is also the man responsible for the Star Sports broadcasting operations consolidation through 21st Century Fox's acquisition of its joint venture with ESPN. Star Sports today is the country's leading sports broadcaster and has transformed the Indian sporting ecosystem, an incredible feat in a country dominated by cricket. With the success of properties like Pro Kabbadi League (PKL), Premier Badminton League, Hockey India League and the Indian Super League (ISL), Shankar has helped even out the playing field for other sports in the country. In an interview to IMPACT back in 2017, Shankar spoke about this gamble on non-mainstream sports in a cricket crazy country. "I don't chase sponsorship, revenue, advertising and distribution income. Fundamentally, we are in the business of establishing deep relationships with our viewers. You build this relationship through drama, movies and even sports." Speaking about how the network built value for a property like PKL despite the naysayers, Shankar had said, "When we launched PKL, I called a few corporate friends and asked them to take the kabaddi sponsorship for a fraction of the value, but they didn't think it make any commercial sense. Now we have sold the latest sponsorship of Kabaddi (2017) for a sum second only to the IPL sponsorship."
Aside from sports, Shankar also sharpened the Star network into one that is deeply connected with real stories that drive impact. He introduced a more serious narrative to the channel's content with series like Satyamev Jayate, and Nayi Soch.
A transformation story for the books
The journey of a journalist and editor to the president of a leading media empire valued at Rs 18,000 crore is extraordinary and one for the books. Shankar spoke about the decision to take up the top job at Star in an interview with IMPACT back in 2017. "A journalist seeks novelty and adventure, and this job provided both. Every few years, Star gives me the opportunity to do something totally different, bold and ambitious. To quote Star Trek: The Next Generation – to boldly go where no one has gone before."
While the industry waits to see what Uday Shankar does next, he did put out a statement saying that his next venture will be about 'giving back'. "For some time now, I have been contemplating the question of how I give back to the country, community and the industry that have given me so much. I think the best way to express my gratitude to all of them will be to support and mentor a new generation of entrepreneurs as they set out to create transformational solutions that will have a positive impact on countless lives," Shankar said in a statement last week.

STAR UNDER SHANKAR'S LEADERSHIP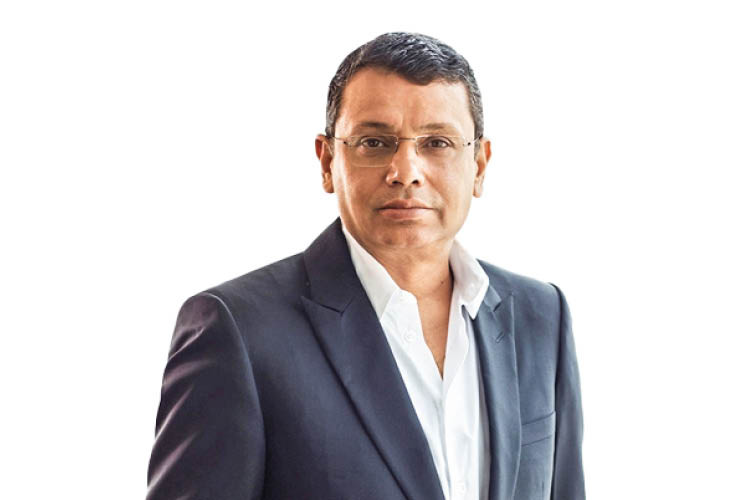 2008
Launch of the first big ticket 'Kya Aap Paanchvi Pass Se Tez Hain' under Uday Shankar's leadership.
2009
A profitable model created for investment in Hindi movies; Redefines the Hindi-movie business model.
2010
Refreshes Star Plus brand with 'Rishta Wohi SochNayi' tagline.
2011
Revamps Star Gold brand to reflect the essence of Bollywood.
Star becomes first in India to launch a bouquet of HD channels.
Launches Life OK, parallel brand in the Hindi GEC space.
2012
Takes OK brand forward with launch of Movies OK, a 24x7 Hindi movie channel.
Takes leap forward in content innovation, launches issue-based show Satyamev Jayate that reaches a third of India's population by simulcasting in multiple languages and across Star India's channels and on Doordarshan.
2013
Consolidates sports offerings under the brand name 'Star Sports.'
2014
Pro-Kabaddi League launched; changes the way the indigenous Indian sport of Kabaddi is perceived.
Bags International Cricket Council (ICC) audio-visual rights for ICC events from 2015 to 2021.
Introduces 'STAR ADSHARP' – pitched as a 'revolutionary technology' that beam advertisements only to targeted markets.
2015
Launches Video on Demand (VOD) platform Hotstar.
Launches Mauka Mauka ad campaign, to promote India-Pakistan clash at the Cricket World cup 2015.
Acquires Hyderabad-based Maa Television Network; strengthens position in South.
Acquires entertainment journal Screen from the Indian Express group; Revamps brand as a Digital entity.
Fox Star Studios strikes a deal with Dharma Productions to co-produce and distribute films worldwide.
2016
Re-organises India business; Uday Shankar moves to the newly created position of Chairman and CEO. Sanjay Gupta becomes Managing Director-Star India and K Madhavan becomes Managing Director-South.
Creates five Business units – Entertainment, Sports, Digital, Fox STAR Studios and South, to accelerate growth.
A pan-India Content Studio set up.
Launches Star Utsav Movies, a free to air (FTA) Hindi Movies channel for the Rural Market.
2017
Star India and TED greenlight, 'TED Talks India: Nayi Soch,' a global first Hindi TV talk show hosted by Shah Rukh Khan.
Star India acquires the IPL's global broadcasting and digital rights for a consolidated sum of Rs16, 347.5 crore
Hotstar becomes the first local service to cross 100 million downloads on the Google Play Store.
Season 5of VIVO Pro Kabaddi becomes India's biggest sports league with the inclusion of four new teams, taking the total number of teams to 12.
Star India launches interactive website, starttv.com
Launches Star Bharat with the tagline – bhula de darr
Gautam Thakkar appointed as CEO, Star Sports
Uday Shankar named President of 21st Century Fox, Asia
2018
Star India bags BCCI India International and Domestic media rights
Broadcasts its first IPL (Season 11) across its TV network and on Hotstar, with 34 brands on board and an estimated total revenue of close to Rs 3000 crore
Launches Star Re.Imagine Awards to showcase creativity and innovation in integrated ad campaigns during the IPL
2019
Star India and Walt Disney Company India goes through a restructuring with the merger of operations
Uday Shankar takes on the role of Chairman, Star and Disney India, and President, The Walt Disney Company Asia Pacific
The network sees some high profile exits as Sanjay Gupta, Country Manager of Star and Disney India and Gayatri Yadav, Star India's President of Consumer Strategy and Innovation resign
K Madhavan is appointed Star & Disney India's new Country Manager
Hotstar becomes official internet and mobile broadcast partner of the ICC Cricket
World Cup
Launches Hotstar Specials featuring a wide line-up of storytellers
2020
April: Brings Disney+ to Indian viewers, rebranding its platform to Disney+ Hotstar
September: Star Sports rolls out 'Ek Saath Waali Baat' campaign for the Dream11 IPL.
This year's tournament against the pandemic backdrop is expected to be the biggest one yet for the network, already demonstrating a 30% growth in TV viewership, with an estimated Rs 4000 crore revenue
October: Uday Shankar announces resignation to be effective as of Dec 31, 2020
(Sources: Startv.com, BARC and industry sources)

THE UDAY SHANKAR STORY
He was also the editor and news director at TV Today Group, where he spearheaded the launch of Aaj Tak, a leading Hindi news channel, in 2000 and Headlines Today, a leading English news channel, in 2003
He previously served as CEO and editor of Star News, which was the first 24-hour news channel in India
He took over the leadership of Star India in 2007 and transformed the Star business into one of the largest and most successful media companies in Asia
Under his leadership, Star also made strides in the digital landscape with the launch of Hotstar, which is now India's OTT platform
It was with him at the helm that the network bagged the rights to broadcast the IPL. Today, Star Sports is India's largest sports broadcaster
With him at the helm, Star reaches more than 790 million viewers every month in more than 100 countries. It broadcasts 60+ TV channels in 8 different languages in India.
Up until February 2019, Shankar was the President of 21st Century Fox for Asia and the Chairman& CEO of Star India
Since February 2019, he has served as president, The Walt Disney Company APAC and chairman, Star & Disney India

ENTREPRENEUR WITH A MIDAS TOUCH
That's how industry leaders describe Uday Shankar. Leaders from the media and entertainment sector tell us why they have huge respect for Shankar, whose contributions have transformed the industry landscape
BY TEAM EXCHANGE4MEDIA

"In Uday, I have been fortunate to have found, not just a thorough professional colleague, but a very dear friend. We both go a long way back, right to the days when he was shining in the realm of the editorial world. I have always enjoyed my interactions with him and we connected at a very unique and a creative level."
Punit Goenka
MD & CEO, Zee Entertainment Enterprises Ltd

"Uday and I go back a long way and I am 100% sure that whatever he takes up next, he is going to turn it into magic. Uday is one of the few professionals in this country today whose understanding of both the content and the business side is very well evolved. Whatever he takes up next. I am sure it's going to be a game-changer in our industry."
Arnab Goswami
Managing Director & Editor-In-Chief Of Republic Media Network

"For Uday, I can say that I have never seen a CEO with entrepreneurial quality. I remembered those days 23 years ago when he used to work with me on current affairs shows. What an amazing unparalleled rise! It is difficult to get the next Uday Shankar for any media company. Wherever he goes, he will create his own path. Wishing him great success ahead."
Markand Adhikari
Chairman and Managing Director, SAB Group

"Uday is a great friend and a fierce competitor. We have had some great times together at a personal and professional level. He is a visionary and I have a lot of respect for his immense contributions in shaping our industry. His exit will leave a huge void and he will be missed. I wish him the best in his new journey."
NP Singh
MD & CEO, Sony Pictures Networks

"Uday Shankar is not just a media personality in this country; he is an institution in himself. The value he created for 21st Century Fox by doing what he did at Star is unprecedented in India's media and entertainment sector. What he does next is worth waiting for and last but not the least, if he moves out from the media and entertainment industry to do something else, it would be an irreparable loss for our sector."
Avinash Pandey
CEO, ABP News Network

"Uday has always left behind companies that are strong and able to take on the next challenge. We should know. Star will thrive under the capable team he leaves behind. He builds institutions, not companies where he is indispensable. It takes a great leader to do that. I am so excited to see what he will do next!"
Kalli Purie
Vice Chairperson, India Today Group

"Uday is a terrific leader. With a stellar vision and an awesome execution, many times it's been a wonderful learning. Being an industry leader, his contributions have always been towards a progressive direction and great support. These years, working closely with him and as an observer of this leadership, it's been truly inspirational. I wish him the very best!"
Prasanth Kumar
Chief Executive Officer, South Asia, GroupM

"Uday has had a massive impact not just at Star/Disney but on the media and entertainment industry over the past many years. He has groomed many outstanding leaders and has inspired all who have had the opportunity to work with him. I am sure he will continue to play a huge role in transforming the industry, in his new innings."
CVL Srinivas
Country Manager, India, WPP

"First he knocked off with Saas bhi kabhi bahu thi. From there on, he only continued creating iconic shows like the Kiran Bedi show. And then, IPL was another big, bold bet. In a business which is cutthroat, to stick around for so long and take such bold bets, leading the industry says a thing or two about his capabilities."
Shashi Sinha
Chief Executive Officer, IPG Media

"Uday Shankar undoubtedly has had a Midas touch. Under his leadership, Disney-Star has seen a meteoric rise by pushing all creative boundaries, scaling up operations and drumming up innovation and growth. At an industry level, he has accelerated future-readiness and value-creation for the industry as a whole. It's been wonderful knowing him through the years and I wish him all the very best for the innings ahead."
Anupriya Acharya
CEO, Publicis Groupe South Asia

"My relationship with Uday goes back 30 years when we were working in a newspaper together. I have watched his journey closely since then, being a part of the same industry and he has been extremely inspiring. His contribution as President of IBF and an active board member to industry initiatives has been immense. He leaves Disney on a high, with a robust TV network, having built India's largest OTT platform Hotstar and a successful IPL."
Raj Nayak
Founder of House of Cheer, and former Viacom18 COO

"Uday has been a huge leader, not just for Star but for the entire broadcasting fraternity. He has never hesitated to state his mind bluntly, even on difficult issues, which is not commonly seen in professionals these days. I am sure he will do extremely well in whatever venture he takes up and I wish him the very best for his next innings."
Ashish Bhasin
CEO APAC Dentsu and Chairman India

"Uday Shankar has played one of the most significant roles in shaping television in the last two decades. One of the leading drivers to help create BARC and see it evolve with success. He is a friend and a big well-wisher. Like at Aaj Tak, Star News and at Star, I am sure he will go on to create new magic and big success for himself."
Sunil Lulla
Chief Executive Officer, BARC India