In 2020, a year shadowed by COVID-19, it would be no exaggeration to say that everything got affected, including all categories in all countries around the world. So it is no surprise that Indian AdEx also got negatively impacted. The Pitch Madison Advertising Report, 2021which was unveiled last week estimates that in 2020 total AdEx has degrown by 20% and traditional AdEx by as much as 29%. This level of degrowth was predicted in PMAR's Mid-year Report released in August 2020. It does appear that COVID-19's negative impact on Indian AdEx has been severe, compared to many other countries of the world including US, by far the largest AdEx market. WARC estimates that the Global AdEx has fallen by just 9% from USD 491 million dollars to USD 447 million dollars in 2020 with US AdEx dropping by 4% and UK AdEx by 14%.
In absolute terms AdEx has de-grown from Rs. 67,603 crore to Rs. 54,151 crore, a drop of a whopping Rs. 13,452 crore, the highest ever drop in one year in the history of Indian AdEx. The last time Indian AdEx has seen any negative growth was way back in 2009, when on account of the Lehman crisis Indian AdEx had de-grown by 9%. At Rs. 54,151 crore AdEx today has gone back to the level it had achieved in 2017 and if you look at only traditional AdEx, then it has gone back to the level that we achieved five years ago in 2015.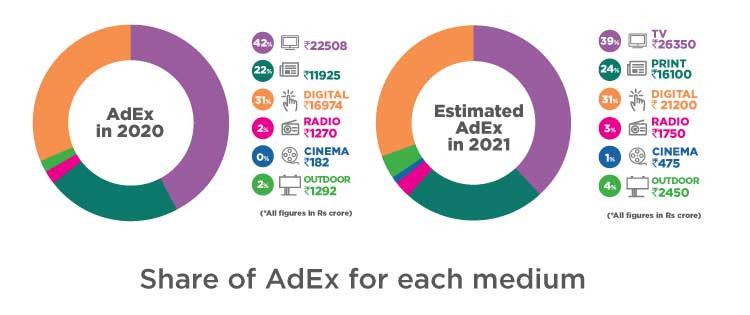 KEY ASPECTS OF PITCH MADISON ADVERTISING REPORT 2021
TV's share of AdEx in 2020 increased to 42% from 37% in 2019, consolidating its numero uno position
While the first three quarters saw TV de-grow by 31% over 2019, Q4'20 grew by 66% over Q3 2020
Digital is now the No. 2 medium having displaced Print with a share of 31%, up from 23% in 2019
Digital is the only medium that grew in 2020 and by 10%
Digital has grown in three quarters and de-grew only in Q2 by 35% when there was a strict lockdown
Print becomes the biggest casualty of COVID-19, contributes to Rs. 8,120 crore out of Rs. 13,450 crore that AdEx lost in 2020
Radio suffers despite spike in listenership, loses 1% market share and now has a share of 2%.
OOH AdEx de-grew by as much as 63% to a low of Rs. 1,292 crore, going back to 2007 levels
Cinema suffered the most with an 83% drop, capsizing its low base of around just a little over Rs. 1,000 crore to under Rs 200 crore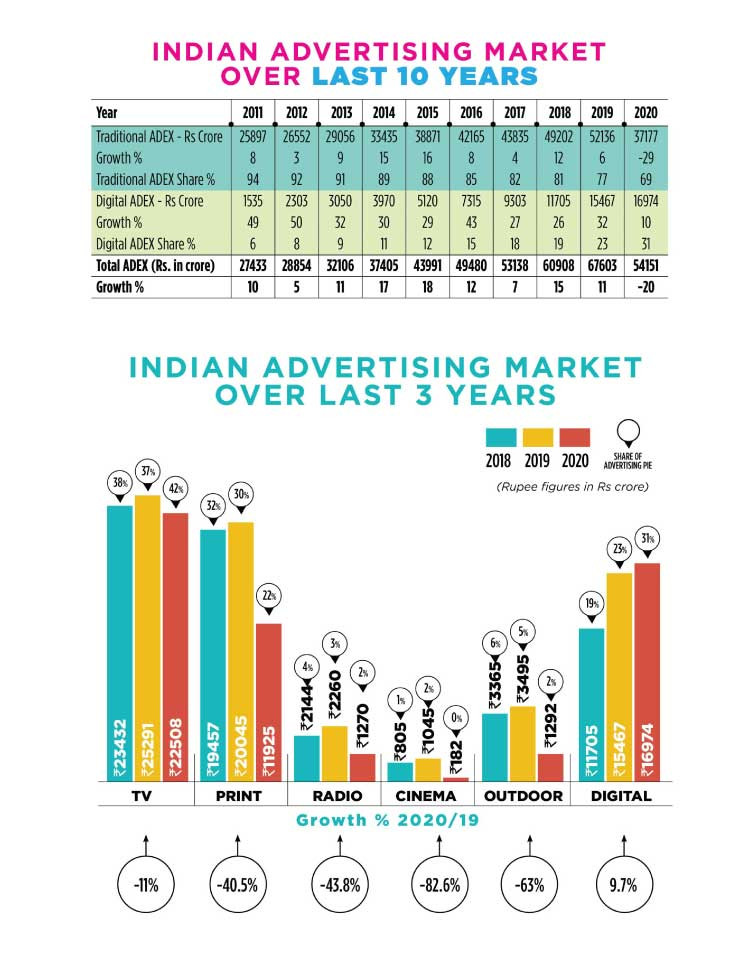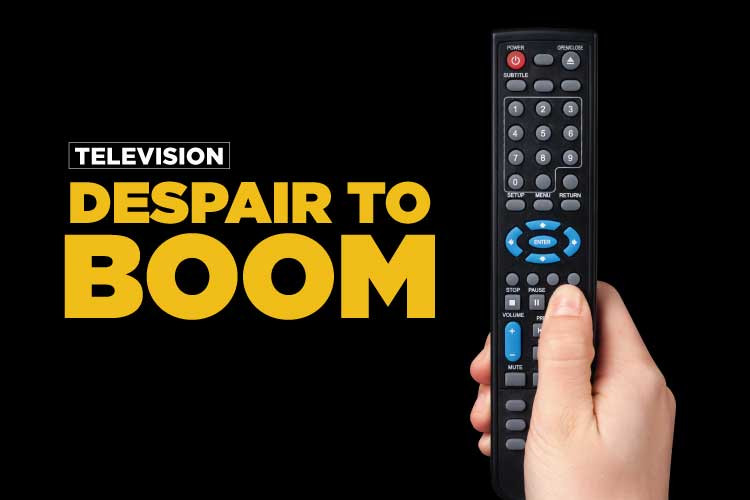 While the first three quarters saw TV de-grow by 31% over 2019, Q4'20 grew by 66% over Q3 2020, recording a high 56% growth over Q4 2019 thanks to IPL and festival period. TV's share of AdEx increased to 42% from 37% in 2019. E-commerce, edtech and FMCG were the biggest contributors to the TV AdEx. While Television AdEx did suffer on account of COVID, the drop in AdEx could be considered minor at just 11%, compared to other traditional media's de-growth. The ego-boosting fact for the Television industry is that TV has grown its share of total AdEx to a high of 42%, consolidating its position as the numero uno medium, arresting a steady decline in share from 42% in 2011 to 37% in 2019, in one clean sweep.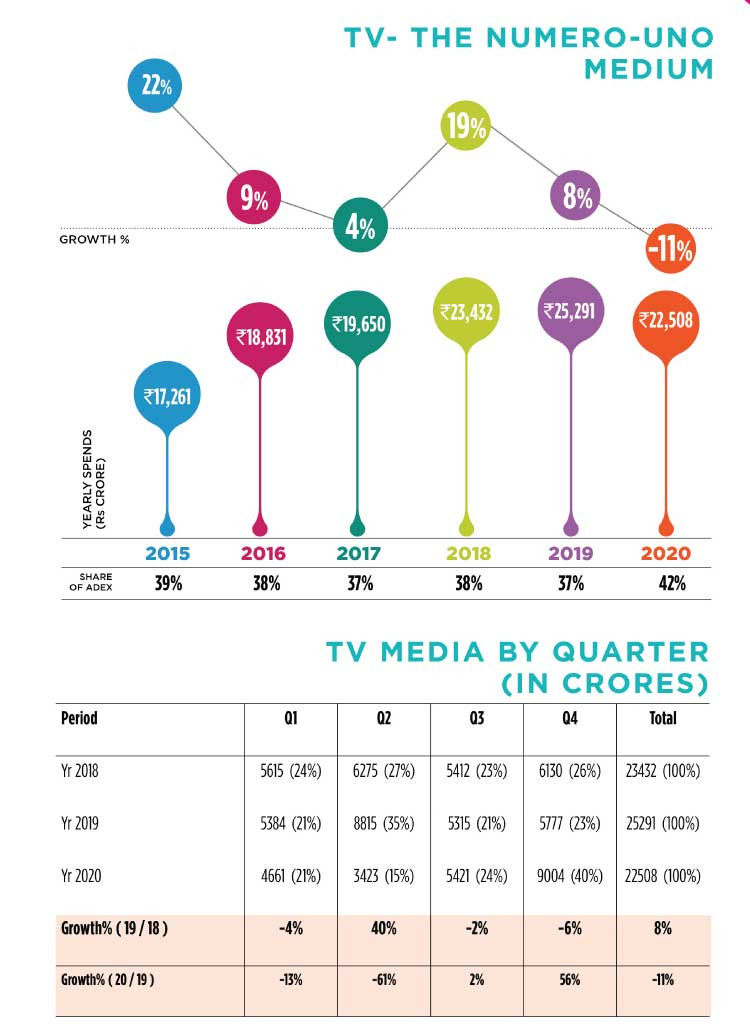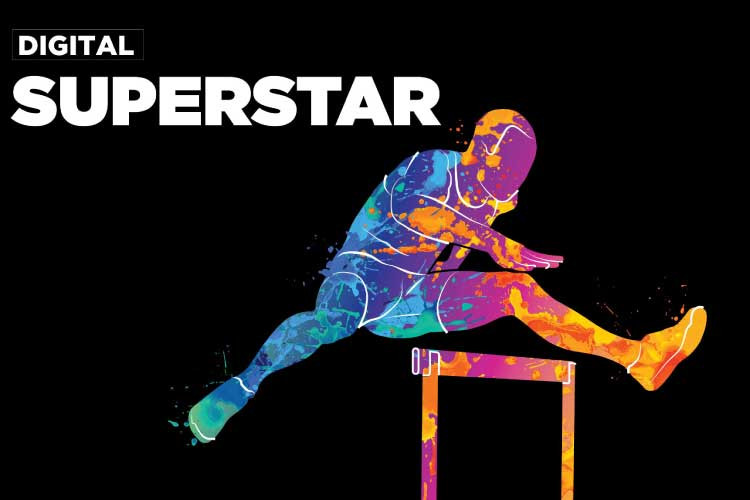 2020: The year of COVID-19 has dented Digital AdEx's record of having grown at 25%+ for the last 10 years and achieved a compound average growth rate of 27% in the last decade. Yet it is to the credit of Digital that while all other media have de-grown in the year by 11% to 83%, Digital AdEx has grown by 10%. With this growth Digital AdEx has reached a value of almost Rs. 17,000 crore and now has a share of 31% of AdEx. It has also climbed one rank in the media listings and displaced Print to become the No. 2 medium, preceded only by TV. It is also significant that Digital has grown in three quarters and de-grew only in Q2 by 35% when there was a strict lockdown. This drop of 35% must be seen in comparison to the drop of 79% in Print and 61% in Television in the same quarter. Video, not only is the largest contributor but has further increased its share from 30% to 32% during the year. Both Social and Display have marginally improved their share and all three have grown shares at the expense of Search.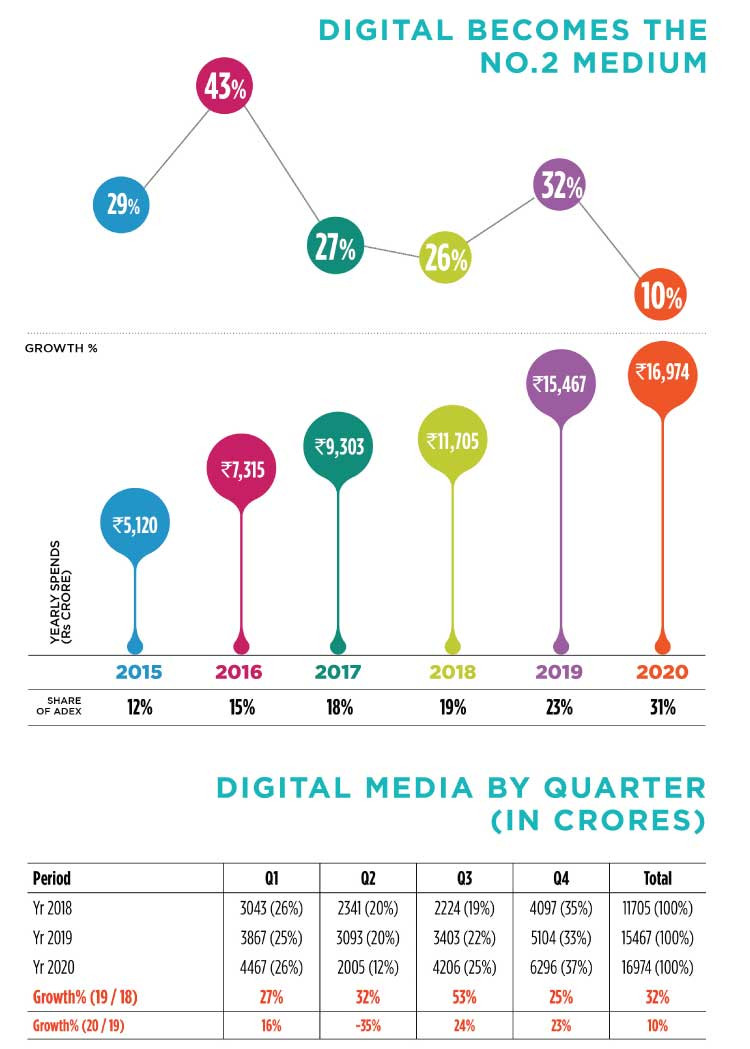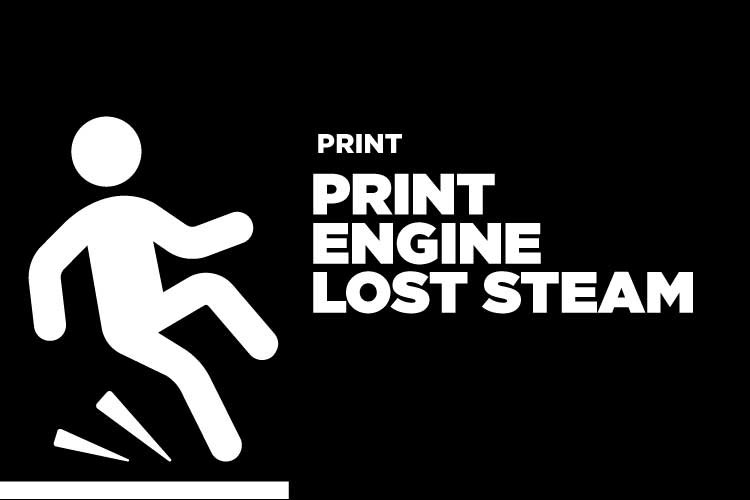 Print AdEx de-grew in all four quarters registering de-growth of 41%. Print AdEx, the 2nd largest in terms of market share of total AdEx in 2019 has been the biggest casualty in the COVID-19 year. Out of the total Rs. 13,450 crore that AdEx lost in 2020, Rs. 8,120 crore was contributed by Print. Print during 2020 lost as much as 40.5% of its AdEx and conceded the No. 2 slot to Digital, coming in at No. 3 position with an AdEx of Rs. 11,925 crore and its share of AdEx now stands at 22%. It conceded its No.1 position which it maintained for decades to TV way back in year 2009. Newspaper circulation in metros got affected a little more deeply and recovery seems to have taken longer. Because of which contribution of Hindi in terms of volume has increased from 35% to 38% with English trailing at 24%. Kannada and Malayalam newspapers showed highest resilience and least de-growth in terms of volume, while Tamil, Telugu and Marathi publications de-grew the most.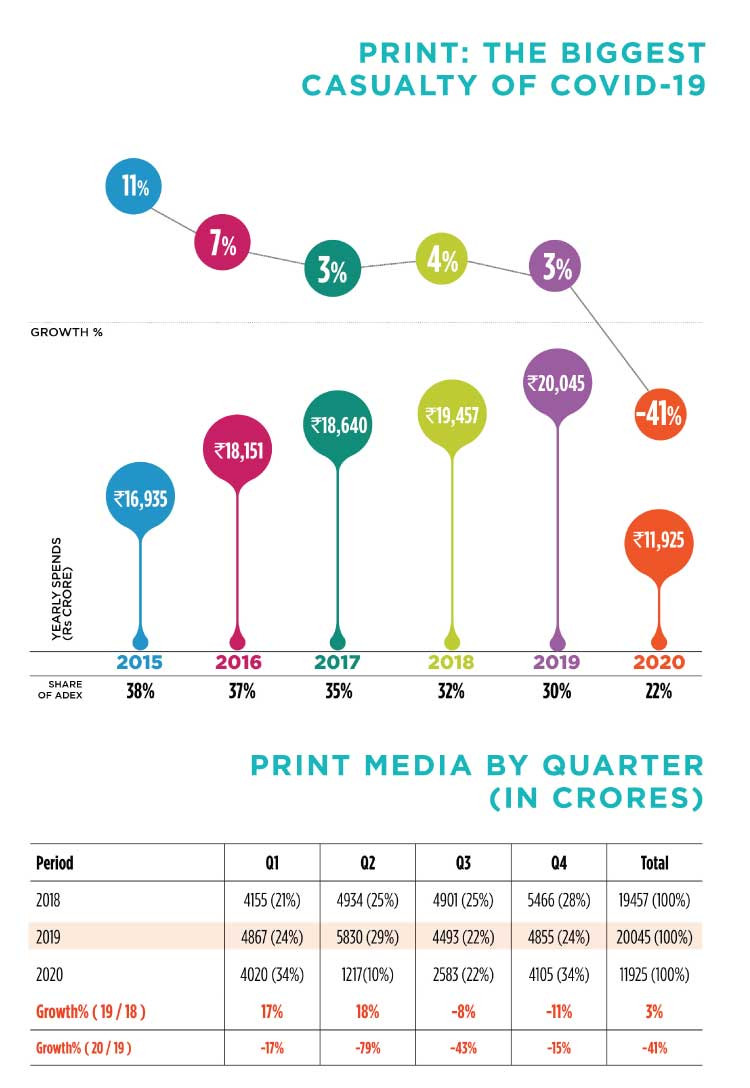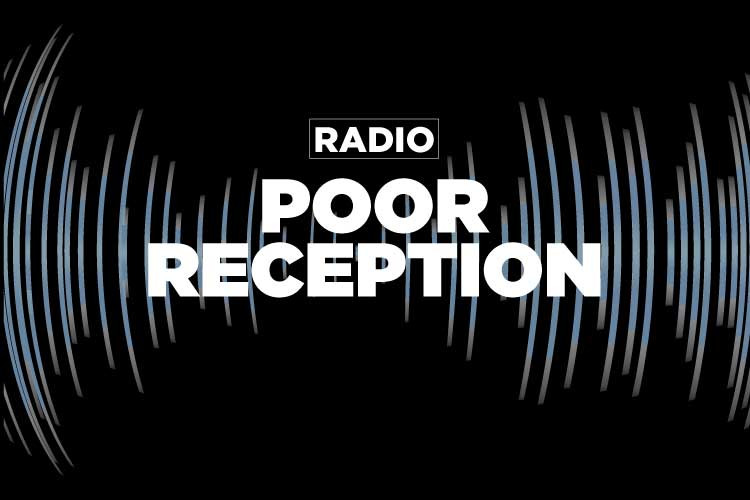 Radio AdEx came down dramatically in value, de-growing by 44%. Radio AdEx was the third worst affected medium and came down in value from Rs. 2,260 crore to just Rs. 1,270 crore. This sharp drop has taken Radio back to the year 2014 when it was Rs. 1,300 crore. With this drop, Radio has also lost 1% market share and now has a share of 2%.
Unlike in Outdoor and Cinema where the drop in AdEx is mainly because of drop in footfalls, Radio seems to have suffered despite witnessing a spike in listenership on FM. The reduction is obviously because of lower availability of advertising rupees in the market, because of which advertisers concentrated only on primary media like TV and Digital.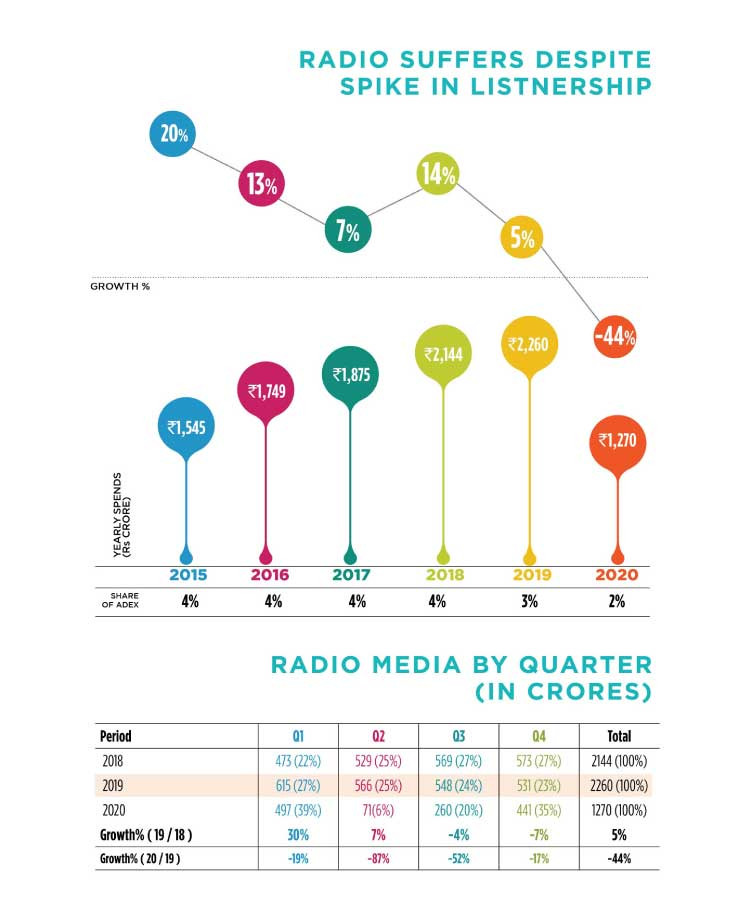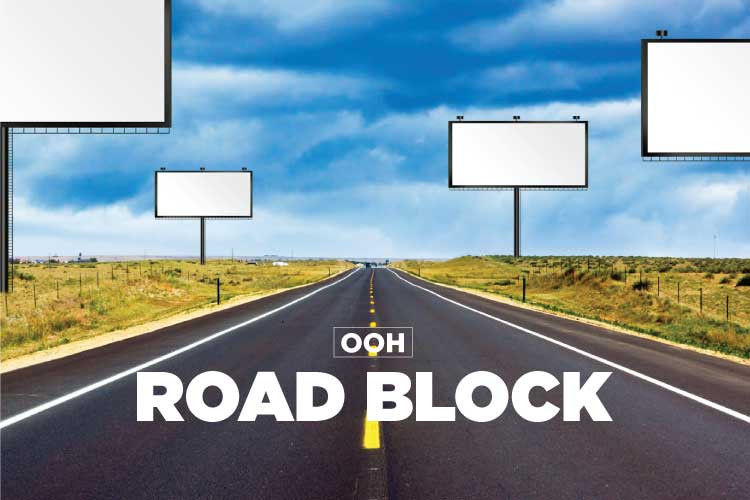 OOH AdEx de-grew 63% on the back of empty roads due to lockdown. While Q4 showed huge growth of 336% over Q3 2020, normalcy is yet to return. Even when traffic has recovered to the extent of 90%, advertisers don't seem to be in a hurry to return to Outdoor as before. In 2020 OOH AdEx de-grew by as much as 63% to a low of Rs. 1,292 crore and its market share dropped by as much as 3% points from 5% in 2019 to 2% in 2020. Like in Radio, OOH has gone back to the value it had achieved 13 years ago in 2007. In the last decade transit media has outpaced the growth of conventional OOH given the modernising of airports, new airports and arrival of metros but 2020 saw a reversal of this trend when conventional OOH market de-grew by 56% but transit media de-grew by 82%. Looking at it quarter wise, OOH AdEx recorded near zero billing in Q2, about Rs. 100 crore in Q3 and more than Rs. 400 crore in Q4. Q4 numbers are still only 53% of 2019 figures.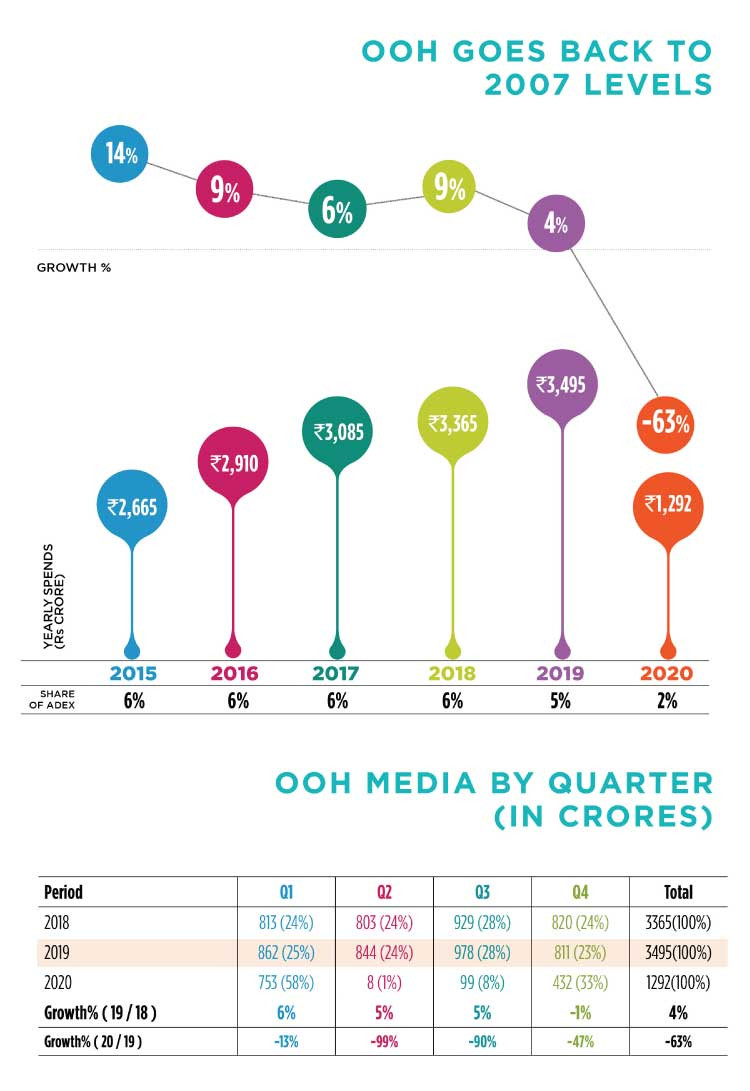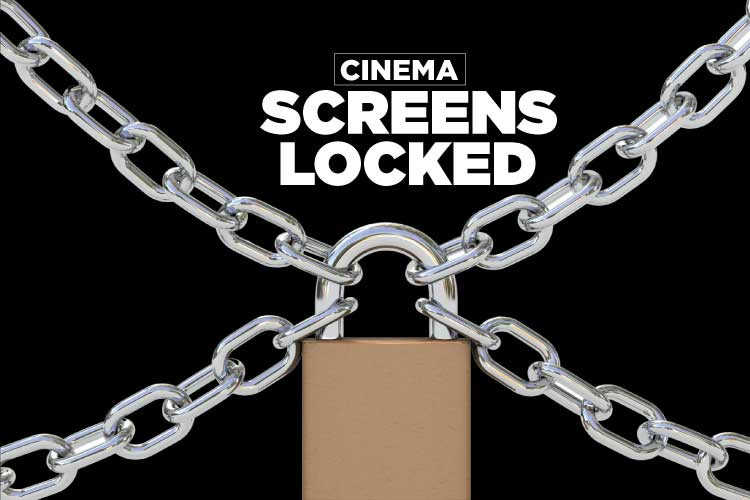 While all media including Digital suffered due to COVID-19, Cinema suffered the most and is estimated to have suffered an 83% drop, capsizing its low base of around just a little over Rs. 1,000 crore to under Rs 200 crore. This is understandable, given that Cinemas were ordered to be closed by the Government during lockdown and in most states were allowed to open only in November and that too with just 50% capacity. The long closure has no doubt tempted some banners to launch their productions on OTT and led some others to seriously look at making films for OTT launch.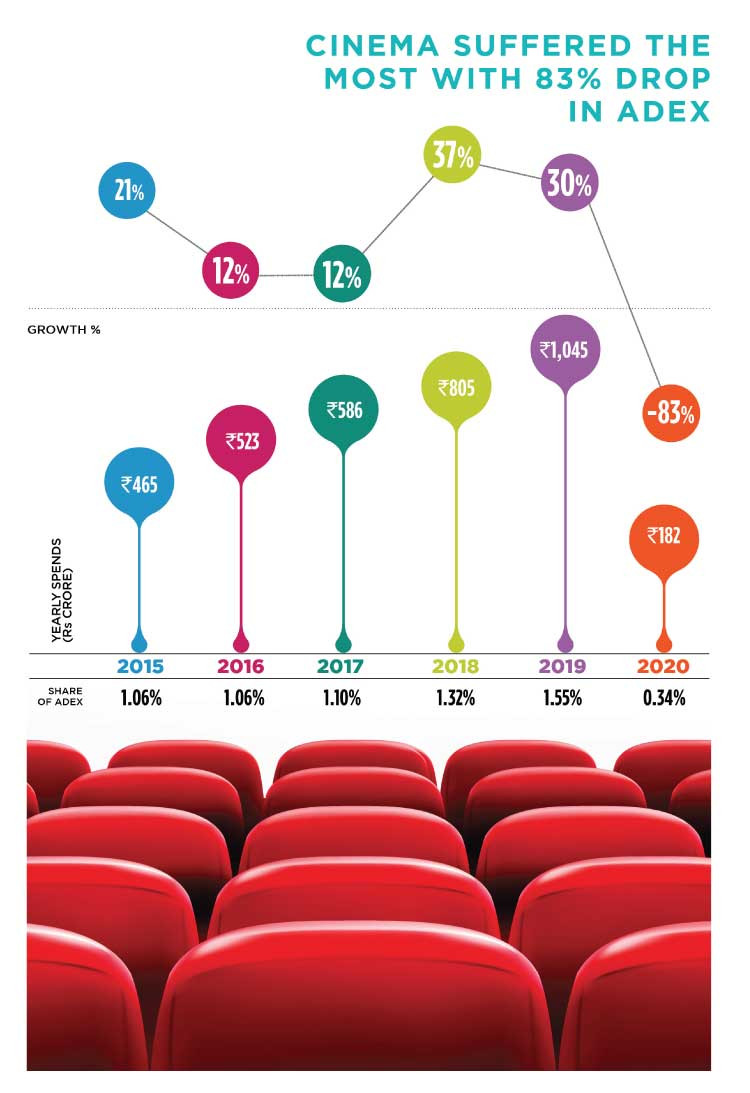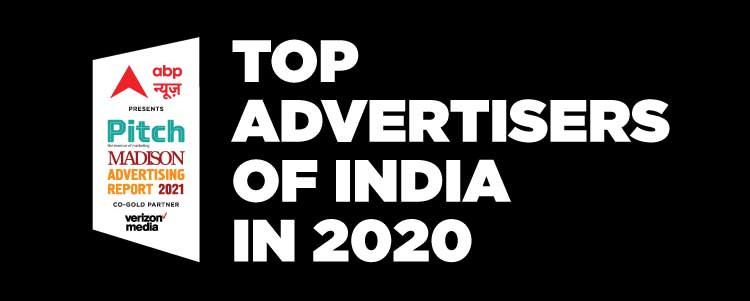 Based on their ad spends the top 50 advertisers of India for the year 2020 have been listed in the PMAR report and it is a diverse mix from categories like FMCG, telecom, auto, e-commerce, mobile gaming and consumer durables. But FMCG dominates the list with as many as 19 names in top 50 and as many as six in top 10. There are only four non-FMCG advertisers in the top 10 – Amazon, Reliance, Maruti Suzuki and Byju's. Hindustan Unilever tops the list with spends in the range of 3500 crore to 4000 crore, but at No. 2 comes Reckitt Benckiser which in 2019 was not even in the top 10 with spends between 900-1000 crores this year. Other prominent advertisers that have gained in rank are Vodafone, Byju's, Wipro, Amul, LIC, Hero, Tata Motors, LIC, P&G and Godrej Consumer Products. Prominent amongst those who substantially lost many ranks are Vivo Mobile, Apple, Mahindra & Mahindra, Honda Motorcycle, Emami, Airtel, Dream 11, Titan and Oppo. Top 50 advertisers account for 35% (last year 33%) and top 10 Advertisers account for as much as 18% (LY 16%) of total AdEx and 50% (LY 53%) top 50 AdEx.
Top 50 advertisers spend 86% (LY 78%) of their budgets on TV and Digital establishing firmly that these are the two dominant mediums of AdEx and their relative size also confirms this.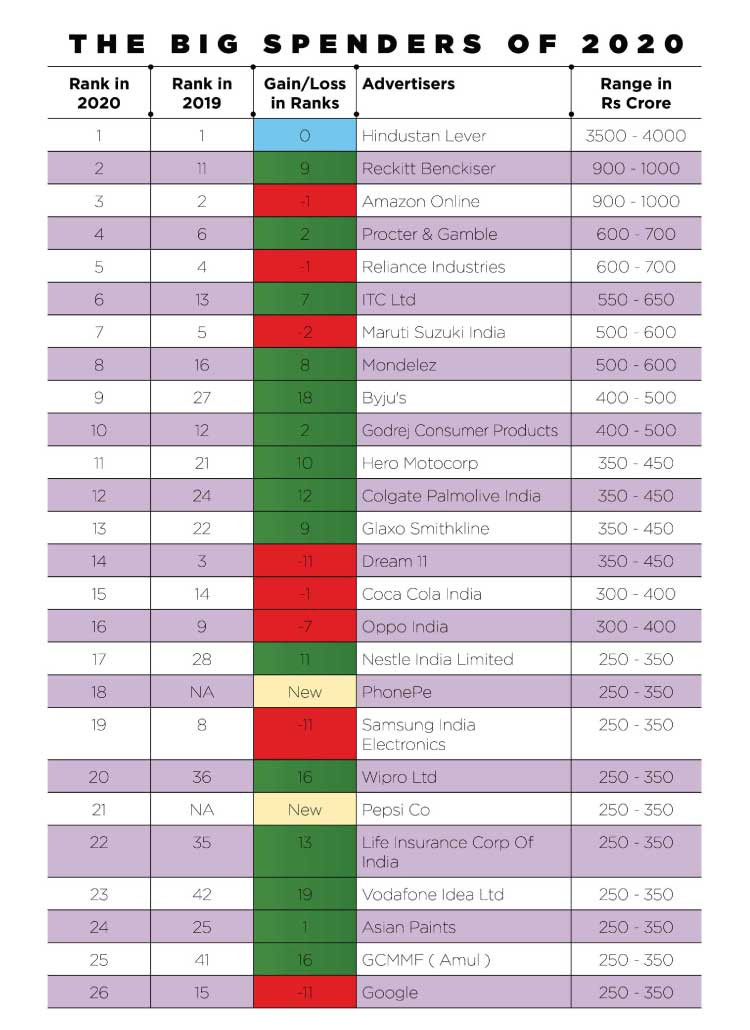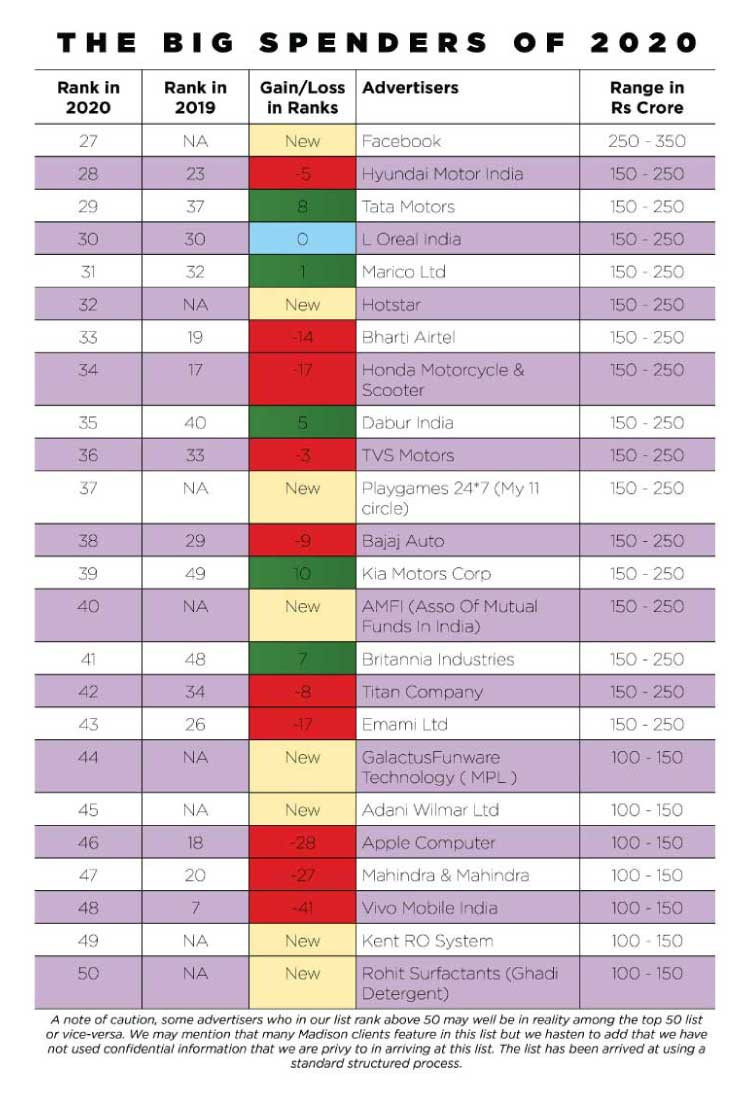 Forecast for 2021
CONFIDENCE BACK
AdEx is expected to grow 26% to reach 2019 numbers, however Print, Radio, OOH and Cinema are not expected to reach 2019 numbers. Traditional media will grow at a marginally higher rate than Digital, given degrowth in 2020.

The Pitch Madison Advertising Report, 2021 predicts a 26% growth for AdEx in 2021 taking advertising expenditure to Rs. 68,325 crore, almost the same level as 2019. After a particularly dull year, commercial activities have returned with a vengeance and the report estimates that India will be the fastest growing advertising market in the world followed by UK (14.7%) and Australia (13.2%) going by WARC estimate of growth of global markets.
Analysis of current economic indicators shows that slowdown is truly behind us and we are onto the path of a robust recovery in economy. The PMAR expects a wide variation of growth rates across different mediums with Digital growing by 25%, adding Rs. 4,226 crore to its kitty. In traditional media, Print is expected to add as much as Rs. 4,175 crore and achieve a growth rate of 35%; followed by Outdoor which should add Rs. 1,158 crore resulting in a growth of 90%, Cinema to achieve a growth rate of 161%, which will take Cinema AdEx to Rs. 475 crore, which is about half of the 2019 number, while Radio to achieve a growth rate of 38% in 2021. This will take Radio AdEx to Rs. 1,750 crore. TV AdEx is set to grow by 17% to close at Rs. 26,350 crore. One must remember that these high growth rates are projected for Print, Outdoor and Radio because of high de-growth rates for these media in 2020.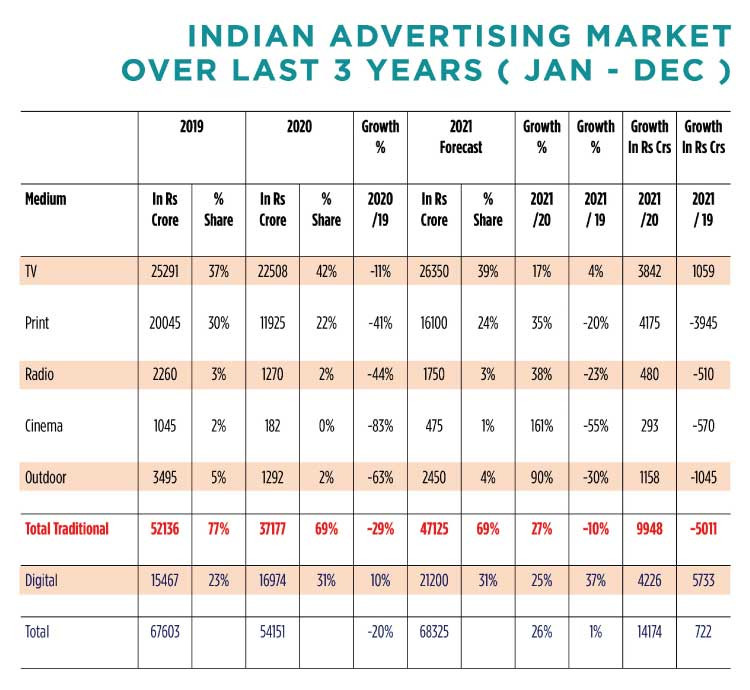 Digital has overtaken Print as the second largest medium: Sam Balsara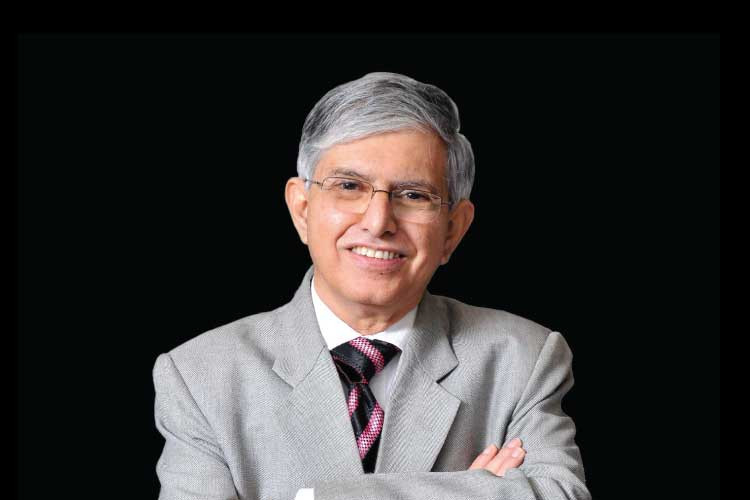 Sam Balsara, Chairman and Managing Director, Madison World at the virtual unveiling of the Pitch Madison Report, 2021 said, "Last year was the year when the COVID-19 virus brought about a catastrophic disruption in our personal, social and business lives and caused havoc in the economy. So, it is no surprise that the Indian AdEx could not remain insulated from the environment around us."
Highlighting that ADEX dropped by 20% in 2020 over 2019 and almost 1/3rd of the traditional ADEX got wiped off in 2020, Balsara stated that each media behaves very differently. "Digital came out unscathed and was the only medium to grow by 10% while all other mediums were negatively affected, though TV was the least affected with a degrowth of just 11%. Print degrew by 41% but percentages here don't tell the real story. OOH and Radio also suffered substantially. But since these are smaller mediums, the actual numbers of degrowth are not very high. Cinema, understandably because of lockdown of cinema halls virtually got knocked out of the ADEX with an 83% drop and ended up with a share of just 0.34%. Digital has overtaken Print as the second largest medium with a share of 31% and Print has lost as much as 8% points having dropped in share from 30% to 22%. TV improved its share by 4% points from 37% to almost 42%. Share of digital continued its onward March, eating into traditional media losing its share by as much as eight percentage points from 77 to 69%. Traditional ADEX in India, one would have to recognize is quite resilient. Because even at a 69% share, it is probably the only major country in the world with such a high share. Globally, traditional media is 41% of total ADEX."
Elaborating on the categories, he stated, "E-commerce & education are the only two categories that showed positive growth in rupee terms. FMCG became an even more dominant category in our ADEX. Many advertisers deserted TV, Print and Radio in quarter two, but by quarter four, almost all advertisers have returned to the advertising fold. Looking at the total number of advertisers in India, one will have to recognize that in a country of 1.2 billion, with a GDP of almost 3 trillion US dollars this number is abysmally small."



Sam Balsara's advice to advertisers
• Advertisers should be well advised to use attribution modeling to discover uniquely what works and what does not for their brand
• Advertisers should bring pressure on respective research bodies to restart Media Research.
• Advertisers would do well to look at using Print, Outdoor, Radio or Cinema in a strategic way, at least in some markets in this year.


Advertising is still considered a big company's game: Uday Shankar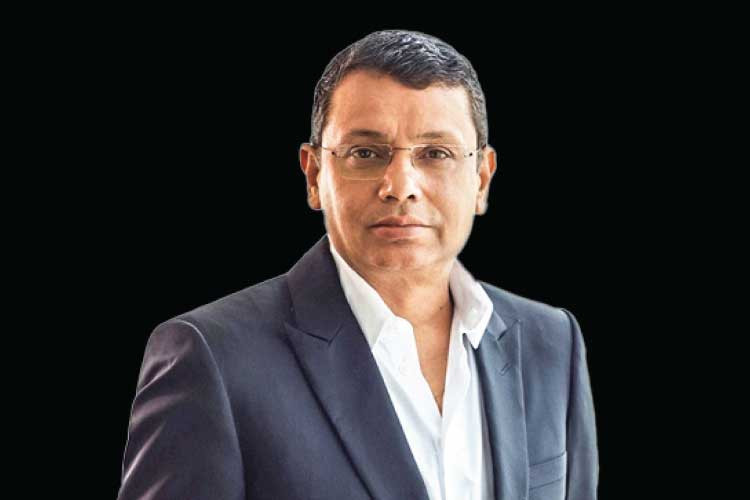 FICCI President and former Disney and Star India boss Uday Shankar, who recently turned entrepreneur, in a fireside chat with Vikram Sakhuja, Group CEO, Madison Media and OOH, Madison World during the release of PMAR 2021 spoke about how M&E industry can play a big role in building Brand India, why the belief that advertising is a big company's game needs to change and why BARC has been a let down
Q] You are the first media professional to lead FICCI. What do you think media & advertising's role can be in shaping entire commerce and industry?
M&E has punched below its weight as far as the larger role in making an economic contribution to the country is concerned. Also, in terms of playing a role in building Brand India, M&E can play a big role. I am not blaming the media. The country, as a whole, needs to understand how to leverage the power of that. If you look at Brand US, just imagine the role that Hollywood has played. It will be tough to describe what went first – the American way of life or the Hollywood way of life and content. Without Hollywood, it is anybody's guess whether we would have internalised as much of America and accepted it as much as we have today across the world. From developed to underdeveloped parts of the world and from democracy to totalitarian regimes, one thing that everyone has internalised is the American way. I think that is the role that M&E can play in building Brand India. That comes with massive economic upside for the sector and for the consumer because very few countries have the potential strengths that we have in India in terms of our heritage of storytelling, rich cultural tapestry, diversity, and nuances of our culture, and our ability to tell great stories. We also have one of the strongest and broad-based technological infrastructures in the country--our engineering talent, our ability to visualise. Globally, Indian engineering talent is what is powering technological advances. We should be able to do it here unfortunately we haven't done it so far. But I think there is a huge opportunity for us there.
Q] The advertising and marketing sector for the longest time has been hovering at around 0.3% of the GDP. Purely from an advertising standpoint, why do you think that has been the case out here and what does it take to stimulate AdEx as a share of GDP?
First and foremost, we are still in the early days of building the culture of advertising and building advertising as an intrinsic part of business enterprise. It is still considered a big company's game. There is a little bit of understanding in traditional entrepreneur's minds that it is a bit of vanity. Barring the big corporates, many businesses don't see advertising as an essential tool for business. Building a brand is a strategic lever of creating value, getting market share, and getting a premium share of the segment. Those things are not widely established and we as media professionals across the buy and sell side have not done a great job of evangelizing. If you look at the number of brands that advertise in India, it is really small. It has grown dramatically because of digital penetration but if you look at traditional media that number is really small for a country of the size and diversity of India. Just selling and buying inventory is not the best way to participate in economic value creation. Media can play a much bigger and deeper role.
As a community, we have been short-sighted. We have undersold ourselves. We are extremely competitive within our own narrow set even to the extent of destroying value for one another but we haven't gone ahead and painted a larger vision for the world and created essential space for the community of media and entertainment in that larger vision. That is where the big problem is.
Q] Currently, the growth momentum is with TV and digital. At this point, do you believe that this sort of momentum or trend is going to continue, and will some of these other mediums like Print and Radio die out as we have seen in other markets?
These are tough days ahead for a lot of segments like print, OOH, and radio. They have been devastated during COVid-19. I don't read too much into that devastation. I have always believed that each crisis manifests itself on individuals and businesses and only brings out the latent strengths and weaknesses during the crisis. The crisis is just the spotlight for it. If you see print, of course, distribution of papers was disrupted and there was no advertising happening so you see those contractions. But it was already a trend that just got amplified dramatically and if you don't see the bounce back as dramatic as something like TV. It is primarily because newspaper business in this country has been built entirely on the back of advertising. That's a suicidal way to build a business. If you have two streams of revenue why would you go and kill one stream of revenue? A three-year-old will tell you that it is not an act of genius and for 30 years in this country we hailed those entrepreneurs and managers who pushed that line of strategy as amazing visionaries because in the short-term it worked for them. In the long-term everybody is dead.
Q] Coming to measurement, in digital we have three different data sources. They give different numbers for the same reading. An OTT platform will give me a certain number. A Moat will give me a certain number and a third party will give the third number. Which number should I go by?
You should go by my number because it is my proprietary information. If you can accept the number that you get from others why would you not accept the number that I give you? I am not in favour of this third-party measurement structure because look at the kind of distortion and anomalies that we have created in this country. It is almost alarming if not dangerous if you see what is happening in the name of data. This whole current controversy (TRP scam) without going too far into that, the whole degradation that we are seeing whether it is in the news or other controversy is on account of our unhealthy obsession with ratings.
Ratings are an important tool but it is a business tool for engagement between Uday Shankar as a media executive and Vikram Sakhuja as a media buyer. You and I need a currency so that you and I know what you are getting for what I am selling. Over the years, we have turned this into a measurement of our machismo and success. The rating success became a be-all and end-all, not of your business existence but your entire existence and that is unhealthy and that has led to too much focus on tactical and sometimes distorted and sometimes corrupt practices and inadequate focus on long-term health and strategy of the business.


Media trend of 'hybridization' is the way of the future: Apurva Purohit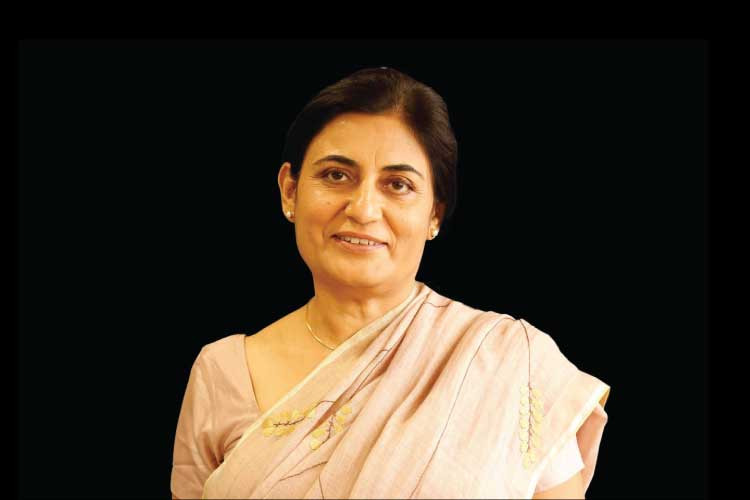 Apurva Purohit, President, Jagran Prakashan at the unveiling of Pitch Madison Report 2021 Conference, shared acumens on the topic 'Getting Print, Outdoor and Radio back to Good Times.'
The first trend that Purohit highlighted was 'Hybridization'. She stated, "We have understood in bits and pieces that Hybridization is the way of the future. But it is only last year where we saw hybridization has come into every facet of our life. We are seeing this trend in the retail industry. Purpose and Phygital are how all marketers are thinking about their businesses. People are also realizing that the trend cannot only be entirely brick and mortar or entirely digital. A model in between the two will be a more successful one."
The second trend Purohit shed light on was credibility. She explained, "Trust of legacy media has gone up as credibility in content has gone down. When there is uncertainty around us we tend to go back to brands that we trusted and grew up with. A media credibility study done recently pointed out that Print has the highest credibility as these print media brands have been around for centuries. There is a fact-checking procedure that goes into Print. Secondly, Radio too has credibility as pointed out in the research survey. This is not so much to do with the medium of Radio but a lot to do with the RJs. Consistently, all radio stations have artists who have been interacting on a personal basis with the listeners over a long period."
On a parting note, Purohit said, "Getting consumers to pay for content is the only way to de-risk the media business model for all consumers. Our consumers are spending nine hours on media but the size of the media industry is 1% of the GDP. We need to figure out ways on how to monetize the value that our customer is getting from their increased media engagement."


Customer Data Platform, an absolute must for every ecosystem: Ajit Varghese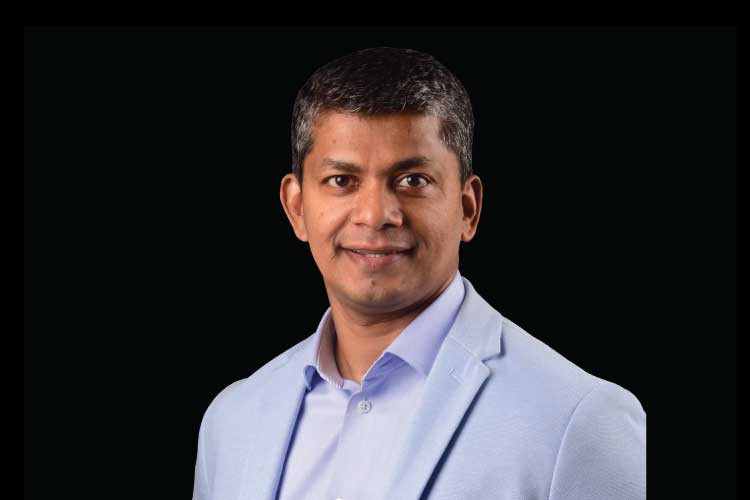 At the virtual unveiling of the Pitch Madison Report, 2021, Ajit Varghese, Chief Commercial Officer, ShareChat spoke about the headwinds and tailwinds that the digital juggernaut must navigate to stay on course. Varghese spoke about the whole behavioural change that the world has gone through. "Look at the advances in technology in the last one decade, what we have seen is rapid change in human behaviour. If you now couple that with the impact of COVID-19, we can also see a big attitudinal shift.
Elaborating on the key headwinds of the digital ecosystem, he remarked, "If you look at all the noise around the digital ecosystem in recent times, whether it's the data dialogue or regulations or discussion about monopolies, frauds, etc. All this discussion has one core theme that is central. And that to me is the discussion of consumer privacy and that has become extremely critical, and will probably be critical in the years to come in the next two three years."
Sharing about tailwinds of digital ecosystem, he said, "There is always going to be a challenge and an opportunity in any medium and as professionals, our job is to constantly evolve in the face of that evolution. The philosophy of advertising & marketing over 100 years has not changed much, but yet it gets modernized, new technology comes in, and they always keep improving our ecosystem using the new methods of technology. So inherently, my suggestions on tailwinds of the digital economy would be in the space of Consumer, Content and Commerce."
"The first and foremost suggestion for any advertiser or publisher or marketer is to know your customer. Never has it been more significant for advertisers or publishers to really invest in their customers and maintain their profile." he suggested.
Highlighting the importance of CDP, he said, "Customer Data Platforms is an absolute must for whichever ecosystem you believe in, knowing your customer is absolutely needed, creating and storing that identity, getting more descriptive customer profiles, recording their behaviours and patterns or any other qualitative data, CDPs help make it usable for a marketing activation."


Data should not be reported like the stock market: Avinash Pandey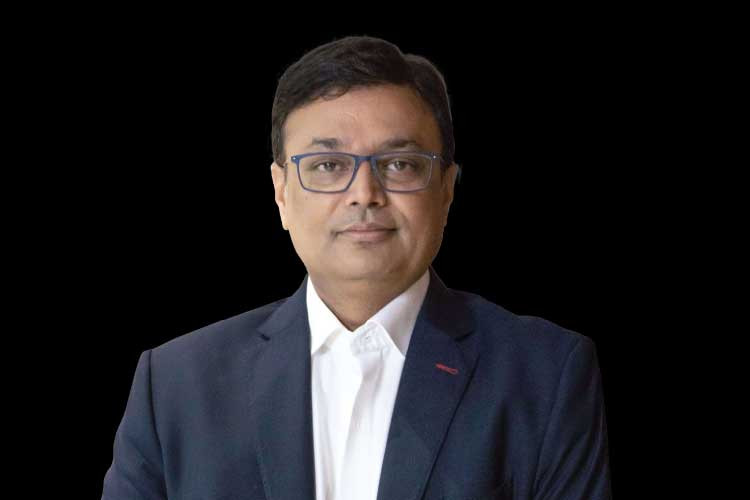 In the last session of the PMAR unveiling, Avinash Pandey, CEO, ABP Network spoke on the suspension of BARC ratings and how in the absence of data there is no fiction being written around deaths of the celebrities or common man. He says, "Created content has almost disappeared from news and channels are covering relevant issues like farmers' rallies, PM speeches and discussing policy issues." If and when ratings come back Pandey suggests it should be on a month on month basis and most importantly not be reported like the stock market.
"When an anchor breaks the table, the ratings go up and all other channels imitate the pattern because all of us are under pressure to perform. So, this kind of algorithm that is used to measure news is actually designed to report television serials where a particular actor dies and the rating goes up. Excessive emotions boost ratings. But people watch news for intellectual satisfaction and for information and if that is not happening, then BARC is not serving the right purpose. Therefore, my suggestion is that we should move away from these kinds of algorithms of reporting," he said. Pandey also suggested that the industry move to RPD data."The sample homes for news shall not be less than five lakhs at least and we should actively use technology to reduce dependency on the manual selection of homes, which will solve a lot of problems that we are facing today," he pointed out.
Pandey also points out the problems with the structure of BARC. According to him, BARC investors do not have an arm's length distance from the functioning of the body and that corporate governance reform is the need of the hour. He added, "The BARC board and the IBF board must stay out and support the BARC CEO in bringing forth the reforms that are needed. The reforms will help TV news' transition into a platform where a news module can clock the same viewership as that of entertainment channels without becoming entertainment providers themselves."