Saurabh Varma, CEO, Publicis Communications, South Asia is a man of incredible clarity, a clarity that remains deeply rooted in the organisation's core 'Power of One' philosophy. For him, the big story is never about the number of account wins or losses for the agency brands, but rather in how the group has succeeded in operationalising the 'Power of One'. He laments that the industry still sizes up the scenario on the basis of some wins or some losses, while losing sight of the big picture. "The fact is that with the same clients, I now have 30% of my total revenue which comes from the Power of One. Five years ago, that wasn't the case. Yes, we will win some and we will lose some. The bigger story is around how we have operationalized the Power of One and how we have succeeded on the back of that. The industry has to transform and create its own Power of One," Varma states.
The 'Power of One' Growth Story
Having started the Power of One story nearly five years ago in 2014, Varma explains that the network's magic lies in taking each specialist operation and maximising its use for the entire group including cross-selling, creating massive value for the agency's clients. This has resulted in what Varma terms as 'extraordinary growth', with Publicis Communications "tracking 20% growth year-on-year at a group level". "If you look at the industry's growth at the moment, it does not exist," Varma states. The agency's strategy briefly means that all Publicis Groupe brands across Creative, Media and Digital team up to form a single, comprehensive offering. The objective is to make a compelling offering to the marketer that leverages the overall talent and expertise of the group. Varma explains how this philosophy is executed through the country leadership team (CLT). "Every time we sell the Power of One and operate in it, everybody wins. The CLT team catches up about once a month and once in a quarter, we do a real deep dive into the operations across the country. We build every platform together, with every member of the CLT, which comprises our CFO, agency heads, HR Head and Chief Talent Officer. We have three creative agencies and each of the MDs and CEOs are part of the CLT. We have the CEOs of Indigo and Digitas, and the COO of Arc Worldwide too," he explains, adding that this results in a more collaborative decision-making process.
The creation of a 'specialist hospital' model
The agency has built what Varma describes as a 'specialist hospital model', to address the huge need for transformation that clients have today. "If you have the right offering, you can command a premium on the back of that offering. That's really where we are moving," he points out. The model is derived from the way hospitals operate with specialists for cardiology, orthopaedics, gastroenterology, etc. While these are all specialists, they operate out of one medical facility and essentially push each other to become better. Explaining how the model works, Varma says, "When you look at digital and data, people see it as a homogeneous, generalist function. Several agencies think that there is no difference between digital creative teams and regular creative teams, but fundamentally that is a big mistake. It is about having the best UX and UI operation in the country and making it better by the day. What we have built is that specialist model, which actually creates great value for clients." Varma illustrates this with the example of Arc Worldwide, which has grown from a five-member team four years ago to a 140-odd people operation across Mumbai, Delhi and Bengaluru with specialised abilities in retail and activation. Indigo Consulting is another such example, which until three years ago only had its presence in Mumbai. Today, it has expanded and grown in cities like Bengaluru and Delhi, and has even added a big client like e-commerce brand Amazon to its kitty. "Almost everything that we have done is in actually building specialist operations, and then understanding client problems to create solutions on the back of that," Varma sums up. This is also seen in Publicis' PR firm, MSL and in Prodigious, its advertising production house set up just over two years ago. "Currently, Prodigious is not limited to pushing one or two directors to a client, but gives the client the ability to work with any director across the organization. If you are a great talent, and we believe that you are the right person to tell a story, we will work with you. We will pay you the best director's fee possible, but the benefit of the cost and production has to be passed back to the client because ultimately that's very important in the overall scheme of things," he explains, adding that today there are over 150 directors working with Prodigious across the world. Also, any creative professional employed by the company can offer his or her services to Prodigious.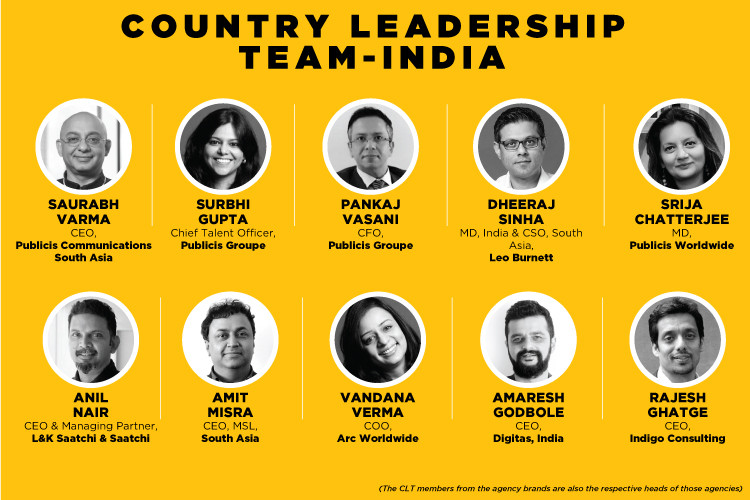 Meanwhile, on the data front, the global acquisition of digital and data agency Epsilon has had a positive fallout in India too, giving the Publicis companies the expertise required to decode the huge amount of data that is placed at a marketer's disposal.
A RADICAL P&L SYSTEM
It has been nearly three years now since Varma's appointment as CEO, Publicis Communications even as he continues to operate as CEO, Leo Burnett. That was an extraordinary transition, he says, adding that it involved a complete overhaul of the P&L system, which became more solution-based. "This kind of transformation has not happened in any agency where vertical brand P&Ls collapse into a more solution-based P&L, whether it's Publicis Media, Publicis Sapient, or Publicis Health. These are solutions that we have created globally. To collapse it from a brand P&L, which is an L&K Saatchi and Saatchi P&L or a Leo Burnett P&L, to a more solution-based one is a radical move. It creates a lot of uneasiness across the system that you need to deal with," notes Varma, adding that the group focused very quickly on building upon the 'Power of One' philosophy. He tells us that what the network did well was focus on the opportunities rather than the insecurities and fears. Since then, the 'Power of One' mantra has served the company really well, he says.
Ask Varma about the challenges he faces in his role, and he quickly responds, "The biggest challenge is to communicate your purpose. Why is the 'Power of One' relevant in today's day and age and why are we doing this? This challenge continues to exist." Varma points out that for a platform like the Power Of One to work, you have to carry people with you. He lists out three things that are critical to make sure anything can work – an organisational framework, a financial framework and an operational framework. The group is working towards ensuring that those frameworks are in place, and operationalising 'Power of One'. "A couple of weeks ago, we had a conversation with two very senior folks in the industry, who asked how we did it and if we could share our secret. I have no problem sharing how we have done it and the strategy is fairly clear, but the fact remains that we are able to succeed because we have executed it all the way. It is not just about the strategic intent, but rather all about the execution. Everybody can actually insource production today, but how do you operationalise it to make it successful? How do you create the scale? How do you basically get 150 directors to be part of your platform?" Varma says.
He points out that the problem with the industry is that it operates in terms of account wins and losses. "We have hardly ever seen a case where the fee has increased on the back of a pitch. If you do the math, the fee over the last few years has actually reduced. Personally, I neither get very excited nor do I get pained by big wins or losses. What I am interested in is – how do I take my client and help him succeed using the Power of One, creating value for him on a daily basis," he says.
The big focus for the leadership team, currently, Varma says, is about making sure that the vision is a long-term one. "It's not a sprint, it's a marathon," he declares.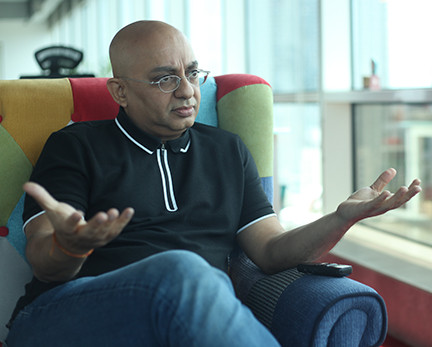 ON ENGAGING AND
GROOMING TALENT…
We are very performance-oriented. It is rare for anybody across levels in our industry to have clear KPIs. The industry has been qualitative. Now you can't remove the qualitative aspect of decision-making from a business, but what we have added is a very clear thinking where you as an employee know how successful you are in our system. We are driving a high performance culture within the organization across the board. Secondly, we are also very clear that the Power Of One module cannot happen without an incredible focus around training. Giving our talent access to the best mediums and platforms in the world, the best online resources and tools, and even one-on-one coaching is actually the key. The amount of effort we are putting together to make sure that new recruits get access to the best is fundamental to our success. Our current batch, that just came on board, spent three weeks across different parts of the organization understanding every part of the operation even before they started work. Now that's a massive investment. Each of these experiences helps them learn how we work. We also have a mobility programme that is becoming bigger and scaled up by the day.

IF YOU ARE IN THE FEE BUSINESS IN ADVERTISING, YOU ARE DEAD: SAURABH VARMA
In conversation with IMPACT, Saurabh Varma talks of Publicis Communications having its best financial year yet, with 20% growth year on year at a group level, assisting marketers with digital business transformation, how the two-year hiatus from awards has worked and more…
Q] How has 2019 been shaping up so far for the agency?
Financially it's the best year yet. We have never had a year as good as this from a revenue and operating profit standpoint. At the moment, we are tracking 20% growth year on year at a group level, which is quite extraordinary. We are growing three or four times faster than the rest of the agencies in the industry.
Q] Publicis launched Marcel in India last year. But why isn't it operational here as yet?
The beta launch has a few people on the platform but what we really have is the whole 'Power of One' model, which is a massive benefit to clients. The idea of Marcel is to create a connected world where talent in one country can help talent in another country on a project seamlessly. It removes any concept of geography. It is still in a launch phase in India. There are a few people who are trying and testing the product, working through their entire global ecosystem to give it feedback. Eventually Marcel is going to come to every country. It has been successfully launched in the UK, which is its first country launch and will scale up very quickly.
Q] What are some of your conversations with advertisers today? What does the advertiser want?
Advertisers today are struggling with a very fragmented marketing landscape. They want somebody who will create unity. They want somebody who will essentially have the ability to create a story, which works seamlessly across channels and mediums. I am not talking about taking an asset and pushing it across every channel, because that's not integration. Integration is telling the story in the right way contextually which is relevant to the medium. Every advertiser wants the seamlessness of the idea flowing across all the channels. They don't want to manage the complexity at their end. If they feel that you have a specialist operation, and that's not best in class, they will work with somebody who is best in class. They want integration, but not at the cost of specialization. You need integration and specialisation together at the same time, and that's really the construct which most marketers need. Marketers are also trying to evolve themselves, and they know that the big game will get played across a keen understanding of the audience, through data and content creation which is dynamic in its nature, by using technology to create impact and scale. If you see this fundamental premise of data, content and technology, there is nobody more invested than us at a group level. You can find many consulti ng firms which might have an understanding of data but have no technology. You can also find technology firms who have a lot of technology, but they don't know how to create content or deal with creativity, with some or no access to data.
Q] The marketer is also under margin pressure in this industry scenario and the concept of fee has changed and evolved. Advertisers want to cut margins, reduce cost or keep the cost at the same level, but ask for better work. How do you navigate that?
I call this the fee paradox and it is very simple. If you are in the fee business in advertising, you are dead. When you look at a marketer's budget, the fee is only a small part of his total budget. When you look at it from a marketer's mindset, he has a bucket which is called 'fee', for which he might pay a media, creative or a PR agency. Then there is a bucket called 'production.' The production bucket in his mind is twice the size of the fee bucket, because he needs to produce the content to really create engagement across media channels. The third bucket is the media bucket, and I don't mean the media buying and planning, because that again becomes the fee bucket. I am talking of experience and activation. I am talking about CRM, and one-on-one connect. The fourth bucket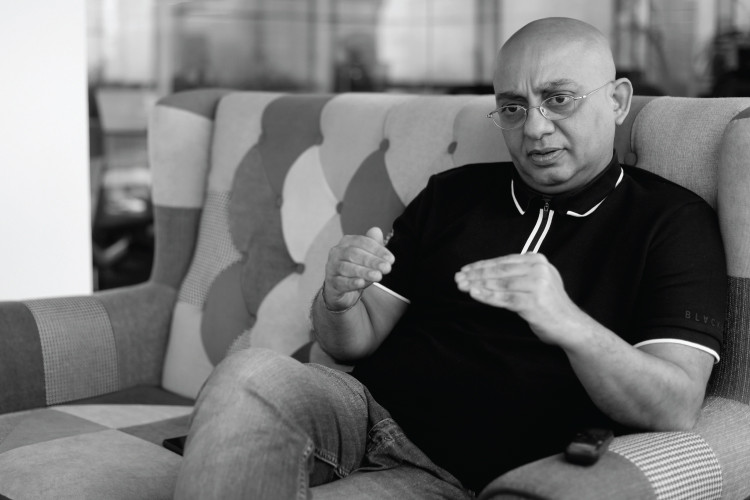 ON ENSURING THAT PEOPLE TAKE TIME OFF TOO…
Our business is ultimately about people. When you understand each other as human beings, you start to understand the context. Not everybody is in the same place. In a family, some will be stronger and others would be weaker. How you create an environment where everybody can succeed is the true joy of being a leader. It can't happen without making a huge investment in terms of your time in the talent that you want to keep with you and that's really where our big focus has been. Our Christmas programme is very interesting. We shut off all offices on December 23 and remain closed until the first of January. If you finish all your leave by December 21, you get extra leave. If you do not finish your leave, we are anyway shutting the office, and we will take those days as leave from your leave balance. So, you get incentivized to finish all your leave by December 21, and enjoy additional leave at the end of the year. When I came back from Singapore, I realized that India has a funny culture of 'my sacrifice is bigger than yours'. People would have stories of how they have not taken leave for a long time as if it's a source of great pride. Our perspective is the opposite - if you don't have a world view, you don't travel, you don't have experiences, how will you get a sense of your own culture or come up with ideas?

which is actually the biggest opportunity for us as an industry is the digital business transformation (DBT) opportunity where the client's biggest concern today is the chances of his business becoming redundant because of technology. It's about the investments he needs to make to ensure he can succeed and have a larger share of the market tomorrow. What we are doing is essentially finding a way to move across the entire value chain from the fee bucket, to the production bucket; from production to the experiential bucket, and finally, to the digital business transformation bucket. Fundamentally in India, we are looking at these four buckets very carefully to create greater value for our clients.
Q] How did the two-year hiatus from awards work for the group, both from client and team perspective?
Awards are means to an end, not an end in itself. We are very clear that we are not going to waste our time doing what no client is interested in. The difference between a great idea and a great solution can be zero or infinite, depending on what the approach is. A great idea can be a great solution if it starts with addressing a client's problem. There has been an advantage to us not attending these awards, which is the relentless focus we have had around solving a client's problem… that has never been bigger. At the same time I think there is a huge role for creative awards. This time, we had 43 people at the Spikes Asia festival. For us, it's a big investment to expose our teams to the best in the world, to create new benchmarks and have a sense of new understanding and new things that people are doing across the world, the innovations which are happening, and to celebrate the victories that we have had as a team. So there has been an advantage, and there has also been a big miss out due to the choice that we made, which is the role of any choice you make in life.
Q] Looking ahead, are there any acquisition plans, and if there are, and if you were to give it a serious thought, which area would you look at?
Acquisition or no acquisition, we have to do what we have to do to build the operation. Our big focus is really around data. We have already acquired two big assets. For us right now, it's really about how do we operationalise this and use this to succeed with our clients. Secondly, content that is focused around video and vernacular will be really a big thrust area for us. We are also looking very closely at two new platform builds around content, and around gaming. These are two big focus areas for us to explore as we move into the next 18 months.
Q] What are your goals and targets for Publicis Groupe for the next three years?
My personal target is very clear. I have to go thrice as fast as anybody else in the industry with scale and size. Our ambition is to be three times bigger compared to anybody else, simply because of our platform. Now that's on the growth front. On the product front, we are hoping that these specialist operations can come together to create a completely unique kind of a product which is media neutral and media agnostic in design. We are pushing a lot in that direction, and that push should become bigger over the next 18 months.