In 1900, Charlotte Cooper became the first woman to become an Olympic champion, and yet it took us more than 100 years to finally celebrate women in sports, at least in India. By the time you read this edition, the first season of the Women's Premier League would be in full swing in India, and the International Women's Day would be fast approaching. Although a little late, it is rather poetic, and more importantly, incredibly important in today's time.

Earlier, although we had sportswomen such as Anju Bobby George, P.T Usha, among others, who came out victorious on international sporting platforms, they were few and far between, and sports was somewhat considered to be a men's arena. But today it is a different picture – from Olympic weightlifter Saikhom Mirabai Chanu, Boxer Lovlina Borgohain, and ace shuttler PV Sindhu winning medals at the Tokyo Olympics, to India winning the inaugural Under 19 Women's T20 World Cup in January 2023, Indian sportswomen have made their presence felt and the growing interest has led to a gradual increase in brands roping in sportswomen for endorsements and campaigns. The scenario today has quite positively changed for women in sports, but is it going to be a lasting change or is this a ripple in the ocean when it comes to advertising?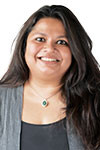 "Advertising is a reflection of our society. With growing women sports stars in India and an increasing interest in Indians to watch them live in action, women's sports is expected to open a new genre for brands to invest in, and stay relevant in a country that is making progress," affirms Anisha Iyer, CEO, OMD India.

Growth of Women's Sports
Cricket has always managed to grab eyeballs, but with the recent development in sports infrastructure in the country, popularity of non-cricketing sports has risen considerably and that goes for women's sports too. Indian Professional Golfer and Arjuna Awardee Aditi Ashok who shot to fame with her performance at the Tokyo Olympics in 2021, secured a sponsorship from Hyundai for her LGPA tour in 2021. The ace Golfer also went on to win the Kenya Ladies Open 2023.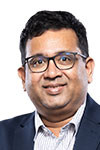 Elaborating how the rise in endorsements and sponsorships for sportswomen can be a win-win scenario for both brands and the sportswomen, Vinit Karnik, Head – Sports, Esports and Live Entertainment, GroupM South Asia explains, "Companies are recognising the importance of supporting female athletes, and helping unlock their talent. This is helping the overall ecosystem as it is generating demand for products and services related to women's sports. As a result, more companies are considering investing in women's sports, not only in terms of sponsorship and advertising, but also in terms of product development and marketing campaigns."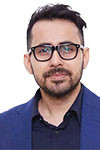 "Women-led sports wasn't too much of a thing but it's getting transformed into a product and there surely is an interest for it. The first Women's IPL will clearly show how much this category can grow," says Sahil Shah, President - Digital Experience, Dentsu Creative India.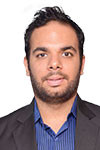 "Growth of women's sports depends on two things. First is performance, sports like Badminton and tennis have become very big because women have performed very well. Secondly, it also depends on the fan following for that particular sportswoman," explains Karan Taurani, SVP, Elara Capital. He believes that the bigger the fan following and better the performance, the more eyeballs and consumption it will lead to.

"There has never been a better time for women's cricket in India than right now. Brands don't just believe in the potential of women's cricket but are also investing in them even before a ball of the WPL has been bowled. The WPL will help women's cricket realize its true value," says Anil Jayaraj, CEO of Viacom18 Sports, which owns the media rights of WPL. "We've had a strong untapped audience base for cricket in female viewers for a while now. With the boom in OTT content consumption, a fresh set of players in action, and greater access to quality women's cricket, it is only a matter of time before this viewership base is tapped. As a ripple effect, female viewers are going to drive this cohort of the Indian viewership economy. Without a doubt, the WPL will appeal to both, men and women," he adds. Viacom18 has roped in 11 sponsors for the WPL.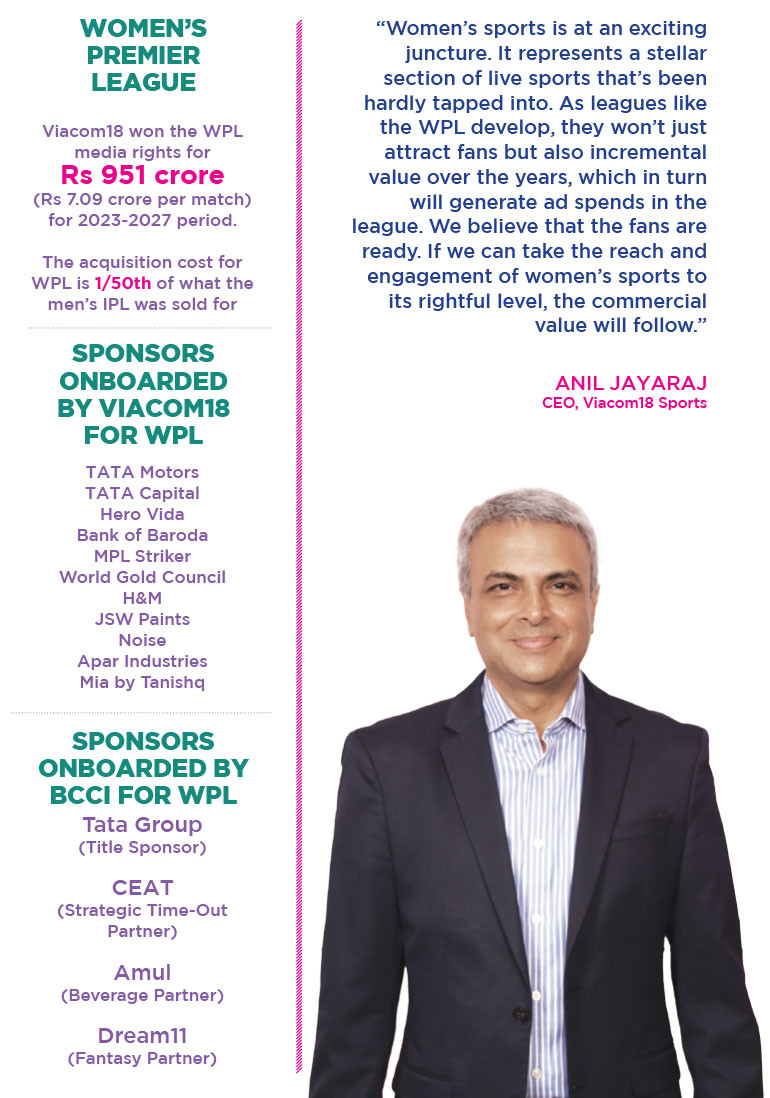 Impact of women-led sports on Advertising
According to a TAM AdEx report, the number of advertisements featuring women sports celebrities in the country surged 30% in the second half of calendar year 2022 vis a vis the first half. The report also stated that there was a 3% decline in ad volumes featuring male sports celebrities during the same period, though on a much larger base.
Karnik says that the past year saw a significant increase in brand endorsements led by sportswomen. "We have seen an increase of over 30% in the number of female athletes with sponsorship deals from global brands. Additionally, many brands are now actively looking for female athletes to represent them. This is a trend we expect to continue in the coming year."

He further explains that overall, brands typically allocate around 5-10% of their total marketing budget towards sports marketing. "This can include a variety of investments such as sponsorships, event activations, athlete endorsements, and other forms of content creation. In terms of investments into women's sports, this percentage can vary depending on the brand, however, it is typically lower than investments made into men's sports. However, many brands are beginning to recognize the potential of women's sports and are investing more into them as they see scope for growth," he adds.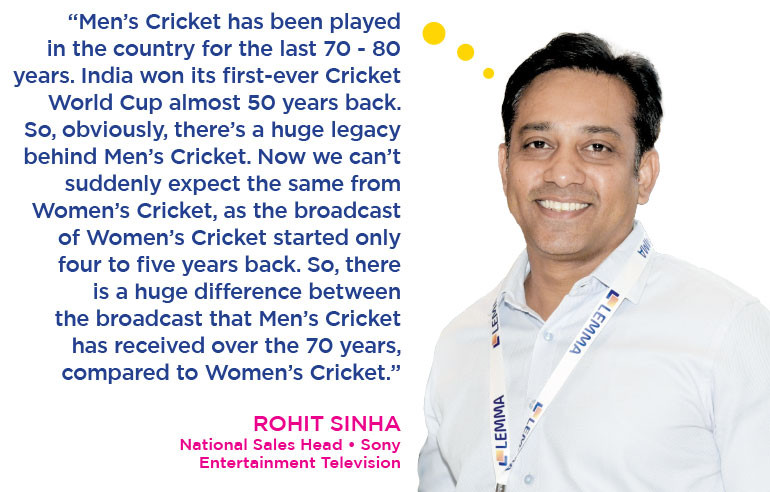 "Out of the entire sports AdEx in the country, which is around Rs 7 to 8 thousand crores, around 93% is cricket led, and cricket is always men's cricket. If you look at other sports, football has got a larger share. Football league, and Pro Kabaddi League have a sizeable share, and then you have women's sports. Women's sports that way will not be more than three to three and a half percent of the overall sports AdEx. So it's very small," says Taurani.

"Some brands invest disproportionately in sports (particularly IPL), while others participate in sports other than IPL, and the rest refrain entirely. Women's sports will also receive a low number of votes," explains Shah. "Ads for women's sports have increased significantly, as this is an untapped market that brands want to enter and solve. But they still don't spend more than 10% of their marketing budgets as the reach is also fairly limited compared to other avenues."

"With sports sponsorships crossing Rs 9500 crores in 2021 and a predicted greater growth in the next few years, brands are racing to piggyback on the success and popularity of athletes. However, the numbers have always been skewed in favour of male athletes and men's sports. But over the last few years, many brands have featured Indian women athletes in their campaigns, and these campaigns have been very well received. Going beyond the sports-related industries, even steel, cement, beverage, detergent and other industries have roped in women players across different sports, including hockey and squash," says Iyer.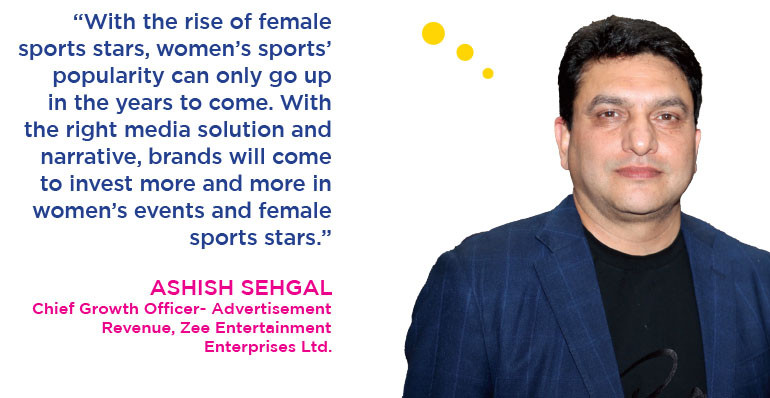 What are brands doing?
These past few years, we have witnessed a gradual rise in brands engaging with sportswomen, both cricket and non-cricket, primarily due to the growing recognition of women's sports as well as the increasing visibility of female athletes in the mainstream media.

Top cricketers like Smriti Mandhana and Harmanpreet Kaur are already endorsing over 20 brands and have added marquee companies such as Hyundai, ICICI Bank, and Puma to the list. Cricketer Shafali Verma became the face of Pepsi, and was also roped in by Bank of Baroda after her U19 Women's World Cup win. Tata Tea Agni launched a campaign - 'Josh Jagaye Har Roz' featuring three players from the Indian women's hockey team, Vandana Katariya, Gurjit Kaur, and Neha Goyal. Visa has a longstanding partnership with PV Sindhu, who also became the brand ambassador for Asian Paints.

Women's hockey player Rani Rampal and cricketer Smriti Mandhana were chosen as the brand ambassadors of Equitas Small Finance Bank. Manika Batra, the first Indian table tennis star who clinched gold at Commonwealth Games and bronze at the Asian Games was signed on by nutrition and health brand Herbalife Nutrition India as its sponsored athlete. Athlete Hima Das, the first Indian woman to win gold in a track event at World U-20 Athletics Championship has collaborated with several brands including Adidas, SBI, and Edelweiss. The ongoing trends suggest that sportswomen are getting their due, as consumers are recognising their talent, and consequently, brands are scooping them up for endorsements.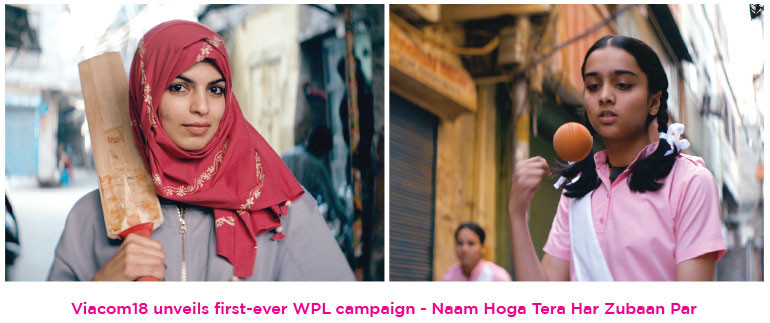 Policybazaar was one of the on-air sponsors with Star Sports for the recently concluded ICC Women's T20 World Cup. Elaborating on the objective behind the association, Sai Narayan, CMO, Policybazaar, shares, "We really wanted to be a part of this tournament, mainly because T20 as a format is really enjoyed by Indians. Before the IPL, there were more men watching sports, but with the IPL the co-viewership has increased. Therefore, T20 as a sport has been watched very closely by both men and women. Also, the Indian women's team has been consistently performing well over the years. The tournament came at the right time and the pricing was very lucrative. So, we thought it's a good opportunity, because our spends are skewed towards the months of January, February and March. Over 90% of our investment in sports is in cricket because that's our core TG and cricket gives you great return on investment."

"Based on organisational needs and current consumer trends, we identify categories that we focus our communication efforts towards every year. Based on these chosen categories, we analyse core target consumer behaviour to evaluate relevant media, sports and other properties to associate and partner with," shares Vishal Subharwal - CMO and Head E-commerce & Digital Marketing, HDFC Life, while adding that in the recent past, cricketer Harmanpreet Kaur was part of HDFC Life's advertising, and on the other hand, Olympians Sakshi Malik and Rani Rampal have featured in the brand's 'Behind The Journey' campaign.

Speaking about Shyam Steel's association with Lovlina Borgohain after the 2020 Olympics where she had won a bronze medal in one of the welterweight events, Megha Beriwala, Vice President, Marketing, Shyam Steel shares, "As she's from Assam, which is our target market as well, it automatically had a regional touch. We had on-boarded her as one of the regional ambassadors for that particular market. In the Northeast, consumers prefer brands associated with sportspersons rather than a movie or a TV star. We had an approximate budget of six to seven crores, and have got good feedback on the TVC that was aired. "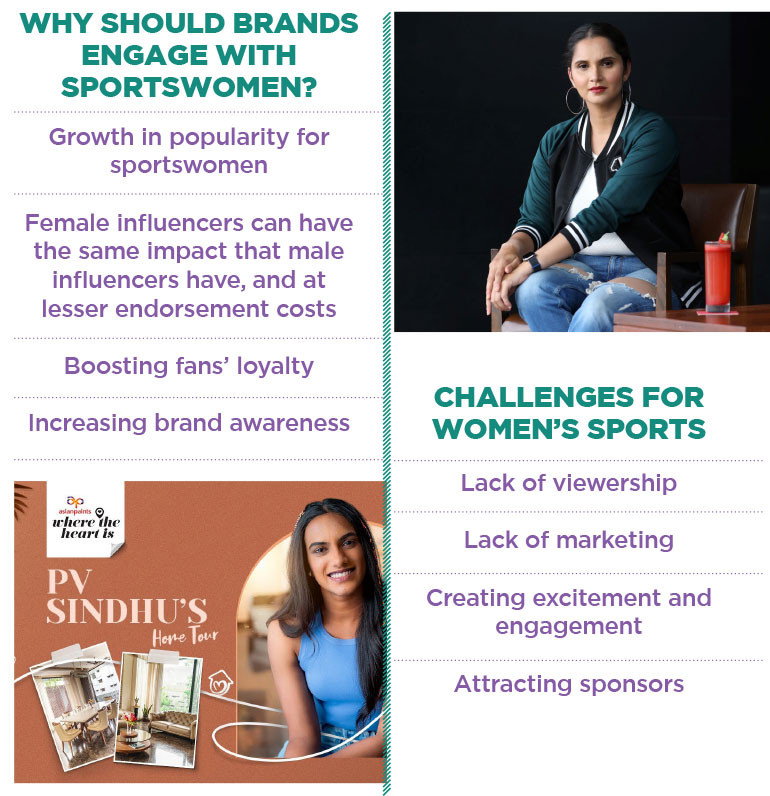 Ashish Sehgal, Chief Growth Officer- Advertisement Revenue, Zee Entertainment Enterprises Ltd. is of the opinion that brands will not hesitate to invest as long as it resonates with their overall brand strategy and core messaging. "When Zee Cinema premiered the movie 'Saina', GlaxoSmithKline's Iodex brand had partnered with us for the same. The brand felt that its core message viz. Thodi Himmat, Thoda Iodex resonated perfectly with the grit shown by Saina Nehwal to overcome injuries and obstacles in her journey to becoming a champion shuttler. HUL Rin had launched a campaign marrying its core purpose driven narrative of lending brightness to people's clothes and lives with Bhavani Devi's passion to make it big despite all the challenges in her life. Clearly, with the right media solution and narrative, brands will come to invest more and more in women's events and female sports stars."

"From a broadcasting perspective, what has changed is that broadcasters are actually giving more importance to sports with female representation. Whether it is on the back of cricket or multi-sporting events like Asian games or Commonwealth Games or Olympics. Sony has really made it a point to celebrate our sports women," highlights Rohit Sinha, National Sales Head, Sony Entertainment Television.

"As part of our build-up programming for the Olympics 2020, we came up with a show called Shakti. It was essentially a show that talked about female athletes who were going to represent our country in Tokyo 2020. The interesting part was that in the 2016 Rio Olympics, Indian Athletes won three medals and they were all women. We did that even when the Indian Women's Cricket team played its first pink ball test matches, which we had broadcasted live along with a proper studio show for the same. Normally you would not see a studio show on women's cricket. Our athletes have started doing well at the international stage, hence, there is more interest from viewers to know more about them. Whenever that kind of interest is there, advertisers do follow suit," says Sinha.

IPL vs. WPL (Women's Premier League)
While we all are excited for the Women's Premier League, the first major women's Twenty20 competition in India was the Women's T20 Challenge, which had started as a single-match tournament in 2018, and was expanded to a three-team, three-match competition held in 2019, 2020 and 2022. Later in 2022, BCCI officially announced a five-team women's tournament, Women's Premier League. However, many are still not aware of the Women's T20 Challenge, which also questions the future of WPL. That leaves us with the question - is it too ambitious to expect it to garner the same eyeballs and reach as men's IPL at some point in the near future?

"In my view, WPL has the potential to be hugely successful. Women's cricket has been on the rise in India and WPL will only help to further the popularity of the game. With the right marketing and promotion, there is no reason why the WPL can't achieve the same level of attention and reach as the men's IPL," Karnik opines.

Viacom18 has bagged the Women's Premier League's media rights for a whopping Rs 951 crore for five years. While the Tata Group won the title rights, BCCI also on-boarded CEAT, Dream11, Amul as official sponsors of WPL.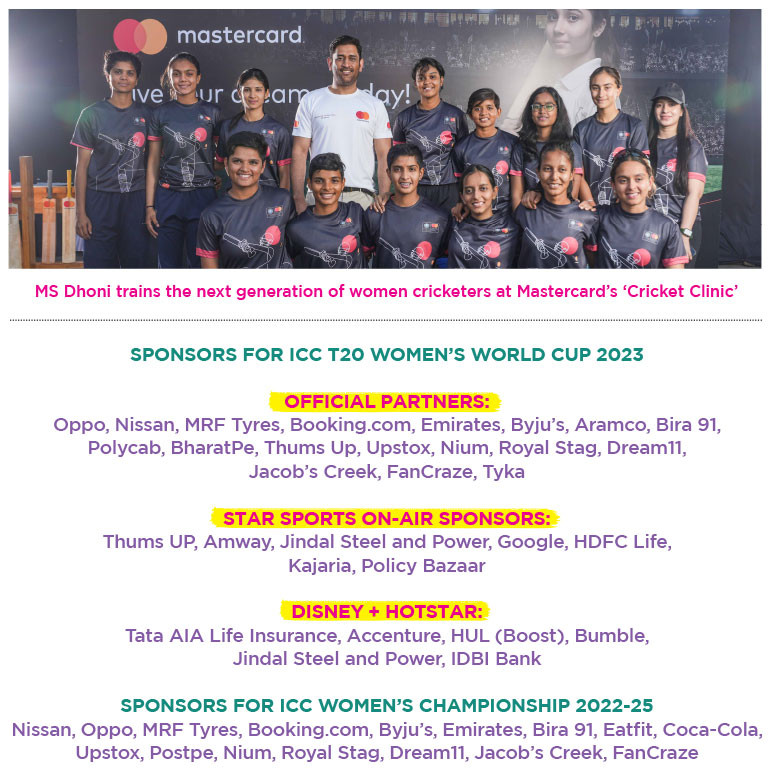 "WPL is fresh, going to be fun, and yet it carries an element of familiarity owing to its format. We see a perfect balance between exponential potential and a radical proposition that makes for a great recipe for incremental success," affirms Jayaraj. Elaborating on how the media giant plans to capitalise on the tournament, he adds, "Our sense is to start with it from the ground up having acquired it in its very first year, and then shape it up as the biggest women's sporting league in the world. The WPL, if cultivated smartly, has the potential to give some of the world's best cricketing leagues a run for their money, irrespective of gender. We are also committed to ensuring stellar coverage of the league through a star-studded expert's panel, and immersive viewing experiences like 4k streaming, multi-cam setup, and multiple languages."

Explaining why WPL should not be compared to men's IPL, he further states, "Both men's IPL and WPL are symbolic of the aspirations of a new India where gender does not come in the way of opportunities and success. Both of these leagues are extraordinary in their own right and must be looked at as superficially similar and intrinsically different rather than the other way round. The IPL is a behemoth that's existed for 15 years, whereas the WPL is only getting started. The significant sums of money spent by franchises at the WPL auctions to pick up star players is testament to the potential that different stakeholders see in women's cricket. We are certain that the WPL will explode in terms of valuation, reach, and proposition over a period of time."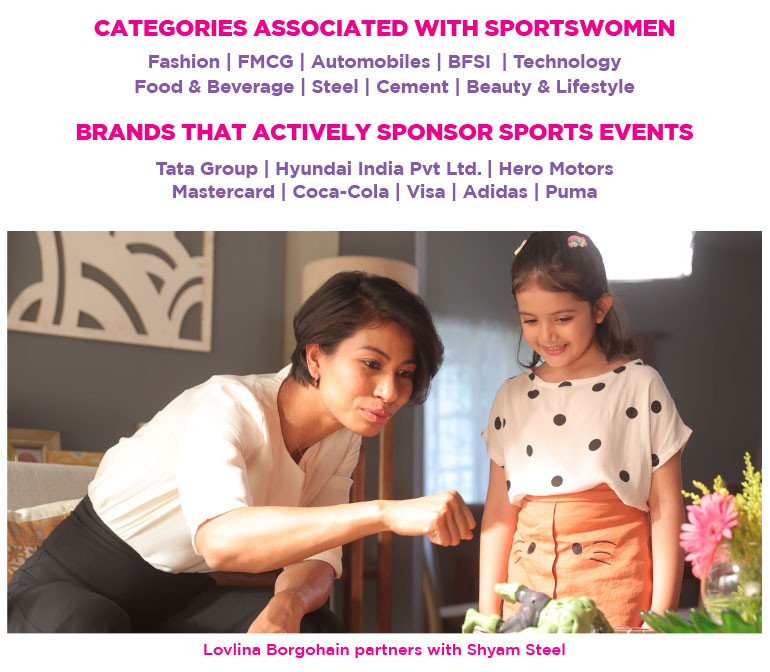 Speaking on Tata Capital's association with WPL, Abonty Banerjee, Chief Marketing & Digital Officer, Tata Capital shares, "Tata Capital will run an integrated marketing campaign across TV, Social Media and other Digital media platforms during the WPL. The idea is to capitalize on the popularity of the sport and connect with as many fans as possible. We will also be running several contests and promotional events during this period. We feel that the popularity of WPL will grow exponentially in the coming years."

Shah emphasises that this is a significant step forward for cricket and the BCCI in general, but expecting women's IPL to have the same kind of reach is unrealistic, especially in the first edition. According to him, "Many brands are eager to participate in the sponsorship because it is the first year and they will almost certainly get a good deal. If this aligns with their marketing plans and messaging, it will be an ideal opportunity."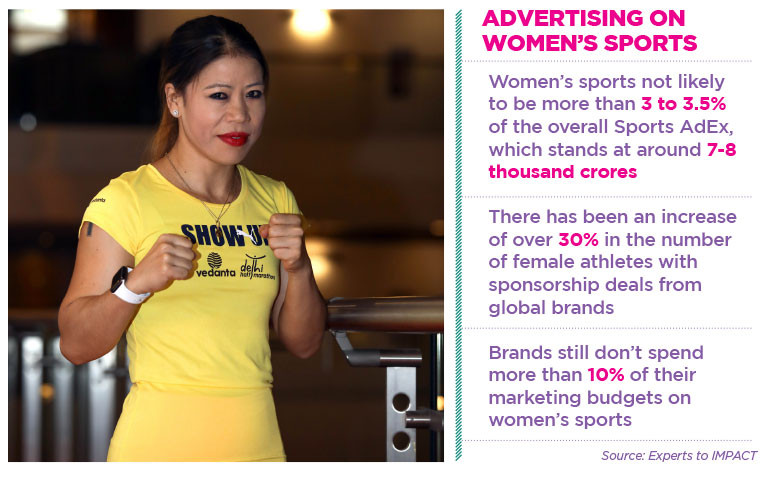 "Women's IPL viewership or women's cricket viewership is a fraction of men's cricket. I think WPL would be in the range of 10 to 12% of what men's cricket would be in terms of viewership. So, it is a very small fraction for now. Having said that, women's IPL is obviously something very new, but some of the team names are the same as the men's IPL which have a very strong recall in terms of fan following and base. Therefore, my guess is that viewership for WPL will be higher than the normal women's cricket tournament, it should be at least 25, 30% higher. But as and when the momentum builds up, it can go even higher than that," says Taurani.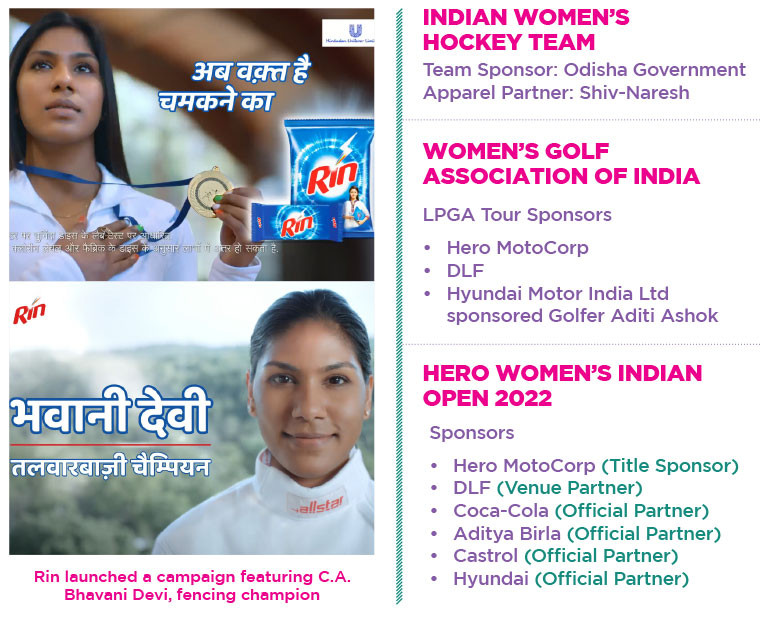 Challenges
Sinha highlights that the viewership ratings for women's sports increases only during important matches. "In a regular course, women's sports is still not generating huge reach or huge TVRs. But yes, whenever there's an important marquee clash- Women's T20 World Cup, India Vs. Pakistan or whenever India is playing a big cricket game, say a semi-final of a major tournament or a final of a major ICC tournament, these matches have the potential to go up to one TVR, which is pretty significant. Otherwise, normally it would not even rate point one." The IPL ratings have been falling since the last three years and as per sources who have analysed the BARC data, the last season garnered 2.52 TVR in the first eight matches, but even that is high in comparison.

Meanwhile Iyer points out, "One possible challenge would be in gaining viewership during prime time, which is when we can expect the matches to be played. The tournament will have to fight the uphill battle of replacing fiction-based/GEC show viewing by women during this slot. Advertisers chase numbers and it will be some time before WPL is able to make the kind of dent that male cricketing tournaments have been making. This means that procuring investments may also be more challenging."
Manasi Narasimhan, Vice President & Head, Marketing & Communications, South Asia at Mastercard on the other hand feels, "One of the reasons for the variance in viewership has been the lack of marketing for women's sports and even though the viewership for women's sports is relatively low, Mastercard is keen to bet on the betterment of the sport and its future. We are dedicated to promoting women's sports worldwide, and this is another addition from India." The brand recently conducted a session for budding women cricketers with none other than MS Dhoni! "This was definitely a priceless moment for them. We plan to replicate this for budding golfers as well," she says.
"It will be sports fans who will watch the WPL, irrespective of gender. As the YouGov study also corroborates, physicality, speed or skill levels are not the main reason why women's sports have lower engagement. It is more about a lack of coverage and marketing. Once we solve these areas, we should have both men and women watching WPL equally." shares Sehgal.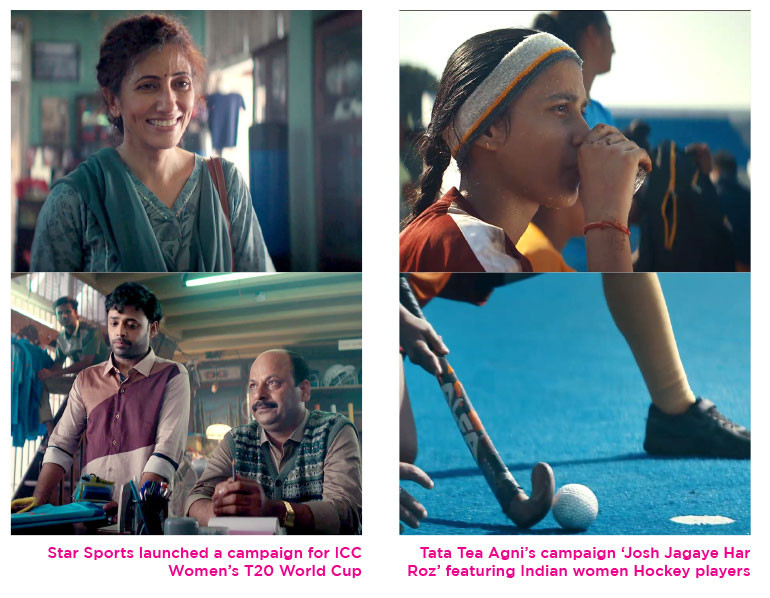 Towards Equality
Last year, BCCI announced equal pay for centrally contracted men and women Indian cricketers in a historic move. According to the current system, female cricketers will earn match fees of Rs 15 lakh per Test, Rs 6 lakh per ODI, and Rs 3 lakh per T20I, the same as their male counterparts.

"The BCCI ensuring pay parity for men and women cricketers is a big step in the direction we want to take towards an equitable world. We wanted to play our part in getting this cricket-crazy nation to appreciate and cheer for women cricketers, whose prowess on the field is incredible and is the result of extreme hard work, and the resilience that comes with overcoming the barriers they have," affirms Narasimhan.

"This was the genesis of the #HalkeMeinMattLo campaign. We told the story of Shefali Verma, Renuka Singh, and Harleen Deol, and encouraged people to watch them play because the game they play is supremely exciting. Hyper-locally targeted to Mumbai and with a multimedia approach, the campaign's success was unparalleled as for the first time ever in the history of Indian women's cricket we witnessed a completely sold-out stadium (DY Patil) with a capacity of almost 55,000, cheering for the women in blue," she further explained.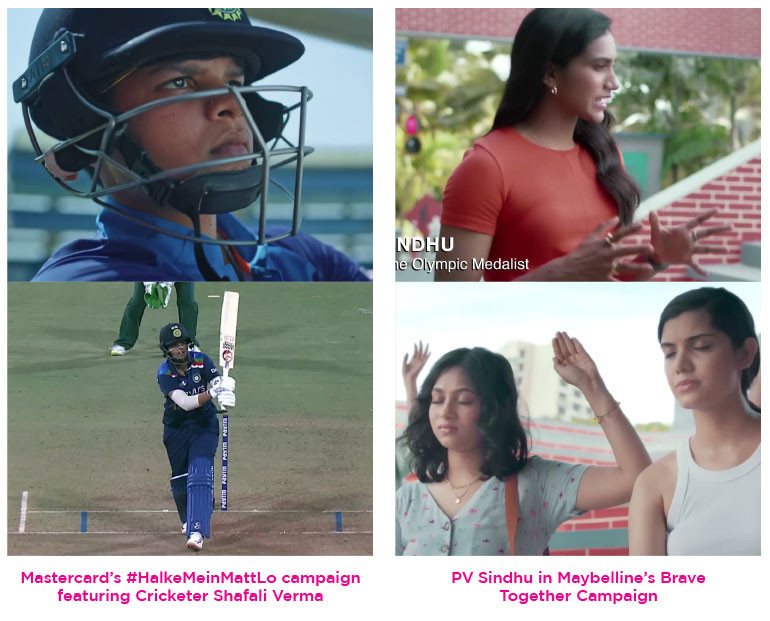 "The growing popularity of women's sports is having a positive impact on the pay gap in men vs women in terms of brand endorsements. It is also important to remember that the growing popularity of women's sports is not just about the pay, but also about giving women an equal platform and spotlight to showcase their talents. As more women become successful in sports, more companies will be willing to invest in them. This in turn will help reduce the pay gap between men and women in terms of brand endorsements," says Karnik.

While the change may be gradual, experts anticipate a high level of interest in WPL and women-led sports in the coming years. With the rapid growth in sports infrastructure and the rise in performance by sports women across different sporting events, the day is not too far when women-led sports will take up a substantial share in advertising as well.
---
'Would love to see women watch the game'
Harmanpreet Kaur, Captain of the India Women's National Cricket Team, who has been appointed as Mumbai Indians' Captain for WPL 2023, speaks with Anjana Naskar of IMPACT on her association with the WPL franchise, while also addressing questions around gender bias in terms of sponsorship and brand endorsements. CEAT, Boost, B Natural Juices, My Master 11, PUMA, and Hapipola are the brands she is currently associated with.
Q] How do you feel about your association with the Reliance-owned Mumbai Indians for the first edition of WPL?
I am really looking forward to being a part of Mumbai Indians. I've got this opportunity to captain the team, so I intend to give my 100 percent. I am hoping the women's team will also do well like the men's team, building on the legacy. We want to keep the winning momentum going, and play aggressive cricket. We have already got such a warm response from MI fans, and I am hoping to see them at the stadium.
Q] While there is a rise in popularity for women's sports, brands still engage more with men's cricket and male cricketers in terms of sponsorship and brand endorsement. How do you see that changing now?
Nowadays we have seen many brands reaching out to us, and the scenario is changing at a fast pace. It's not that they're only going for men's cricket, they want sportswomen as brand ambassadors too. I think it's good to see that people are changing their TG, and they want women cricketers on billboards. It's good to see those changes happening, and hopefully there are many more to come. We have been working hard for so many years, we deserve the same kind of respect as men.
Q] Who according to you will form the viewer base of WPL, men or women?
WPL as a platform is huge, so we will get a lot of support from each and every one, irrespective of gender. We would love to see women watching the game.