The meme 'to the moon' stands for an uncomplicated idea— to send the price of the respective cryptocurrency soaring over the limits of imagination. Over the years, the meme has come to be associated with several cryptocurrencies like Bitcoin, and Dogecoin that were recently made famous by business magnate, Elon Musk. Such is the excitement around cryptocurrencies that the total market cap had touched $2.3 trillion during its more recent bull run in April, 2021. Bitcoin, the world's most popular cryptocurrency commanded a lion's share of this market cap at $1.1 trillion according to coinmarketcap.com which is a foremost website on the crypto market. India has not lagged far behind in this buzz although it has been slow in its adoption. It has been a roller-coaster of a ride with a ban on banks in providing banking services to crypto exchanges by Reserve Bank of India to Supreme Court of India striking it down subsequently in 2020.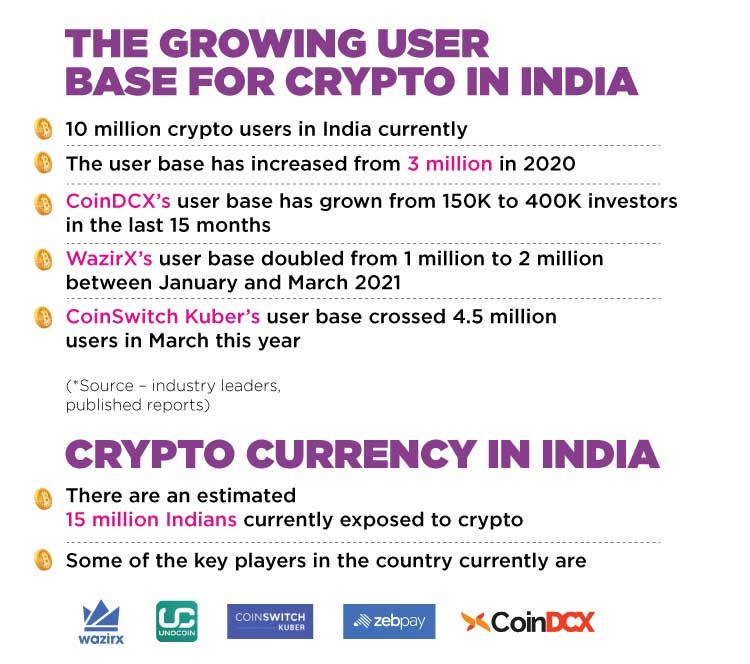 There are an estimated 15 million Indians exposed to crypto right now, and the category has garnered great interest and buzz around the world. Several exchanges are now preparing for the next stage of driving mass awareness. Two of the most popular crypto exchanges in India have come out with two massive marketing campaigns in the last four months with one of them targeting the truncated IPL. Marketing is now going to be key as the market will look to consolidate and raise the coverage of its adoption. However, there are several naysayers countering the optimistic narrative with a lack of real world use and decrying the entire scheme as speculation. Several governments and top economists are also on the fence about its efficacy with several moving to crack down on it, the most notable being China. India itself has been mired in regulatory uncertainty as conflicting reports keep coming out in the press about the stance of the Union government. The crypto bill is yet to be tabled and a very eventful journey lies ahead for the world of crypto.
Marketing to demystify crypto
With the famous bull run of 2021 inviting a frenzy of attention, most exchanges in India have seen their user base grow tremendously this year. Coinswitch Kuber unveiled a campaign on the eve of the IPL, 2021 with Kunal Roy Kapoor at the helm inviting users to experience the world of crypto. #TradeKarBefikar aims to demystify the path of investing in cryptocurrencies. Ashish Singhal, Founder & CEO, Coinswitch explains, "We launched into the market with the IPL campaign addressing three major problems in the crypto industry – its complexity, price and flexibility. Stock industry has a time limit on deposits, withdrawal and trade. Crypto industry, on the other hand, is a 24/7 market. The Hotstar campaign gave us almost a 5x to 6x reach, organic reach and built our brand value."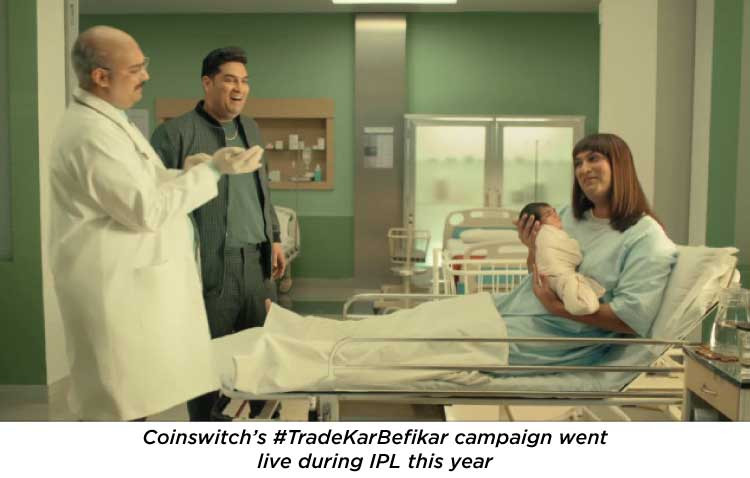 Singhal believes that crypto exchanges and the nature of the business are very new and innovative. "Not a lot of players exists in this market. And every player would want to gain as much traction, visibility and branding in the space before the space actually explodes. Even global players are trying to now get into this market. Coinbase (An American exchange) reported a profit of over $4 billion last year. It is important to build the category in the right way so that we protect our users and adhere to right marketing practices which are in line with user benefit as well."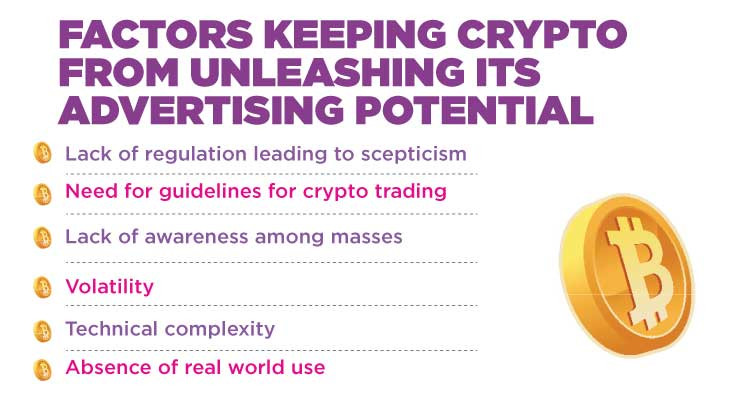 CoinDCX rolled out a campaign #BitcoinLiyaKya to build a brand that allows users to invest in Bitcoin, Ethereum, and other popular cryptocurrencies. Ramalingam Subramanian, Head of Brand and Communication, CoinDCX, notes, "The reason we chose 'Bitcoin Lia Kya?' versus 'Buy on CoinDCX' is because Bitcoin has a bigger brand awareness than CoinDCX. The idea is that we need people to enter into crypto. Once they experience the journey, the asset class and the product through which they enter the space, the retention numbers are good."
Nischal Shetty, Founder & CEO, WazirX believes advertising and responsible inorganic growth are very important in the long term. When asked about whether the industry should adopt the approach of 'Mutual Funds Sahi Hai' campaign, he agrees. "It's a good idea and something that's already being discussed. I personally think it's way too early right now to have campaigns that promote crypto as an industry because it's a new industry and 'Mutual Funds Sahi Hai' came about after years of testing out how mutual funds are really sahi hai or not. It is still at a very highly experimental stage. As an industry, we should work towards solving on-the-ground issues around regulations and user protection. I believe people at the grassroots who have interest in the sector should first get all the information. He further adds, "In the last three years, we've been building the ecosystem in a way that there have been no cases of any scams or issues around the crypto ecosystem. My fear is that unwanted consequences will pull the sector back by five years. When you advertise, you are not able to show a complete picture but when you educate you can show the entire picture. We did try our hand at some of these ad formats, but we realised it's probably a little risky to get people to get into crypto through advertisements."
His view was echoed by Sathvik Vishwanath, CEO, Unocoin who explains that the brand has some allocated advertising budgets, but it's unlikely they will do anything like the IPL within the next couple of years. "The industry is growing in a way where we want educated people to get the required exposure and be involved than someone who just sees an advertisement and is talking about a car or a bike. We don't want to give that kind of a narrative. We do content marketing to keep people engaged with our blogs and social media, some campaigns and then we have a portal called unoversity.com which provide courses about blockchain, Bitcoin and Ethereum. We don't want to be the guys who introduce Bitcoin to say it makes money since it could cause havoc in the near future." Despite a cautious approach, Vishwanath believes that the space is primed to be the next big spender from the digital arena after ed-tech, gaming and e-commerce.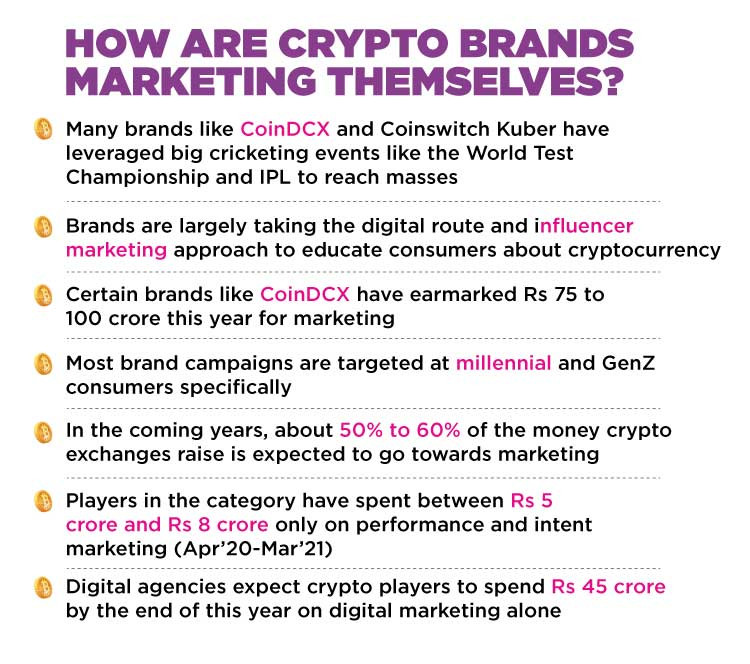 Speaking about the brand's initiatives to market and educate consumers about the product, Sumit Gupta, CEO & Founder, CoinDCX notes, "With an active user base of over 2 million customers, we have achieved significant milestones in terms of user additions by virtue of being India's largest and safest crypto exchange. Our marketing initiatives have always focused on the simplicity and security of trading via our CoinDCX Go app and are always looking out for avenues to reach out to retail investors and educate them about cryptocurrency as an asset class." CoinDCX also associated with the recently concluded World Test Championship, clearly indicating its objective to reach younger consumers who will be more willing to invest in cryptocurrency. The brand is the official sponsor of Team Sri Lanka at the T20 Sri Lanka series too. One of the main concerns that impacts the category is its volatility, but Gupta maintains that it would be wise and beneficial for investors to adopt a long term approach towards crypto assets. "The recent developments in China have impacted the near-term sentiment and have resulted in increased price volatility for most crypto assets. Despite this, we believe that this is an ongoing period of consolidation and is quite positive for future price action. We recommended that investors and traders do their research before taking fresh positions and maintain a strict stop-loss for any short-term bets considering the current volatile environment," says Gupta.
Potential big spending category?
Leaders across agencies are in agreement that clarity on regulations will catapult the category on to new heights. The consensus seems to be that the category is primed to take off as the recent marketing campaigns signal their intention to demystify the category and win consumer hearts. Ankit Saraf, Founder, Meraqi Digital observes, "There is no frictionless money journey right now. The problem is that because there is no legislation around cryptocurrency consumers are unsure if it's trustworthy or not. It will only become a big spender when there is consumer confidence and that confidence will only come when the legislation is drafted. We are in the stage of early adopters right now. They will definitely become big spenders on marketing in due course."
Pratik Gupta, Co-founder, Foxymoron and Zoo Media, explains that the category has all the signs that it could very well go mass. "Companies which are already a part of the crypto game are going to want to leverage situations as they look at first-mover advantage or gain market share at this juncture. IPL is a signal of the fact that crypto companies are looking to go mass. It's not only a certain wallet size that they're going after. You will see a lot of people increasing their marketing spends, even if they don't do it during the IPL, they'll increase the marketing spends during other periods of time to ensure they have a voice in the crypto market. All of the sectors like e-commerce, gaming, and digital wallets raised a majority of their money to market to people; 60% is a decent guesstimate," notes Gupta, pointing out that 60% of the money raised by crypto companies will most likely be devoted to marketing.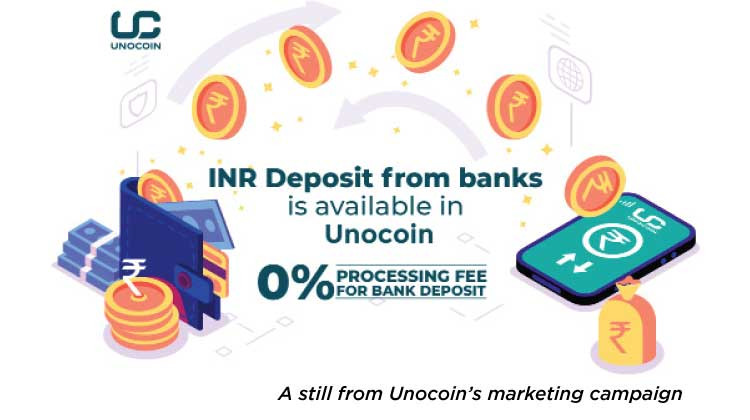 Manish Thanvi, Senior Creative Director, Dentsu Webchutney notes the importance of policy for the category. "Is it okay to compare crypto with a digital wallet service or ecommerce? Not yet because we don't have the policies. The day policy support comes in, because crypto is at the perfect intersection of technology and finance, there is a high chance that we will see an implosion. The intersection of tech and finance always works beautifully if backed by policy," says Thanvi. Benedict Gershom, Copy Supervisor, Dentsu Webchutney concurs, "We are at an interesting stage in terms of marketing because if you look at e-commerce, it's always Flipkart versus Amazon or Swiggy versus Zomato. In crypto, different brands have one objective in mind which is to raise awareness about Bitcoin. Our biggest problem is regulation. Marketing will definitely take off once policy apparatus is put in place."
Defining clear targets
It is evident that crypto players are going to arrive on your televisions and your digital screens, if they have not already. Coinswitch's IPL campaign is an indication of things to come. Vishal Jacob, Chief Digital Officer, Wavemaker India explains, "IPL is always a good tent-pole property to advertise on as it gives you that high visibility and helps instil that confidence in investors. From the data that we could gather from audience monitoring tools, we could see that CoinSwitch has 1.6 MN DAUs growing over 60% MoM in May, while WazirX has 1.66 MN DAU growing close to 100% in May, and CoinDCX has 256K DAUs but it grew 500% in May. All this indicates that the industry in primed for growth but whether they will be able to sustain the growth or not, only time will tell."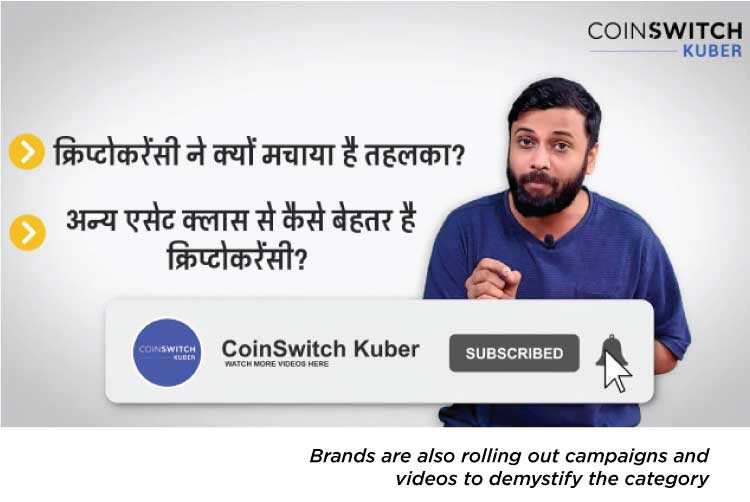 Rohan Chincholi, Head – Digital, Havas Media India also notes, "Cryptocurrency will largely have to tackle communication pillars to educate, inform and help in the initial years. Kuber's campaign seems to have worked well with a potential 4x increase in registrations. There is an equal merit in looking at registrations to potential transaction data. The category is in its nascent stage currently and may not see a disproportionate increase." Chincholi goes on to add that all players put together are approximately spending around Rs 5-8 crore (Apr'20-Mar'21) only on performance and intent marketing, not factoring the impact spends. "A lot of traction is seen on search, referrals and affiliates. If we take the age group of 25-34 years as the core – it accounts to about 35% of 820Mn (projected smartphone users by 2022), i.e., 287 million possible audience vis-à-vis the current 10 million. This category in the coming years may be dominated by OLV for reach, association with diverse original content and influencers for driving consideration and credibility," he explains.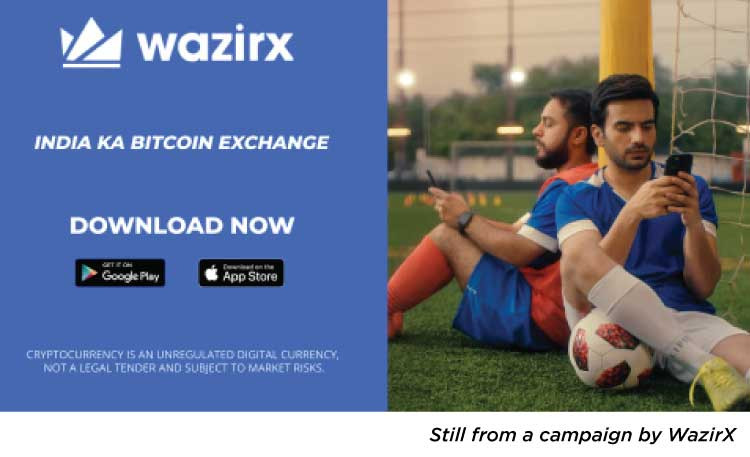 In terms of market and advertising potential, cryptocurrency has become a truly exciting sector, remarks Deepti Bhadauria, Chief Strategy Officer, HiveMinds. She says, "Digital advertising platforms have many stringent policies that stop advertisers from adopting most conducive ad formats and communications. All crypto players are targeting millennials at the various stages in their investment and financial planning journey. Therefore the available, urban, educated target base is sufficient to allow for only digital marketing spends in the range of Rs 3crore to 5 crore per month. Bhadauria reveals that crypto players are betting on the social media platforms that give both the reach as well as relevance for the audience. "Video ad-formats, especially in regional languages and also influencer videos are delivering results," notes Bhadauria.
The future
Wavemaker's Jacob explains that blockchain and decentralised technology are gaining traction in marketing. "Futuristic identity management proposals are a space to watch out for like BAT. Basic Attention Token is a token supported by BRAVE, an innovative browser launched by the creator of Firefox. BAT serves as a ledger system, calculating consumer 'attention' to reward them with BAT tokens. It gives more control to consumers as they keep their personal information and browsing history secure and receive BAT tokens based on their level of interest (attention). Marketers also get a better ROI due to the qualified leads they serve ads to," he points out.
According to Bhadauria, app installs will rule the roost. "Crypto will bring to market a very young investor segment, therefore the player with the largest customer base will win the market. Advertising spends will continue to increase but will be mostly on digital media. We'll see many regional language campaigns coming live in the next few months," says Bhadauria.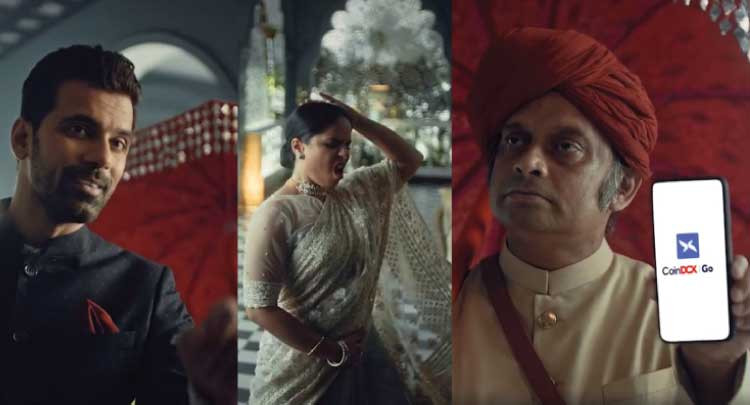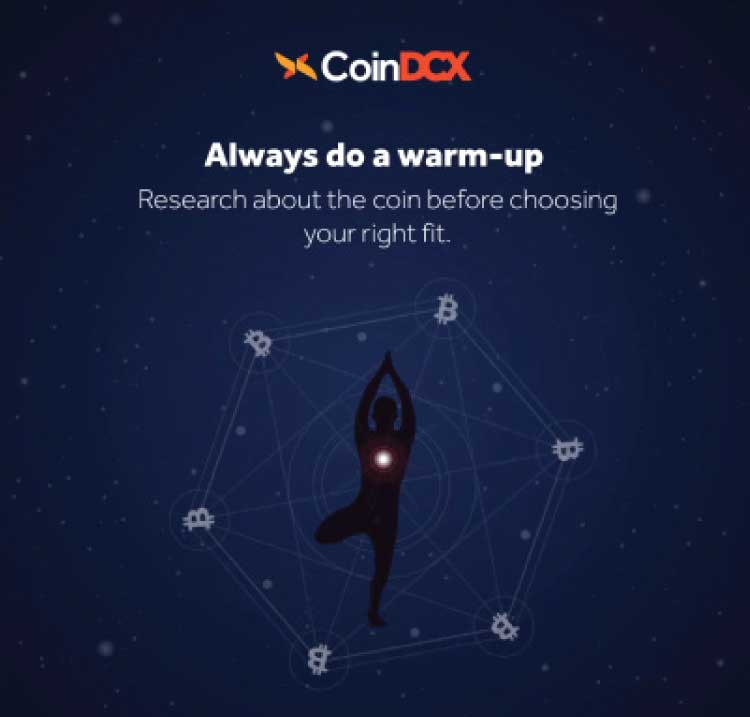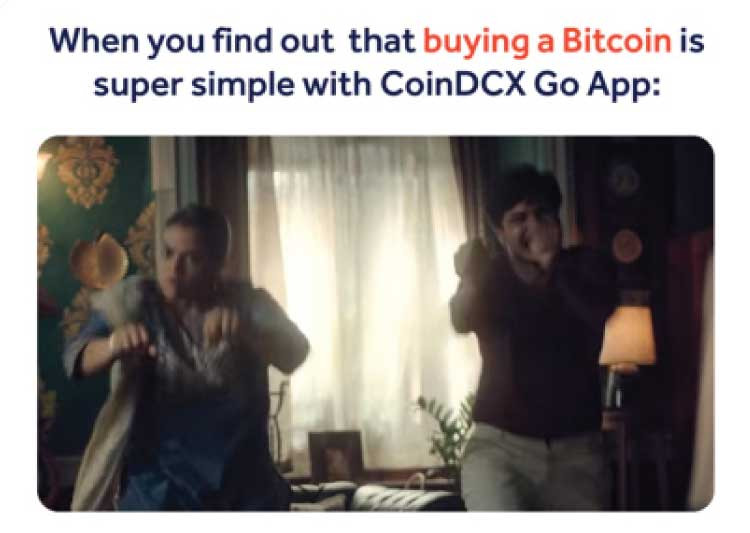 Dentsu Webchutney's Gershom expects gifting crypto to emerge as a formidable marketing trend. He also believes that a lot of people will adopt it once the government clears the policy uncertainty and the number of active users can shoot up to 100 million in the next few years. The numbers and industry experts have spoken. Cryptocurrency looks set to be the next big thing in the years to come.


THE QUESTION OF REGULATIONS
One of the factors holding back the crypto industry is the lack of regulations in the space. The government has been holding its cards close to the chest. It has set up various consultative committees to study the matter but there has been no headway in the form of legislation.
The industry asserts that it welcomes regulations because it will drive adoption up while ensuring the financial safety of users. Ashish Singhal of Coinswitch observes, "The government has valid concerns. From the government and the crypto innovation point of view, the best thing that can happen is a collaborative approach which is not taking decisions in silos based on the benefits or the shortcomings of an industry. They should look at what this industry can become and how other countries have taken a stance on it. From a user point of view, users are the biggest stakeholders in this whole ecosystem. We should focus on building the new digital India that will likely be on blockchain itself. The next Google or Facebook or Twitter will be based on the technologies we are building."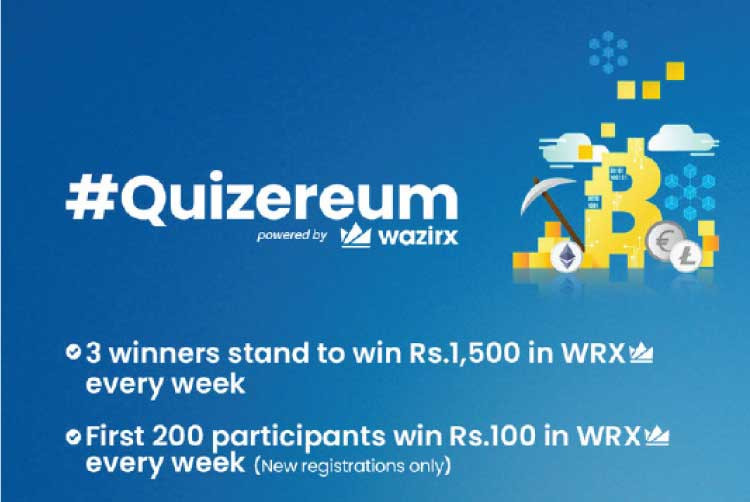 Nischal Shetty of WazirX avers that it's important for India to bring regulations. "We cannot stop a bad actor from coming in and not following any of these guidelines while servicing the Indian sector. This is where regulations will come in to ensure that the Government of India is able to control the sector in a way where user protection is important and of prime importance because we are dealing with money. However, one cannot apply existing regulations to a new market because you will kill innovation otherwise. My request to the government is you need to start working with the industry sooner rather than later. A good thing that has happened recently was a report which said that the government is planning to look at crypto as an asset class," opines Shetty, adding that the question is about bringing understanding first before moving towards regulation.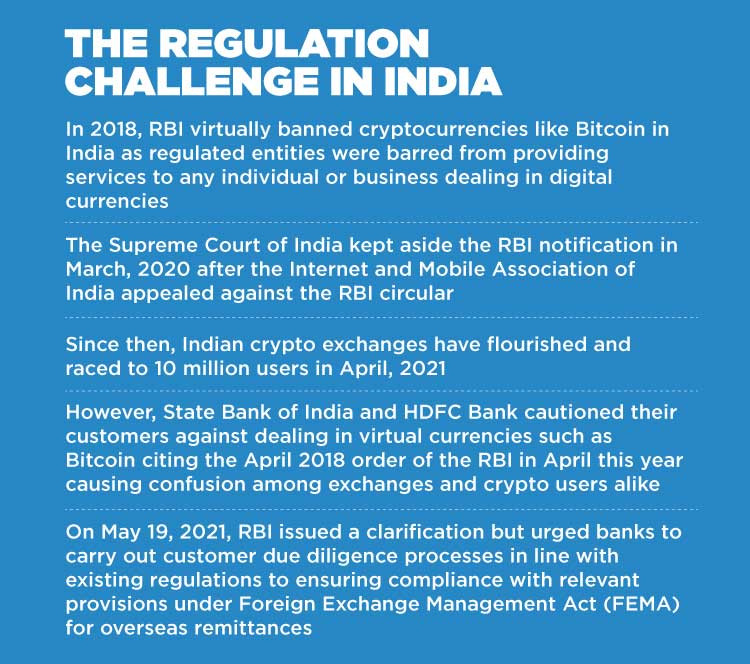 Crypto exchanges in India also have to negotiate with the Reserve Bank of India (RBI) which has been reticent about cryptocurrencies. It first restricted banks from dealing with crypto exchanges effectively shutting out deposits and withdrawals. The notification was struck down by the Supreme Court of India in March, 2020. The problem however persisted as banks continued to adhere to the RBI notification. The RBI issued a clarification in May this year after numerous appeals asking banks to conduct due diligence.
Ramalingam Subramaniam of CoinDCX explains that the concern for RBI is about protecting the elements that are present because it's an unregulated entity. "There is this regulated entity called a bank and then there is this unregulated entity called a crypto exchange. We have to work with the government to come up with guidelines and help them out. We all believe that it's not an easy thing to regulate. We partnered with IndiaTech and they came up with a white paper explaining how it can be regulated and what could be the tax implications. It has been submitted to the government," he states.
Vishwanath observes that the regulators in India are slow to catch up. "The concept, being so global and universal in nature, there is so much of information we can get from other regulators across the world to figure out what works in India and what does not. In the world of crypto, a year is like a decade. It's not like the banking sector which hasn't changed since 40 years," he remarks. Vishwanath adds that a bill should be tabled as soon as possible and that there should be a committee to examine it and bring it into effect immediately before the regulations get outdated.