The link between business and community is as old as civilization. Take a look at some of India's biggest companies and conglomerates and you will find that their strong reputations are closely linked with the fact that Corporate Social Responsibility (CSR) has been at the heart of their businesses. With the Indian Companies Act coming into effect from 2014 in India, mandating companies to spend at least 2% of their profits on CSR, there has been a significant shift in the way India Inc. looks at CSR. Moreover, with technology empowering consumers to voice their opinions, a brand's purpose beyond profit has become a clear differentiator. This then begs the question – how can CSR be leveraged by companies to build brands?
An Accenture study released this year reveals that 82% of Indian consumers prefer to buy goods and services from companies that stand for a shared purpose that reflects their personal values and beliefs, and are ditching those that don't. Companies that stand for something bigger than what they sell are more likely to attract consumers and influence purchasing decisions which improves competitiveness. Ronita Mitra, Founder, Brand Eagle Consulting, points out that CSR is not about immediate sales acquisition or business gain. "There are hard and soft metrics that drive a business, and CSR is definitely amongst the soft metrics," she explains. "CSR needs to be long term and strategic. It delivers long term metrics in terms of reputation and drives goodwill for a brand. This is important because at the end of the day, a brand may continue to acquire customers but a business really grows when it has a robust reputation. Long term customer loyalty comes from trust and reputation, which come from walking the talk," she adds, pointing out that it is imperative for CSR to be strategic in nature.
DRIVING BRAND VALUE THROUGH CSR
One of the Indian brands that has effortlessly made CSR a part of its identity and DNA is the Tata Group, and that is seen in the work done across all of its subsidiaries and companies. Mitra refers to the Tata Group as an excellent example of building reputation through community outreach. "In many cases, consumers actually buy Tata products, not only because they are evaluating the quality at a rational level, but because of their absolute trust and faith in what the Tata name stands for. I don't think any organization in India comes close to that," she says. A case in point would be Tata Motors, which runs a programme with its dealers who train school dropouts to become technicians. Vinod Kulkarni, CSR Head, Tata Motors, points out that CSR is not a brand-building platform in itself, but that CSR projects should perhaps be linked to the business. "At Tata Motors, we believe in encouraging projects that are aligned to the business. Such projects can have a positive rub-off effect on the brand. For example, we have a programme for school dropouts to get trained on becoming technicians for a year or so and thereafter, the trained technician may choose to join our dealership or he can join elsewhere. About 15% of those young people have joined our dealers while the rest have joined elsewhere and that is completely okay. The important thing is they will also tell others that they have been trained by Tata Motors and that's a plus for us," he remarks.
Another brand that has led corporate India's social responsibility efforts for several decades is the Mahindra Group. The company also puts the focus on several issues such as environmental damage and education for women, through some of their award winning campaigns such as #LadkiHaathSeNikalJayegi. Rajeev Dubey, Group President (HR & Corporate Services) & CEO (After-Market Sector), Mahindra & Mahindra Ltd says that the company has gone beyond the legal or statutory requirements when it comes to investing in the community. "With the belief that education is the only route to addressing India's social challenges, the Group's main portfolio for CSR was within the domain of education. Over the years, we have also invested in health and supporting the environment. From April 1, 2014, in line with the new Companies Act 2013, the company has been spending over 2% of the average net profits made during the three immediately preceding financial years, specifically towards CSR initiatives," Dubey explains.
Companies across domains and sectors are today contributing towards disaster relief, educational and healthcare initiatives. As Manashi Kumar, Chief People Officer, BARC India explains, corporate India has a moral responsibility to work towards the community's advancement. "It is our moral duty to contribute towards the betterment of the community. We have partnered with various NGOs and organizations in the past for multiple initiatives and will continue to do so," Kumar says.
From a brand value standpoint, marketers find themselves in the face of a dilemma because if they view CSR from a business standpoint, it could get tricky. If CSR has to be meaningful, corporates need to have a well-planned and well-funded strategy. Consumers can see through tokenism, which is what makes authenticity and intent important. "Honest work builds brands. That is the simple truth. When a brand takes a step to help society, the authenticity of intent and action is what counts. Brand-building is a result of this. Not necessarily the objective. The objective of doing good should be to do good," point out Kainaz Karmakar and Harshad Rajadhyaksha, Chief Creative Officers, Ogilvy India (West) who were the creative minds behind the recent 'Start A Little Good' campaign for Hindustan Unilever.
Another important reason why brands are taking up CSR in a big way, aside from the legal mandate, is its potential to be a differentiator. "Unlike several decades ago, everyone can assemble a car today or design an excellent phone, which is why brands have to work extra hard to create differentiation. The consumers of tomorrow will make it almost mandatory for companies to be answerable about how they are making their lives better. This means organisations have to be thinking a lot more about giving back to the community and finding a way to make their work in the CSR space a lot more visible," remarks Amit Kekre, National Strategy Head, DDB Mudra Group.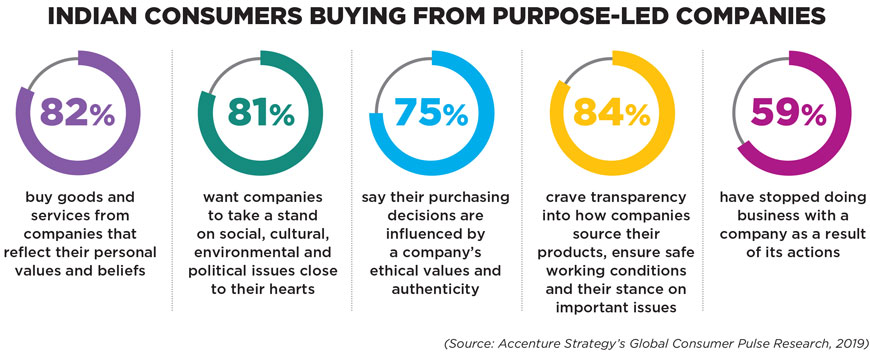 Giving back to society – that is the underlying philosophy for most brands when it comes to CSR. Brands can, however, add greater value when they take the broader ecosystem into account. Ashima Bhat, Head- Business Finance, Strategy, Infrastructure and CSR, HDFC Bank sheds some light on how the company does exactly that. "Our endeavour is to impact the lives of the people around us positively, and be a catalyst for social change. It was something we were already doing well before the 2% mandate came in. Since then, the scale and scope of social initiatives for HDFC Bank has increased – we are today among the top five CSR spenders in the country. Instead of doing 40 things and just touching the tip of the iceberg, we have narrowed it down to around four or five areas of impact with a more focused approach. All these initiatives come under an umbrella brand known as HDFC Bank Parivartan. We approach CSR in two ways – one is to build and develop the next generation so we invest heavily in education, especially for girl children. Then we had to consider how best we can develop the ecosystem in the semi urban and rural areas. We have something called the HRDP, which takes care of holistic development of the village covering water, lighting, sanitation, farming initiatives and digital literacy. So far, we have impacted close to one crore lives through these initiatives," Bhat explains.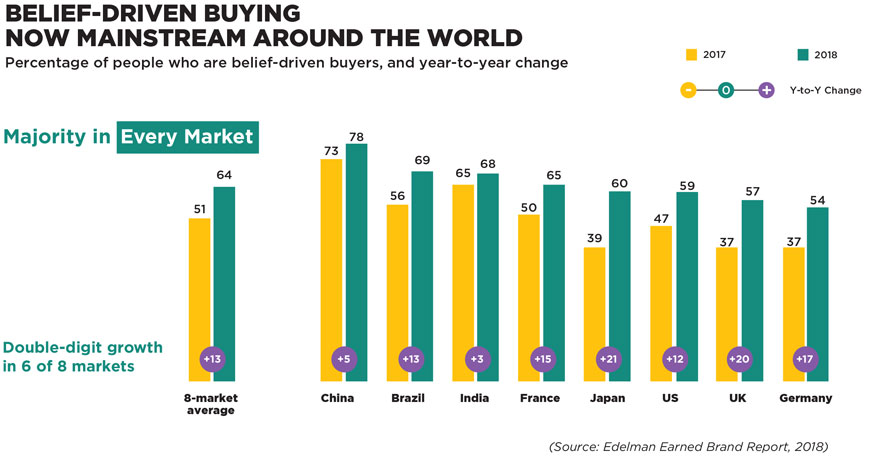 Child Relief and You (CRY), an NGO for children's rights and welfare, has worked extensively on several initiatives and campaigns with brands such as Procter & Gamble, Marico and HDFC Bank Credit Cards. Kreeanne Rabadi, Regional Director, West, CRY, explains that businesses today are looking at corporate citizenship as something intrinsic to business, making their projects more robust and sustainable. "Corporate CSR strategies and the composition and structure of the CSR teams driving these are still evolving today. While the thrust seems to be on ensuring compliance to the law in many cases, there are some corporates that are now looking at it from a business perspective as well," Rabadi remarks.
IMPACT OF THE 2% MANDATE
Since the 2% mandate has come into effect, Corporate India has been quick to loosen its purse strings. Cumulative spending on CSR has crossed the Rs 50,000 crore mark in just four years, according to a recent report from rating agency CRISIL. Companies have now adopted a more structured approach towards CSR, making it more than just cutting a cheque for a cause. For instance, Nipun Kaushal, CMO, PNB Metlife explains that the law has enabled the brand to bring in greater consistency and focus. "What the 2% mandate has done is it has helped a lot of corporates to get into standardising and structuring their CSR initiatives. Like us, there have been several organisations that were already doing a great deal of CSR, but now there is more consistency. At PNB Metlife, we have begun to look at CSR from a more long-term perspective, analysing how we can add value to society and actually create positive impact," Kaushal explains.
The JSW Group is another Indian conglomerate that drives several initiatives in the area of environment, energy, education, healthcare and water conservation under its sustainability agenda. Through its social development arm JSW Foundation, the organisation runs initiatives like 'Janam Se Janani Tak' that focuses on adolescent girls and women and 'Susanskrit Bharat' for the preservation of heritage structures.
The challenge now that arises for most brands is creating brand connect that is not overt. CSR is best done when there is lesser intent to sell or promote, believes Harish Bijoor, brand expert & Founder, Harish Bijoor Consults Inc. "Efforts need to be disconnected from clear connection to brand-intent. That is the best CSR. The more distant the effort when it comes to brand sales or overt branding, the better," he says. One brand that does a significant amount of CSR is Viacom18, using its influential platform to drive real impact and change. The brand does that extensively through the use of film and content, among other things. Sonia Huria, Senior Vice President & Head, Corporate Marketing, Communications & Sustainability at Viacom18, points out that the branding clause is sitting in a very grey area at the moment. She says, "As per the existing laws, if your brand name is attached to the initiative like we do with our films and content, then that doesn't count as CSR. In a subtle way, there should be branding permitted. We don't want to be in-your-face with what we do, but it is good to have your brand attached to the work you're doing. I understand the reasons why branding isn't permitted, because then you will have companies taking too much advantage of that. It's just sitting in a very grey area but it is definitely something that should be looked at again." She further adds that if the only agenda for a brand is business growth, then the law is right to not permit branding. "However, if you are trying to build a purposeful story and drive real change and are able to integrate your brand name in a subtle way, then that is an ideal scenario," Huria elaborates.
More than finance, where CSR really needs to be impactful is an equal investment of passion and commitment to bring sustainable change. The 2% CSR provision has led to the creation of a corporate society which is collectively responsible for driving purposedriven social impact. Pointing out that CSR must be a long term investment, Rajkumar Bidawatka, CSR Head – Sony Pictures Networks India insists, "A successful CSR initiative requires cumulative partnerships with the right NGOs, government bodies and organisations that can carry forward the vision and effectively implement programmes to bring about change at the grass root level."
Echoing this viewpoint is Lara Balsara Vajifdar, Executive Director, Madison World who believes the government's CSR mandate is a positive step for corporates as well as society at large. "We at Madison World strongly believe in business for good and really welcome the Government's CSR mandate. With this mandate, we are now approaching our CSR initiative in a more formal and structured way," she says.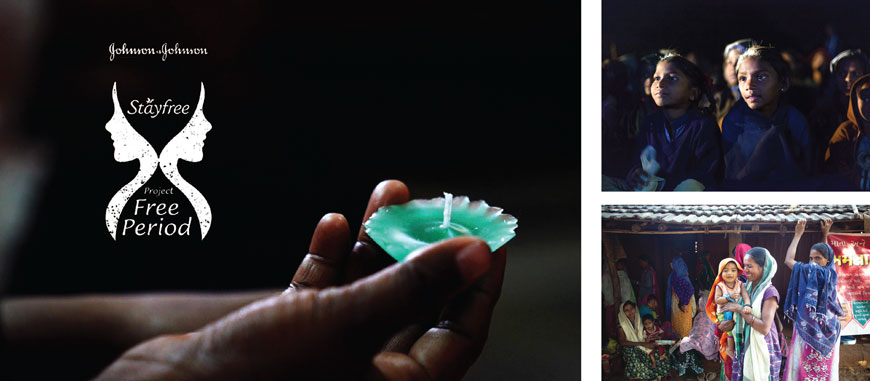 ADOPTING A STRATEGIC APPROACH
If CSR has to be meaningful, the corporates have to take a longterm view and have a well-planned and well-funded strategy that will achieve its social objectives besides showing tangible impact on areas beyond where it works. However, CSR activities need to be in sync with the company's basic values, insists Dilip Cherian, Founding Partner & Group Chairman, Perfect Relations. "CSR may stem from the desire to do good and the satisfaction from discharging a societal obligation of business. However, unless the CSR initiatives are in sync with their basic values and business, it does not quite work. So, while corporates are increasingly involved in CSR, if there is a mismatch between their projection and reality, it is seen as an attempt to just get brownie points. Not a lasting benefit," notes Cherian.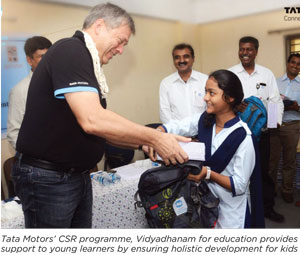 Companies must adopt a strategic approach to CSR and work towards improving the well-being of the community, as the success of a business and community development cannot be seen as separate entities – they are both connected. A Sudhakar, CSR Head, Dabur India says, "An organization's true worth lies beyond its business, and is best reflected by the service it renders to the community and the society. Businesses have a responsibility to sub-serve larger societal goals as they have the ability to contribute significantly to sustainable and inclusive development. A well-formulated and targeted CSR programme will have a multiplier effect on the company's brand value. There are four key areas where we have rolled out focused CSR activities – healthcare and sanitation, education and skill development, women's empowerment and social inclusion, and environment and ecology."
While there is no set formula to sustain growth through CSR, companies today are going the extra mile instead of limiting themselves to simply donating a percentage of their annual profits. Johnson & Johnson is one such company, which has recognised that consumer sentiment plays an important role in business growth. The move to CSR as a fundamental strategic priority is imperative since it can underscore a firm's commitment to the community and its interest in endeavours more meaningful than profitmaking alone. Vikas Srivastava, Managing Director, Johnson & Johnson, Consumer India, says, "Johnson & Johnson's business leaders around the globe have rendered significant focus to our credo that focuses on taking ownership and responsibility. Our CSR and community engagement initiatives primarily focus on issues pertaining to women and children's health and well-being, strengthening healthcare workforces, and reaching out to victims of natural disasters. Our business was built on the belief that good health is the foundation of vibrant lives, thriving communities and progress. Consumers today want to feel good about their choices and for this, we need to have a positive social purpose that resonates with our consumers."
Stake-holders are important in the company's growth journey, which is why any social responsibility strategy must engage them and enrich their lives. That is something Castrol India does, through its engagement with truck drivers and mechanics, who are their key stake-holders. Omer Dormen, Managing Director, Castrol India Limited, notes "Truck drivers and mechanics are two key stake-holders who play a significant role in keeping the wheels of India moving. Through our flagship programmes, Castrol Eklavya and Castrol Sarathi Mitra, we are committed to making a positive impact on the lives of truck drivers and mechanics. The Castrol Sarathi Mitra initiative enables skilled, knowledgeable and safer truck drivers. The programme also offers eye check-ups and distributes corrective glasses, while helping them stay fit and healthy, and also providing financial literacy and digital training. Similarly, the Castrol Eklavya initiative provides mechanics with technical training and imparts skills in entrepreneurship, business management and financial literacy."
In agreement with this perspective is Vikas Goswami, Head – Sustainability, Godrej Industries who points out that CSR cannot be only about how you spend your money, but also how you make it. She insists that it cannot be viewed as philanthropy, but should be seen from a larger perspective, in terms of how businesses impact the wider ecosystem and all stake-holders. "I am willing to say that it can be strategic philanthropy but it has to have a business rigour and a business mindset to be successful for both, the corporate and the primary beneficiary. My argument has always been that CSR is not just about how you spend your money, but it's all about how you actually make your money. Are you dealing with your stake-holders responsibly, be it your employees, your customers, your neighbours, your consumers, your suppliers or even the environment? CSR is not about how you're spending profits, but it starts with business operations," Goswami asserts, adding that corporates must show more responsibility in the way they do business.
While CSR is a mandate for organisations today, ethics and purpose are poised to be the key differentiators for companies in a hyper-competitive world. Anup Sharma Senior Director, Public Relations Consultants Association of India, says, "For organisations of today, the basic ethics and purpose of the business is the key business driver. Issues related to sustainability, globalization and advocacy on social issues are being taken up by organisations echoing the collective economic, political and social interests of society."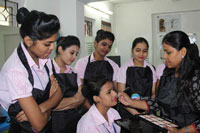 GREATER EMPLOYEE ENGAGEMENT
The culture of giving is one that definitely draws young talent. Therefore, aside from attracting and maintaining loyal consumers, companies must also look at it from the perspective of attracting potential employees. Financial services company Edelweiss set up the Edelgive Foundation not just with the premise of giving back, but also to mobilise the workforce. Vidya Shah, CEO, EdelGive Foundation, explains, "The idea was to build a culture of giving and that's how we set up Edelgive Foundation. That is the culture that we want to see trickling down across different levels and mobilising the workforce. Therefore, we have one of the most sophisticated employee engagement programmes today. About 72% of our employees are involved in Edelgive's various initiatives through financial and non-financial giving." Across the world, therefore, the sentiment has moved beyond just mere creation of wealth and jobs to making an impact in communities and the broader stake-holders. An example of this is environmental friendliness, Shah adds. Apart from Edelgive, various companies across sectors have sought to rally employees for a larger cause. Huria adds that Viacom 18 too encourages its workforce to choose the cause they want to support through their association with Project Heena. "This is better than taking the top-down approach where you tell employees what they should be concerned about. There may be employees who want to help with a project that is different, and why shouldn't they do what they are passionate about?" Huria says.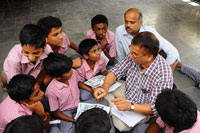 Media agency Essence too mobilises and conceptualises events to make a difference. Anand Chakravarthy, MD, Essence India believes in encouraging the workforce to make an effort in whatever way they choose to make a positive change for society. "The Global Citizenship Program at Essence encourages our teams to work with NGOs on relevant causes dear to their heart. As an organization, we provide resources to our teams as well as give them time off on working days to pursue this. Small beginnings, but at Essence it is very close to our culture of encouraging our teams to make the effort and have a positive impact on society," says Chakravarthy.
Importantly, the younger workforce of millennials in the country want to work for businesses and brands that also show responsibility beyond just their core business purpose. Therefore, CSR done genuinely can be a very effective tool in engaging both existing and potential employees and even partners.
The next generation of film-makers and media professionals at film, communication and creative arts institute Whistling Woods International (WWI) are also being trained to be socially conscious through the institute's CSR initiatives. "As part of their academic journey with us, students are encouraged to not limit their learnings to their curriculum. Being future film-makers, they have the power to reflect their responsibilities through socially relevant content. The various CSR initiatives enlighten students and staff to be responsible, global citizens," explains Meghna Ghai Puri, President, WWI.
'Community is the very purpose of existence for a brand'

In the context of CSR, I want to go back to what our founder said which is still so true and valid after 100 years. He said in a free enterprise, the community is not just another stake-holder in business, but in fact the very purpose of its existence. And the entire ethos of the Tata Group over the last 150 years has been centred and built around this concept. Brand value doesn't exist in an island. It exists because everybody sees it as a valuable brand – stake-holders, society, consumers, investors and the employees. Society then views it as a brand that cares and protects. Once you establish that kind of trust and treat your consumers with utmost respect, you naturally build value for your brand.


S PADMANABHAN

Executive Chairman, Tata Business Excellence Group & Head Sustainability, Tata Sons Pvt. Ltd


"At the Mahindra Group, we believe that as a responsible corporate citizen we need to not only make profits but also invest in our communities. The Mahindra brand is a result of the multiple experiences that our stakeholders have with the Company. With the Group's Core Purpose being to challenge conventional thinking and innovatively use all our resources to drive positive change in the lives of our stakeholders and communities across the world, to enable them to RISE, we see a direct correlation between CSR and Brand Mahindra."
Rajeev Dubey
Group President (HR & Corporate Services) & CEO (After-Market Sector), Member of the Group Executive Board, Mahindra & Mahindra Ltd
OME CSR INITIATIVES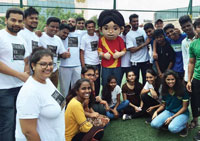 Viacom18
The network's Feed the Future Now campaign in association with the Akshay Patra Foundation aims to provide 5 billion meals by the year 2020, so that no child is deprived of quality education due to malnutrition. Its 'Donate a mile' initiative encourages employees to run once a month with Sudhanshu Vats, Group CEO, Viacom18, in support of Akanksha Foundation, an NGO for underprivileged children. The network also does a great deal of work in the arts and culture space and in the area of water, sanitation and hygiene (WASH).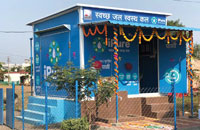 Sony Pictures Networks
India SPN's initiatives operate through an ecosystem built on its three-pillar framework - education, empowerment and environment. Under its umbrella theme of Ek India Happywala, the network has started investing in social initiatives to foster inclusive growth in society. The network carries out different initiatives to support education for girl children from underprivileged backgrounds. Through The Dhun Project, SPN uses music to rehabilitate prison inmates for reintegration into society.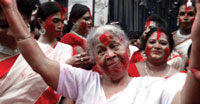 The Times Group
The Times Group has rolled out several initiatives in the area of CSR spanning across education, women's empowerment, environment, health and disaster relief. In recent times, the brand's award-winning Sindoor Khela campaign during Durga Puja in Kolkata championed the cause of those on the fringes of social acceptance such as widows, divorcees and transgenders.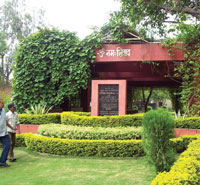 Dainik Bhaskar Group
Divya Bhaskar initiated a campaign which encourages people to use the term 'Jal Shree Krishna' instead of 'Jai Shree Krishna' while meeting someone, greeting someone or when somebody is seen wasting water. The Group, over the past 15 years, has also been organising blood donation camps on several occasions. Additionally the company also runs drives for eco-friendly Ganesh idols and environmental conservation.
Madison World
Madison has started a Madison Resource Foundation (MRF) two years ago. MRF has taken up the cause of making all visually impaired computer literate by adopting Tanya Computer Centre in Mumbai. Through the centre, MRF works to train visually challenged people between 20 and 70 years of age. MRF has now expanded Tanya Computer Centre to other geographies, with four centres coming up in Gujarat in the next month.
Essence
Essence has a specific program to encourage the teams to give back to society called the Global Citizenship Program. The project encourages employees to work with NGOs on relevant causes to their heart. The agency also provide resources to the teams as well as give them time off on working days to pursue this.
Sakal Media Group
Sakal Media Group, through its 70-year-old Sakal Social Foundation (SSF), works on several key programmes across the state of Maharashtra. The foundation's initiatives range from assistance during natural calamities to supporting farmers in the agriculture-dependent economy, education, women's issues and activities initiated to address urban concerns. SSF also has the benefit of three networks – Tanishka, which is a peer to peer women's network, AGROWON, an educative and informative agriculture based platform and EDUCON, a network of thought leaders and university heads to address the issues in India's current educational system.