In 1983, a year after the release of perhaps one of Michael Jackson's most popular songs, Thriller, PepsiCo struck a $5 million deal with the 'King of Pop'. This deal resulted in a decade-long partnership between the two entities, helping PepsiCo to achieve its objective of portraying itself as the 'brand of choice for the generation', while making its arch-rival, Coca-Cola, look like an old brand.
The resultant ad campaign featured an adaptation of Jackson's hit song 'Billie Jean', with a chorus that sang, 'You're the Pepsi generation/Guzzle down and taste the thrill of the day/And feel the Pepsi way.' The campaign forced Coca-Cola to change its marketing strategy to sport a younger look, turning former PepsiCo CEO, Roger Enrico into a marketing legend.
This is just one example of how the smart use of music can work wonders for a brand.
Times have changed since the '80's. While the advent of Digital has made it easier for brands to reach out to consumers through multiple touchpoints, it has also added to a lot of clutter, making the marketer's job that much more difficult. Today, to stand out in a world cluttered with content, a marketer needs to create something unique that can connect with consumers emotionally, compelling them to select a particular brand over another.
This is where music comes into play. Music as a tool, has the power to draw a consumer to itself, taking him or her on a nostalgia trip back in time, while at the same time helping to create immense brand recall. After all, who can forget Titan immortalising Mozart's Symphony No. 25 by using a tune inspired by it in its ads, or for that matter, Cadbury Dairy Milk's jingle 'Kuch khaas hai zindagi me' with the dancing girl, or Nirma's still popular 'Washing powder Nirma' song or Bajaj's 'Hamara Bajaj' song. All these songs, when played anywhere, create an instant connect, taking listeners back to some old memory associated with the brand.
In the current scenario, however, the use of music by brands to reach out to consumers is not restricted to jingles. Indeed, brands and other platforms are actively using music to engage with consumers and simultaneously promote consumer interaction with them.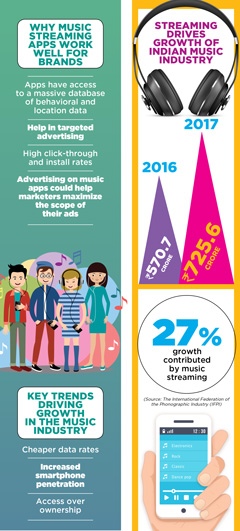 Streaming Platforms: The Next Frontier of Growth

It is a good time for music lovers or a musician in India. Cheaper data rates, increased smartphone penetration and better availability of internet network, have made music streaming platforms like Gaana, Saavn or Wynk, a huge success.

According to the International Federation of the Phonographic Industry (IFPI), the total music industry revenues grew from Rs 570.7 crore in 2016 to Rs 725.6 crore in 2017. This increase in revenue is the largest since 2011 and music streaming has contributed 27% to the growth of the overall Indian music industry.

That these platforms are doing well is clear enough from the kind of funding they are receiving. Recently, Chinese technology giant Tencent invested around $115 million in Gaana. Saavn also roped in two new strategic investors – New York-based Senvest Management and the global entertainment company, Endeavor from Los Angeles in 2017. It also recorded 3x increase in its profit in the fiscal year ending December 2017 and posted revenue of Rs 45.9 crore in FY17. Amazon Prime Music, which was launched in the United States in 2014 was finally launched in India this year. Also, the industry is abuzz with talks of the launch of Spotify, one of the world's largest on-demand music streaming services.

Thanks to an environment that is increasingly becoming conducive to online streaming, these apps are seeing a huge rise in their subscription base. While Saavn has over 22 million monthly listeners, Gaana's monthly user base has already touched 50 million monthly active users. The numbers suggest that music streaming apps have a substantial reach and a large chunk of their users are the youth. These two factors make music streaming apps a lucrative platform for brands to engage with their target audience.

Talking about how online streaming will further drive growth, Blaise Fernandes, President and CEO, Indian Music Industry says, "Our story in the past two years has been one of success as evident from an exponential growth in revenue. We're glad that digital music is claiming a larger part of the pie in line with the global trends. The numbers will go up further, once we get into the paid ecosystem. Subscription-based model is the only way forward for the industry to grow."

What is it that is pulling marketers towards music streaming platforms? Vinodh Bhat, Co-founder and President, Saavn says, "The majority of India's youth are growing up in an on-demand world. They are not consuming traditional television, and are on their phones almost all day. Music is the only repeat-use medium in existence and premium attention is of a strategic importance for every brand. As an engaging companion medium used throughout the day, music streaming delivers unprecedented, targeted mobile reach that marketers find impactful for generating demand."

Sandip Tarkas, Founder & Director of music streaming platform Songdew, that focuses on independent music and musicians, says the platform has access to 30,000 musicians and helps create a bridge between brands and musicians. On the opportunities in music streaming, Tarkas says, "We have been collaborating with brands in many ways. We have created anthems for brands like Coca-Cola, we have recorded festival-specific songs for Big Bazaar. We have also done campaigns with Marico, HCL and Fabindia. We have more than doubled our revenues last year and are looking at doing five times that number this year. We are very gung-ho about what the market has to offer and what we've got to offer to the market."

So what is it that has been driving growth for this segment? Tarkas explains, "We are reaching out to more people to open their eyes to the possibilities that streaming platforms can offer. Secondly, till date, crowd-sourcing for music content wasn't really a possibility, but we offer it and it's a huge value add."

WHY MUSIC WORKS
Music can work in different ways - it has the power to evoke imagery, moods, memories and stir emotions. That is the entire point of advertising and marketing, as well.
Thus, brands today are increasingly using music to build brand recall and craft new bonds with their target audience. Take for example German audio company Sennheiser that specializes in producing microphones, headphones, and telephone accessories. According to Saahil Kumar, Head of Marketing, Sennheiser India, "While we do a lot of music-related activities, the biggest thing we have done in the last three years is the Sennheiser 'Top 50'. We realized that there is a large chunk of audience that is looking at discovering new music and fresh artistes. Though there are a lot of fancy properties for established artistes in the market, there was not much being done to promote new artistes. Thus, 'Top 50' is aimed at building consumer affinity, and the response we have got in the last three years has been overwhelming. A lot of these artistes mention in their profiles that they have been a part of the property which goes on to show the kind of popularity it enjoys. It has really helped us grow our businesses, as well. Thus, through this property, not only are we able to reach out to new talent who want to test new gear, by providing them with a chance to use and win them; but this platform also helps consumers discover and indulge in high quality music. Even fans of our consumer business come to our events to be a part of them, and we believe this is the best way to forge customer connect, using music to our advantage." Sennheiser's Top 50 is all set to launch its third edition soon.
In a similar vein, Coca-Cola's Coke Studio, which made its debut in Pakistan in 2008, was later replicated in India, owing to the immense popularity of the property. Not only has Coke Studio helped to promote new talent, but it has also been instrumental in aiding Coke to up its brand equity quotient in the music industry.
Alcobev brands like Bacardi and Kingfisher too, use live music events like NH7, Sunburn, etc to connect with their core target audience - the youth. "Beer and music have always gone together. We have done a lot with music over the years – from big live events to partnering with big concerts, to doing multi-city tours, creating content, collaborating with artists, etc. We have been associated with Sunburn since its inception. Last year, we did the Justin Beiber and The Chainsmokers tour with Kingfisher Ultra; and Heineken also does a lot of music through its property, 'Live your music'," Samar Singh Sheikhawat, CMO, United Breweries Limited, tells us. He continues, "Our marketing strategy involves four different platforms – Sports, Music, Fashion and Food, and music has been an intrinsic part of how we work; perhaps the second-most important ingredient in our strategy, after sports. It is also very important for us to connect with our audiences through music, because we aren't allowed to advertise on traditional media." While continuing to associate with live events and concerts, Kingfisher is also working on a web series featuring independent artistes, who will create music content for the brand.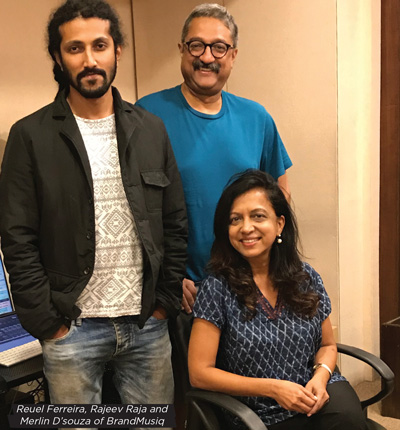 BRANDMUSIQ AND THE MOGO FACTOR
Former adman Rajeev Raja on creating unique sonic identities for brands, including a musical logo or Mogo


When Rajeev Raja and the late JS Mani launched their music branding enterprise, BrandMusiq in 2012, creating a sonic identity for brands was still a largely unheard of concept. At the time, Raja had a successful career as the National Creative Director at DDB Mudra, handling automobile brand, Volkswagen. However, his love for music propelled him to take a leap of faith, resulting in the birth of BrandMusiq.

The concept that the agency works on is simple - creating a sound identity for a brand. So for example, just like a logo represents a brand's visual identity, BrandMusiq is in the business of creating a sonic identity for a brand which includes a musical logo and other related elements – or Mogo, as the agency likes to call it.

Explaining the concept of Mogo and why every brand today should consider getting one, based on the brand recall it can create, Raja says, "Brands have used music in the form of jingles for a long time. However, a lot of jingles stop short at helping a consumer recognize the brand. That is just the tip of the iceberg. Music has the power to induce nostalgia, take you back in time, and bring back lots of memories; all of which can result in creating a strong emotional impact."

That said, it took some convincing to make brands acquire something they didn't think they needed. Explains Raja, "The years 2013-14 were two great years for us because we were lucky enough to find a lot of early believers who bought into the concept, which is still relatively new. We gradually started getting assignments and finally landed a big break when Standard Chartered Global came on board."

However, the agency's growth saw an abrupt halt with the sudden passing away of Mani in 2015. That was when Ajit Varma, who had earlier worked with Raja at Bates 141, came in. Fast forward three years, BrandMusiq has a good mix of clients from various industries, including Standard Chartered, Tata Salt, HDFC, Gold Flake, McDowell's No. 1, Royal Challenge, CNN-News18, Myntra and Kraft Heinz, Indonesia, among others.

So are brands showing an interest in the kind of work BrandMusiq is doing? Raja answers in the affirmative. "We have about five-six brands talking to us currently. And it's an ocean of possibility. Creating a sonic identity is not like creating a jingle, ours is a six to eight week process. We are creating something that adds to the brand's spreadsheet, which requires tracking and measurement of its impact on a brand's ROI. However, at the end of the day, brand owners need to have faith in the power of music to turn their brands around."
Earlier this year, Bacardi associated with content creators, All India Bakchod (AIB), for a property they called, 'Bacardi House Party Sessions (BHPS)'. The initiative looked at finding fresh talent to create catchy house party anthems. At the end of the competition, three winners were declared and the video of the first winner, Ritviz, went viral almost immediately. According to Ankush Manchanda, Head, Digital Marketing, Bacardi, "We want to be a part of today's culture and Udd Gaye by Ritviz, in our understanding, created a paradigm shift in terms of music. It still generates around 5000 new views on YouTube daily. Our thought process behind the concept of BHPS, was that we wanted to associate with music, but in a meaningful manner. We genuinely wanted to be seen as contributing to the industry's growth. Thus, we adopted this new route of associating with AIB from a distribution and content perspective, and with music artist Nucleya, because he is an authority on new-age music whom the community looks up to. This initiative also helped give a voice to lesser-known musicians. The name, 'House Party Sessions' was based on the fact that we have been very aggressively focusing on the house party as an occasion for the brand, which we wanted to link to music, given that the latter can help us build equity in the market."
HOW BROADCASTERS SCORE

We have seen brands increase campaign budgets to integrate music-related content. Music is a strong-reach platform with over 330 million unique weekly viewers. Music as a genre gets a 6% share on overall TV which is higher than genres like Sports, Infotainment and Lifestyle, English Entertainment. 9XM and 9X Jalwa have a robust reach on the U+R platform which accounts for close to 205 million unique viewers on a weekly basis.
PAWAN JAILKHANI
Chief Revenue Officer, 9X Media

The music cluster, especially in Punjabi, has been faring really well. We are soon going to launch another Punjabi music channel, PTC Music, after just launching PTC Dhol TV on Facebook and successfully running PTC Chak De for close to a decade. Punjabi music has become the most dominant component of Indian popular music now with every second Bollywood film having at least one Punjabi song.
RABINDRA NARAYAN
MD & President, PTC Punjabi Network

Mastiii has been a market leader and brands are excited to collaborate with us. While the Hindi music channels are doing well, the rise of regional cinema is ensuring a good growth of regional music channels too. It is giving a platform for local brands to partner with us and find value in their associations. Music is here to stay, and channels can grow through innovations.
KAILASH NATH ADHIKARI
Promoter, SAB Group

The next phase of growth in the music genre on TV will have to come from a seamless second-screen integration. In the case of Sony MIX and ROX HD, we have created on-demand shows where users are curating playlists through WhatsApp. When BARC made the shift to an all-digital households' people meter panel in July 2017, the music genre's reach and viewership went up by more than 20%. This benefit is being well received by advertisers focusing on youth.
NEERAJ VYAS
Business Head - SAB, PAL, Hindi Movies and Music MAX, MAX 2, Mix, Sony Pictures Networks India (SPN)

MTV Beats has been a huge success, with 35% growth over last year and 123% growth since launch in late 2016. The growth of the genre is clear testimony to the fact that overall consumption of music across platforms has grown, since we also see a clear growth in music streaming consumption. Brands continue to invest in music and are now looking at clearly customized solutions, moving away from commodity-based buying to more salient and affinity-based buying.
FERZAD PALIA
Head - Youth, Music and English Entertainment, Viacom18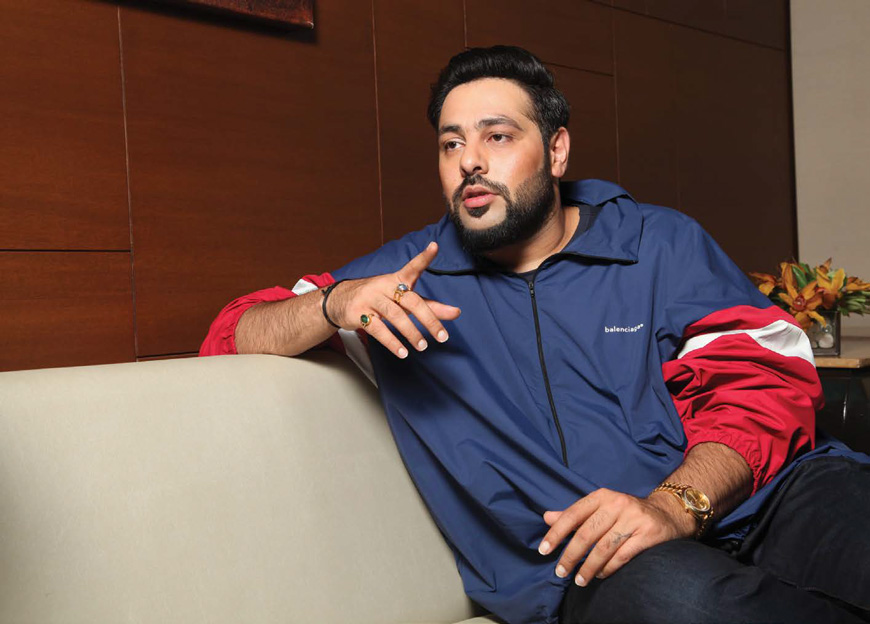 'Brands must know how to utilize someone like me'
Rapper and music composer Badshah, now an entrepreneur with an apparel brand (Bad Fit), restaurant (Dragonfly) and a music channel (Aaho) to his name, is venturing into content production. Here he talks about his experience of working with brands and how he balances his many roles

BY SAMARPITA BANERJEE

Q] You have composed music for a lot of brands… Have brands ever imposed their ideas on you?

Working with brands gave me the inspiration to create my own brands. On a serious note, my equation with brands has been very amicable. I have been working with Tuborg for three years now and this is my second year of association with Yamaha. It has been a good experience so far. Brands can impose their ideas on creative people. On a normal day, you would not see me singing a song about a scooter but that's my job now. It is difficult to write a song for a scooter and make it sound swaggy too. But that's where our skillsets come into play. It's a challenge but it also helps ignite the creativity inside you.


Q] In the overall marketing and advertising ecosystem, how important is the role of music? Are brands laying extra emphasis on the kind of music in their ads?

Brands have to be intelligent enough to be able to utilize someone like me. It all comes down to the marketing team, on how they can use what I have to offer, to their advantage. The current generation doesn't like to be told that they should buy a particular brand. They like discovering brands. That's something I am working on. I used the word 'Yamaha' in one of my songs, 'Wakhra Swag' and that's how the brand approached me. There was a certain Yamaha model I had mentioned in the song because of which the sales of that model increased. I want to sell products in the future, because I know how to do it.


Q] How different is working for brands in comparison to working for movies?

It's very different. It's like living in two different buildings but in the same area. In movies, they understand that creative freedom is important. Corporates probably do not understand it to that level yet.


Q] When you are working on a song for a brand, what is the topmost thing on your mind – the platform for which you are creating it, the target audience or the brand?

Creating a good song tops my list. If the song is good, it will reach a lot of people and everything falls into place from there.


Q] You started your first 'business venture' - that of renting out comics - when you were seven years old. Today, apart from being a musician, you head various ventures that span from a clothing line, a resto bar to a music channel. Have you always had a business streak in you?

I don't think I am a good businessman, but I have a sense of what is a good product. If you combine the right product with the right people, a bit of business acumen can turn it into the perfect combination.


Q] Your latest venture is Afterhours, a production house specializing in creating content that is already working on its first project, a webseries for Zee5. Tell us a little about the venture…

For me, it is all about creation. As a production house, I want to be the largest and the most versatile content creator five years down the line because the future is all about content. Whether you make a chapati or bread, you are going to need flour. I want to be the flour.


Q] But today, there are hundreds of production houses churning out content on a daily basis. How is your venture going to be different?

My thinking and my ideas will make it different.


Q] How involved are you going to be in the day-to-day functioning of the production house? What role will you be playing?

I will be involved in deciding the kind of work that the production house does initially but after a point, it all boils down to the kind of team you have. I co-produced a Punjabi movie called Ardaas which is the third highest grosser in Punjabi cinema. It was a huge success. I produced another movie after that which did well too. So I realized that I did have the acumen. The only thing I needed was a team to back my ideas. That is how the idea for Afterhours came about. We have collaborated with content creating platform One Digital Entertainment and they will work with us on different projects.


Q] With so many business ventures, will music ever take a backseat for you?

Someday it might. There is a possibility that someday I will not be able to make music that is relevant to the current generation. While I don't really want that to happen, everybody faces it. However, I hope that since I am aware that this stage comes in everybody's life, I will probably be able to handle it better.


BHPS, which first originated in India, has now been launched in five different markets across the globe. The property and the songs were such a huge success, that the brand is already working on its second season. At the time of writing this story, Ritviz's song had approximately 15 million views on AIB's YouTube channel and around 1.4 million views on his own YouTube page.
Yet another example of the innovative use of music to promote a brand is Cadbury Silk's Valentine's Day jingle this year, 'Kiss Me'. Parent company, Mondelez roped in popular YouTube star, Shirley Sethia and singer-composer Armaan Mallik for the jingle. Anil Viswanathan, Marketing Director (Chocolates), Mondelez India says, "Our focus, being market leaders, has always been to drive category growth. Silk has premiumized the category. When we launched it in 2009-10, we wanted to distinguish it from Dairy Milk. So all its aspects; be it the name, packaging, shape of the mould or the taste of the chocolate, was used to make it look distinctive. And in that context, music has also played an interesting role, since the brand's inception. Before Silk, most of the music for Dairy Milk had been in Hindi with popular celebrities, like Shankar Mahadevan endorsing the brand. What we did for Silk was highly stylised, was in English, and focused on the core attributes of Silk." He continues, "Working on a campaign is never really a linear approach. It's an organic process, where the agency and brand is involved. In this case, the jingle came through, and it became a popular element. The aim of using the Armaan-Shirley duo was an attempt to give the song a fresh twist and boost its popularity. The song was played like a single on music streaming platforms like Gaana. It worked really well for us because the awareness of Silk escalated."
After the jingle released, Cadbury ran a contest inviting customers to create their own version of the song and upload it on social media. "This led to a whole lot of user-generated content. The song was trending at No. 2 position on music platform, Saavn for quite some time, while also turning out to be a highly engaging activity for us," Viswanathan added.
Last year, Budweiser Experiences, a platform specially curated to shape electronic music culture in India, introduced Bud X in India, following the global success of its music partnership with Boiler Room, a global online music broadcasting platform. What followed was three days of workshops, talks, masterclasses and live DJ performances co-curated by Boiler Room. The sole focus of Bud X was to bring fans and artistes closer together in a collaborative, creative experience around the emerging electronic music culture.
Talking about Bud X, Kartikeya Sharma, Marketing Director – India, AB InBev says, "Budweiser Experiences has been at the forefront of redefining the electronic music culture in the country. For the last decade, we have cautiously taken steps to generate brand love and increase brand penetration by being an authentic voice in today's millennial's favourite passion point – music. We have been bringing the world's biggest electronic music festivals like Tomorrowland, EDC, Sensation to Indian shores and also building our own IPs – What's brewing and Bud X. India was the first ever market globally to experience Bud X that was held last year in New Delhi."
THE CHARM OF LIVE EVENTS
While a lot of the live music and experiential segment in India is still largely unorganized, marketers seem to have realised the power that such events have. Live music events are perhaps the easiest way for brands to reach out to their core target audience and make an impact. It may be the immense opportunity that the live music scene presents which has led to the growth of the industry, which stands at Rs 65.2 billion currently, according to EY's report 'Re-imagining India's M&E sector'.
One such example of brand promotion through a live event, is Red Bull's recent property, 'The Red Bull Tour Bus', where the brand transported fresh talent across the country in a bus. No elaborate stages were installed or venues hired by Red Bull, but instead the team travelled with the artists; the only infrastructure thus required being a consistent power supply. This is a great story of a brand embracing and owning an idea and then making it come alive. Over the last five years, the 'Red Bull Tour Bus' has travelled to 33 cities, hosted over 68 concerts and introduced approximately 215 artists, most of whom had never made their stage debut earlier. The property has become one of the most talked about events in the independent music scene in the country, and Red Bull has been winning a host of accolades from music aficionados for this property.
Music festivals present yet another avenue for brands to promote themselves as sponsors or advertisers, thanks to their widespread popularity amongst the youth in the past few years. Such festivals go on to become brands in their own right, apart from adding richly to the ecosystem they are a part of. One such classic example is NH7, which has made Pune a preferred destination for music lovers to unwind and experience various brands, while also enjoying good music. Similarly, Goa also routinely witnesses a spike in tourist visits during the Sunburn music festival.
Explaining how live entertainment, which is already witnessing an upward trajectory, can witness further growth, Sabbas Joseph, Co-founder & Director, Wizcraft International says, "The real money for the live entertainment scene won't come from within the industry, but from outside. We live in a world where we benefit from the Jio effect, living on a digital wireframe that envelops all of us. We now have online ticketing, and technology like virtual reality can really take the experience outside the room, capturing an event in its entirety to be played at another time. A live venue might host 200 people, but it can be witnessed by thousands of others on digital platforms. Our reach and opportunity has thus expanded. And sensing and catering to this opportunity is what the real story is all about."