Stephen Allan, Worldwide Chairman & CEO of MediaCom, is a proud man, and with good reason. The media agency network he heads was named the most successful global new business performer for 2018 by the research company RECMA earlier this year. Globally, MediaCom won $2.76bn worth of new business - more than any of its competitors - in 2018. On his visit to India, a market which he has always been bullish about, Allan is quick to decode for us why MediaCom - which no more calls itself a media agency, but a Content+Connections agency - stands out in its domain.
Says Allan, "We are now in a world where marketing is becoming increasingly data-informed. Agencies are using big data to help inform them about their potential customers, understand the consumer's consumption behaviour, etc. Any advertiser who has called for a new business pitch would hear from all the agencies present that they have the best data, technology and platforms. Actually, it's about what you do with that data, how you translate that insight into a campaign; and find a connection from a communication point of view. Only then will it translate into successful business results. It's people who actually turn data and insights into ideas. So we at MediaCom are very focused not just on data, which is absolutely the key, but also at what we do with that data to make it purposeful, meaningful and profitable for our clients. That is the feedback we received from the clients we pitched to."
INDIA IS 'PRIORITY'
In January 2017, WPP's GroupM acquired a majority stake in MediaCom India, a joint venture between GroupM India and Sam Balsara, Chairman of Madison World, who was the principal shareholder with controlling stake. The acquisition was in line with WPP's strategy of investing in fast growth markets, new media and digital. In the year that followed, i.e., in 2018, MediaCom India led by Navin Khemka, registered a 18% growth, having won some big clients like Vivo, PUBG, Adidas, Reebok, Hilton Hotels, etc.
When asked how the India business will contribute to MediaCom's fortunes, going forward, Allan said, "Recently, when I was in Australia, I was asked where I thought growth was most likely to come from for MediaCom. In geographic terms, my answer was 'India'. Though advertising spends per capita is relatively low in India as compared to the US, as the consumer economy grows here, and people find themselves with more disposable income, particularly in the rural areas, we will find companies investing more to try and win the business from those people. I am very optimistic about India, in fact always have been. Yes, sometimes in the past I have been a bit disappointed because it didn't move as quickly as I hoped, but right now India, along with Philippines, is the fastest growing consumer economy and from a media growth point of view as well."
MediaCom India has topped independent marketing consultancy R3's New Business League rankings (December, 2018) with an estimated YTD revenue win figure of Rs 53.6 crore and 11 new wins. Navin Khemka, CEO, South Asia, MediaCom says, "We are the Number 1 agency in India as far as new business is concerned, thanks to all the local and global wins that we had in the last 6-7 months. India as a market is booming and we want to grow with it. For that, we will be launching some new practices and new specialist units. Also, there are people who will be taking on additional roles to help us activate this growth."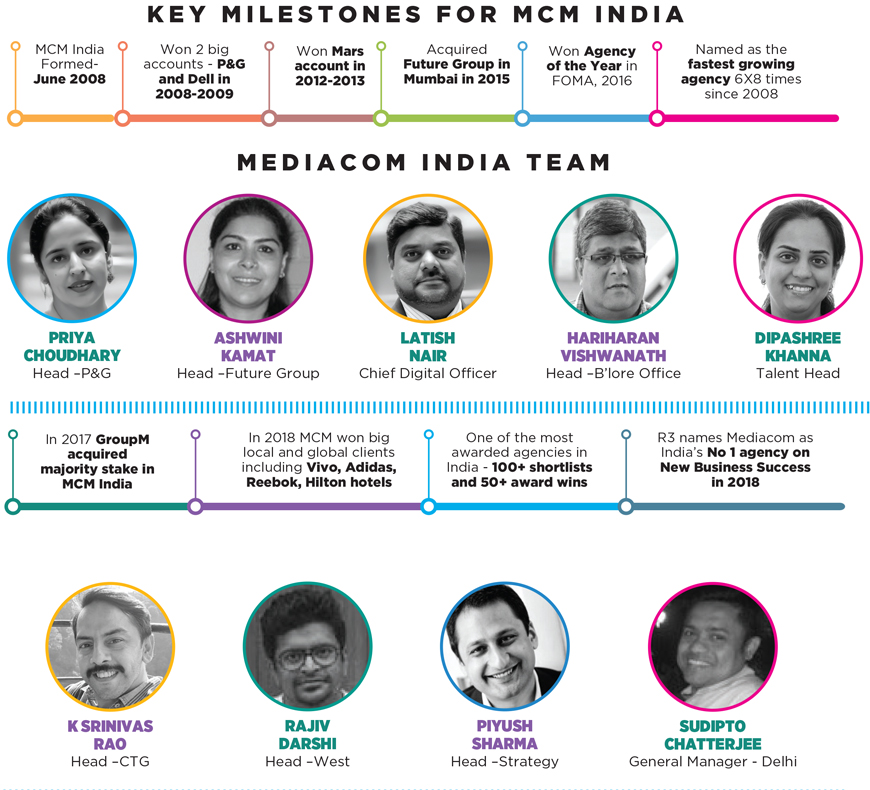 THE GROWTH STORY
Globally, the advertising investments and growth is coming from the 'new economy clients', performance companies and technology platforms. Allan points out a trend only specific to India, "India is different in that sense, CPG or packaged goods companies are still growing here. This is one of the few markets where we are very enthusiastic about packaged goods companies, to some extent more than the new economy clients."
But at a time when the global economy is stagnating and consumer spending is slowing down, how difficult does it become to grow brands? "Many brands need to get back to focusing on growing the topline rather than just looking at the bottom. And I genuinely say that because there comes a point in time with every business when it can only remove so much cost. I think the power of brands is still really meaningful, especially in a technology-driven world dominated by Google, Uber, Airbnb, etc. The problem with technology-based companies is that there can always be someone who can replicate that technology and sometimes do it better than the first company. That is where brandbased companies do better. So I feel the tech platforms that go about building their brands will have a much more sustainable and longerlasting business than the ones who don't."
The year 2018 has been a fairly good year for MediaCom, from winning big ticket accounts like Mars ($1.8 billion), Adidas ($300 million) and over 150 others as per the latest R3 Worldwide Global New Business League rankings, to being named the Media Network of the Year at the 2018 Cannes Lions International Festival of Creativity. Globally, MediaCom also retained the Shell business.
Among its losses, MediaCom, which had picked up global media duties for Revlon in 2017, lost the account to Initiative. It was believed to be a $550 million account, and MediaCom had held North American duties for Revlon for seven years. In India, it lost Spykar to Zenith.
One would assume that it would be easier for an agency to spread its wings and make a global footprint now, considering that technology and globalization are making it easier to enter new markets. But Allan has a slightly different take. He says, "I don't think technology has made it in any way easy to enter new markets. Yes, technology helps connectivity between markets and within a market, but in the end, the key for entering a market is always about finding and having the right people, those who can understand our DNA and our approach." MediaCom now has 120 offices in around 80 countries.
TALENT & MARKETS
Elaborating on the global mobility programme, where Allan claims Indians outshine the others, he says, "All our people, particularly the younger people, love to have that opportunity to learn and find out about new markets and new cultures. For us as a company, it gives us an enormous and immense diversity because it means that we're bringing people into markets from different cultures, backgrounds and communities. When they arrive at their destination market, it gives us a much more rounded approach to that market and to our client's business. India has been a fabulous exporter of talent. India has a very rich pool of media talent and some of the most senior people in our network originate from India and are leading key pieces of business for us and have moved to other markets in and outside the broader Asia region."
So which are the new frontiers that MediaCom plans to invade in 2019? Says Allan, "There are very few markets that we are actively looking at entering. Our footprints cover the markets that our clients are in. A little while back, we had a number of clients expressing interest from Iran, but there are a lot of political and banking difficulties around that which make it quite difficult for US-listed companies to be directly involved. Brazil is another interesting market actually – it is one of the world's largest media and advertising economies; there they want all the media and creative bundled together in what we would know as a full service agency, especially as far as buying for Television is concerned. That is a hard barrier for us to cross. I would say markets we are looking at right now are particularly around the Caribbean and Central America, where we have a presence but more through partners and affiliates. We would always rather have ownership and control. Japan is also quite an interesting market. I was in Tokyo last week. We have a good business there, but it is a challenging market because Japanese agencies, of which there are three dominant ones, really do dominate that market. Japanese culture is very strong. You cannot get into that market with an American, British or even Indian cultural approach – that's not going to work. It has to be organic and local to that market."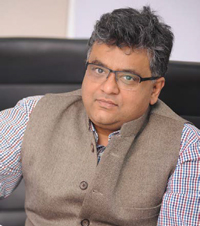 'Our USP is global thinking, systems planning'
NAVIN KHEMKA
CEO, South Asia, MediaCom
Q]

You have earlier helped grow GroupM agencies like Maxus, Wavemaker and now MediaCom. What separates MediaCom from the rest?
MediaCom is one of the five media agencies of GroupM having all the critical departments of content, digital, traditional planning, data, etc. Why it stands out is because it is very globally aligned in terms of the businesses that we handle - global thinking, systems planning, the way we approach our problems and provide solutions for all our key clients. Therefore, we follow the entire global process religiously here across all our clients, which is the reason why we are extremely successful in the global businesses in India. We apply the best global practices and are able to win locally too.
Q]

Would you comment on some of your recent account wins in India?
In the last 5-6 months, we have won a significant amount of local business. Some of the big accounts are Vivo, PUBG, Adidas, Reebok, Hilton Hotels, etc. And there are a lot of new local clients on the radar right now. Clients are seeing the differentiator, the fact that we have the best in class learning, best in class tools and tools that actually work, and can show the difference it can make to the client's business, etc. Another factor is that we are totally integrated. Our digital planners and TV planners are all integrated into one team. Therefore, we are able to think more holistically.
Q]

WPP has been on a drive to tighten operations and cut costs in a big way. How has that affected MediaCom?
It hasn't affected us at all. It will affect units which are seeing a stagnation of revenues and stress on revenues. We, on the other hand, are a growing company and WPP understands that. I have all the support and investment coming in from the group. So, I have not seen any pressure on MediaCom to cut cost. In fact ,we are on a hiring spree at MediaCom India.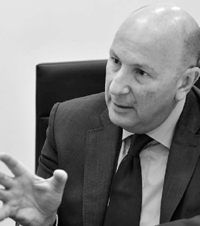 'We will make MediaCom the No. 1 media network by 2021'
On his recent visit to India, Stephen Allan, Worldwide Chairman & CEO, MediaCom, tells Neeta Nair that he has set a target to make MediaCom the No. 1 media agency network in the world in three years' time, and how the India business has an important role to play in it
Q]

The year 2019 is expected to be a great year for Indian advertising, considering that we have the General Elections, the Cricket World Cup, the Indian Premier League, etc. …what kind of growth are you predicting for MediaCom India?
We are forecasting a minimum of 20% growth over the 2018 figures for MediaCom India in election year. Even in 2018, the percentage of growth we enjoyed was more than the average market growth, by some distance. Even in this year, I hope we will exceed that.
Q]

What do you think of the growing Digital advertising market in India and what are the challenges?
If I were to look at the overall market in India, for every $100 of investment, $15 is spent on Digital here. In the UK, the market of our origin, as also in the US and Australia, $51 would be on Digital. So Digital penetration, as it relates to advertising investments, is still low in India. For MediaCom, our investment, on behalf of our clients, would be more than double at 31% in 2018. So we're definitely ahead of the curve. Also I'm not surprised that we've got some sophisticated and small clients who see the opportunity in Digital. So, Digital investment in India is growing very quickly but in relative terms to the rest of the world, it is still at a low base.
Q]

There was a time when big traditional media accounts were the most sought-after, like those of a Maruti or HUL… what would be more profitable today, winning a Digital media account or a traditional media account?
All clients make me happy. I am not fussy as long as they are legal, honest and decent, we're happy to work with everyone. On a serious note, what I find interesting is that the new economy type clients, i.e., the online clients who don't necessarily have brick and mortar stores are less concerned about the cost of the TV rating point and about agency fees. This does not mean that they are not tough, but their focus is all about their business outcomes. They don't measure by reach or eyeballs, they measure the number of customers they have gained, how many products did they manage to sell and the ROI.
Q]

What does a MediaCom client want today… best of integration or the best of specialization?
Actually, clients want everything. Like the saying goes 'Have your cake and eat it too', I think clients always want the best people that are available and at the same time they want everything joined up. It's an important point because within WPP, we have brilliant people right across the group who specialize in all kinds of areas that may not be core to MediaCom. Increasingly, we are bringing those people to our clients. We worry less about the words written on the business cards. Secondly, what we do as a network is systems thinking. It means that in today's world, everything is connected. When you watch television, you are perhaps also fiddling with your mobile phone, so you are using them both at the same time. We can use that behaviour to the brand's advantage. For example, I watch something on TV that prompts me to do something on my mobile phone like visit a certain website. Historically, what did agencies do and what some still do is that, they think about the best way of using Television, best way of using Mobile and the best way of using Radio. Instead, what we do is ask a different question -- what is the best way of combining these platforms and channels to get your attention and make you buy something.
Q]

Globally, WPP is encouraging a greater collaboration across agencies by merging its disparate brand offices into large, campus-style hubs, even here in India … would that open new doors for MediaCom? How?
In many markets, we find that GroupM agencies are segregated and located in different places for reasons of confidentiality, for the sake of clients. In other markets, and China is a great example, there is a WPP campus and that has been very successful. I have just attended a client meeting where they have expressed that the needs they have may be better served by a certain other part of WPP. Sometimes, in a market like China, where everyone is in the same building, it is in fact easier, when you can just walk to a different floor and talk to the people who are doing the PR, brand identity, etc. So overall, campuses can certainly be more useful and Mark Read, our new CEO, has said clearly that is the direction that WPP is moving to.
Q]

What are your plans specific to the India market and the larger APAC market, in the next couple of years?
We talk very much about being one MediaCom. I don't think necessarily what we want to do in India would or should be different from what we want to do globally. What we are focused on globally is growth in two ways. First, how can we help our clients grow their business, and we do that through systems thinking. What's really exciting about it is that it allows people in Delhi to talk to their colleagues in Manila, Toronto or Paris in real time where they may be working on the same client and product. It helps them share their ideas for clients and their campaigns with each other in real time. Second, growth of our people - we give people the best opportunity to grow their careers, by giving them lots of support, training, development and feedback.
Q]

According to independent research company, RECMA, during your tenure as Worldwide CEO & Chairman of MediaCom, the company jumped from being the world's 7th largest media network to the world's 3rd largest media network… Do you see yourself moving towards the Number 1 spot in the near future?
In three years' time, we will be the Number 1 network. We have just set that target. But even from Day 1, when I started my global role, it was always an ambition to become the number one global network. We have come a long way up the table, but we are ambitious and have got to go further. But, it's not really about being the Number 1 for the sake of being Number 1. I have this belief that if you are doing the best work, then in the end hopefully you get bigger because you are good, not good because you are bigger.
Q]

P&G, Future Group, Dell, Shell, Mars are some of MediaCom's oldest clients in India… which of them could you meet on this visit to India and what have been their key concerns and expectations from MediaCom?
I have met many clients in the course of the last few days. So, here in India, today I met with Vivo, which is a really interesting company that came out of China. They are very ambitious and we love working with them. Before that, I met clients from Sony, Dell, P&G and Mars as well. There was one thing common in all of them, whether they were clients from Japan or clients in China, or those here in Delhi, they were all curious to know what it was that was happening in the other markets that they are not doing in their markets. Basically, everyone had a bit of fear of missing out or FOMO. Obviously, as a global network, our job is to make sure that we take great learnings from one market and re-apply it in another market.
Q] What are your expectations from your India leadership….and what is your advice to Navin Khemka?
We are very excited to have Navin. He got off to a great beginning last year. I mean, what a way to start by winning the Agency of the Year, lots of clients locally, being an important part of the global wins that we enjoyed last year like Mars, Adidas, Hilton, Reebok, and many others. But, more importantly I think here in India what Navin and the team have managed to do which is incredible is that their retention rate is unprecedented. I am so proud of the fact that they actually have gone seven years without losing a local client. I don't think I can think of another agency or office that can claim that. That says everything - so Navin is very client-focused but at the same time, ambitious to grow the business and win new clients.