As Kerala tries to battle the fury of the floods, an upheaval of sorts has shaken up the media and advertising domain too. The issue of discounts being offered by media agencies to advertisers during pitches in order to bring down rates and win the business has been taken up by the Indian Broadcasting Foundation (IBF). Last week, in a first-of-its-kind step, IBF Director Punit Goenka sent out an e-mail (see box on right) to all agency heads asking them to abstain from the practice of offering discounts to advertisers on behalf of broadcasters without prior approval from them. The Indian Newspaper Society (INS) too has been talking about the same issue in the Print domain for a long time now.
WHY HAS THE ISSUE CROPPED UP NOW?
The issue has been brewing in media circles for a very long time but there are three reasons why it has come up now:
• Increasing number of media pitches with pricing and cost-cutting as the driving factor
• Media companies have finally started feeling the pinch of loss of revenue and spiralling media costs
• Media agencies themselves face revenue loss as they have to lower rates in order to retain or win business
Giving discounts to clients is not unfair, but giving it without the consent of the media owner and not leaving any room for negotiation is the issue which is being addressed by this letter sent out by IBF. The INS has reportedly taken up this issue with the Advertising Agencies Association of India (AAAI) and would soon be taking it up with each agency one on one.
SO WHO'S BREAKING THE PRICE?
It always takes two to tango and here too, both the parties are liable - broadcasters and agencies. With intense competition and the increasing penetration of digital media, certain broadcasters sell out their residual inventory to a few media agencies at wholesale or discounted rates. Also, during the pitch process, agencies commit a much improved yield with lower media costs and go back to put pressure on the media houses to reduce rates to sell their inventory. There have also been instances where agencies shift the entire media mix of a particular advertiser towards those channels or media from where they have received lower rates, bringing down the overall media cost, which eventually brings them the advertiser's business.
While the advertiser's procurement team goes back saving cost, not knowing the impact of the change in media plan, it is the agency and media owners who have got themselves into a deal that is detrimental to their business growth. "The problem is that agencies in order to retain business or win new business go ahead and commit a much improved yield to their clients without even consulting the affected parties. While there are some media houses that refuse to succumb to rate pressures by agencies, there always are some that give in to their demands and this turns unpleasant for the guys who say let's play clean," says Joy Chakraborty, President, Revenue, TV18.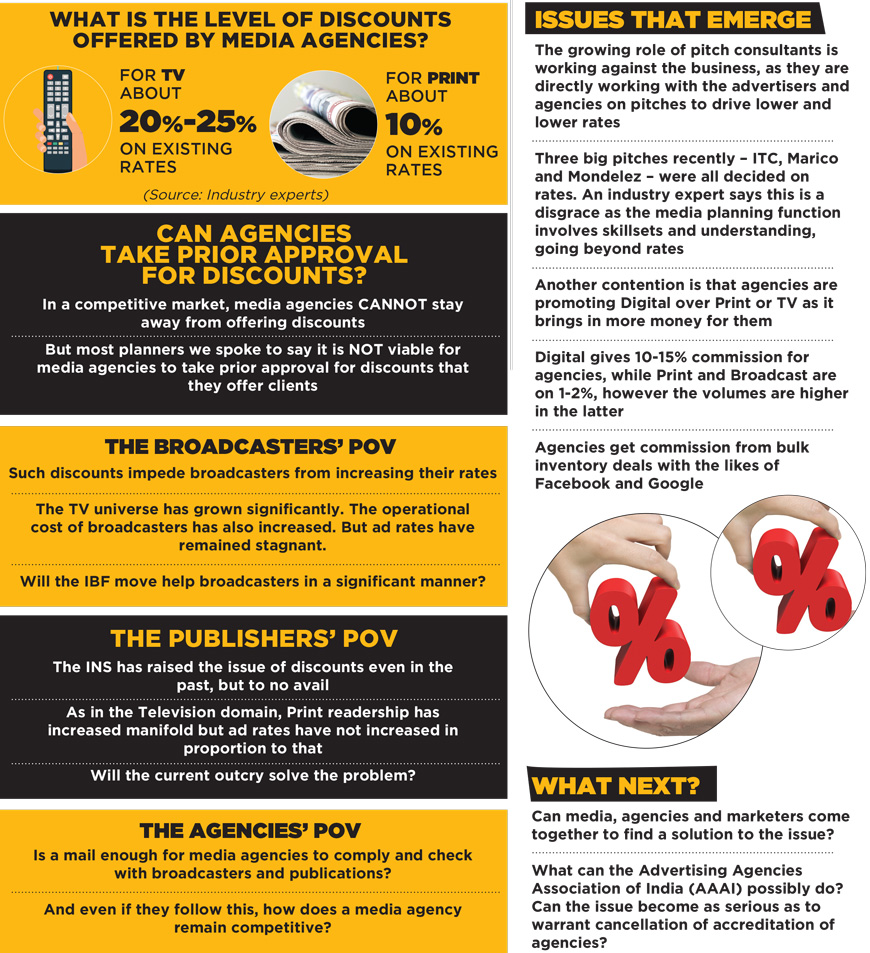 The move by IBF is an attempt to bring these deals and transactions to the level playing field from the current 'clearance sale rates'.
It is interesting to note that despite growth in the total TV viewership - 836 million TV viewing individuals in 2017, up from 780 million in 2016 - and a spike in viewership in Hindi Speaking Markets (HSM) and South markets, rates of mainline channels have not gone up. Rates have gone up in the genres which were anyway very cheap earlier, like Free To Air (FTA) and regional channels.
ROLE OF PITCH CONSULTANTS IN QUESTION
Sometimes, the discount issue is triggered even before media duties are up for review and the role of media auditors is questioned in the process. Media auditors, who also take up the role of pitch consultants, seek rates of competing agencies in the pitch and guide their clients (the advertisers) towards the best deal that will work for their brand. However, since these firms are aware of the best possible discounted rates that the media houses can offer, it leads a client to review their media costs. "When media auditors do the media audit they guide the advertiser from their perspective that a particular media buy can be done cheaper, which triggers a thought in the advertiser's mind to pitch and see if they get a better price," says Ashish Sehgal, COO, Zee Unimedia Ltd.
This is one of the reasons why we see increase in the number of media pitches or reviews happening even before the stipulated tenure of the business. While media review of accounts like Samsung and Vivo are under way, recently concluded pitches like Mondelez, Wipro, ITC, Nestle, Marico, Reckitt Benckiser, Titan and the like have reportedly seen major drama in terms of the change of entire media mix that eventually brings the media cost down and decides the pitch outcome.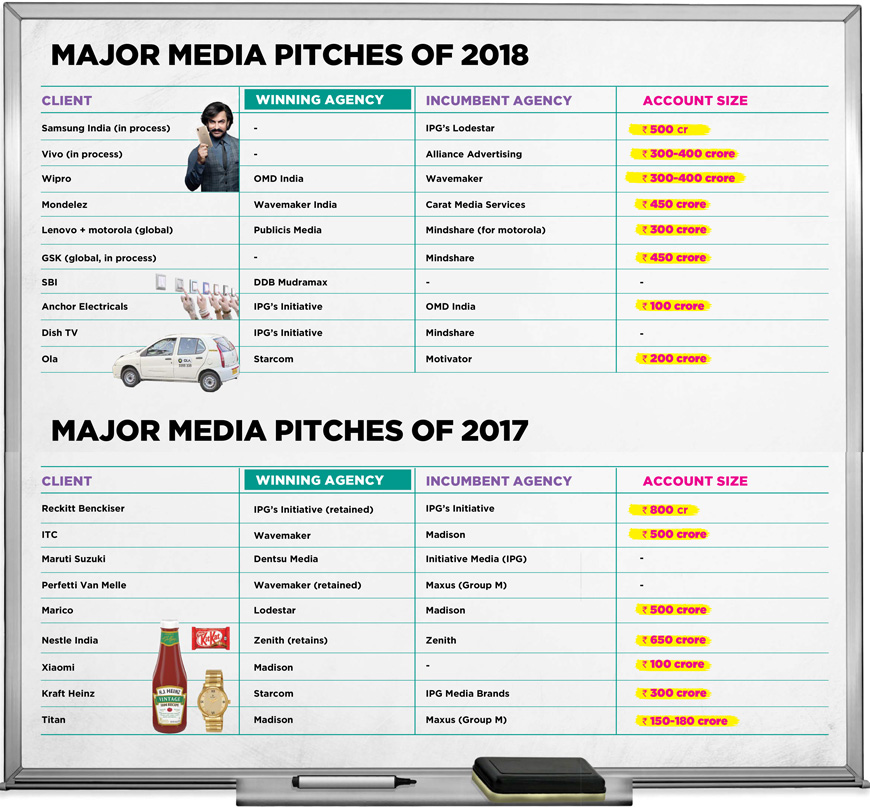 When asked whether the growing role of pitch consultants is working against the business in terms of driving media costs/ rates down, Vineet Sodhani, CEO, Spatial Access says, "At least Spatial Access believes that the role of a pitch consultant is to drive value for the client and that could be done in many ways."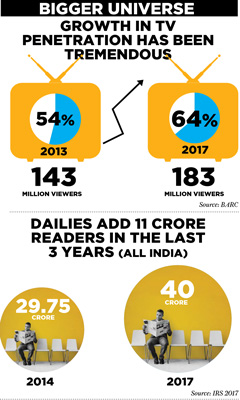 PROCUREMENT GUYS MAKING IT TRANSACTIONAL
The advertiser too is as guilty in the process. With most large organizations having a procurement team, even for marketing activities, the cost-saving function squeezes talent and creativity out of marketing, which is measured majorly in terms of discount delivered. However, this saving is not being achieved in a very scientific manner. It has now come down to a commoditised rate negotiation and haggling due to which value delivery gets affected.
When asked if frequent pitching is hampering brand-building or is it making the overall process very transactional, Sandeep Verma, President, Bajaj Corp says, "Yes, too frequent switches do hamper your brand-building a lot, but sometimes it just becomes a necessity and you have to go through it like a relationship breakdown. But it very rarely happens because of very significant cost advantages coming your way."
However, talking about discount offered in media pitches he says, "Such is the nature of a media agency pitch. Because the savings you get are very significant, it does impact the pitch essentially. It doesn't determine the outcome of a pitch entirely but it is one of the factors for a media agency relation."
SHIFTING SPENDS TO DIGITAL
It is an open secret that agencies today push digital over other media to earn better commission and also get benefits out of bulk deals with the likes of Facebook and Google. Apart from being the 'new media' and being where the customer is, digital actually today gives a commission of somewhere between 11-15% whereas the commission that media agencies get from Television and Print has come down to 1-2.5%.
WILL THIS BRING UNITY AMONG MEDIA OWNERS?
If industry bodies are serious about the issue and if the market leaders in respective media verticals hold on to their rates, the channels or newspapers coming lower in the pecking order will need to face the brunt because that is where the discount will come from.
"We need to find a solution within ourselves too. Just an agreement in letter and spirit among even the top fivesix networks, that they will not reduce the rate given to an incumbent agency when the account shifts, itself will solve the problem. At the end of the day, it is broadcasters who are succumbing to pressure because of lack of unity and the advertiser is taking advantage of this," Raj Nayak, COO -Viacom18, told exchange4media.com. "I don't blame the agencies because they have no skin in the game and they will do anything to retain a client or acquire new business. Having said this, there should also be a stringent punishment which could even mean cancelling the agency's accreditation if they continue to disregard the IBF guidance on pitching for new business and work in a manner that is against the overall growth of the industry".
However, an industry expert unwilling to be named said, "Unity among publishers is a big problem because of cost structures. Costs, be it content or input costs, are going up. But advertising rates are down. Consolidation, though desirable, I don't see happening because of the basic nature of ownership pattern."
"Agencies have no right to discount a newspaper's rate without permission. The rate has to be given by the publication, not by the agency. Ask us to give you a low rate if you want it. It is up to me whether to give it to you or not to give you. INS's stand is very clear, that you have to take the rates from the publication. We have been saying this not today, not yesterday but from several years now," says Hormusji N Cama, President, Indian Newspaper Society (INS), Managing Director of Bombay Samachar.
What will certainly help is transparency from all stakeholders at this stage, of course within the ambits of the advertising industry that runs on relationships, and confidential negotiation on the basis of relationships is a part of everyday life.
"I never used to give rates. Until some years ago, as a strict policy, Madison never used to offer any rates or even give an indication of the rates to a client, because I knew that it was not the correct thing to do. In any way, I don't want to win a business just on a lower rate. It has to be so much more than that."

"I never used to give rates. Until some years ago, as a strict policy, Madison never used to offer any rates or even give an indication of the rates to a client, because I knew that it was not the correct thing to do. In any way, I don't want to win a business just on a lower rate. It has to be so much more than that."

SAM BALSARA
Chairman, Madison World

'Price is a function of supply and demand; that is best left between buyer and seller'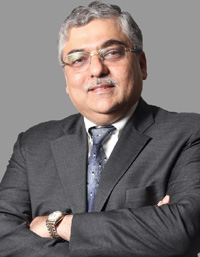 ASHISH BHASIN
President of Advertising Agencies Association of India (AAAI) Chairman & CEO South Asia, Dentsu Aegis Network Media India
Q] What is your view about IBF sending out letters to media agencies to get approval for rates from its members before offering discounts to advertisers?
First of all, price is always a function of supply and demand, and that is best left between the buyer and the seller. No outside force or association can or should influence that. However, in any situation where an unfair practice is taking place, I think we should collectively get together and ensure those kinds of things do not happen. To my understanding, from the letter I have received, IBF is essentially saying that when an agency goes for a pitch, it should not quote a rate for a particular channel without getting that rate from the broadcaster. I think this is a fair request, and there is nothing wrong with that. It is important to remember that this request is only pertaining to the pitches. This is nothing to do with existing client relationships or discounts. Theirs is a fair request also because I think we as an industry are going down a suicidal path sometimes. If somebody is selling, he is the owner of the goods /services he sells - it is only fair that you get his consent before you price it. Nothing wrong with that.
Additionally, there is another matter which I think is influencing heavy discounting in pitches. Some broadcasters are selling their inventory in wholesale to some entities or companies that are operated by some agencies or other third parties. Once you have that, then at the time of a pitch that can always be used to discount much further. That is not a great practice, and that should stop because at the end of the day an agency is supposed to represent the best interests of the client, and therefore shouldn't be buying in wholesale and selling in retail because then you are no longer acting in the best interest of the client. You are instead acting in the best interest of the inventory that you might have. When you are buying inventory in wholesale, then you can use that unfairly in pitches to further drive prices unrealistically down.
Q] What are the kind of discounts agencies offer?
That's very hard to say. It depends on publication to publication, channel to channel, etc. In any case, even in regular media planning, there are discounts available. Discounting is a regular business practice – when you think about it, in the festive season it is more difficult to get discounts while in the monsoon, you may get more of a discount.
Q] Do you think agencies will follow the directive from the IBF?
I think they will and they should because agencies are pretty sensible and in general want to follow good business practices. I really don't believe anyone will have a problem with what was asked.
Q] How will this directive impact agencies? Will it affect business in any way for agencies?
It won't make any difference because I don't think too many agencies offer these pitch discounts without asking the broadcasters anyway. It would be pretty silly for anyone to do this. For example, if I go and quote a rate from a channel, and then tomorrow the channel doesn't give me the rate I quote at the time of pitch, the client will hold me responsible. So it doesn't make sense for agencies to do this.
'See the ROI from the media cost; also see the value coming from the agency'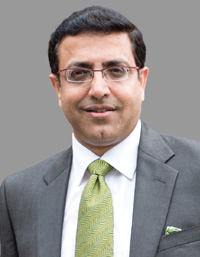 SUNIL KATARIA
Chairman, Indian Society of Advertisers (ISA) CEO - India and SAARC, Godrej Consumer Products Ltd
Q] Recently, the Indian Broadcasting Foundation (IBF) sent an email to all agency heads asking them to abstain from the practice of offering discounts to advertisers on behalf of broadcasters. These discounts are behind advertisers trying to pick the agency giving them the best offer, leading to frequent movements in accounts. Is it making the brand building process very transactional?
I don't think any advertiser who is meaningfully committed to brandbuilding will look at this only from a pitch transaction point of view because frequently changing agencies for pitch is not healthy. Media plays a big role in brand building. Finally, all your strategies get delivered through strong media executions; otherwise all the money being spent will be wasted. So nobody would do this just for the transactional change or money.
Having said that, at the same time, India is one country where media is one of the most expensive pieces. Media inflation is crazy. Even in the toughest of economic phases in the last two-three years, media inflation hasn't really come down. While we understand that inflation is finally the outcome of demand and supply, it's a fact that everybody is looking at maximizing their return on investments and this is the largest investment that any FMCG company or any advertiser in any industry does. So it can't be only seen as a transactional piece. It needs to be looked at as a combination of an agency that brings value to your brand-building through media buys and also gets it at the right value for money or the right ROI. In that, both have to be seen together. The ROI that is coming on the table from the media cost, at the same time, see the value that is coming from the agency.
Q] What is your advice to media agencies in such a scenario?
My advice would be, obviously, if you are going to make media a commodity, that battle will be fought only in terms of rates. Then you cannot blame the advertisers alone on this. I think the key is, what is the value you are creating beyond a cost, because if it's going to be a cost game, one can directly go to broadcasters and print media and directly negotiate. And we have heard of some advertisers doing that too. So for media agencies, the key piece is for them to realize that their role is not limited to arbitrage in between, but it's about value addition.