Several media and creative agencies in India saw new top executives take charge in the last one year. With this new leadership in place, expectations run high as the industry is right now grappling with a dynamic market and rapidly evolving ecosystem. While agencies across the creative and media spectrum continue to produce outstanding work, the new leaders at the helm believe a lot needs to be done in the area of client-agency partnerships, strategic thinking, planning and in scaling up to become future-ready. Here, we explore the agenda before the new leaders who assumed office between August 2017 to July 2017, the challenges they face and zero in on the changes they wish to drive across the industry and in the agency business model.
BETTER AGENCY-CLIENT TIES
The Indian media agency business is at the crossroads where many agencies are looking for growth but are facing severe margin pressures. If agencies are going to focus on growing on the back of new businesses while keeping their rates low, then the industry will struggle to sustain itself, believes Kartik Sharma, CEO, South Asia, Wavemaker. He explains, "Growth is only possible when agencies make a reasonable margin and not the way business is conducted currently at the back of lower rates/costs year on year. If the current way of business continues in a few years, it will not be a sustainable model and good talent will not come to this industry. Clients too need to understand this and compensate agencies accordingly. Some of the progressive clients are already moving in this direction. Rather than worrying obsessively about costs, the conversations are moving towards growing their business. We need more of these conversations, going forward."
Given how dynamic the industry has become, agencies need to also develop a stronger offering to clients and must look at fostering long term partnerships. They also need to look at the business with new eyes, going beyond mere transactional relationships with clients. Rathi Gangappa, CEO, Starcom India says, "As an agency, we are a knowledge and services partner and not just a seat at the negotiating table. Media agencies have a larger consultative and strategic role today in the marketing chain to be a true partner to our clients, solving client business challenges with communication solutions. The agency model of the future offers both powerful scale and customised solutions."
Echoing similar views is Navin Khemka, CEO, Mediacom South Asia, who insists that agencies should be regarded as true partners by their clients. Clients need to have remuneration models that are logical, and agencies also should not get desperate to get into a relationship that they cannot sustain, he says. "We all need to work towards making the media business viable for the media agencies. It needs to be a win-win for both, the client and the media agency. It can't be a win-lose for either. That's when I see the relationship breaking down. Clients need to have remuneration models that are logical, and agencies also should not get desperate to get into a relationship that they cannot sustain," he adds.
Agencies also need to take greater pride in their work and accomplishments, a factor that impacts remuneration and recognition for the industry. Jyoti Bansal, CEO, PHD India, says, "We need to become prouder of ourselves. Indian media agencies undersell their own work and worth to clients. Our counterparts in related industries do a much better job of making the clients understand the value of their work they're getting in return for payment. Media agency leaders also need to come together and work much more closely on issues that affect all agencies. While we are competing for a slice of the pie, some of our actions undermine the entire industry and benefit other stakeholders instead."
EMPHASIS ON STRATEGY
A deeper understanding of the consumer combined with a strong business understanding of brands will allow agency partners to deliver significant value to clients, thereby changing the clients' perception of cost, driving in the idea that media is in fact an investment and not an expense to the clients, says Rajni Menon, CEO, Carat India. She insists that the most important change that needs to happen in the media agency model is the value being placed on strategy. She adds, "Unfortunately, irrespective of the efficiency being delivered through a better understanding of the consumers' behaviour and planning, at the end of the day, it always boils down to the agency commission and rate improvements. This has ended up with agencies undervaluing their own capabilities and underinvestment in capabilities for the future. And at the client's end, it means that lesser money may be spent, but that money is not necessarily delivering greater effectiveness. It is this shift from rates to effectiveness that we as agency leaders need to focus on. Because if we ourselves don't believe in it, how do we convince our clients?"
To address the changing world, a world where Digital is becoming increasingly important, the role of good quality strategic thinking and great creative ideas will continue to stay important. What has changed today is that the agency needs to identify new ways to serve their creative ideas and engage with the new age consumer. Yashaswini Samat, Chairman & MD of Grey Group India, sheds light on the challenge before legacy agencies today. "The new business model is a tough one, and it doesn't matter if you are a legacy agency. This is because we built agencies in the world where you had big brands that spend big bucks on TV. That world has changed. Legacy agencies like us are thinking about how to improve our talent on Digital, and how to combine what we're already good at and add new talent to it without completely blowing up our budget. There's a sweet spot out there for the clients - they are looking out for amazing strategic thinking and creative ideation, but they also want along with it agile and cheap content, better digital and platform understanding. So the challenge is, how do all of us find that sweet spot that combines all these?" she asks.
EVOLVING ECOSYSTEM
There needs to be a disruption in the media agencies' traditional structures and in how agencies work across functions. This requires an infusion of different mindsets and skillsets, not traditionally seen in the business, believes Anand Chakravarthy, Managing Director, Essence India. "Tech capabilities are key for the future, as tech becomes all pervasive, disrupting consumer behaviour, businesses and therefore marketing needs. Scale and size should not become your Achilles heel and we need to remain nimble-footed and pivot when the market demands we do, if we have to continue to win in an evolving business ecosystem," he says. Data-driven marketing will also play a key role for brands in the future, in order to stay connected with consumers at various touch-points. Vaishali Verma, CEO, Initiative, explains, "Indian media agencies need to adopt data-driven marketing as consumers seek more integrated experiences. It will be of paramount importance to see how data translates in the customer journey."
Priti Murthy, CEO, OMD India concurs, adding that the focus must be on the long term impact on business instead of seeking short term results. "There is a need to collaborate and grow the market, move beyond efficiency and talk about creating effectiveness for brands. We definitely need to bring back focus on brand value and the impact of media on that, moving beyond pricing to a consumer-centric model with data amplification," maintains Murthy.
The future for agencies requires a common view on measurement and acceptable metrics, especially when it comes to the Digital medium. Agencies, both creative and media, will need to evolve and become one-stop shop for all brand needs because it is this industry that understands the consumer better than anyone else.
Dheeraj Sinha, MD, India & Chief Strategy Officer, South Asia, Leo Burnett, sums up what agencies must do to win in a dynamic industry. "Broadly, our work must focus on solving a real business problem for the client. We must go more upstream and focus on real innovation, we must get back the quality of talent, and we shouldn't be shy of chasing growth. If we get these fundamentals right, then all is well," he says.
[NOTE: The industry saw women CEOs in advertising agencies after a while as Srija Chatterjee took charge at Publicis Worldwide India in March 2017 and Raji Ramaswamy at Contract Advertising in May 2017, while in July last year, Sumanto Chattopadhyay became the head of Soho Square. Recently, Rahul Jauhari and Navonil Chatterjee were appointed Joint Presidents at Rediffusion. But for the purpose of this feature, we have kept the timespan to leaders who assumed charge between August 2017 to July 2018.]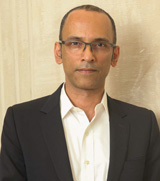 A client-first viewSAM SINGH
Chief Executive Officer, GroupM South Asia
BEYOND MY LINKEDIN PROFILE…
I come from an armed forces family, that's where I learnt the value of discipline. As a kid, we used to relocate a lot; that gave me the wonderful opportunity to live in different parts of the country and learn about the diversity of our cultural heritage. In my work life, I've had the opportunity to live across places such as the Silicon Valley, Boston, London, Dubai, Guangzhou and of course, India; this gave me the chance to work and live with people across varied cultures and to appreciate diversity. Other than that, I'm passionate about riding fast motorcycles on fast roads – recently, I went on a motorcycling trip in the Alps…absolutely stunning!
HOW I JOINED THE MEDIA AGENCY BUSINESS…
Media agencies are at that wonderful intersection for brands, consumers, media and technology. Agencies are a vibrant environment with dynamic people. I love working here.
FACING A CHALLENGE, LEARNING FROM IT…
Each time that I deliberately made a functional move, it took me off the linear track to success. However, I've gained such a varied and wonderful set of experiences which really power me in my work today. I've worked across varied functions such as advertising, media management, brand management, digital, sales, research, forecasting and procurement.
MY TOP PRIORITIES…
Learn the business. Contribute to growth for our clients. Focus on training and enablement.
WHAT I HOPE TO BRING TO THE INDUSTRY…
Having spent so much time on the client side, I would say 'having a client first view' is something I bring to the table. A 'digital appropriate' viewpoint because of my Google experience. Also 'multi-cultural and global experience' owing to my work experience in various countries with global firms.
IF NOT IN THE AD-MEDIA INDUSTRY, I'D BE…
A fighter pilot in an alternate life!
An exciting time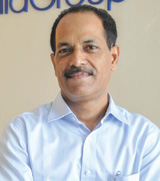 HARISH SHRIYAN
CHIEF EXECUTIVE OFFICER, OMNICOM MEDIA GROUP
Harish Shriyan has been part of the Omnicom Media Group (OMG) establishment since 2007. Over the past decade, Shriyan has played an integral role in establishing Omnicom Media Group's presence in the Indian market, developing a unique understanding of agencies' niche offerings in a highly competitive marketplace. Known for his hard work, dedication and team spirit, he is responsible for driving innovation and digital transformation for the group's clients and growing the India business. Shriyan considers the group as his family and believes that there has never been a more exciting time to work in the industry, now that the media and marketing landscape is transforming so rapidly, with emerging opportunities to raise the bar for the group's employees, agencies and its clients.
Optimism rules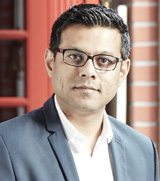 DHEERAJ SINHA
MANAGING DIRECTOR, LEO BURNETT INDIA
classical advertising to solve the business problems. The second priority is rewarding, nurturing and attracting new-age talent. Apart from Leo Burnett's postgraduate campus programme, this year we started the graduate programme as well. The third significant priority is growth. We have had fantastic momentum on new business, winning at least 20 new business pitches in the first half of this year. One of our greatest advantages is the Power of One offering – we are able to seamlessly stitch digital, data, advocacy, media, and entertainment solutions for our clients to solve their business problems.

WHAT I HOPE TO BRING TO THE INDUSTRY…
I have an ability to understand culture and use it to solve business problems. More important, however, is my optimism for our business. I certainly believe that the best of this industry is yet to come. We are lucky to be born in the times when we can use almost anything (technology, culture, data, fine-arts) to solve a given brand or business problem. The role of brand-building has only gone up and its direct impact on business couldn't be more visible.
IF NOT IN THE AD-MEDIA INDUSTRY, I'D BE…
I am from Bihar; I would have been cajoled to join the IAS, if I hadn't managed to get my way.
(As told to Neeta Nair)

More of strategy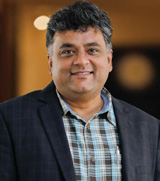 NAVIN KHEMKA
CEO, MEDIACOM SOUTH ASIA
BEYOND MY LINKEDIN PROFILE…
One of the things that most people do not know about me is that I like to sketch. I am a family person, and I like spending time with my family. I have a 14-year-old daughter, who gives me a lot of insights into what younger people today are thinking about. I am extremely passionate and honest in whatever I do, as my clients, peer group and subordinates know. At times, people say that I am just too client-centric. But that's in my DNA and I cannot help it. In the last 20 years, every client that I have worked for will tell you the same thing.
HOW I JOINED THE MEDIA AGENCY BUSINESS…
Absolutely by fluke! I was doing a course in chartered accountancy when I met a first batch MICA student at a common friend's party. She introduced me to the world of advertising and media, and that just seemed so exciting. So I chose MICA and never really looked back.
FACING A CHALLENGE, LEARNING FROM IT…
When Prime Minister Modi announced demonetization, I used to work for Wavemaker and our client was Paytm. At 8:30 pm, while the PM's speech was still on, I called the client and told him that it was the biggest opportunity for Paytm to put up a front page ad in leading dailies saying 'Paytm is here and we don't need to use cash anymore'. So the creative agency was roped in, and by 10:30 pm, we had the ad ready. It was past midnight when the PMO gave the approval for the ad because the creative had Modi's image in it. We actually got the publications to stop press for the ad and the next morning they were out. It became one of Paytm's biggest moments and that piece of work won us many awards including the Best Team of the Year at the Emvies.
MY TOP PRIORITIES…
1. To scale up MediaCom, and we have already made a good start winning accounts like Adidas, Reebok, Vivo, Mars (Buying) and Hilton.
2. Some amount of geographic expansion, especially given how India as a market is growing
3. To make the agency future-ready. The consumer is so connected nowadays; the idea is to just simplify all those connections.
WHAT I HOPE TO BRING TO THE INDUSTRY
I would like to move towards an era where client and agency partnerships are really regarded less transactional, more strategic. Also, a relationship that is based on 100% trust and a true spirit of partnership.
IF NOT IN THE AD-MEDIA INDUSTRY, I'D BE…
A stockbroker Original thinking
Original thinking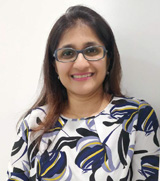 PRITI MURTHY
CEO, OMD INDIA
BEYOND MY LINKEDIN PROFILE…
I am a mother, a dreamer (which apparently helps with original thinking), and someone who loves to observe and learn from others' behaviour.
HOW I JOINED THE MEDIA AGENCY BUSINESS…
I was always keen on the communications industry and am also good with numbers, both of which have worked out well in the media industry. Moreover, I joined at a time when media was taking a bigger role in the innovation process.
FACING A CHALLENGE, LEARNING FROM IT…
There are many such moments. For example, I was pitching to retain a critical piece of business while going through a challenging pregnancy. However, it's during experiences like these that I've delivered some of my best work for clients. Another example is when I broke my leg and still managed to produce work that my clients were thrilled with, thanks to technology and Google Hangout.
MY TOP PRIORITIES…
1. Helping brands make better, faster decisions through more effective use of data
2. Growing the OMD brand further and ensuring its continued success by strengthening our offerings in line with industry evolution
3. Catapulting the growth of our people (that we call 'OMDers')
WHAT I HOPE TO BRING TO THE INDUSTRY…
Original thinking - the best of old and new world media, as I have seen the transition and boom, and have grown with it, instilling a people-focused culture and nurturing future leaders for the industry.
IF NOT IN THE AD-MEDIA INDUSTRY, I'D BE…
A dancer and a writer.
Talent focus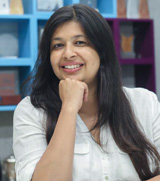 VAISHALI VERMA
CEO, INITIATIVE
BEYOND MY LINKEDIN PROFILE…
I love being surrounded by people all the time. My typical way of working is by having several conversations with colleagues, provoking them to think, inculcating curiosity amongst them and challenging them.
HOW I JOINED THE MEDIA AGENCY BUSINESS…
Back then, doing a course in communication at MICA excited me and while I initially joined advertising with an uncertain mind, I simply fell in love with the work because it taught me many interesting ways to connect a brand with its consumers. Media was at the epicentre for consumers as a form of entertainment and as it continued to evolve, my interest in it only got deeper and deeper.
FACING A CHALLENGE, LEARNING FROM IT…
Being in the service industry, I have faced many challenging occasions across pitches and business reviews, when I had to re-start or re-think. But finally, you just look back and you feel glad to realize that the end product was really much better.
MY TOP PRIORITIES…
Initiative is a great legacy brand and it is a comeback year for our agency with great talent and cutting edge tools. My priority will be to take Initiative to the next phase of growth, making it best known for its talent and product.
WHAT I HOPE TO BRING TO THE INDUSTRY…
These are very early days but what matters most to me is to retain and add the best talent in the company. At the heart of it, this is a people's business and what makes an organization is its people. Secondly, a collaborative client-agency working relationship as true partners is critical for this industry.
IF NOT IN THE AD-MEDIA INDUSTRY, I'D BE…
Still somewhere working with brands and consumers.
Data-driven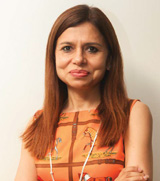 YASHASWINI SAMAT
MD & CHAIRPERSON, GREY GROUP INDIA
BEYOND MY LINKEDIN PROFILE…
I would describe myself as intuitive and an extrovert. I like people, which is why I enjoy being in this business. I am quite data-driven, less emotional, enjoy people analysis and understanding human behaviour. Family is an important part of my life, and I really enjoy spending time with my family. It leaves me feeling empowered and energized.
HOW I JOINED THE ADVERTISING AGENCY BUSINESS…
My first job after I finished studying was with Brooke Bond, which had just been acquired by Unilever at the time. A lot of my friends then were working in the advertising industry, and I could tell they were having a lot of fun. It's not like I wasn't aware of the challenges of the job, but I knew that I would enjoy it. So I took a chance, and I took to it like duck to water.
MY TOP PRIORITIES…
1. Our creative product is one big focus area. To make sure that my creative team gets all the support they need from any other part of the agency to do fabulous work.
2. To re-examine our agency model in terms of improving our digital depth and offering strategic thinking in a more evolved way for today's consumers and brands.
3. To run an agency that's doing amazing work, where people are really happy. To keep pace with the changing world, to make sure that we're constantly on top of everything that is happening.
WHAT I HOPE TO BRING TO THE INDUSTRY…
I wish I could bring back some of the swagger, pride and confidence usually associated with the creative industry in the past years. I also wish that in some way I could bring clients to understand that squeezing the agency for every last penny is not helpful to them either, because they'll get poor quality people, thinking and poor quality output.
IF NOT IN THE AD-MEDIA INDUSTRY, I'D BE…
If I didn't do an MBA, I would've loved to study Sociology and write books. I love learning about human nature and social behaviour. That's why I see my life goal as making people happy, whether they are my family, friends or even work colleagues. It may sound like I am trying to manipulate people, but I really enjoy making people happy. It makes me feel good.
All for learning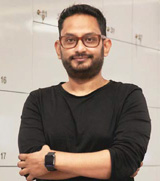 RAJDEEPAK DAS
MANAGING DIRECTOR, LEO BURNETT INDIA
After passing out of MICA, Rajdeepak Das started his advertising career with Enterprise Nexus, followed by stints at Grey, Contract and BBDO Asia. Before coming to Mumbai, he worked for five years in Bangkok under the leadership of Suthisak Sucharittanonta, where he was part of the regional team, working closely with the best creative brains across continents. He moved to India to join BBDO in Mumbai as one of the country's youngest Executive Creative Directors, working out of coffee shops, and within just three years, BBDO Mumbai became one of the Top 10 most creative agencies in the region. In 2014, he joined Leo Burnett India as the Chief Creative Officer and led the creative function across its South Asia offices, before his elevation to the role of Managing Director. Das takes great pride in where Leo Burnett's creative output stands today. According to him, in the last three years, Leo Burnett has grown to become one of the youngest and most dynamic creative companies in the region. Having said that, he believes that learning is a continuous process and that the agency is only as good as its last piece of creative work, with much more to achieve. For Das, his best creation till date is his daughter.
Transparency above all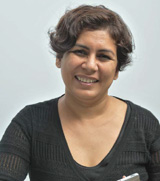 JYOTI BANSAL
CEO, PHD India
EYOND MY LINKEDIN PROFILE…
I started my pre-MBA career working in the Quality Control unit of a Television OEM. That is where my work ethos was moulded and where I learnt the value of attention to detail, team work, passion, commitment to the job at hand and continuous learning. It also taught me that the sum of the whole is only as good as the smallest part, with one tiny mistake in the assembly line resulting in rejection of the complete lot for the day.
HOW I JOINED THE MEDIA AGENCY BUSINESS…
Serendipity is what got me started, but the sheer dynamism of the business was what made me stay on. I was hooked to the diversity and dynamism of working with the best and biggest brands in the country. The industry seemingly reinvents itself every five years and challenges me to stay connected and curious, learning the new tools necessary to stay ahead of the curve.
FACING A CHALLENGE, LEARNING FROM IT…
Losing an account after nine years of nurturing it from the ground up has been disappointing, but from these experiences comes the inspiration to take on new challenges. It is a true test of leadership to rally forces to not only move on in such a situation, but also to grow. That's what PHD India is doing, as our top-notch team focuses on building an organization that will continue to remain at the forefront of the industry and grow from strength to strength.
MY TOP PRIORITIES…
1. Motivating all PHD-ers to continue offering cutting-edge client solutions.
2. Creating innovative work that delivers disproportionate ROI for our clients.
3. Developing a culture that makes PHD-ers come to work every day filled with excitement and enthusiasm.
WHAT I HOPE TO BRING TO THE INDUSTRY…
I have created my own brand of an inclusive hands-on leadership style, where teams are inspired and motivated to punch above their weight and create the magic that sparks disproportionate ROI. That's what working at PHD is all about – to find a better way of being the best version of yourself. To the industry, I hope to leave a legacy of transparency and honesty in all our work, as well as trust that our clients' investments are in safe hands.
IF NOT IN THE MEDIA INDUSTRY, I WOULD BE:
If not part of the media industry, I would be an architect.
Love of numbers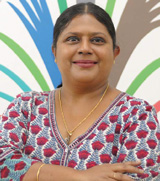 RAJNI MENON
CEO, CARAT INDIA
BEYOND MY LINKEDIN PROFILE...
I am a closet introvert and most people who have met me don't really know this about me. I get nervous about social situations. That doesn't go really well with the job I do and I always get butterflies in my tummy. My passions in life are reading, cooking, gardening and photography.
HOW I JOINED THE MEDIA AGENCY BUSINESS…
It was simply a quirk of fate. While studying English Literature, I came upon a poster for MICA and it intrigued me. I had envisaged myself as a creative working in an advertising agency, and MICA seemed the perfect place to go to study. But I still was looking at the creative side of the business until I got an internship with the media team at Grey and fell under the spell of the numbers. I went back and signed up for specialization in Media. That's where it all started. If it wasn't for those two months of internship at Grey, life would be very different. And I'm still here, still in love with numbers.
FACING A CHALLENGE, LEARNING FROM IT…
Back in 2008, I wanted to take a step back and figure out what I wanted to do. It was a bad time for the industry. When I decided to come back after a sabbatical, there were no opportunities. One then needed to re-evaluate one's basic skillsets and core strengths. So, I moved from buying to strategy and moreover, I had to convince people that I could do it. So that was one personal and professional dilemma that I've encountered.
MY TOP PRIORITIES…
1. Growth and scale - on top of my list of priorities.
2. Ensuring that the agency is equipped to manage the changing environment in this digital era.
3. To upscale the existing team and keep them motivated.
4. Nurturing and attracting great talent to the organization.
WHAT I HOPE TO BRING TO THE INDUSTRY…
From the time I joined DAN, my focus has been on developing strategy for clients and the agency's capabilities in the area of consumer understanding and creating solutions in line with the changing environment. In this endeavour, our first focus was to launch Consumer Connection System (CCS), our proprietary consumer survey that enabled the group to get a deeper understanding of the consumer's behaviour on their path to purchase and their media consumption. This enabled us to create uniquely targeted solutions that helped us stand out amongst the competition. I have also had the opportunity to work with the digital agencies and data teams to create cutting-edge solutions for our clients.
IF NOT IN THE AD-MEDIA INDUSTRY, I'D BE…
An academician.
(As told to Ruhail Amin)
Diverse skillsets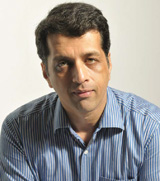 ANAND CHAKRAVARTHY
MANAGING DIRECTOR, ESSENCE INDIA
EYOND MY LINKEDIN PROFILE…
My real strength, I would like to believe, lies in my personal and work ethic - something that has always been part of my gene code. I have a bias for action, and I truly believe in a market like India. I also have a bias for cats over dogs, Netflix over Amazon Prime, football over cricket, Messi over Ronaldo, music from the 90's over 'what is referred to as music today' and definitely Android over iOS!
HOW I JOINED THE MEDIA AGENCY BUSINESS…
Having been in Advertising and Marketing for a large part of my career, I really felt the need to re-tool myself in media - especially in Digital. An agency was the ideal opportunity to leverage my existing skillsets, while developing new ones. Besides, the diversity of working on multiple categories, with new challenges everyday, was just the kind of space I was looking for. And what better place than GroupM!
FACING A CHALLENGE, LEARNING FROM IT…
There was once an instance where I had a new client joining an existing business we managed. And somehow there was just no understanding between us, which started affecting the decision-making process. However, a colleague was able to build a great rapport with the same client and once I stepped back and allowed my colleague to take charge, things could not have been better. The incident taught me an important personal lesson - that you can't win every time and sometimes backing down is the best thing to do.
MY TOP PRIORITIES…
1. Bring the best of Essence to India - our culture, our product and our expertise.
2. Build a winning leadership team that drives delivery to our clients and fuels our growth ambitions.
3. Create a brand that both employees and clients aspire to be a part of.
WHAT I HOPE TO BRING TO THE INDUSTRY…
Having worked across Manufacturing, Market Research, Advertising, Marketing and Business Management, I hope that my leadership skills reflect this diversity in being able to adapt to different situations, manage different stakeholders well, and the ability to cross-pollinate learnings and best practices. I thrive under pressure, which, given the nature of our business, is a good thing to bring to the table.
IF NOT IN THE AD-MEDIA INDUSTRY, I'D BE…
An academician. I love the stage, an audience and the opportunity to give gyaan!
Keep up the run rate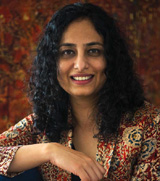 RATHI GANGAPPA
CEO, STARCOM INDIA
BEYOND MY LINKEDIN PROFILE…
I am an ardent believer in yoga and its positive benefits. I sincerely wish that my hectic schedule allowed me more time for reading. My favourites span across a wide variety of genres, from books on human behaviour by Bree Brown and graphic novels by Will Eisner to fantasy novels by Terry Pratchett.
HOW I JOINED THE AGENCY BUSINESS…
When I joined the industry as a media planner with Lowe Lintas, the spotlight was fast shifting to the media side of the business and the potential was immense. Despite the breaks I have taken in my career for personal reasons, I still chose to come back to media because this is a dynamic, transforming, ever-evolving landscape offering a goldmine of new opportunities. Today, we live in truly exciting times, with the advent of Industrial Revolution 4.0 and the Internet of Things. Consumers leave their behavioural footprint across a myriad platforms and devices, and it is up to agencies and brands to develop themselves as interpreters of this data, uncovering insights into their behaviour for truly moving and compelling brand experiences.
MY TOP PRIORITIES…
• To accelerate growth for Starcom in India, and keep up the run rate on new business wins. As a Group, our focus has been on business transforming solutions or future-ready services such as performance marketing, data and analytics and content. The intent is to further increase the contribution of non-traditional in the overall mix.
• To further build on our differentiated offering and the unique HX (Human Experience) approach. Starcom India won the 'Network Office Of The Year' last year among 100 Starcom Worldwide offices in the Starcom Global HX Awards.
• To bring in talent that is collaborative and passionate for work that truly galvanizes people and delivers on performance and business matrix.
WHAT I HOPE TO BRING TO THE INDUSTRY…
I have over 20 years in media and brand communications. My contribution is in the area of strategy and execution across complex, cross-cultural environments. This is through rich hands-on experience and deep-seated relationships within client, platform and publisher eco-systems. An advantage for me is that I have worked on both the advertiser and agency side, so I know what the client concerns are and as an agency, how I can best address them.
IF NOT IN THE AD-MEDIA INDUSTRY, I'D BE…
Following in the footsteps of my Dad and the rest of my family as a medical professional.
Thought leadership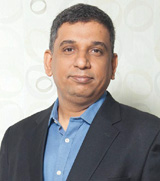 KARTIK SHARMA
CEO, SOUTH ASIA, WAVEMAKER
BEYOND MY LINKEDIN PROFILE…
Born in a middle class, South Indian musical family, I grew up in a household with classical music being sung or played throughout the day. This led to me recognizing several 'ragas' right from the age of three and motivated me to learn to play the violin professionally from the sixth grade. I graduated in Commerce from RA Podar College at a time when chartered accountants were considered God. However, I was a silent rebel and I chose a different path. In my second year of graduation, I was enamoured by the world of advertising and as luck would have it, I got a job with Ogilvy in the client servicing department of their financial division.
HOW I JOINED THE MEDIA AGENCY BUSINESS…
Post my MBA, I got a campus placement with HTA (now J. Walter Thompson) in their client servicing department. This was the year when Unilever had decided to form the buying AOR called Fulcrum and lot of people had moved to Fulcrum internally. This meant HTA was looking for a lot of fresh talent in media. Our seniors were looking for fresh management trainees to move into media planning roles and had identified 7-8 people, out of which I was one. The legendary Ketaki Gupte, who used to then head media for HTA, called me once for a brief chat during lunchtime and told me about this move. So I asked her when I should move, to which she promptly replied, "You need to join post lunch!" I was worried that the agency was moving me from client servicing to media without really understanding my interest. Ketaki had told me that I should try out media for a few months and if I didn't like it, I could go back to client servicing. But there has been no looking back after I moved to media.
FACING A CHALLENGE, LEARNING FROM IT…
Crisis is a part and parcel of our business. Having faced multiple and daunting challenges over the years, I have managed to train my mind by telling myself that I am not the first person facing this challenge and I have a cracker of a team, which will help me not just manage but solve every problem.
MY TOP PRIORITIES…
1. To help our clients grow their business. 2. Develop new products and services that are useful for client growth. 3. Help Wavemaker grow its business.
WHAT I HOPE TO BRING TO THE INDUSTRY…
My experience has been put to use in several ways. I contribute to thought leadership forums from time to time. I also share my leadership learnings via articles and sit on the boards of some of the key industry level media platforms. When time permits, I teach at select premier management schools.
IF NOT IN THE AD-MEDIA INDUSTRY, I'D BE…
A stock broker or data analyst.