On August 23, 2022, the first episode of Archetypes was released on Spotify. The then-new podcast was being hosted by the famous Duchess of Sussex, Meghan. It went on for a complete season before it was canned by Spotify this year for various reasons. But the headline here is, how the Duchess, who is a self-accomplished actor and influencer, chose the medium of podcast to reach out to her audience. Why podcast?

Because podcasts are the trendy thing to do today. Not unlike radio, and yet very much different, this new-age phenomenon is taking the world by storm. As more consumers are getting hooked on to audio streaming devices, podcasts are slowly becoming an integral part of marketing. Call it a push due to the pandemic, or a shift in audio consumption styles of GenZs and millennials, the podcast industry is making heads turn. So much so that the Duchess of Sussex feels the need to create one of her own. And why not? You can plug in your headphones and continue to do household chores or other activities while listening to her, easy-peasy. According to experts, brands today are allocating around 3-5% of their advertising spending on podcasting platforms, which can see a rise of up to 10% in 2023.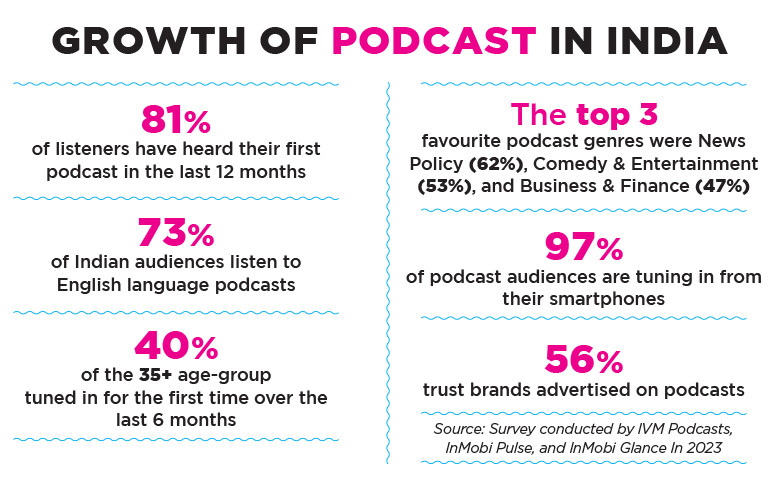 Data collected by various podcasting platforms suggest that listeners aged 18-35 engage highly with podcasts. Be it an interview or listening to horror and thriller stories, brands are looping into branded content and ad placements. As per Super Listeners 2021 report by Edison Research, Podcast ads are the most recalled type of ads – with 86% of respondents saying that they remember an ad they had heard during a podcast. On the other hand, social media was found to have 80% and websites 79% recall.
Last year Spotify India added at least six new podcast titles to its already existing 150+ podcasts that are exclusively available on the platform. JioSaavn on the other hand launched YourCast for Indian podcasters, owing to the growing popularity of the medium. Also, Google's YouTube added a dedicated Podcast Tab to its Channel Pages. Trends suggest that podcasts are only growing with each passing year, and brands are now warming up to this new phenomenon.


Talking about the reason why brands opt for podcast advertising in India, Abbhishek Chadha, Executive Vice President – North & East, Interactive Avenues (a Reprise network company) says, "Brands choose to include podcasts in their media mix depending on their specific business objectives. Usually, brands that are more focused on category creation or on educating consumers (problem-solving brands), would choose a long-form narrative such as this. For podcasts, it is best to create a long-term association, rather than implementing a campaign burst."



Citing data points from a study conducted by Ideabrew Studio, Shailja Saraswati, Chief Content Officer, Omnicom Media Group India, says, "Podcasts have managed to become a renowned communication strategy. They are among the most appealing and attractive content approaches available to marketers and brands. After all, they provide both narrative and expressiveness to the audience."

"For branded content, the data shared by Ideabrew Studio showed a completion rate of 60 per cent and higher in most cases. This is for content pieces that last about 15 minutes on average. Considering that a typical episode count for a branded show is somewhere between 5 to 8 episodes, we can conclude that this can lead to 50-80 minutes of great consumer involvement. This makes complete sense given the fact that people now prefer to listen to a five-minute audio, rather than reading a 5000-word blog post," she adds.



Primarily, brands are advertising on podcasting platforms with the primary motive of brand recall, while the secondary motive is to organically reach the audience via branded content. But of course, brands are bound to show up on platforms that have high engagement.



Describing how podcasting platforms can be used by brands effectively to reach the masses, Kaushik Chakraborty, EVP, iProspect India, says, "A podcast is a good medium to reach evolved listeners in the 18-35 age bracket. The medium often covers specific niches that generally target committed and attentive audiences. Hence, any brand/category targeting this type of audience set may consider the medium. Engagement is the key criterion for this medium."



At a time when the audio podcasting industry continues to grow at a steady pace, Chirag Bhatia, Senior Vice President- Digital, DDB Mudra Group, believes that though the creator economy is being highly paid on social media, OTT audio platforms continue to lag in terms of creating enough monetary provisions. Bhatia says, "Awareness is the biggest roadblock to this long-form on-demand audio format, which is skewed more on the infotainment rather than entertainment side. I feel that it should be suitably termed for the masses to understand and adopt this format, like an audio show, etc. The term podcast comes from a combination of iPod + Broadcast, which most people may find difficult to understand."

Brands leverage podcasting platforms


According to a report by Statista, the podcast advertising market globally is expected to reach US$3bn in 2023. As the audio and podcasting industry continually gain ground in India, revenue from podcast is expected to show an annual growth rate (CAGR 2023-2027) of 6.67% by 2027. Hence, the market volume is projected to reach US$80m by 2027. Brands would be wise to take note of this number and follow the growing podcasting trend in the country. According to Kumar Awanish, Chief Growth Officer, Cheil India, the good news is that brands, both old and new, are warming up to the idea of advertising on podcasts. He says, "We are seeing many new-age brands advertising on podcast platforms. Multiple brands from e-commerce, food delivery apps, Edutech, Fintech sectors, even Dating apps, as well as a few traditional players such as Dabur, Reckitt, and Nestle from the FMCG sector are advertising on multiple podcast and audio platforms as well."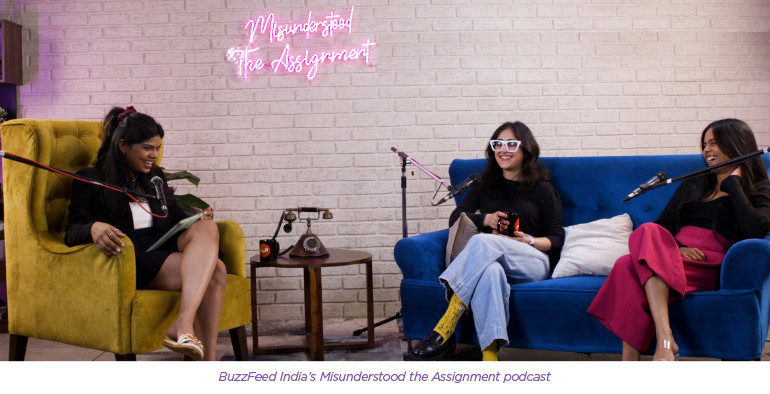 With 25% of income generated via advertisements on the platform, Ideabrew Studios provides a wide range of audio podcasts, including Woice with Warikoo, and Inside Line F1, among others. Aditya Kuber, Co-Founder and CEO of Ideabrew Studios says, "Ad spots have now been standardised, and they are of three variants – pre-roll (before the show starts), mid-roll (at about 40-45% mark of an episode), and post-roll (end of the show) – some shows have more than one mid-roll, depending on the duration of the show. A premium ad offering is a host-read ad where the host of the show reads out the brand message. For branded content, each solution is a bespoke one with deep integration and brand mentions woven into the content."



Talking about how entrepreneurs and start-ups can leverage podcasting platforms to communicate with their audiences, Prashant Pitti, Co-founder, EaseMyTrip, says, "Through our podcast, 'Decoding Unicorns,' our primary focus was to share insights on how we worked hard to become a pioneer in today's tech-driven world. We have delved into various topics, whether it is recruitment, marketing, fundraising, or sales. We have conversed with industry experts and leading entrepreneurs who shared their anecdotes, stories, advice, tips, lessons to learn, and mistakes to avoid while building a venture with audiences."

He agrees that podcasts are gradually becoming a popular tool in the marketing mix of brands. "Podcasts give opportunities for instilling brand recall among consumers. They are an effective way to connect with aspiring entrepreneurs, providing them mentorship so that they can initiate, run, and grow their start-up," he says.



Podcast shows offer a wide range of possibilities for brands to communicate the message. With the sexual wellness industry leveraging these platforms to make a personal connection with the listeners, Vishal Vyas, AVP Marketing, Skore from the House of TTK Healthcare says, "For Skore, we have invested in audio channels as a medium. There are a lot of opportunities, and great ideas in the pipeline for the audio/podcasting space that we would be foraying into. We are extremely bullish about this space, and excited about a few things that we have up our sleeves."
Sleepy Owl, a fast-growing multi-product coffee brand has done multiple podcast advertising to reach the right target audience. Arman Sood, Co-Founder, Sleepy Owl Coffee, says, "Podcasts allow consumers to relate with us personally. This helps them understand the brand ethos and message far better and helps in building a loyal customer base. As a brand we are on the shelves of supermarkets, so people can look at us, but through podcasts, people can now hear us. This has given brands like ours a chance to explain to consumers our brewing process and more. It's relieving to see that the audience is equally inquisitive about the brand and the faces working behind it."



Mustufa Arsiwalla, Head of Marketing, Bel Groupe, which has cheese products like The Laughing Cow, Boursin, and Baybel, explains how podcasting is a better option for brands to drive engagement with consumers. Arsiwalla believes that the effectiveness of a medium lies in its ability to segment addressable audiences (consumers and shoppers) to achieve brand objectives. According to him, "Podcasting platforms and apps provide reach to the right audience and represent a bright option for brands to increase their visibility and drive upper-funnel engagement. It is also important to measure the campaign performance beyond standard metrics like reach. Many podcast platforms offer measurements to check the impact of connecting with audiences with the help of metrics such as awareness, message association, and purchase intent."



An innovative approach to reach the masses
With technical advancements, the podcast industry is today growing at a persistent speed. Programmatic ads and mobile engagement ads with Dolby Atmos Sound for immersive experience are providing brands with multiple options to reach the right target audience. Brands in FMCG, Fintech, food delivery apps, etc., are innovating their approach on audio platforms to reach the right target audience today, and it is only going to get better from here.



According to Rohan Nayak, Co-founder, Pocket FM, a platform that offers access to diverse audio series, audio is an intimate form of content consumption that leads to higher brand recall, "We have grown 10x in 2021 and have 80 million listeners today wherein an average user engagement goes to roughly two hours in a day. Advertising is directly related to engagement on the platform, and we have seen increasing interest from brands owing to the same. We have users across different cities, our top five cities are the metro cities, and then there's a long tail of tier one, tier two and tier three cities."

Pocket FM currently has a freemium model that allows free consumption of one hour of content daily. Post that they are using micropayments to monetize their platform wherein one can pay a nominal sum for episodes listened to per day. Currently, 10% of their revenue comes from advertising, which they are hoping to scale to 20% in the next few months. Pocket FM has advertisers such as Netflix, Prime Video, PayTM, and Airtel, apart from digital tech platforms, and FMCG brands, among others.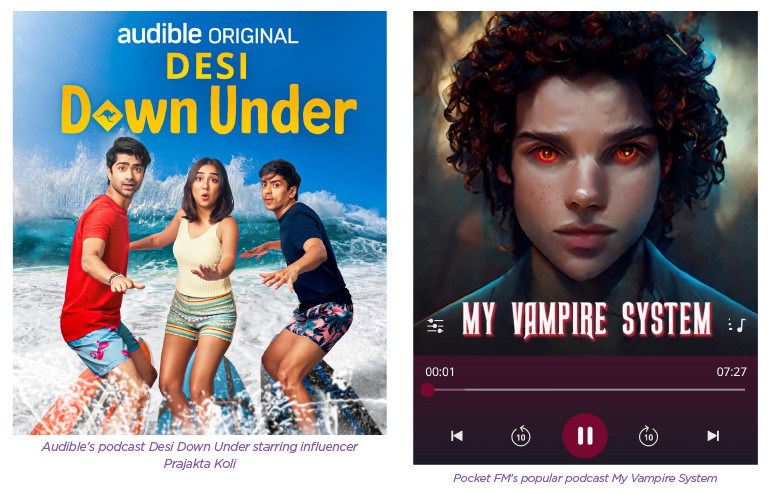 According to Aalap Desai, ex-Dentsu leader, there has been an upward trend in the mentions of podcasts in Digital media plans. He says, "The branded content bit is something that can be more interesting. I feel that we still don't understand how to make branded content, and instead, we place brands in content. The beauty of branded content is to seamlessly integrate brands into the narrative, and let it live naturally. Instead, we want it mentioned multiple times, and so it looks like a misfit. The day we start doing it better, branded content will feel better."



Describing how Spotify's podcast campaign with actor Jitendra Kumar was well received by the audience, Vikram Pandey (Spiky), National Creative Director, Leo Burnett says, "The 'Podcast Pe Suna' campaign was the right way to promote the entire category for Spotify. A podcast is a background medium, which means that a person can listen to it while washing utensils or dusting furniture. It works when a brand like Scotch Brite leverages its reach. Similarly, geo-targeted podcasts and ads can be an organic way to reach the masses. For example, when I am travelling from Mumbai to Pune, a geo-targeted podcast is recommended along with ads that would blend well with the content."

Describing how brands can target consumers based on their demographics, Vanda Ferrao, Chief Marketing Officer, WOW Skin Science, says, "Podcasts have a loyal fan base that is highly attentive and actively listening. This allows businesses to target their ideal customers, those with a certain interest in their niche, creating a successful marketing formula. Businesses can opt to sponsor podcasts in a category that fits with the brand, and target certain demographics with their commercials."



Anushka Iyer, Founder and CEO, Wiggles agrees that long-form content gives enhanced brand experience to listeners. Iyer says, "Podcasts allow brands to focus on what experience you are providing to customers, what is the problem that they are solving, and what is the value that is being added to the customer. These are the factors that help immensely with engaging consumers with your podcast and in turn increase brand recall. With podcasts, it's easier to convey the brand's core ethos and purpose and even share innovations that we do by bringing category-creating products."



However, an advertisement during the podcast can often lead to a bad experience for the listener. Podcast platforms will be wise to seamlessly integrate brands during their shows, without losing the listener's attention. Anish Varghese, Chief Creative Officer of Liqvd Asia says, "Today GenZs and millennials do not like advertisements, they want a 'seamless experience.' This new-age audience is also moving towards subscription models, as creators are focusing on how seamlessly we can integrate brands."

Growth of podcast platforms


Talking about innovative ad inventory offerings by the podcast platform Arré, Niyati Merchant, Co-founder and COO, Arré says, "Arré Voice is rolling out a suite of ad products, ranging from regular and premium advertising inventory to a brand collaboration tool that matches advertisers and creators, thus creating opportunities for creators to earn branded content revenue. Our women-first approach to the app, along with the focus on building interest-based cohorts will further aid a premium offering to advertisers."

Merchant also states that Arré Voice will be monetised through creator-led transactions (tipping, gifting, subscription, NFTs), social commerce, and other evolving monetisation models that are thrown open by the creator economy.


Suggesting a unique integration of both a podcasting platform and an influencer to boost the reach of a brand, Rajni Daswani, Director- Digital Marketing, SoCheers says, "Considering that both podcast advertising and influencer marketing are experiencing an upward course, I believe that an integration of the two could bear innovative and interesting results. Influencers are already great at blending a brand product or service into their unique style of content. That could get extended to audio content as well."

She says, "Content collaboration can be a further extension of this, wherein brands could get multiple podcast hosts to collaborate in order to deliver a single piece of content, leveraging their combined audiences. This could be ideal for integrated sectors like edutainment, wherein education and an entertainment podcast could have a crossover episode to best deliver the brand proposition."



Emphasizing the importance of including podcast platforms in the media planning list, Amit Doshi, Head, IVM Podcasts- Pratilipi, says, "The podcast business has witnessed a multi-layered growth. We had the opportunity to identify which pandemic-related trends were long-lasting and would ultimately influence the industry in the long run. In addition to a sharp increase in the number of podcast listeners, the industry has also noticed considerable changes in the listeners' consumption habits. It is now important to further explore target audiences in greater detail, and comprehend the subtleties of consumer behaviour."

He further says, "Healthy opportunities for monetisation are present, and we expect these changes to diversify in the future as well. With the competition getting challenging, impactful collaborations will play a key role in improving chances of success."



Gautam Raj Anand, Founder, Hubhopper says, "While Programmatic ads are still in the early stages, host-read ads have become a popular choice for brands." Additionally, the platform also offers marketing and promotional strategies to increase the visibility of the podcast among the target audience.



On the other hand, Sreeraman Thiagarajan, CEO of aawaz.com says, "We are working on launching our own audio programmatic ad network, and that will open up new ways for brands to reach their audience on aawaz.com."

As long as there are people who like to plug in their headphones and walk around listening to true crime and horror stories, brands will always have a place to showcase their products. The interesting thing would be to see the innovations that marketers and advertisers will eventually bring to this market.