With the advances in technology and high-speed internet, audio streaming was already a booming sector. However the pandemic that struck in 2020 saw a massive growth for the audio streaming sector, with platforms witnessing growth in both subscriber base and advertising revenue. During the lockdown this year at the time of the second wave, audio streaming has been on the rise with players exploring new formats of audio entertainment while confined to their homes.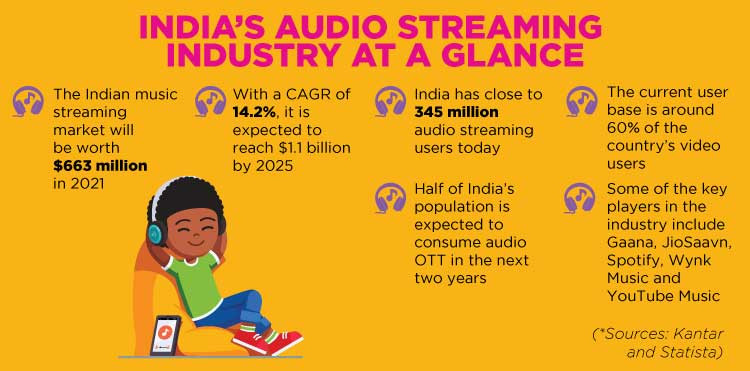 In October last year, a massive 30 million consumers tuned in to several audio OTT platforms, noted a report by Kantar and VTION. Platforms like Gaana, JioSaavn, Spotify, Google Play Music and Wynk Music are some of the players that have seen an increase in subscribers as consumers seek variety in entertainment and relief from the

lockdown. "India will, in the next five years, be among the five largest markets in the world for both video and audio OTT," observes Rashmi Nair, Vice President, Media Division, Kantar. "If we look at the audio OTT user numbers, we have close to 345 million users today which is almost 60% the number of video users in the country. And with the current growth rate of 28.6 CAGR – audio OTT will be consumed by almost half of India's population in the next two years!"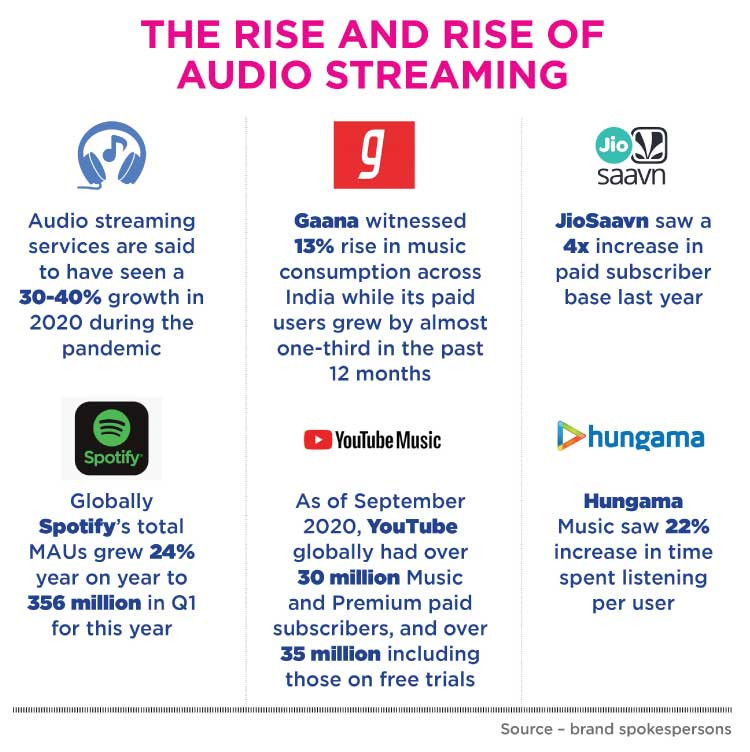 Rise of audio OTT
Music has always played a significant role as it can be integrated more easily into our daily routine. From being a stress-buster to setting the right mood while multitasking, music streaming has kept people engaged during the COVID-induced lockdowns. Despite the loss of streaming during daily commutes and travel, the audio streaming industry has seen a phenomenal growth in the last one year.
The paid subscriber base of JioSaavn saw a 4x increase in the last year. Speaking about the subscriber growth on the platform, Vinodh Bhat, Co-founder, President & Chief Strategy Officer of JioSaavn says, "When the pandemic first hit in early 2020, audiences' listening habits had drastically changed. While there was an initial drop in the streaming hours across music services, including JioSaavn, we saw a rise in streams via smart home devices. Our audience opted for nostalgic music and activity-based playlists became popular. Podcasts gained many new listeners and existing podcast listeners started sampling more podcast genres."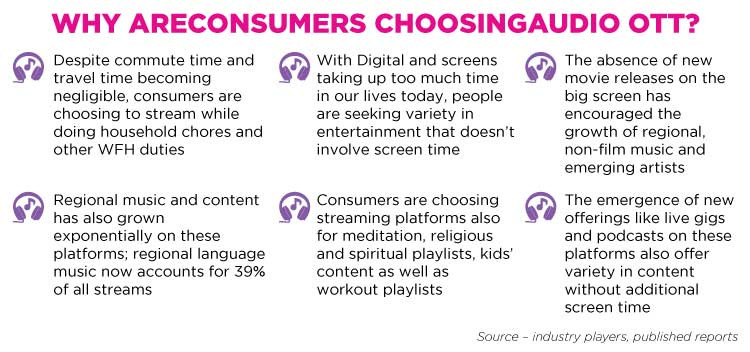 Consumers are choosing their music and playlists on the basis of their activities at home, which is reflected in the increased consumption of music across the country. Gaana too has seen an increase in both music consumption and paid subscribers. Sharing insights into the consumption patterns and genres of choice, Gautam Sinha, CEO, Times Internet and Gaana says, "On Gaana we witnessed a 13% rise in music consumption across India, with a notable 12% spike in romantic playlist streams across all age groups and 14% increase in devotional playlists - even among 18-24 year olds! Besides romance and spirituality, there was a whopping 26% surge in workout playlists, and a 24% surge in motivational or self-help podcasts. Paid subscribers constitute less than 10% of our overall user base today and the number is growing every year."



More than 2 billion people globally come to YouTube each month to experience music, states Pawan Agarwal, Head of Music Partnerships, India & South Asia, YouTube. "In the first half of 2020, over half a million channels live streamed for the first time, which alone accounted for over 10 million streams on the platform. As of September 2020, YouTube has over 30 million Music and Premium paid subscribers, and over 35 million including those on free trials."
Strategies That Paid Off
Whether it is leveraging technology or choosing the right marketing mix, industry players have been consistently pushing the envelope with new innovations and strategies to drive growth on their platforms. Since its launch, Spotify has created and delivered over 25 campaigns across both digital and ATL platforms that have made an impact with consumers. "These largely local campaigns have helped us acquire new users, build engagement, and drive brand love. In fact, our top-of-mind-recall has increased by 6x, and more importantly, we have seen a 3x increase in brand love," notes Neha Ahuja, Head of Marketing - India, Spotify. "Going forward, we will continue to build our communications through human-driven insights and local nuances, so we can build a deeper connection with listeners across India's diverse demographics."
Going hyperlocal has always been our north star, says Agarwal. Earlier this year, the platform collaborated with top female creators in India to promote YouTube Premium around International Women's Day. "We want to be able to connect with Indian listeners in the most authentic, locally and culturally relevant way possible. During top local moments like Diwali and Holi, we've launched campaigns in celebration of the occasions and provided extended free trials to allow users to spend more time learning about the benefits of YouTube Premium."
Platforms like Hungama Music have innovated through unique partnerships with payment systems like PhonePe and Amazon Pay, allowing users to conveniently purchase subscriptions and enjoy seamless integration across different online services. "We use various referral programmes and aggressive amounts of partnerships in the digital space to drive our growth and our audiences," remarks Siddhartha Roy, Chief Operating Officer, Hungama Digital Media. "As Hungama has a wide presence across our different ecosystems be it music or video, we get a chance to cross leverage the consumer. We've been doing massive programmes with payment systems like Amazon Pay, Phone Pe, etc.," he adds.
Collaborations with brands and artists
Today, with the growing digital transformation, potential audience or consumers can be found on any digital platform. Hence, platforms are exploring collaborations with brands as well as artists in their endeavour to forge stronger connections with consumers and create brand loyalty. This is also a big positive for artists who are not able to perform at offline venues during the pandemic. To create and maintain a connection between the audience and the artist, JioSaavn launched JioSaavn LiveAnywhere. The property has since then hosted virtual gigs with prominent artists such as B.Praak, Palash Sen and Amaal Malik, among many others. Moreover, the platform recently collaborated with AR Rahman for 99 Songs JioSaavn LiveAnywhere Concert. "As a music-first brand, we try our best to provide unique experiences for our users across very diverse tastes. We gauged audience and artist sentiment to uncover a gap when it came to live shows." notes Bhat.
Mankind Pharma recently rolled out an audio campaign for its face wash brand AcneStar with an aim to reach relevant audiences. Sharing insights about the campaigns and

impact achieved with the collaboration, Joy Chatterjee, General Manager, Sales & Marketing, Mankind Pharma says, "We did a campaign with Gaana and the completion rate was around 53% in a long format, which was way better. Also, we got a CTR of around 0.36% which is good as compared to the display campaign. Going further, we will incorporate more audio ingestion on these platforms as it gives great results. We will create the cohort for AcneStar with the aim to reach a relevant audience base to attain the best results, and the consideration and adoption rates go high."
Another case in point has been Hero Group, which announced the launch of its new ed-tech platform – Hero Vired with a campaign – 'Be Made for Big Things' featuring the voice of actor, Ashish Vidyarthi. "We recently ran the launch campaign for Hero Vired across several audio streaming platforms and we've had a tremendous

response to the creative, the messaging, and the communication. We knew that going strong on audio was necessary," explains Sushma Bharath, Head of Programs & Marketing, Hero Vired while adding that there has been growing screen fatigue. With Digital gaining tremendous prominence across everyday life, people are also seeking entertainment that does not involve having to stare at a screen yet is equally engaging.
Massive opportunity for advertisers
With listeners in India increasingly turning to music and podcasts, there's a growing opportunity for brands to reach their audience in a more meaningful and targeted way, through audio and visual mediums. Moreover, a majority of audio streaming consumers in India are free users, giving a massive window of opportunity for advertisers.

"India is a market where a significant number of people are going to be okay with an advertising model as against a subscription model, even though the latter is seeing a spike. Hence advertising will become less of an interruption and more of an audio experience that is entertaining," states Karthik Nagarajan, Chief Content Officer, Wavemaker India.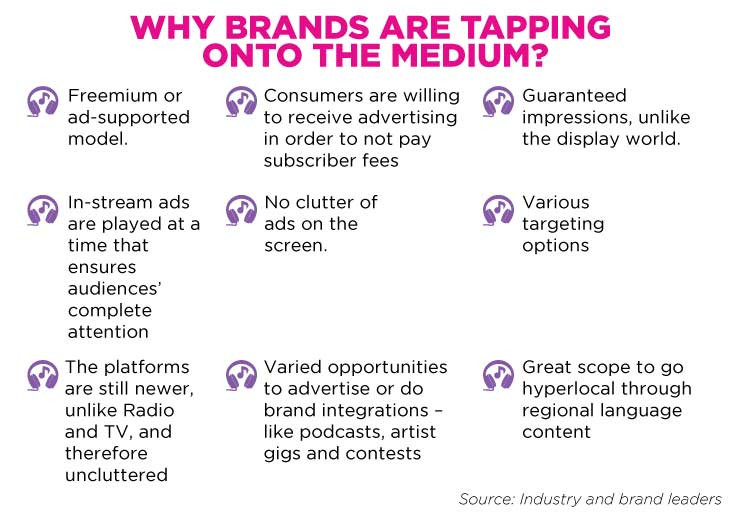 Advertisers are looking for new ways to reach consumers and audio OTT offers a plethora of avenues. The challenge however is that brands are still to leverage audio and move beyond video OTT. "With the rise of voice search, brands need to get creative to properly communicate with audiences. In India, brands are not yet aware of the full

potential of audio advertising – unlike videos," observes Shradha Agarwal, COO and Strategy Head of Grapes Digital while suggesting that brands should get innovative in their communication regardless of medium. She further adds that very few brands in India are exploring the medium, but it has evolved quite a bit in recent times. "Some of the common ad formats that marketers are leveraging are recorded spots, native ads, branded channels or playlists. We are right now pitching audio campaigns to clients and going live with one of them this month. The audio spends are approximately 10-15% max, of the total digital media spends today for progressive brands," says Agarwal.


Financial services company Visa will soon be rolling out an ad campaign on Spotify. Elaborating on the objective of exploring the audio streaming format, Sujatha V. Kumar, Head of Marketing for India and South Asia, Visa explains, "We've partnered with Spotify for our upcoming campaign. The reason behind it is that last year people were at home and we've seen huge growth in online consumption of entertainment. People consume music when they're cooking and other activities. Therefore, we thought it's a great time to invest in this field and who better than Spotify. A lot of people listen to music when they are in a good mood and if there's an ad that targets that particular mood or moment, they are more likely to recall that ad."
While a lot of brands like McDowells, Reckitt, Dominos, Royal Stag, Nestle, OkCupid and Mondelez have been investing on various audio streaming platforms for advertising, brands like Mamaearth and Tata Consumer Soulfull are also positive about advertising through audio streaming in the future. "Mamaearth's consumers are

millennials living across India, including metros and tier 2 and 3 cities as well, and we're looking to reach out to these audiences through audio streaming, in addition to Facebook, Instagram, YouTube and other digital media," says Sambit Dash, Vice President Marketing at Mamaearth. "We want to create ad spots that are entertaining, engaging and informative, without disturbing the user's audio-streaming experience. We plan to create short, impactful audio spots with rich creatives to accompany them. Being a relatively new form of advertising, this medium is less cluttered compared with TV and Radio, making brand ads more impactful. Being a digital medium, it also allows more micro level targeting, and even the option to customise our ad content based on the person's interests, choice of genre, and so on."


Echoing Dash's views is Prashant Parameswaran, MD & CEO, Tata Consumer Soulfull Pvt Ltd, who says, "We are very clear that we need to reach our consumers on whichever medium they are. And that is definitely digital and music is always interesting, it actually gives us a platform to get the soul of Soulfull out as well."
Focus on regional growth
Growth for these platforms has emerged from not just the key metros and urban markets, but also the regional market that is not far behind. In fact, for Gaana, regional music contributes more than 39% consumption, which is more than 32X growth in absolute consumption over the past three years. Similarly, JioSaavn has also been focussing on regional markets. Last year, it launched the 'We Are India' campaign to celebrate excellence in regional content.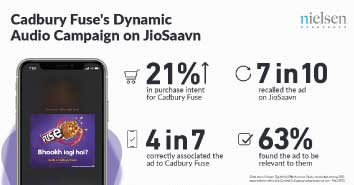 Spotify too is focussing on the growing demand from the regional market in India, and has designed Spotify Lite for the vast low-end market in India and made the mobile app available in 12 Indian languages. Discussing the platform's initiatives on the regional front, Ahuja, says, "From a product perspective, we have language on-boarding that allows listeners to choose the languages they want to listen to music in. In terms of content, we have more than 35 exclusive and Spotify Original podcasts available in multiple languages, and across genres so that there is something for everyone; similarly, for music, we have more than 600 playlists curated by the local editorial team, featuring music across popular languages, including Hindi, Punjabi, Tamil, Telugu and more."
What will drive future growth?
Starting from personalisation to podcasts or collaborations with independent artists and live streamings, there are various ways in which the audio OTT space is evolving and growing. In addition, players are pulling out all the stops to drive advertiser interest. Last year, Gaana.com introduced Voice Dialog ads and Dynamic Audio ads in order to enable advertisers to connect with Gaana listeners with real-time contextual audio creatives. Explaining about the new formats of audio ads, Sinha remarks, "These audio marketing innovations will enable marketers to create hyper-personalised ads in real-time by tagging parts of commercial scripts based on demographics, weather, time, music preference, device and other third party data to create and serve relevant ads to our user-base."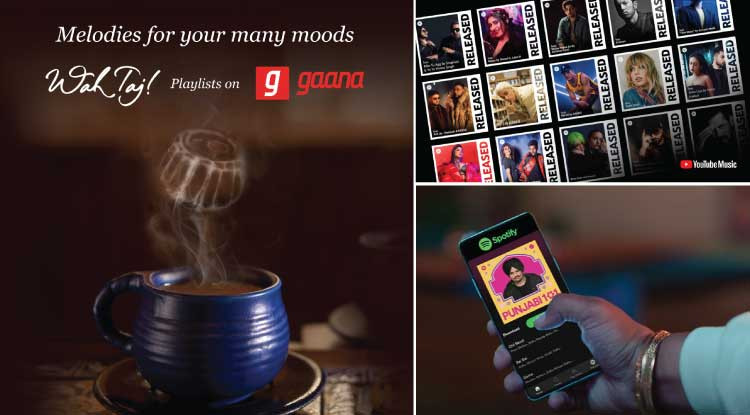 "Brand voice, sonic DNA and conversational tone have become the new watch words for brands extending their reach to an interactive audio world where consumers want to converse with brands and the technology exists to enable increasingly natural conversations between brand and customer. This throws up a whole new range of issues

and opportunities for brands," points out Niraj Ruparel, Head of Mobile & Emerging Tech, GroupM India; and Head of Voice, WPP India while adding that the emergence of a huge market comprising 'hearables' or smart audio devices and connected devices has also made audio content easily accessible. "Sonic branding represents a big opportunity to integrate every audio touch point into a brand's storytelling and spark emotion to drive audiences to action."
Another interesting trend that has been keeping the audience engaged is the popularity of podcasts. Having emerged as an extremely engaging medium of entertainment and information, podcasts allow audiences to access an array of content in an interactive manner. Speaking about Hungama Music's upcoming podcasts, Roy says, "We see a lot of brand engagements being built on the back of higher personalisation and higher consumption that these consumers are driving. The other big play is the podcast space where Hungama's focus is very clearly to bring in very interesting podcasts where there are going to be over 30 broadcasts across 60 languages. We are planning to introduce it this year itself."
While the options are diverse, it remains to be seen just how audio streaming platforms will endeavour to hit new notes and scale new heights in their attempt to sustain the momentum they have had over the past couple of years.