As we reach the month of August, we are charmed by monsoons and e-commerce sales each year. With the Indian Independence Day around the corner, August is always reserved for big sales by e-commerce websites. This year, Amazon is ready to throw open its Amazon Great Freedom Festival Sale 2022. Flipkart on the other hand is offering Flipkart Big Savings Day. With Big Billion Day Sale, and numerous other such sales becoming cultural phenomenon, the e-commerce story is stronger than ever before, and so, the growth in advertising spends on e-commerce platforms is seeing an upward trend. And now with Reliance also expected to enter the e-commerce marketplace ecosystem with Jiomarket, India is all set to become the third largest e-market globally within the next ten years. As per RedSeer Consulting 2021 report, e-commerce market in India is expected to reach $350 billion by 2030, overtaking the markets in the United Kingdom and South Korea. While at the same time, e-commerce platforms will be the fastest growing mediums providing an opportunity of $6-8 billion for digital ads by 2030.

Looking at the current trend, experts believe that the huge impact of social commerce and e-commerce in India has gained fruitful results for not only the growing D2C brands, but also for traditional brands. This has led to an increase in ad spends on e-commerce platforms to grab major eyeballs and to enhance performance-led strategies. As per Digital Advertising in India 2022 by Dentsu, advertising spends on e-commerce platforms stood at Rs 6,300 crore in 2021, and is expected to grow at a rate of 36% in 2022.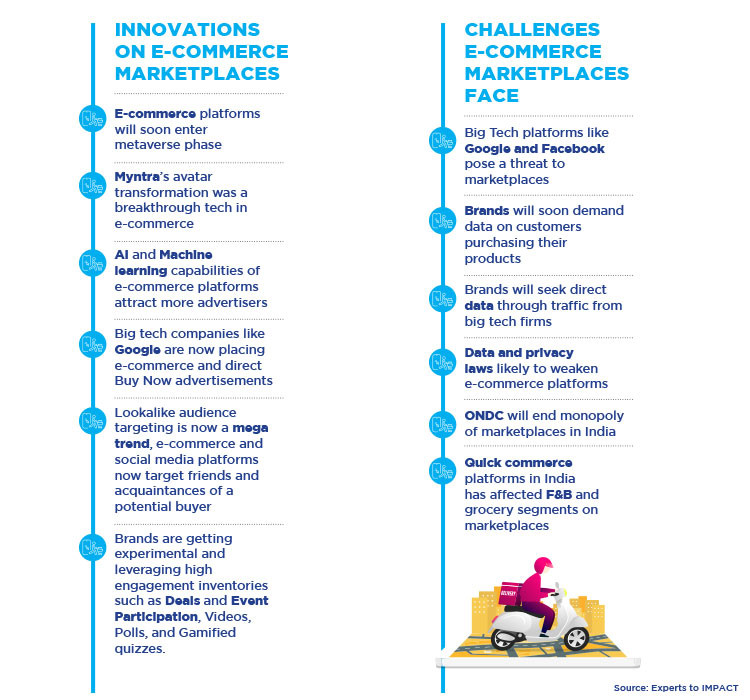 Meanwhile looking at the global advertising expenditure, Zenith Advertising Expenditure Forecast report says e-commerce would be instrumental in bringing in 'new money to the ad market' and that these revenues would be "coming from small businesses that have had to pivot rapidly to e-commerce to survive lockdowns, and from budgets that brands would previously have allocated to retailers to secure physical shelf-space, which they are now spending on display and search ads on retailer websites.

According to Shveta Singh, Chief Digital Officer, Motivator, GroupM, "Ad spends on e-commerce platforms is around Rs 6000 Cr at the moment. That would mean approximately 15-20% of the overall digital media spend in India. The ad spends are projected to grow at a rate of 35-40%. Some of the biggest selling categories on e-commerce are also the biggest spenders on e-comm advertising. Consumer electronics, CPG categories like personal care & beauty, fast fashion, and small appliances are few such high spending categories."

We have seen steady a rise of D2C brands especially in the beauty space during the pandemic, but while they have their own websites, they spend a significant amount of their advertising budgets on e-commerce. Singh explains why, "A brand's budget bifurcation between marketplaces and D2C depends on multiple factors and therefore varies. Even brands with an established D2C presence rely heavily on marketplaces for a lion's share of the revenue. Hence the on-platform marketplace budgets are not compromised. But they spend heavily off-platform to drive traffic to their D2C sites for driving top-funnel objectives, capturing first-party data, and building audience intelligence along with supporting sales."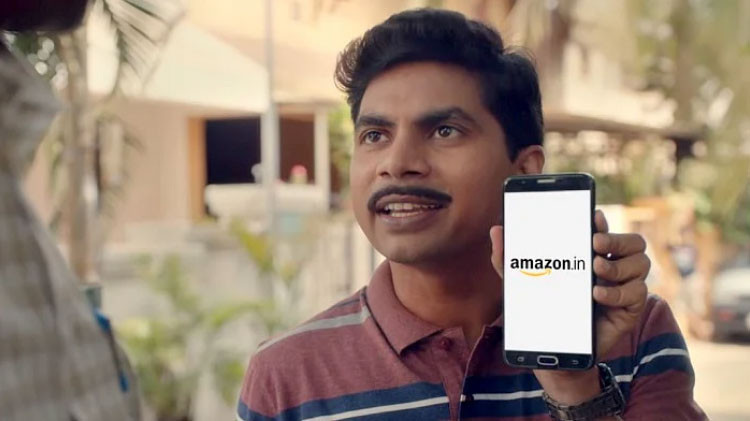 While on one hand, Amazon is bringing in internationally tested ad products suiting Indian standards and enabling advertisers to manage the campaign, on the other hand Flipkart has developed its own ads ecosystem and its automated Artificial Intelligence system helps manage the campaign and reach out to the masses.

Explaining about the use of technology on Flipkart, Sankalp Mehrotra, Vice President - Monetisation, Flipkart says, "There are multiple ways in which we try to ensure value creation for our customers and advertisers alike. We use AI/ML to understand user behavior and serve personalized ads at scale. We do search semantics mapping, online and offline click stream validation to deliver accurate full funnel attribution and prevent ad fatigue through frequency caps. Our ads blend seamlessly into product explorations while maintaining stringent customer guardrails. Our understanding of the intent spectrum also allows us to create customer serendipity; which works extremely well for insurgent brands and sellers."

Chirag Bhatia, Senior Vice President- Media, DDB Mudra Group says, "High ticket endemic categories like Electronics and Consumer Durables are the top spending category as they sell on the platform and can afford higher Average Cost of Sale (ACOS). They advertise more on performance channels like e-commerce search where it's easier to drive and measure ACOS and Return On Ad Spends (ROAS). Apart from this, events like Big Billion Day and the Great Indian sale also massively move the needle for e-commerce ads spends. Pandemic has certainly been a reason for growth for e-commerce, as we all know and this has also translated to e-commerce ad spends by brands."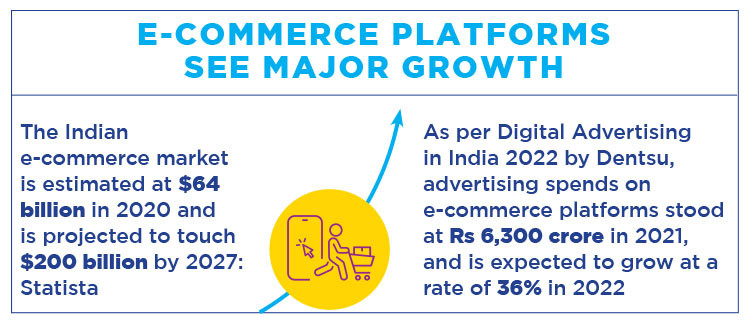 D2C brands spend heavily on E-commerce platforms
Growth of e-commerce platforms in India has paved way for emerging D2C brands in India. The online marketplaces have become enablers of the growth for small and medium brands in multiple categories such as electronics, apparels, footwear, etc. According to Statista, the total addressable D2C market in India is expected to grow by more than 15 times from 2015 to 2025. This has not only led to increase in their advertising spends on e-commerce platforms but they are also benefitting because of sales on these platforms.

Explaining why brands are spending heavily on advertising on e-commerce platforms, Shanu Jain, AVP Media & Strategy, WATConsult says, "Purchase oriented visits to the e-commerce marketplaces have almost grown by 2-2.5x in the past two years. The D2C website of a brand limits customer shopping experience to specific categories unlike e-commerce platforms which provide an array of products and categories to the consumer.

Jain explains, "The growth of visits increased owing to pandemic related restrictions. Interestingly enough, with more and more restrictions being lifted across retail buying, the mix of buyers on marketplace platforms are anything but increasing, indicating a kind of permanent behavioural change in the minds of customers. With the average customer buying close to 3-4 items on a marketplace site, on a single purchase the D2C shopping experience often limits the customer to specific categories. This has resulted in a diversion in a brand's digital spending and the mix certainly has given marketplaces high priority."

Shailja Joshi, Director-Marketing, Potato Chips Category, PepsiCo India said, "The spends on e-commerce platforms for advertising have increased owing to the benefits e-commerce platforms provide to us today. We invest on e-commerce and q-commerce platforms for display advertising as it also provides ROI in terms of sales to the brand."

For an FMCG brand like Parle, which has always had a strong on ground strategy, e-commerce ad spends have seen a significant surge in the past few years. Krishnarao Buddha, Senior Category Head, Parle Products Pvt Ltd said, "We find advertising on e-commerce platforms to be apt as that is where the consumers are spending their time. We are partnering with most of the e-commerce portals and increasing the visibility on them as well. The increase in spends is more than 30% this year."

Explaining how e-commerce platforms have seen a shift post pandemic, Neha Prasad, Associate Director & Brand Lead, Kurkure says, "We have seen a great shift and great growth in volume taking place on the e-commerce channel as well, especially post pandemic. We have our content curated and ready, customised to that particular website so that the consumers find it relevant when they come and shop. E-commerce is seeing a big surge. We are also expanding and trying to deliver content which is very e-comm led."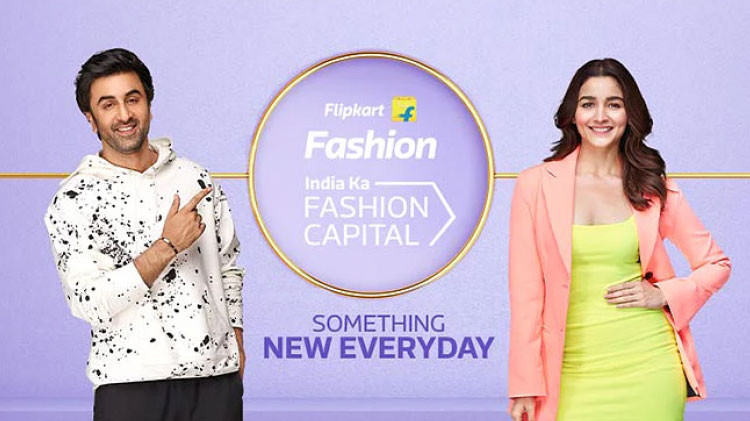 Elaborating on the advertisement spends on e-commerce platforms by Acer, Sooraj Balakrishnan, Head of Marketing, Acer India said, "If you look at Traditional multi brand retailers like Reliance and Croma, they too have opened their e-commerce business, with Amazon and Flipkart already in the mix, it makes the space naturally big in volume, hence a significant percentage of our marketing spends get allocated to this segment. But Acer as a brand is present across the country, and its products are accessible to the consumers across channels like e-commerce, large format multi-brand retails outlets, exclusive retail stores etc. Our marketing spends have been balanced across all our GTMs."

Talking about the association with e-commerce platforms, Balakrishnan says "Acer's presence on e-commerce platforms goes back a long way and we are one of the first PC brands to realize its potential for growth and create new market segments. For example, we established the presence of PC gaming category in the country in partnership with one of the major e-commerce platforms. Acer also does exclusive brand days and promotions with various e-commerce partners and are major sponsors of their biggest sale days."

Kohler India on the other hand has completely cut down their advertising spends on ATL and a substantive part of it is now focussed on performance marketing and driving sales on e-commerce platforms. Salil Sadanandan, President, Kohler, South Asia, Middle East and Sub-Saharan Africa says "Factors like ease of purchase from home, extensive options and better deals have pushed the Indian consumers to prefer e-commerce platforms as compared to offline stores. So yes, we believe that our products are performing well on e-commerce websites. We almost tripled our revenue through e-Commerce platforms in 2021 over 2020 and looking at this trend we recently also launched our own website, which is meant to be shopper friendly and give them a better buying experience."

Due to Covid related restrictions, Lenovo aggressively increased their advertising spends on e-commerce platforms. Looking at the post Covid advertising spends, Lenovo has now a fair balance for e-commerce and offline retail. Lenovo has its presence on two major marketplaces- Amazon and Flipkart and has reported a 2x growth in traffic and a 6x growth in revenue over the last six quarters. Rajesh Thadani, Executive Director - E-Commerce, Lenovo Asia Pacific says "Research shows that 80% of consumers prefer researching online and making the final purchase offline. Especially when it comes to high-end products like electronics and gadgets. The pandemic has changed the way consumers purchase goods."

He further says "Customers today have grown to love shopping online and show comfort in their own digital spaces for most retail experiences. That said, the touch and feel of traditional retail as well as live demos for product services are irreplaceable. Retailers thus would need a combination of online and offline experiences to build retail customer engagement."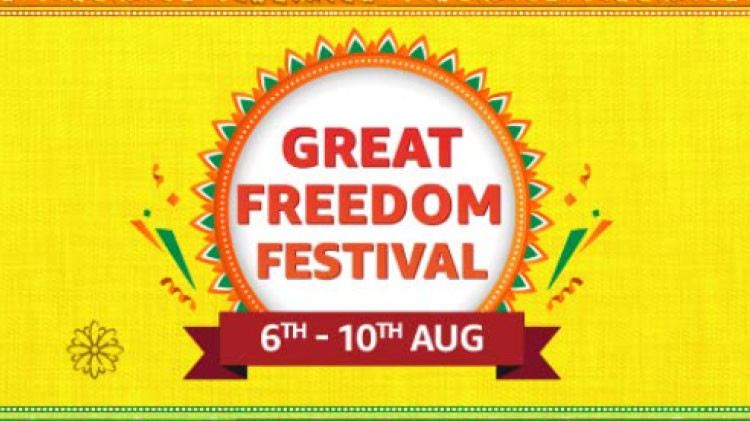 AI and ML drive E-commerce platforms
Armed with latest innovations and tech, today e-commerce platforms in India have huge footprints on their platforms. With data being the king, marketplaces efficiently use the data to make their entry easier for brands. Experts suggest that metaverse will add another avenue for e-commerce platforms to expand their growth.

Abhishek Punia, Co-founder of ARM Worldwide and CEO of ARM Commerce says brands invest somewhere between 24-30% of their Digital ad spends on e-commerce platforms. He adds, "Artificial Intelligence and Machine Learning have become major tools for e-commerce platforms today. Myntra's feature of checking out clothes virtually was a breakthrough tech in the e-commerce industry. The AI and ML on big tech platforms are now used for lookalike targeting. For example, if a consumer has bought a product or is looking to buy a product on a social media platform, a brand can check the data and send brand suggestions to his friends, family and acquaintances."

Describing how strategies in grabbing major eyeballs on e-commerce platform are different from other digital platforms, Shwet Nigam, Media Director at Experience Commerce says, "What matters here mainly is the objective of the brand. Whether we want to do carpet bombing for brand recall or the targeted lead generation campaign. In essence the other digital platforms are now becoming more about creating brand awareness than purchase intent. We cannot run targeted campaigns on OTT whereas e-commerce marketing is more on data driven insight giving better conversion rates hence getting business for the brands."

Nigam further explains, "On other digital platforms, the concept remains the same however the shifts can be dynamic, there is a lot of competitor targeting, bidding shifts and demand trend shifts that take place on E-commerce platforms, concepts like Share of Voice (SoV) and Share of Wallet (SoW) are predominantly effective. The value for the rupee or ROI is more transparent and has a faster effect on the business. What conceptually also makes these a preferred option is that the buying intent for the TG/ Audience is relatively higher as compared to other platforms."

Sankalp Mehrotra, Vice President - Monetisation, Flipkart says, "Brands have said and unsaid needs. The said need of any marketeer would be around meeting defined campaign goals. The unsaid need, however, is to understand movement on their awareness, consideration, etc. To this end, we have built an insights tool that lets brands understand week on week trends with respect to their competition and category. We are able to execute all these capabilities for our burgeoning customer base of over 400 million registered users across the country; making our platform a high reach media destination."

Prashant Puri, Co-founder and CEO of AdLift describes how his ad-tech organization strategizes for brands to gain enhanced results on e-commerce platforms, Puri says, "We optimize for Advertising Cost Of Sale (ACOS) –which is ad spend/sales to maintain profitability. We also ensure that content on the product listing is crisp and has the right keywords. Simultaneously, we bag niche audiences by targeting longer tail words and pruning irrelevant keywords. We've learnt that regular testing of recommendation ads greatly enhances the user experience. Also, using product ads on competitor pages has yielded positive results."

Puri explains how different strategies are utilized for D2C websites and marketplaces to gain better results for clients, Puri says, "Advertising on e-commerce platforms involves optimization for products on Amazon, Flipkart etc. including content, images and managing reviews. This is in addition to leveraging their ad platform to advertise using sponsored ads, search ads, product display or video ads."

He further says, "For D2C brands the strategy is different – here we optimize for digital marketing spends to drive higher ROI across, Google, Facebook, Instagram and Programmatic. In addition, it's imperative to drive down customer acquisition cost over a period of time. We do that using organic channels like SEO, organic social and influencer marketing."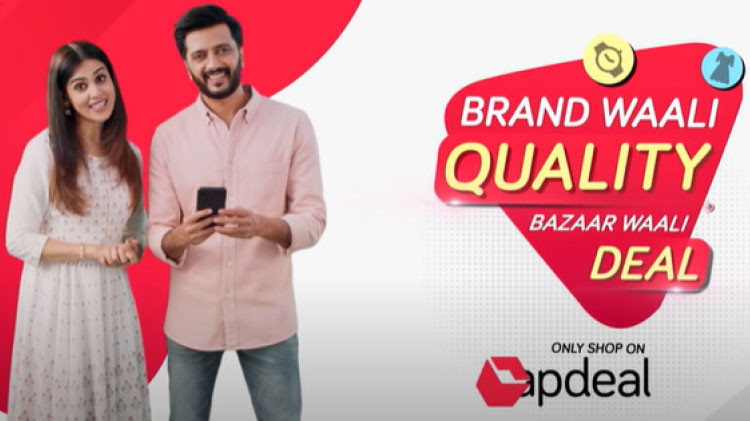 Challenges faced by e-comm sites
Talking about the challenges e-commerce platforms face today, Shashank Rathore, Head of e-commerce, Interactive Avenues – a Reprise network company said, "Every 6 months a new opportunity is emerging, diverting spends from leading players to more promising and growing platforms. Specifically, Quick commerce has created a disruption in the last few months and attracted FMCG and F&B category clients the most. We have even seen sales de-growth on leading e-tailers specifically in F&B and grocery segments and this trend is impacting the spends for some of the leading marketplaces."

Aalap Desai, Chief Creative Officer of Isobar India and Taproot Dentsu says, "Apple's latest campaign (Data Auction) and their advocacy for privacy is just one of the many challenges that e-commerce is facing. The consumer has become more and more conscious about their data and where it is shared. That's one of the key elements for sharp targeting. I have noticed a trend of people being conscious about it. It's right to be conscious but it will affect e-commerce in a big way."
However, the D2C brands are merrier than ever with e-commerce platforms performing at a fast pace. Experts suggests that homegrown e-commerce platforms will see a rise in upcoming years. The icing on the cake was when Ministry of Commerce and Industry launched its Open Network For Digital Commerce (ONDC) initiative aimed to provide consumers their choice to purchase from a seller and small time sellers to compete in the mega market. Exciting time for all stakeholders and a win-win situation for the ecosystem.
Enhanced bottom of funnel marketing tactics
Bhatia explains how brands today can indeed benefit from bottom of the funnel marketing tactics on e-commerce platforms. Bhatia says, "Today e-commerce channels are the number one product search engines as people like to research on products where they are listed, and not on Google. This puts e-commerce ads in a very special place to tap into bottom of the funnel using instant consumer intent data, hence there is a lot of adoption of bottom of funnel products like PLA ( product listing ads), PCA (product contextual ads) and e-commerce search ads."

According to Jain of WATConsult, scope of innovation in the bottom funnel strategy is high due to brands targeting customer's buying behaviour rather than consumer's aspirations.

Jain says, "Data Transparency and access at all levels have become successful in providing real-time information on market movers. Customer interactions with the brand for the first time up until the completed purchase is accessible to the brand. Sales conversions are typically high on marketplaces. An array of conversion-focused search and display advisement within all customer-application touch points has led not just to upselling but also to a number of products ordered per shopping session."