Every time you're surfing the channels on television, and making sense of the flurry of advertisements, chances are that the one thing that will register is how often a familiar, famous face shows up. Be it Virat Kohli, Alia Bhatt or Ranveer Singh, you definitely notice the celebs even as the ads fly by thick and fast, making it difficult to tell one from the other. There was a time when Sachin Tendulkar was almost synonymous with an MRF or Boost, a time when consumers could actually recall which popular face endorsed a brand or product line. Today, most A-list stars lend their image to an average of 15 brands each, which begs the question – are celebrity-led advertisements becoming more about the celebrity than the product? Also, are celebrities diluting their own brand value by endorsing everything - from toothpaste and soap to mobile phones?
According to a report released earlier this year by corporate advisers Duff & Phelps, the overall brand value of the top 15 Indian celebrities was $712 million in 2017. Actor Ranveer Singh today endorses 25 brands across categories, while Virat Kohli, Akshay Kumar, Deepika Padukone and Amitabh Bachchan are ambassadors for more than 20 brands each. What can brands do, then, to stand out? And how do the stars keep their credibility intact?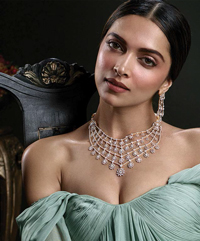 BREAKING CLUTTER, OR ADDING TO IT?
Brands work with celebrities for two main reasons – to create aspiration or to break clutter. However, in the scenario we are seeing today with so many celebrities vying for attention, they have in fact become part of the clutter. And that, in turn, will have an impact on their aspiration quotient. Brands will, therefore, soon need to start putting the filter of believability into their choices, says Rahul Mathew, National Creative Director, DDB Mudra Group. "If Sachin starts endorsing Maruti, would I believe he drives one? Maybe if they start making Ferraris," he quips. He has a word of caution for brands and celebrities, who in India have achieved God-like status. "With these 'Gods' or personalities becoming the face of so many brands, either brands will have to burn many media dollars to make their association the strongest, or they will have to live with their endorser for a long period of time to cement the association through consistent repetition. Much like we associate the colour yellow with Govinda," he says.
For an association like this to work, brand values must be in sync with the endorser's core belief system. For example, it would not make sense for a company to enlist an older star for a brand whose target audience is the young. Too Yumm! is one of the brands that recently roped in cricket star Virat Kohli as brand ambassador. Anupam Bokey, VP Marketing (CMO) of RP Sanjiv Goenka Group's FMCG Business, points out that the association is a strategic move since Kohli's core values match those of Too Yumm!. He explains, "There is no harm in one endorser being the face of several other brands, but the trick lies in how effectively one can use the endorser, aligned to his own brand and personality. Virat Kohli has been welcomed as the first celebrity endorser for Too Yumm! since he truly represents the health values of the brand. Kohli's followers have always looked up to him not only for his fitness regime, but also for the healthy choices he makes."
Authenticity is another important element in ensuring that a brand breaks through the clutter even if the endorsers are the face of other products and companies. As long as the brand core values and the celebrity core values match, both the brand and the celebrity can leverage from the association, says Sachin Killawala, Marketing Director, Nivea India. The brand works with popular stars like Anushka Sharma and Ranveer Singh, who Killawala believes add huge value to the brand propositions. "Our brand ambassador choice is based on shared values, rather than the popularity of the respective celebrities. Their participation in other brands has no bearing on our engagement," he maintains. Likewise, matrimonial site Matrimony.com has also partnered with MS Dhoni to create a stronger connect with young consumers. Murugavel Janakiraman, CEO, Matrimony.com, explains, "In the case of MS Dhoni, the brand fit is a good one as he is an inspiration for millions of youth because of what he's achieved for the country through his leadership qualities. Dhoni also inspires through his happy marriage, and his image as caring dad and loving husband."

Ultimately, everything comes down to brand fit and credibility. Consumers can see through inauthentic messaging and force fits, points out Harish Bijoor, brand expert & Founder, Harish Bijoor Consults Inc. "When I recommend a celebrity for a brand, for me the ultimate issue in focus is, does the celebrity fit the brand and is there an umbilical connect for a start. I hate force-fits and dissuade force-fits altogether. Does the brand look comfortable with the celebrity in question, and is the celebrity looking hunky dory in its company?" asks Bijoor.
As a practice, celebrity endorsement is signed based on a particular brand category. Therefore, it is exclusive to that particular category. Vinit Karnik, Business Head, ESP Properties, the Entertainment & Sports division of GroupM, notes that this exclusivity plays a critical role as a differentiator in the marketplace and in the minds of consumers. "The challenge advertisers have is to design a creative campaign for multimedia. Creative treatment for the digital media needs to be different than traditional media and the celebrity can add value to the role he/she plays in the creative by breaking the clutter," Karnik explains.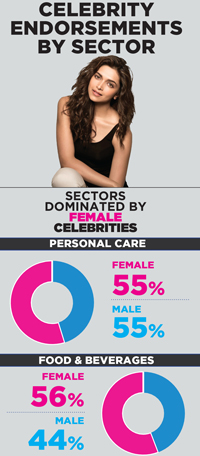 WHAT GOES INTO DIFFERENTIATION
Celebrity associations have always been a bit of a mixed bag. Instances abound of comical errors by celebrities being photographed using brands that are in direct competition with the ones they endorse. Today's wave of millennial celebrities are aware of their responsibility to both consumers and brands. Case in point – Virat Kohli as a fitness enthusiast has been vocal about not endorsing a product that is unhealthy or unsafe. This trend of credible, transparent stars is a positive one, believes Karthi Marshan, Chief Marketing Officer, Kotak Mahindra Group. The brand, which works with actor Ranveer Singh, recently leveraged the high profile Ranveer-Deepika wedding in a clever way. Marshan explains that for a brand like Kotak Mahindra, founder Uday Kotak has been the perfect ambassador for the company. Explaining the appointment of Singh as endorser, he says, "Demonetization - 8/11 - was a landmark moment in India's financial history. It put India centre-stage on the world's digital money map overnight. In the reforms that followed, we saw an opportunity to be of service to many underserved communities, segments and groups, and make financial inclusion a mission not just about those trying to breach the poverty line, but also about those behind the rope of society's biases and prejudices. For this, we needed a precision match on the messenger. In Ranveer Singh, we saw this fit."
Differentiation through celebrity endorsements can also be driven by taking due cognisance of the brand's overall business objectives. At the end of the day, the brand needs to sell products and not the celebrity. The advertisement and the communication need to therefore fit the brand, not the ambassador. Nadia Chauhan, Joint Managing Director & CMO, Parle Agro explains, "We chose a celebrity for our brand based on our business objectives. We look at the scale of impact we want to achieve, the level of mass/niche appeal the celebrity has, the personality of the celebrity and whether it complements our brands' personality. We look at overall response from our target consumer base towards the celebrity. Parle Agro brand ambassadors have to tell a story that is true to the brand. Through Salman Khan and Alia Bhatt, we have been able to drive stronger brand messaging, while staying true to the aura we have created around our brands."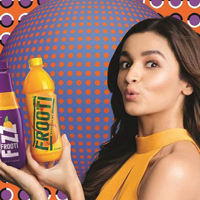 Bling Entertainment, a celebrity management company, manages personalities like Kangana Ranaut, Vidya Balan and Guru Randhawa, while also working with brands to execute celebrity endorsement deals on their behalf. Swati Iyer, Director & Business Head, Bling Entertainment explains that celebrities, when used judiciously, can provide a point of differentiation based on the values and attributes they stand for, irrespective of how many brands they represent. She explains, "A lot depends on the product life cycle of the brand and its target audience. Sometimes, in a highly competitive market, a brand may still go with a face that is endorsing 20 other brands as at that time they need instant awareness to be built up. However most brands realize that in this market, popular celebrities very rarely may endorse less than 10-12 brands so instead of avoiding them altogether, they create memorable campaigns that stand out due to more effective messaging."
Sunil Raina, President and Business Head, Lava International Limited, agrees with Iyer and points out that a brand must work to create noticeable campaigns with an endorser who shares similar attributes. He says, "Celebrity endorsements are effective when they truly embody what the brand and its proposition stand for. Lava's brand proposition of reliability worked beautifully with Mahendra Singh Dhoni as our ambassador."
Lesser exposed celebrities might actually add more value to a brand than someone endorsing a slew of products. The endorsement has to move the product off dealer shelves. No other measure is acceptable, says Sandeep Goyal, Founder, Mogae Group, who has a PhD to his name for a thesis on celebrities as human brands. "Multiple endorsements by celebrities kills value for the brand, leads to consumer confusion and dilution of message. An overexposed Virat diminishes his own effectiveness to sell, while a lesser exposed Rohit Sharma could work better, but then agency creative teams have to work much harder on ideation and execution. Most celebrity ads look as if they are (and they actually are) shot in a rush because the celebrity has no time available to do justice to a script," he says. He adds that Kent RO has gained more from using Hema Malini than any brand working with an A-list star.
Abhishek Maloo, Head-Marketing, TBZ-The Original cautions against the one-size-fits-all method to celebrity associations. Celebrity associations must be long term, ambassadors must not be overexposed and must be clear of controversies. "The days of celebrities endorsing anything and brands just riding the wave are over. No one really believes that celebrities use the brand they endorse. However, celebrity endorsements raise curiosity and help break clutter for a brand if used tactfully," Maloo says. Brands like Philips have been able to build recall by appointing different personalities for each product line. Gulbahar Taurani, Marketing Director for Philips Personal Health, Indian subcontinent, explains the reasoning behind the appointment of each brand ambassador. "For our air purification segment, we got on board Rahul Dravid, in whom we found a partner who embodies the sense of trust and dependability that Philips itself is associated with. We also recently appointed Virat Kohli as the brand ambassador of the male grooming segment because he can reach out to the Indian youth. Alia Bhatt is the brand ambassador for the beauty segment as she is a confident personality. We also got Chef Ranveer Brar on board for the kitchen appliances category in India," Taurani says. He notes that these partnerships perform an effective role in increasing the credibility of a brand, rather than the attractiveness of the endorser.
What a celebrity does is to reinforce her/his association and star status to ensure that the consumer's mind is constantly refreshed around the brand. It's like a shot-in-the-arm, and effective for an impactful launch or a campaign burst. However, there is a flip side that has become relevant, considering the newer sensitivities of young consumers, believes Mansoor Ali, Chief Sales & Marketing Officer, Hamdard India. Consumers don't like it when brands are patronizing in their communication. "Young consumers do not like being talked down to. For them, an ad campaign based on deep product insights, relatable to the new world that they live in has more relevance. They connect more to such campaigns and relate to them on a personal level," Ali opines.

While legacy brands may not need a brand ambassador, celebrity associations help newer brands to catapult themselves into the consumers' mind space. While Sushil Matey, Director, Marketing, Livpure believes that stars who endorse multiple brands across price and category segments diminish their own credibility, he explains the brand's rationale behind appointing Sachin Tendulkar as brand ambassador. "Livpure has been associated with Sachin since its inception and Sachin's core values of trust, reliability and honesty resonate perfectly well with our brand values," he says.
Today, brands are starting to value relevance over awareness. Given the fragmentation in the market and the tools available to reach specific segments of the market, awareness in relevant consumer segment is seen as a bigger currency, points out Neeraj Bassi, Chief Strategy Officer and Managing Partner, Publicis Capital. "Celebrity endorsement is a quick way to scale up mass awareness, so it will remain relevant for a set of brands who need to establish themselves in the consumer's mind. But since brands are starting to value relevance over awareness, consumer endorsement and micro-influencers are gaining greater importance," he adds.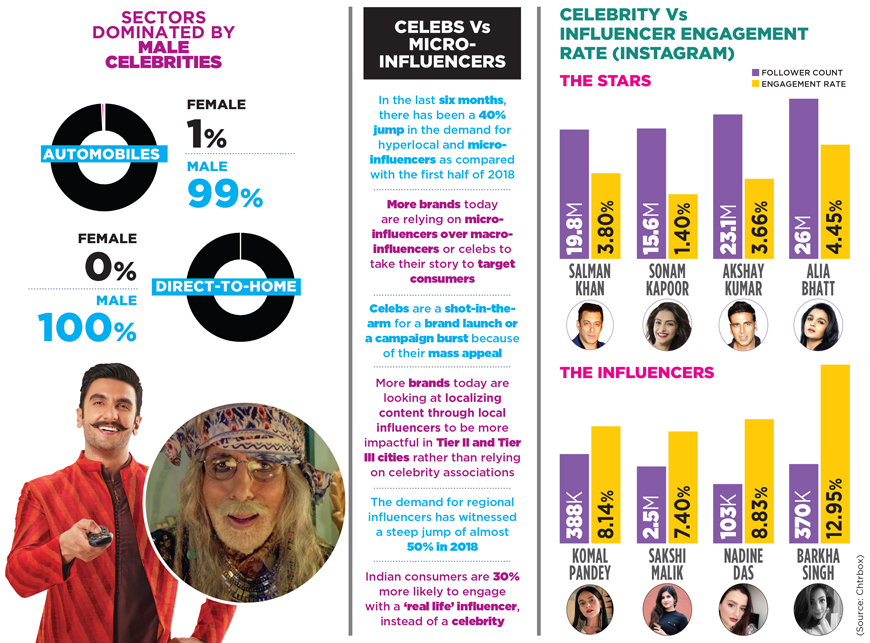 DO TOO MANY ENDORSEMENTS DILUTE THE CELEBRITY BRAND?
One celebrity representing too many brands may cause a sense of confusion and fatigue for consumers, and they may struggle to tell one commercial from the other. This is especially true if the same person endorses products within one category. Mayank Shah, Category Head, Parle Products, believes that synergies need to exist between the brand and the endorser. "Brands are definitely better off working with someone who will pick and choose the products and companies he associates with. I would think twice before working with someone who lends his/her name to too many companies," he says.

Celebrity advertising can be lazy sometimes, and is usually the easy way for brand managers to build up a brand, believes Shabnam Panjwani, SVP and Head-Marketing Communications, Edelweiss Group. She adds that Edelweiss has worked with lesser exposed stars like Irrfan Khan and Saina Nehwal, who have a strong connect with the brand. "Irrfan was a natural choice for our Edelweiss SME Business Loans campaign and Wealth Plus, a ULIP plan from our insurance arm, and Edelweiss Tokio Life Insurance. Saina is an inspirational icon, which is one of the compelling reasons to associate with her. We have all seen her commitment to the game, her unwavering focus, sheer hard work and mental discipline, attributes that are synergistic with our brand," explains Panjwani. She adds that post multiple campaigns done featuring Irrfan Khan, Saina Nehwal and other sports brand ambassadors, the brand has seen a 41% growth in awareness and 30% growth in consideration from FY 17 to FY 19.
More than signing on cricket and film stars, brands are increasingly becoming aware of reputation management in an age where Digital and Social Media are gaining prominence, where one viral video or negative review could undo years of brandbuilding. The focus on reputation management has become more pronounced in mature markets like the US, Jaideep Shergill, Co-founder, Pitchfork Partners points out. "The industry is highly fragmented and chaotic right now, and I don't even think there is any method to the madness. Brand managers and heads spend a few crores on the celebrity, and there may be a spike in sales, but no one is really thinking long term. Unlike two decades ago, brands are not the centre of universe anymore today. The advocacy is actually coming from the customer, from the relationship the brand develops with the customer. That's where brand managers need to look," he says.
Often, brands forget to showcase their own product as the champion in their campaigns. As S Krishnamoorthy, MD, Grasim Bhiwani Textile Limited (GBTL), whose brand Grado has signed on Amitabh Bachchan as its ambassador, says, the brand ambassador and the influencers are as important as the product itself. "The ambassador introduces the brand to the retailer and consumer, but the quality of products and the experience it gives, sustain them," he says.
A NIGHTMARE AS WELL AS A DELIGHT FOR THE MARKETER
The current fragmented industry presents both a delight and a nightmare for the marketer, says Deepika Sabharwal Tewari, Associate Vice President, Marketing, Jewellery Division, Titan Company Limited. Explaining how brand Tanishq uses different celebrities for its campaigns, she points out that these are exciting yet challenging times for the marketer. "The nightmare lies in the fact that marketers have so many options to choose from. The delight is that you can use a relevant personality for your brand. So for example, influencer marketing works really well in connecting with younger audiences because they are usually in the Digital space. Whether you work with a celebrity or a micro-influencer, the most important thing to do is keep the storytelling strong and impactful," she says.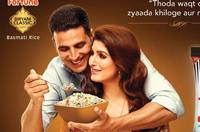 The one dubious measurement that all brands use to measure the effectiveness of influencer marketing is the number of views and impressions. While the numbers are important, the objective of influencer marketing is pretty much the same as that of celebrity endorsements. One Digital Entertainment, which works with artistes like Badshah, Raftaar and Arman Malik, strive to create a bridge between the audience and brand objectives largely on digital platforms. Gurpreet Singh, COO & Co-founder, One Digital Entertainment always advises brands to pay attention to more than just the numbers when it comes to evaluating campaigns. He says, "There is no point in making ads which look great, but which no one is sharing or talking about. You then have to pay additional money to market these ads. Another thing we pay attention to when we work with our artistes and with different brands is the authenticity factor. A lot of influencers today, and our artistes as well, are very clear that they want to only partner with brands that reflect their principles and values. So our endeavour with every piece of work is to create content that shows the synergy between the brand and artiste – that is definitely one way to get more views and reach in a more organic way."
With Digital growing to become more prominent, micro-influencers with small and targeted sets of followers are able to connect with fans more effectively. This is why brands are also using Bollywood and cricket stars on social media platforms extensively. Anup Sharma, Communications Consultant, points out, "With the rise of brands with a purpose, today celebrities are associating with brands in raising issues. A good example is Chef Vikas Khanna working closely with Quaker Oats in highlighting the issue of hunger and malnutrition in the country."
Chtrbox, the influencer marketing platform, has studied the difference in engagement metrics between microinfluencers and celebrities on social media platforms. On an average, though celebrities have significantly higher follower counts than micro-influencers, their engagement rate reaches a maximum of 4.45%. On the other hand, microinfluencers on an average see almost twice that rate of engagement at about 8.83%. Pranay Swarup, Co-Founder & CEO of Chtrbox.com, explains, "In many cases, micro-influencers also have a greater engagement rate than their extremely popular counterparts. But this doesn't erase the importance of a celebrity's reach and influence. The ideal campaign strategy for a brand would be to have a combination of mega, macro and microinfluencers. This ensures that all platforms of communication and reach are covered."
Stars showed up in nearly 24% of Indian ads last year, according to market research agency Millward Brown. While that number has more than doubled over the past decade, it is off from its peak. Shudeep Majumdar, Co-founder, Zefmo Media Pvt. Ltd, an influencer marketing platform, points out that today local influencers are the most effective in smaller markets. "Brands today are looking at localizing content through local influencers to be more impactful in Tier II and Tier III cities rather than celebrity associations. In addition, the demand for regional influencers has witnessed a steep jump of almost 50% in 2018. These trends are likely to become even more pronounced in 2019," concludes Majumdar.