This year the coming of September is a cathartic moment for brands. Two years since we had to tone down the jubilation of festivals, advertisers are finally getting back in the saddle, albeit, with baby steps. As we witness the end of COVID induced lockdowns, brands are trying to make the most of the situation by launching ad campaigns in the run up to the festive season.

A number of brands have come up with innovative campaigns for this festive season. Certain brands (like Crompton) have also unveiled their very first campaigns for certain ranges on the eve of this season. Unlike the festive seasons of 2020 and 2021, this year there are no restrictions of Covid-19, and hence, people are free to go out, visit the stores, and purchase things like they would usually do in the pre-pandemic world. Undoubtedly, it's a healthy phenomenon for the world of marketing and advertising.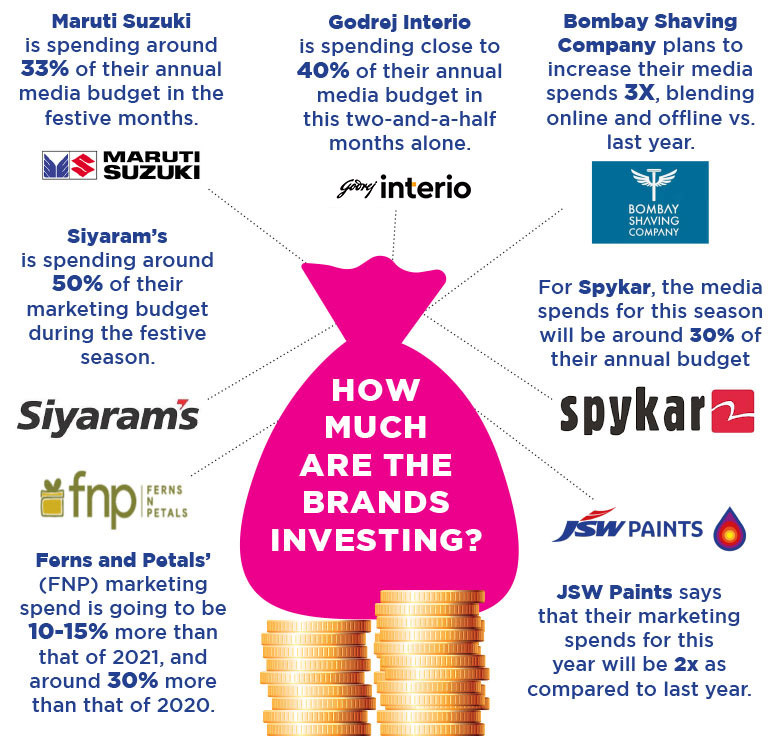 While the pandemic is behind us now, industry leaders believe that certain media platforms are yet to catch up with the pre-pandemic rhythm. Shekhar Banerjee, Chief Client Officer and Office Head - West, Wavemaker India says, "Starting with the festive season of 2021, Indian AdEx had seen a very strong rebound, which was in fact a very good growth versus the same quarter in 2020. However, the Covid disruption has altered AdEx mix for the advertisers. TV and Digital have not only rebounded, but grown significantly over 2019. But it is not the same for Print, Outdoor and Radio. Even if we talk about the major part of 2022, the latter is still trying to catch up with the lost AdEx of 2019."

Monaz Todywalla - CEO, PHD India, says that OOH is now steadily gaining momentum after witnessing a drop during the pandemic. "The leap in technology over time has also allowed OOH advertisements to undergo an evolution, allowing brands to innovate and get creative about their messaging in imaginative ways."

Todywalla believes that despite being Covid-free, this festive season is not going to be very different from that of last year in terms of marketing spends. She explains, "While some categories are spending more or have shown growth over 2021, the sentiment towards most commodity-based categories like FMCG is ambivalent at best. The consumers' perception is a tad divided as more and more individuals – even the ones with purchasing power – are looking at superior value at a lower cost, and are willing to wait for deals or value addition. So I believe, it will more or less remain at the same levels as what was observed in 2021. Judicious spending is the sentiment of the season."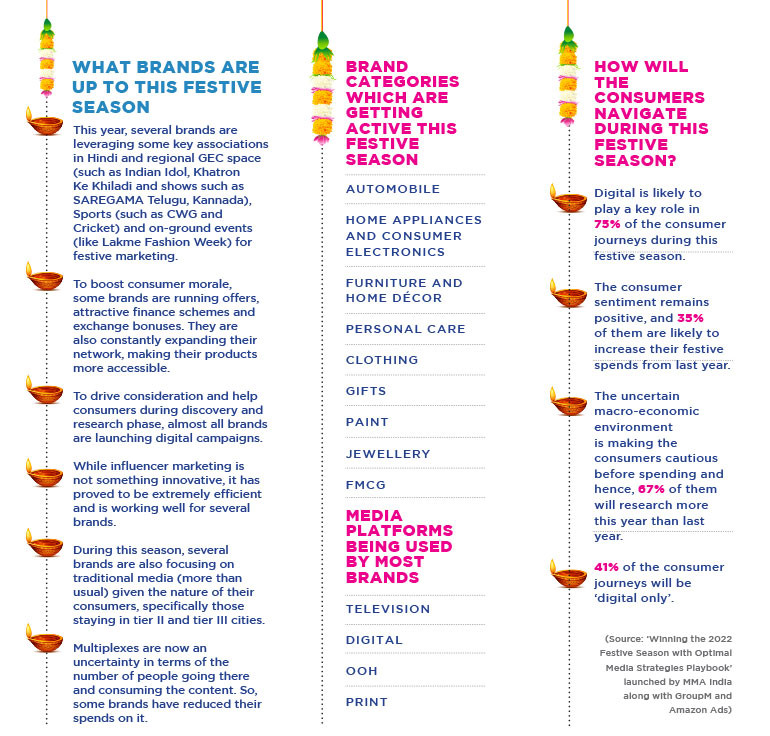 This year, brands from the auto industry say that they are focusing on expanding networks and improving the availability of the products.

Shashank Srivastava, Executive Director at Maruti Suzuki India Ltd. says, "We have already kick-started the festive season with the launch of 2 new products – Grand Vitara in Nexa channel and the all-new Alto K10 in Maruti Suzuki Arena. The high decibel and impact campaigns for both the products are being aired across the main-lines and the digital mediums. Our regional teams are doing tactical campaigns around the festivals such as Onam, Ganesh Mahotsav, and the upcoming Durga Puja, and Diwali. During this season, we are also leveraging some key associations in Hindi and Regional GEC space (such as Indian Idol, Khatron Ke Khiladi, and regional shows such as SAREGAMA Telugu, Kannada); Sports (such as CWG and Cricket); and on-ground events (like the upcoming season of Lakme Fashion Week), which will drive additional reach for us. We are spending around 33% of our annual media budget in the festive months (Sept-Nov).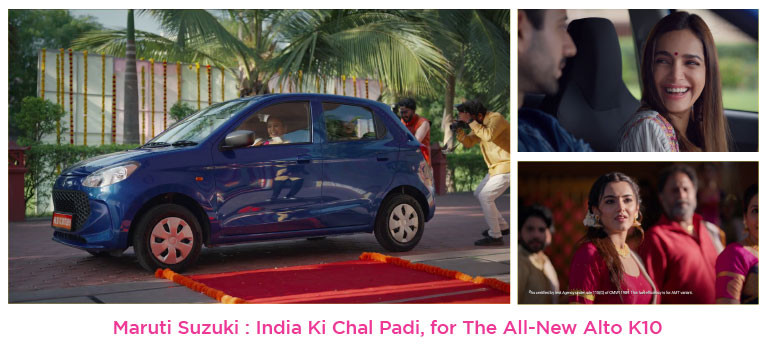 "TV is our biggest medium to drive awareness and impact with 37% of media spends. It is followed by Print (30%) that is especially leveraged by our regional teams for tactical campaigns. Digital spends contribute to 25% of our media spends to drive always-on and ROI-driven initiatives. We use outdoor for launches and Radio for both launch and tactical campaigns with each contributing approximately 3-4% of our total media spends," he says.

Rajan Amba, Vice President, Sales, Marketing and Customer Care, Tata Motors Passenger Vehicles Ltd. says that they are actively firing from all fronts during this festive season. "On the product side, we have introduced newer variants and the Special JET Edition to excite the market. We have released the Jet Campaign across channels, and digital is our lead medium for this. To boost consumer morale, we are running offers, attractive finance schemes, and exchange bonuses for this festive season. We are also constantly expanding our network, making our products more accessible."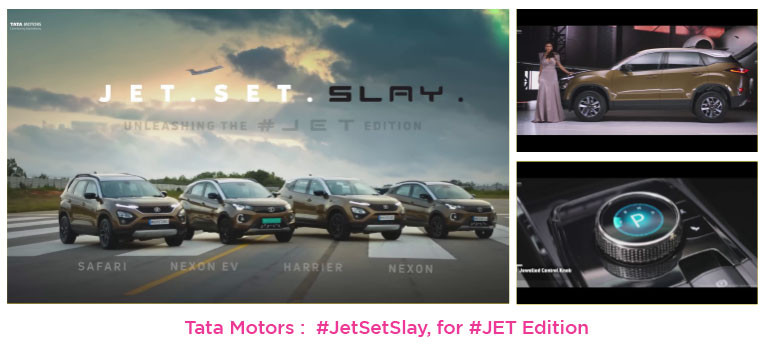 "Our focus is on a micro-market strategy and hence, our platforms and channels differ from region to region, and market to market. With media platforms diversifying in accordance with evolving consumer needs, having our presence across all key mainstream platforms is imperative. But we chose platforms within markets to further filter and narrow down our messaging and content for targeted consumers. We maintain a good media mix with Digital being the lead platform," he further says.
The brands belonging to home appliances and consumer electronics seem to be quite optimistic about this season. Some of them are also trying to lure consumers with different offers.

Shirish Agarwal, Head - Brand & Marketing Communications, Panasonic Life Solutions India says, "We are targeting double-digit growth in the festive season reinforced by smart ACs and the home appliances category, and our marketing spends are in line with this. We announced the 'Festival of Life' campaign ahead of the festive season, which entails a range of attractive festive offers and schemes to make the festive purchases accessible and affordable for consumers. With this campaign, we have introduced a range of cashback programmes, convenient finance schemes, warranty benefits and exciting gifts on the purchase of Panasonic appliances. We have also launched a wide range of consumer appliances."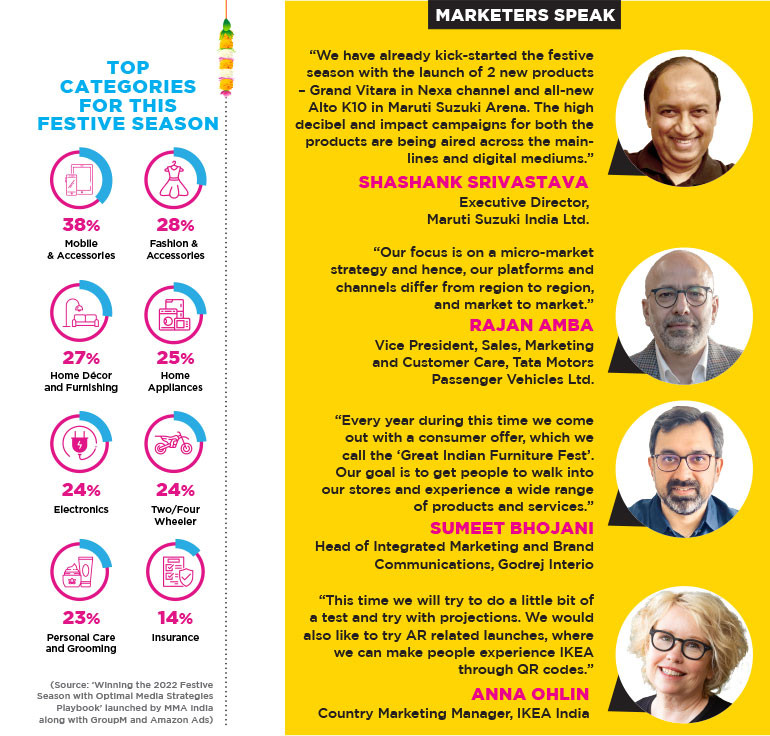 "Last year, our festive campaigns were mostly around consumer offers. However, this year we will also focus on product-led campaigns. We will launch a digital campaign on our new range of smart washing machines powered by Miraie. To drive brand consideration and help consumers during discovery and research phase, we have launched a digital campaign called #WelcomeToAdulthood, wherein the brand is assisting consumers with important information that they need to keep in mind before purchasing new household appliances. During this season, our focus will be more on Digital and that will be followed by Television and Print. Almost 70% of our efforts will be on Digital and Television-related campaigns," he says.

Crompton's media spends has more than doubled in the past two years, as Pragya Bijalwan, CMO at Crompton says, "During this festive time also, the number as well as the scale of the campaigns have gone up. For example, now we are doing a mixer campaign, which we never did before. We will have a campaign for lights this year. Last year also we had one such campaign, but we did not do it two years back. When I say scale has gone up, it means that we are looking at far bigger properties. We are looking at more platforms to get the right reach and the consideration from our TG. Last year we looked at properties such as Big Picture and Kapil Sharma Show. As far as this year's properties are concerned, I cannot reveal it before the brand plans are out. But at a category level, we are clear about the genres. For example, in case of mixers, we have to focus on some cookery shows."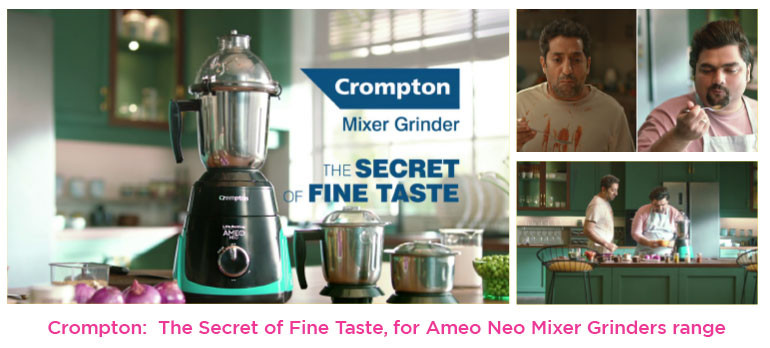 Navin Khemka, CEO at MediaCom South Asia, says that during this season advertisers are likely to spend money on a host of cricket series and the World Cup. "Most of the TV channels have also lined up their special programmes like KBC, etc. As it's the festive season, advertisers will have a short window to make a big impact and get the sales in. So a high impactful festive plan is critical to ensure marketing success," he says.

To cash in on the customers visiting the physical stores, Usha International has ramped up their displays. Saurabh Baishakhia, President, Appliances, Usha International says, "We have integrated marketing efforts with company stores and retail partners. While there is a good amount of focus to build awareness through ATL mediums, we are also paying equal attention to digital amplifications. As India is opening up post-pandemic, the brick and mortar stores have started doing well. Thus trade marketing has become a very important part of our mix."

He says, "As a brand, we are also trying to increase our business in rural areas. Currently around 15% of our business comes from the rural segment, and we want to increase it to 25% by 2023-24. Apart from opening outlets in those areas, we are also doing campaigns in different regional languages leveraging the festive season."

Furniture solutions brand IKEA says that they are trying to introduce innovative ideas in their marketing initiatives in the festive season. Anna Ohlin, Country Marketing Manager at IKEA India says, "This time we will try to do a little bit of a test and try with projections. We would also like to try AR related launches, where we can make people experience IKEA through QR codes. Through this technology, people will be able to virtually get in and experience it on their mobile phones and feel as if they are actually at the stores. I think as a company, we really like to try different things. If it doesn't work, we give it up, and if it works, we build on it. So, it's a long 'test and learn' journey."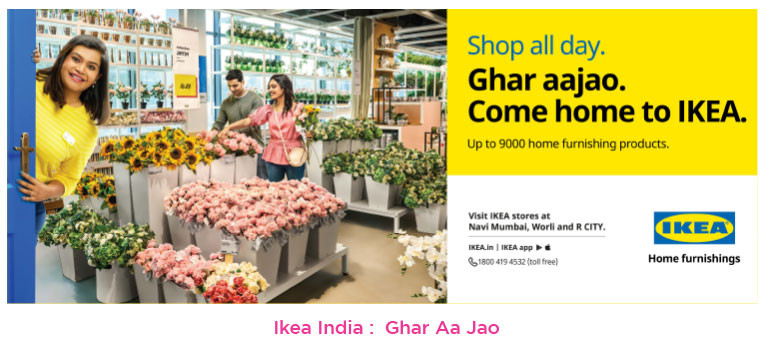 "For us, the marketing spends during this festive season is more than last year's, and there are two reasons for it. One, it is the first festive season post-Covid, and second, our new positioning launch. So, our spends are going back to the pre-Covid numbers, and for this season we have two big campaigns. We recently launched our 'Ghar Aa Jao' campaign, and in October, we will launch 'Ghar Aa Jao' stream of festivities. This season is mainly digital media-focused. Influencer marketing is not something innovative, but that is extremely efficient and is working well for us."

Another leading furniture solutions brand, Godrej Interio, says that they are spending close to 40% of their annual media budget in this two-and-a-half months alone. Sumeet Bhojani, Head of Integrated Marketing and Brand Communications, Godrej Interio, says, "In the festive season we are looking at launching new innovative products. We are coming up with a two-fold marketing campaign, the kitchen brand campaign, which has already been unveiled, and a tactical campaign. Every year during this time we come out with a consumer offer, which we call the 'Great Indian Furniture Fest'. Our goal is to get people to walk into our stores and experience a wide range of products and services. We are expecting anywhere between 30-40% of our annual sales, especially in certain geographies such as North, West and East during these months."

He says that normally they pay more attention to Digital (around 60%). But during the festivals they also focus on traditional media, given the nature of their consumers, specifically those staying in tier II and tier III cities.

"Undoubtedly the pandemic was a tough time, but our heavy reliance on Omni-channel strategy helped us a lot. The consumer demand shifted towards online and we were able to cater to that. We were able to use digital media effectively," he further says.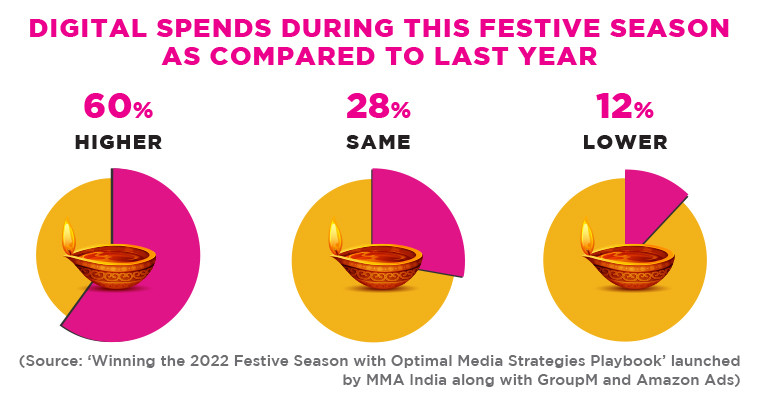 Monaz Todywalla - CEO, PHD India, says that not every advertiser has seen great ROI returns on the back of properties like IPL. "As a result, most of them are cautious and are evaluating high-impact properties from an opportunity cost standpoint. What we've observed lately is that there has been great traction for OTT and non-fiction properties."

Personal care and grooming solutions brand, Bombay Shaving Company, seems to be one such brand. Apart from relying on social media advertising (including influencers) and OOH, they are focusing on OTT and Connected TVs.

Deepak Gupta, COO at Bombay Shaving Company says, "We plan to increase our media spends 3X, blended online and offline. During this season, we are planning to run two major campaigns as compared to just one last year. These will be both at the national and regional levels, and have been designed to have holistic impact across channels - offline sale, e-Commerce, quick commerce and B2B."

"We grew 30-40 % in the last festive quarter. We may not be a core festive category like appliances and consumer durables, but we have found a sweet spot in 'festive preparations', which we look to build on. We are expecting the festive period to contribute approximately 30-40% of our quarter goals with respect to net sales."

Makeup brand SUGAR Cosmetics seems to be equally excited about the season. Vineeta Singh, Co-founder & CEO, SUGAR Cosmetics says, "September to February is the peak window for us which generally gets us 60-65% of our business. We are expecting our revenue run rate to jump by 40-50% this time around. During the festive period, we usually come up with one big campaign that runs throughout the season. Of late, we have collaborated with Ranveer Singh and Tamannaah Bhatia for our recent #ShukarHaiSUGARHai campaign. Last year, we had launched our festive campaign #BoldAndFree with Taapsee Pannu, and it did extremely well."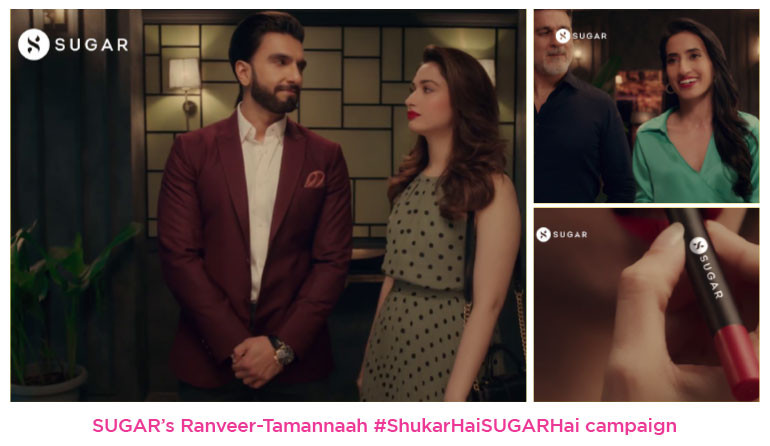 "During this season, we are planning to keep up with our Omni-channel approach. The #ShukarHainSUGARHain campaign has been aired nationwide in 6 languages, including Hindi, Bengali, Kannada, Marathi, Tamil & Telugu across 50+ prime electronic channels. Digital advertising, social media marketing, and influencer marketing will be ongoing activities for us. We are looking forward to a strong festive season that will be doubling our sales in the upcoming months. Considering our current momentum in sales and the festive rush, we are expecting to grow 2.2 times (revenue-wise) by the end of this year selling Rs 50 crore worth of products every month."

Vidyut Kaul, Head, Personal Health, Philips Indian Subcontinent says, "For us at Philips, festive campaigns will be a focus where we foresee some of the best prices and promotional offers during this time of the year. Our campaigns have a homogenous mixture of all mediums, with a focus on organic and partnership-led content. Each of our campaigns is aimed at empowering young Indian consumers to be their best self and be confident in expressing themselves uninhibited. We have also seen a healthy growth in both offline and online channels as each of them has unique offerings on the table."

Due to poor responses received from multiplexes, a section of brands have reduced their spends on it. Prashant Awasthi, Marketing Leader, Siyaram Silk Mills Ltd. says, "For us, the multiplexes are now a question mark in terms of the number of people going there and consuming the content. So, we have reduced our spends on it. But we are investing on digital marketing, social media, searches, OTT and OOH. This year we are spending around 50% of our marketing budget during the festive season, and the percentage was almost the same last year too."

"During this season, our focus will be on newness, more varieties and choices. We are trying to attract customers with new product launches, new category introductions, and new product mixes. For example, we recently launched Siyaram's Cole, which is a black collection. This has been manufactured using a Japanese technology and it is the darkest shade of black. We recently also launched a high-quality TR (Terry Rayon) fabric. B2B and B2C put together, we are expecting 45-50% of our revenue during this season (September- mid January)."

Navin Khemka, CEO – MediaCom South Asia, believes that Bollywood needs to deliver some blockbusters to revive Cinema as a platform. He says, "South is back with big movies and hits. But we need to see some big blockbusters from Bollywood to revive the sentiment. There are big releases planned in the next couple for weeks, and this will be very crucial for the industry."

Sanjay Vakharia, Co-Founder and CEO of Spykar says that this year their marketing will be heavily influencers-led and promotion-led. "Customers are walking into stores after a long time, and I am sure they will be happy to make family spends. So, we are motivating the customers to buy more by incentivizing them. For instance, a customer will get an exciting travel bag for certain purchases. Our media spend for this season will be around 30% of our annual budget and it's as much as what we would do before Covid.

"E-platforms contribute nearly 18% to our business. But during this festive season we will focus more on offline models because this is the time when people come out to purchase. Currently we are operating in nearly 160 cities with our own stores. We have plans to expand the number of stores by 15-20% in this financial year," he says.
Gifting company Ferns and Petals (FNP) says that this year their marketing spend is going to be 10-15% more than 2021, and around 30% more than that of 2021. Sai Thota, Head Digital Marketing, FNP says, "Our festive campaign is going to run pan India, but it will be modified as per the need of the marketing channel, especially because it is going to be digital first. This year, we hope to see over 20% growth against last year."

"Since we are more on the e-Commerce model, it was actually a win for us during 2020 as most of India was still fearful of offline shopping during Diwali. As almost half of our business is inter-city (mostly in the backdrop of migrant populations), and people were still hesitant of travelling to their hometowns, our business saw good growth in 2020-21," he says.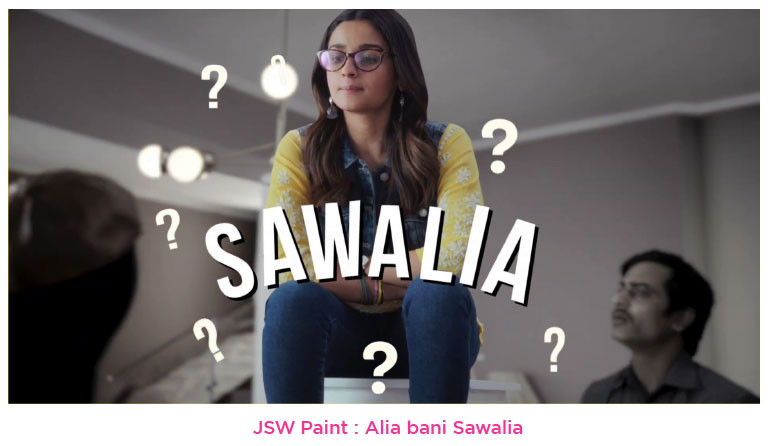 Paint brands have also increased their spending for this season. Anuradha Bose, CMO of JSW Paints says that their marketing spends for this year will be 2x as compared to last year. She says, "We will continue with our campaign 'Sawalia' with Alia Bhatt, who plays the quintessential Indian consumer as well as an alter ego- Sawalia. JSW Paints is on a mission to give the freedom of choosing colours to consumers with its 'Any Colour One Price' offering. We have also expanded our product range, geographic footprint, outreach, and engagement initiatives."

Mark Titus, AVP Marketing - Nippon Paint India Pvt Ltd (Decorative Division) says, "We too have plans to scale up our overall media spends during the festive season. Based on the organisation's focus, we have strategically planned our media investments and the corresponding media mix to aggressively target specific territories. We will leverage multiple mediums including conventional mass media platforms as well as the digital marketing platforms for promotions. This would be coupled with regional BTL campaigns and strategic media partnerships. We will also continue our association with high impact media properties like Bigg Boss in both the core markets – Tamil Nadu and Karnataka."